Presented By
Healthy BBQ Sides That Will Make You a Cookout Hero
Presented By
Great sides can make or break a cookout. They can also make or break your bill of health, given the omnipresence of mayo, salt, meat, butter, and other goodness. But you don't have to go full Fieri on the sides to make them great. Take a cue from the below healthy recipes and you'll be able to own a cookout without tipping the scales.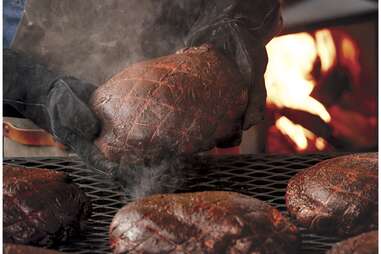 We've all had cravings for that smoky barbecue flavor. But firing up the grill at, say, lunchtime isn't always an option. That's why Boar's Head's created their new PitCraft Turkey. It's inspired by real pit masters and slow-cooked to perfection to bring that real pit barbecue taste to the deli. Think of it as your ultimate hack for picnics, sandwiches, and more.
For a sweeter side, grilled fruits are an underutilized option, and these skewered peaches and cherries are as eye popping as they are delicious, even before they're hit with a layered cinnamon-honey syrup. Sure, they taste better with ice cream, as intended, but you can skip it if you're feeling health-conscious/crazy. Home Cooking Memories has the secret to the skewers right here.
Watermelon is a sneaker candidate for the best BBQ sides, and hollowing out a half melon and filling it with more fruit, spices, peppers, and lime can be a showstopper. It's sweet. It's spicy. And it's damn refreshing. Get the entire recipe at The Gunny Sack.
Oftentimes, attempting to transform a deep-fried bar snack into something healthy backfired spectacularly. But this reinterpretation of the jalapeño popper pulls it off thanks to a little crunchy bacon and a whole lot of grilled corn. Pop over to Wonky Wonderful to learn how to do it.
The concept of a healthy deviled egg seems like a recipe for an instant whiff, given the creamy whipped egg yolks are the star. But add some spicy avocado in their stead and you go from basic to "holy crap" in the blink of an eye. Plus, the green all but ensures they'll stand out in a sea of otherwise ho-hum sides. The devil's in the details of Chef de Home's full recipe.
Coleslaw is a silent killer, a side that seems healthy because it's green, but actually packs more mayonnaise than a family reunion at Doug's girlfriend's (shout out to Skeeter Valentine!). This ingenious spin halves the mayo with a little yogurt, then tosses in refreshing fruits and nuts. But the real coup here is the addition of shredded Brussels sprouts, which replace the cabbage. Head over to Savoring the Good for the complete rundown.
Sign up here for our daily Thrillist email and subscribe here for our YouTube channel to get your fix of the best in food/drink/fun.