Despite what a lifetime of diet culture may have you believe, healthy doesn't always have to mean boring when it comes to food. A nutritious meal doesn't need to take the form of boiled broccoli or steamed asparagus. In fact, healthy can actually be downright tasty when done right.
Listen up, folks. It's a universal truth that everything tastes better with a kiss from the grill. That includes your run-of-the-mill veggies, whose texture magically transforms with a hint of flame. Heat from the grill caramelizes the vegetables's internal sugars, intensifying their natural sweetness while adding intense, smoky flavors to boot.
If you like big cookouts and you cannot lie, you understand the importance of balancing fistfuls of steak with a good helping of fruits and greens. Looking to cut down on the meat sweats? Whip up one of these tasty yet surprisingly healthy side dishes at your next barbecue.
Grilled Garlic Butter Mushrooms
If you're as lazy as you are hungry, grilled mushrooms are a great option that'll cater to both meat lovers and veggie fans alike. This recipe requires only a handful of ingredients and takes no more than five minutes to prep. Marinating the mushrooms ahead of time allows the flavors to thoroughly penetrate, yielding maximum flavor and juiciness.
The recipe calls for tamari, a type of soy sauce made without gluten, but feel free to use regular soy sauce if that's what you've got on hand. Add tamari, mushrooms, and oil to a bowl, and 90 % of the work is done.
When it comes to what mushrooms to choose, any common white or brown button mushroom will do, but a variety will yield the tastiest results. Other kinds that work well include portobello, maitake, and enoki mushrooms wrapped together to prevent burning.
Ingredients:
• 1 pound mushrooms (shiitake, oyster, and porcini)
• 6 cloves garlic, finely chopped
• 4 tablespoons butter
• 4 tablespoons tamari or soy sauce
• 3 tablespoons canola or vegetable oil
• Fresh parsley, chopped
Directions:
1. Combine tamari and oil in a small mixing bowl. Add mushrooms and toss to coat.
2. Cover and let mixture marinate for at least 30 minutes or overnight.
3. Heat skillet to low and melt butter. Add garlic and cook for one minute until fragrant. Remove from heat and set aside.
4. Skewer mushrooms onto kebab sticks.
5. Heat grill to high.
6. Add mushrooms to grill, basting with garlic butter mixture and turning often until fully cooked, approximately 4-5 minutes per side.
7. Remove from heat. Drizzle with more garlic butter and top with fresh parsley to garnish.
Cowboy Caviar
Channel your inner Chuck Norris with Cowboy Caviar, a colorful dip that can be thrown together in under 15 minutes. Commonly served at potlucks as Texas Caviar, Cowboy Caviar is a fun way to get in all your veggies without drowning them in ranch dressing. The lineup here features bell peppers, black beans, jalapeño, corn, avocado, and diced tomato.
This dish is also a great way to practice your knife skills—most of the work is prep-based and involves lots of dicing. That also means it can easily be prepared in advance. Just have the veggies diced and ready to go, then dress appropriately, and you're ready to rock.
Ingredients:
• 2 large, organic beefsteak tomatoes, cubed
• ½ (15-ounce) can black beans, drained and rinsed
• ½ (15-ounce) can cooked black-eyed peas, drained and rinsed
• 1 red or yellow bell pepper, diced
• 2 jalapeños, seeded and finely diced
• ¼ red onion, finely diced
• 1 can sweet corn, drained and rinsed
• 2 large, ripe avocados, pitted and cubed
• ¼ cup fresh cilantro, chopped
For the dressing:
• 6 tablespoons red wine vinegar
• 3 tablespoons lime juice
• 3 tablespoons honey
• 6 tablespoons extra-virgin olive oil
• 8 cloves garlic, finely diced
• ¾ teaspoon salt
• ¼ teaspoon cayenne
• ¼ teaspoon cumin
Directions:
1. Add tomatoes, black beans, black-eyed peas, bell pepper, jalapeño, red onion, and corn to a large mixing bowl. Toss to combine.
2. In a separate mixing bowl, whisk together red wine vinegar, honey, lime juice, olive oil, garlic, cumin, and cayenne.
3. Optional: Let mixture sit in the fridge for one hour to allow flavors to come together.
4. Add avocado, top with dressing, and gently combine to mix.
5. Finish with chopped cilantro and serve with tortilla chips.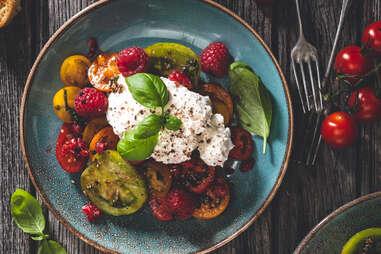 Burrata Salad with Tomatoes
Burrata is a type of cheese commonly mistaken for mozzarella. Typically found at grocery stores in the shape of a large ball, burrata is an Italian cow's-milk cheese made from mozzarella and cream. The outer layer is made of a sturdy mozzarella casing while the inside is filled with stracciatella, scraps of mozzarella with fresh cream added. The final result is a cheese that's irresistibly creamy and delicious with just about anything you can dip it in.
This salad pairs burrata with tomatoes, pesto, and balsamic vinegar to bring the taste of summer directly to your table. Make it extra fancy by assembling it on a serving platter, then top the ensemble with pine nuts for added crunch.
Ingredients:
• 1 ball burrata cheese
• 3 large, organic heirloom tomatoes cut into large cubes
• 2 tablespoons balsamic vinegar
• ½ cup fresh basil, chiffonaded
• ⅓ cup pine nuts
• 1 cup fresh arugula
• 1 cup fresh baby spinach
• 1 tablespoon extra-virgin olive oil
• 2 tablespoons pesto
• Fresh lemon
• Pinch of salt
• Fresh black pepper
• Toasted baguette, for serving
Directions:
1. Lightly toast pine nuts in a skillet over low heat until aromatic and lightly brown, stirring often, about 3-4 minutes. Set aside
2. Lay spinach and arugula across a large serving platter.
3. Arrange tomatoes on top of greens.
4. Tear burrata into large, bite-sized chunks and place onto tomato/greens mixture.
5. Lightly sprinkle tomatoes and burrata with salt, black pepper, and a few squeezes of lemon juice.
6. Drizzle balsamic vinegar, olive oil, and pesto over the mixture.
7. Chiffonade basil by rolling it up and thinly slicing into fine ribbons.
8. Sprinkle basil over the dish and serve with toasted baguette.

Much like those nostalgic red, white, and blue popsicles that were summertime staples when you were younger, these new Smirnoff flavors will be your go-to adult beverages this summer. We're especially loving the Red, White & Berry flavor—it's infused with notes of cherry, citrus, and blue raspberry that's refreshing on its own or served with your favorite cocktail.
Please Drink Responsibly. The Smirnoff Co., New York, NY
Korean Marinated Cucumber Banchan
Small side dishes served at Korean BBQ restaurants are called banchan. Designed for sharing, they're usually set in the middle of the table as an accompaniment to the main dish on stage, generally some type of grilled meat, like galbi or bulgogi.
But don't have to be cooking up short ribs to snack on some banchan. One easy side you can whip up anytime is Korean marinated cucumbers. These aren't the vinegar-brined cucumbers you're thinking of, though. Rather than soaking them in a mix of vinegar and sugar, this recipe opts to spice up cucumbers by marinating them in a pungent mix of chili powder, sesame oil, and fish sauce. The result is a spicy, crunchy treat that's easy to snack on.
Ground gochugaru gives this dish its unique spicy flavor. Don't have any on hand? A pinch of your favorite chili powder will do. Opt for chili powders with a bit of fruit on the backend, like cayenne or Aleppo pepper, rather than a smoked variety to stay true to the original recipe. Fish sauce can also be substituted with equal parts soy sauce and lime juice if you don't have it handy.
Ingredients:
• 3 pickling cucumbers (Use Persian or Japanese cucumbers if you can't find pickling types)
• 1 ½ tablespoons ground gochugaru (Korean chili flakes) or chili powder
• 2 tablespoon rice wine vinegar
• 2 teaspoons fish sauce
• ½ teaspoon salt
• 1 tablespoon sesame seeds, lightly toasted
• 4 large cloves garlic, finely minced
• 4 tablespoons sesame oil
• 1 teaspoon sugar
• ¼ cup green onion, finely chopped
Directions:
1. Slice cucumbers in half, lengthwise. Then cut each half into thick half-moon slices about ½ inch wide.
2. Toss with salt and let sit in a bowl for 20 minutes.
3. Rinse and dry well.
4. In a small mixing bowl, combine gochugaru, vinegar, fish sauce, garlic, and sesame oil. Whisk to combine.
5. Top cucumbers with liquid mixture and toss to combine.
6. Optional: Allow mixture to marinate for 30 minutes or let sit overnight to impart maximum flavor.
7. Garnish with green onion and toasted sesame seeds. Keep in the fridge for up to 3 days.
Prosciutto Sage Pepper Melon Bites
Guests coming over at the last minute? Can't be bothered to lift a finger? Take heart in knowing you can dazzle everyone with this no-cook side that pairs together prosciutto, sage, and melon for a peppery yet healthy snack.
Prosciutto is a type of Italian dried ham that's uncooked and unsmoked. You can nab a couple of different kinds at the grocery store these days, and almost any will do for this recipe. But if you're willing to splurge a little for the good stuff, treat yourself to prosciutto di Parma, a variety largely considered to be some of the finest in the world.
As far as prep goes, it doesn't get easier than this. Simply roll the prosciutto around cubes of melon, add a leaf of sage to the mix, then throw it under the broiler to crisp for a minute or two. Top with freshly cracked black pepper and a drizzle of hot honey to make the dish sing. No sage on hand? Feel free to substitute with fresh basil instead.
Ingredients:
• 12 slices prosciutto
• 12 fresh sage leaves
• 1 cup fresh cantaloupe, cubed
• Fresh black pepper
• Hot honey (recipe below)
Hot honey ingredients:
• 3 teaspoons dried chili flakes
• 1 cup honey
Directions for the hot honey:
1. Heat skillet on low and add chili flakes. Cook on low until fragrant while stirring often, about 1-2 minutes.
2. Add honey and bring to a simmer over medium heat. Do not let it come to a boil.
3. Gently heat honey until you see small bubbles forming at the edges of the pan. Remove the pan from the heat.
4. Let the honey infuse for at least 5 minutes.
5. Let cool to room temperature and serve.
Directions:
1. Line a baking sheet with parchment paper and turn on the broiler.
2. Wrap prosciutto slices around melon and sage. Insert a wooden skewer through each bundle.
3. Place bundles on a baking sheet.
4. Once the oven is to temperature, insert baking sheet and leave under broiler for 1-2 minutes.
5. Remove from heat and top with fresh black pepper and hot honey to taste.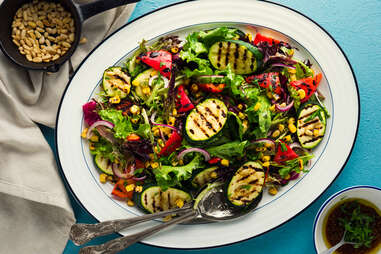 Grilled Corn and Zucchini Salad
On its own, zucchini is a fairly bland, uninspired vegetable. Throw it on a grill, however, and it turns into something extraordinary. Grilling enhances the natural sugars present in zucchini, giving it a sweet, gentle flavor that brings summer to mind with every bite.
This dish defies stereotypes of what salad should look like by grilling both zucchini and fresh corn, creating a slightly smoky, sweet flavor profile that makes veggies shine. Fresh feta crumbled on top adds a rich creaminess that cuts through the sweet stuff. Pair it all with freshly cracked black pepper, tangy lemon, fresh basil, and almonds for crunch to reveal a blissfully mayo-free salad you can serve anytime.
Ingredients:
• 2 ears corn, shucked
• 2 zucchinis
• 3 ounces feta cheese
• 1 cup arugula
• 1 lemon
• Extra-virgin olive oil
• Fresh black pepper
Topping ingredients:
• ¼ cup fresh basil, cut into a chiffonade
• ⅓ cup sliced almonds
• Zest from one lemon
Directions:
1. Make the topping by combining sliced almonds, lemon zest, and basil in a small mixing bowl. Set aside.
2. Slice zucchini in half, lengthwise. Cut each zucchini into half-moon rounds, about ½ inch thick.
3. Add rounds to a mixing bowl and toss with salt and extra-virgin olive oil, turning until well coated.
4. Heat an outdoor grill to high heat.
5. Cook zucchini until golden brown with char marks and corn is charred all over, about 10 minutes. Set aside and let cool.
6. Use a knife to cut corn kernels away from the cob into a mixing bowl.
7. Add arugula and then zucchini to the mixing bowl. Toss to combine.
8. Arrange ingredients from mixing bowl onto a serving plate.
9. Top serving plate with feta and squeeze lemon juice to taste.
10. Sprinkle with topping and serve right away.
Grilled Mango Sundae
Take a walk down nearly any street in Thailand and you'll be greeted with the smell of fresh mangoes perfuming the grill. Commonly served with sticky rice or coconut cream, this simple street snack is equal parts healthy and refreshing without sacrificing flavor.
Get a taste of Thailand with this grilled mango sundae. This version of the beloved Thai dish pairs grilled mango with a few sweet elements to deliver a symphony of tropical flavor. Kaffir lime leaves, a fruit found in tropical Southeast Asia and southern China, are used to create a simple syrup here. Kaffir lime has its own unique, aromatic flavor that makes this dish truly compelling, but feel free to substitute fresh mint leaves instead for the syrup. Keep in mind you'll need to use a lot more fresh mint by volume than you would dried leaves—we recommend about two cups if you decide to opt for fresh mint instead of kaffir lime.
Grill your mango, top it with simple syrup, then hit it with toasted coconut cream, coconut chips, and black sesame seeds for a fresh dessert even the most health-conscious guests can enjoy.
Ingredients:
• 3 mangoes, skin on
• ¼ cup black sesame seeds
• ½ cup coconut chips
• 1 can coconut cream
• Kaffir lime simple syrup (recipe below)
• Fresh mint leaves, optional
• Himalayan black sea salt, optional
Kaffir lime simple syrup ingredients:
• 6 dried kaffir lime leaves
• Zest from one lime
• ½ cup sugar
• Juice from 1 lime
• ½ cup water
Simple syrup directions:
1. In a small saucepan, bring sugar, lime leaves, and water to a boil, stirring until sugar dissolves.
2. Lower heat to medium and add lime zest. Mix well.
3. Cook on medium heat for 10-12 minutes or until syrup thickens, stirring often.
4. Remove mixture from heat and let it come to room temperature.
5. Remove lime leaves, strain, and use as needed. Store in the fridge for up to 4 weeks.
Directions:
1. Lightly toast coconut chips and black sesame seeds on low heat until fragrant and light brown. Set aside.
2. Heat a barbecue to high heat. Brush mango with oil and grill until charred, turning occasionally, about 1 to 2 minutes per side.
3. Set mango aside to cool.
4. Once cooled, peel mango and cube into large chunks. Add to serving bowls.
5. Drizzle syrup over mangoes.
5. Top mangoes with coconut cream and coconut chip/sesame seed mix. Serve with fresh mint and a pinch of salt for garnish.