These Ramen Companies Are Taking Instant Noodles to Healthy, Delicious New Heights
Instant ramen that's good for you? Sign us up.
Jason Hoffman/Thrillist
Jason Hoffman/Thrillist
There's something oddly satisfying about tearing into a package of instant ramen. The noodles are fried and gnarled, reminiscent of Justin Timberlake's hair circa 1997. The shiny foil packets of seasoning can contain surprisingly complex flavors—like makrut lime and lemongrass—alongside shriveled bits of scallions and corn. The whole meal comes together in under five minutes, and can be elevated further with the inclusion of ground meat, fresh bok choy, tangy kimchi, or soft-boiled eggs.
But despite being a college staple and a convenient meal, instant ramen hasn't always been deemed the most ideal—or nutritious—food to be eating on a daily basis. And it certainly doesn't command a lot of respect. The ingredients are often unidentifiable to the average consumer while containing an astounding amount of sodium and fat. Up until recently, instant ramen was just a means to an end when it came to efficiency and price point.
That's not the case anymore. As consumers continue to demand healthier options, businesses are listening and responding. Some of these companies just so happen to be instant ramen purveyors, crafting easy-to-make noodles with better-for-you ingredients. The flavor and efficiency remain, but the ingredients are now more easily understandable, with bone broths and tofu noodles galore elevating them from desperation meals to something much, much more appealing.
That's the case anyway for One Culture Foods, a Southern California-based retailer peddling bone-broth renditions of pho, spicy ramen, Chinese-style chicken noodle soup, and Taiwanese beef noodle soup.
"I've always loved instant noodles since I was young. [Aside from] being super tasty, they gave me a sense of ownership and independence. My first memory of 'cooking' on my own was making instant noodles in a small pot and adding leftovers and a raw egg," explained One Culture founder and CEO Hansen Shieh. "I think a lot of people share similar memories and feel a sense of nostalgia for [instant noodles], whether it be from childhood, college, or broke early adulthood."
Shieh's lightbulb moment came when reminiscing with a friend about youthful days spent eating instant noodles. Why wasn't there an updated, healthier option that kids and adults could indulge in for lunch, dinner, or as a snack? He set off to change that, creating One Culture Foods, whose instant noodle cups include a package of bone-broth base made with 100% organic bones, non-GMO ingredients, and absolutely no preservatives or flavor additives. The result is a rich, savory broth with springy noodles that can be spruced up with the inclusion of soft-boiled eggs and veggies.
"I drew inspiration from noodle shops—the old-school mom and pops as well as the new generation being opened by first gen Asian-Americans in the San Gabriel Valley and elsewhere," Shieh said of his flavorful sampling of noodles. "It was important to me to develop really bold, in-your-face, heritage flavors inspired by these traditional dishes that not everyone has the luxury of experiencing in the noodle-shop environment."
Consequently, consumers can purchase Shieh's One Culture noodles both online through Amazon as well as select Walmarts and Whole Foods. Like original instant ramens, Shieh's is shelf-stable and can find a home in any pantry.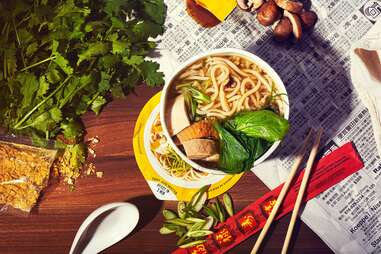 Shieh isn't the only one selling bone broth-based noodles that are quick to make and delicious to eat. Nona Lim, a Singaporean-raised, Bay Area-based noodle enthusiast, also sells healthier versions of ramen under her namesake label.

"I grew up in Singapore, so I love noodles of all kinds," Lim explained to me over the phone. Upon her arrival to the United States, Lim felt that the noodle options were a bit lackluster—especially when it came to quicker, easier options that contained better-for-you ingredients. "You have umami-forward ramen brands that taste great, but their ingredients aren't good for you… I want to feel good eating, knowing that I'm not putting crap into my body."
To fill this void that Lim saw, she started her own noodle company, selling fresh, springy noodles and bone-broth cups. "We are really obsessed about flavor—that's the most important part. The second, though, is clean label, healthier, better-for-you."
Lim's reinterpretation of ramen can be found at Whole Foods and online—though they are fresh noodles and do need to be kept refrigerated. The prepackaged noodle bowls come in a green curry broth, spicy miso, and dan dan flavor—though creative ramen makers interested in Nona Lim products can also customize their own bowls by buying a variety of noodles and broths also offered.
Aside from swapping out the MSG-laced powder packets for thick, gooey bone broth reduction, another area where healthy ramen creators have improved upon are noodles. At House Foods, traditional wheat noodles are reinvented with tofu.
"Ramen has long been considered a comfort food in Japan and it's becoming one for Americans too, moving well past a food trend. And while consumers are looking to cook healthy meals at home, ramen originally hadn't been the healthiest of options for a home-cooked meal," said Masahiko Isobe, the senior manager of marketing and product development at House Foods. "Our Tofu Shirataki Ramen appeals to so many different consumers because it is gluten-free and low in calories while still maintaining the traditional Japanese flavors and textures that they are looking for in a ramen."
The texture in House Foods' noodles, shockingly enough, is reminiscent of the traditional chewy strands that are expected of ramen, but are instead slightly softer thanks to its tofu DNA. This means more protein and less carbs—appealing for those who may want to adhere to a low-carb diet while still enjoying the soothing benefits of a good bowl of ramen. Like Lim's version, the shirataki tofu noodles need to be kept refrigerated.
In terms of pricing, fresher, healthier ramen does tend to cost more. The Tofu Shirataki ramen packets can ring in at over $6 for two servings. One Culture Food's eight packs of ramen cost around $30—nearly $3.75 per bowl. Nona Lim's noodle bowls cost $27.99 for a four pack. This is a far cry from the $.50 cents or $1 packets of dried, fried ramen noodles you can find at most grocery stores.
However, when asked if the price point poses a challenge for the noodle businesses, all the business owners said no, citing growing numbers and loyal fans. There's a combination of reasons why this may be: ramen is no longer a dish secluded in coastal, Asian enclaves, but instead has risen to prominence across the country, with great ramen shops popping up everywhere, changing the long-held perception wrought by 5 for $1 packets at the local grocery. People want to eat ramen. In addition to that, the healthy foods boon continues provide consumers with better-for-you options.
As Nona Lim thoughtfully remarked, "Fresh is growing—that's a huge trend that cuts across all types of cuisines." Why not have it infiltrate the instant-ramen market, too?
Sign up here for our daily Thrillist email and subscribe here for our YouTube channel to get your fix of the best in food/drink/fun.
Kat Thompson is a staff writer at Thrillist and an advocate for instant ramen (her favorite being Mama, of course). Follow her on Twitter @katthompsonn.