The Wackiest Holiday Cookies You Can Buy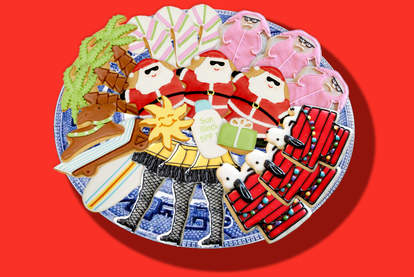 Come close people, let's talk about holiday cookies. Last weekend, I took a look back at my stance on those sweet, sometimes dainty/ sometimes bold, artful treats. I love to bake, but my life right now is so hectic, baking is an impossible task. I have only enough bandwidth to watch those crafty 12-days-of-cookies how-to videos while I take a bite out of this "A Christmas Story" leg lamp cookie.
I'm buying wacky cookies for my party platter and gift boxes. With apologies to my ten plus years' collection of Martha Stewart cookie issues, I feel generous and festive enough buying my holiday cookies this season. So bookmark this handy guide and watch all your loved ones jump for joy.
Eleni's for winter birds and mixed marriages
Order these packages for friends who live in Jacksonville, Florida, Oahu, Hawaii, or any place with weather above 70 degrees.
Based in New York City and one of the OGs of fancy decorated sugar cookies, Eleni's is still at it after two decades in the baking business. Remind the recipient to play "California Christmas" by Mary Mary while munching down on the palm trees and surfboards.
Christmas at the Beach Cookie Gift Set from Eleni's, $125/20 cookies
Because we're living in an age when we create families of mixed backgrounds and make it all work 365 days a year, but especially in December.
This gorgeous Christmas-Hanukkah mash-up reminds me of spending hours in the greeting card aisle and finally finding the perfect words, except here instead of reading the recipient gets to eat your holiday wishes.
Happy Christmukkah Cookie Gift Set from Eleni's, $69.95/6 cookies
Etsy for 'A Christmas Story' fans
For your cousin, who owns A Christmas Story on VHS and insists that dinner guests re-enact the tongue frozen on the flagpole scene.
You know this marketplace is the spot for obscure showstopper food, right? Etsy was my first stop when I thought about cookies inspired by the 1983 cult classic movie. We've gone down the Etsy rabbit hole for you and saved your eyeballs to find the best one. It's a major award!
Leg Lamp and Ralphie Bunny Suit Cookies Inspired by A Christmas Story from Etsy, $49/dozen
Target for your office mate
This is the precise gift for all the people who talk about Target like it's a swanky nightclub. We all know someone who claims to be allergic to Wal-Mart and who dances under The Great Red Bullseye. Give this token to the dog-loving office-mates as a token of appreciation for sharing their Nespresso coffee pods.
The Wondershop is full of ornaments, gingerbread kits, and sugar cookies. You know the cute dog known as the target mascot; buy an edible wrapped replica draped in colorful Christmas lights.
Bullseye With Lights Sugar Cookie from Target, $1.99 each
Neiman Marcus for the boss
This gift is all over town and comes in many forms: the ugly sweater. Buy this for your boss. It's funny, but it's Neiman Marcus-respectable.
Pop culture meets luxury retail. Poorly decorated sweaters are a full-on thing, and not just for wearing. This half dozen precisely decorated cookies do come at a premium price. But go on, ball out, stunt on everyone, and scoop up a few boxes. Add a gift note and get them gift wrapped.
Christmas Party Sweater Cookies from Neiman Marcus, $38/6 cookies
Sign up here for our daily Thrillist email, get Eatmail for more food coverage, and subscribe here for our YouTube channel to get your fix of the best in food/drink/fun.