Famous chefs and bartenders share their favorite holiday recipes
This holiday season, you're probably going to see your family. And instead of telling them that you're going to whip up your world-famous "toast with margarine" for the big potluck, why not make something lavish and chef-approved? To wit, we asked two of our favorite chefs (and one of our favorite bartenders) what they cook and drink during the holidays, and they gifted us with some serious knowledge. And a way to make white Christmas happen WITH YOUR DRINK.
So, without further ado, here are some choice holiday recipes from Michael Symon, Sean Brock, and Jim Meehan.
 
Michael Symon: Roasted Leg of Lamb with Tzatziki Sauce
Chef/owner at Lola and Lolita (Cleveland, OH); Roast (Detroit, MI); B-Spot (Cleveland, Detroit, and Columbus, OH)
"Roasted leg of lamb with tzatziki is a Greek-style classic at my house around the holidays. Tzatziki and lamb is a classic Greek combination, and when the leg of lamb is fall-off-the-bone tender and everyone is gathered around the table, it just feels like a holiday celebration."
See the full recipe here...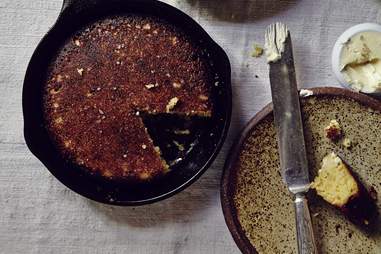 Peter Frank Edwards
Sean Brock: Cracklin' Cornbread
Chef at Husk (Charleston, SC & Nashville, TN)
"When we opened Husk, I knew that we had to serve cornbread. I also knew that there is a lot of bad cornbread out there in the restaurant world, usually cooked before service and reheated, or held in a warming drawer. I won't touch that stuff because, yes, I am a cornbread snob -- it just makes you feel good. It's one of those go-to comfort foods. That's what people crave on the holidays: comfort."
See the full recipe here...
Author and bartender
"Our family is all over the place geographically, so we rarely all get to be together during the holidays, much less in my home -- where all the booze is! The last time we were all together in NYC for Christmas, a few years ago, my friend Father Bill Dailey (a PDT regular who was finishing up a graduate degree at Columbia at the time) stopped by, so I started making cocktails with some of the rarer bottles in my collection to commemorate the occasion. One of my favorites is Wayne Collins' White Negroni: a beguiling mixture of Plymouth Gin, Lillet Blanc, and Suze (a gentian-based aperitif).
In the likely absence of snow in Portland this year, I'll settle for a few White Negronis and call it a white Christmas anyhow."
See the full recipe here...
Adam Lapetina is a food/drink staff writer, and wonders how well all of these recipes pair with nog. Read his musings at @adamlapetina.