Oh, chicken fingers, pillar of American cooking (and the kids menu). Their beauty is in their simplicity: tender meat and a crunchy, deep-fried exterior. The slender, grab-able shape -- they're called finger food for a reason -- begs to be dunked in something with an acidic kick, like barbecue sauce, ketchup, or a honey mustard sauce (we've got a great one below). In less time than it takes to drive to your local diner, you can make chicken fingers (or tenders or strips or whatever you call them) at home. Here are our favorite recipes.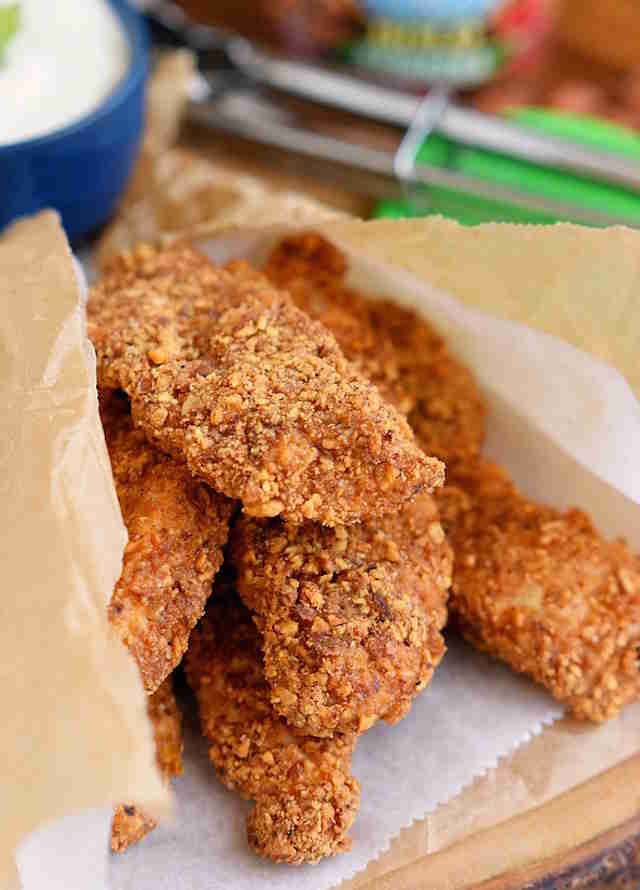 Thanks to Sriracha-flavored almonds and a touch of garlic powder, these easy chicken strips bring the heat. If you can't find the branded Sriracha almonds, you can sub in regular ol' almonds and a dousing of the rooster-emblazoned hot sauce. Get the recipe here.
These fancy-ass chicken tenders get a fancy-ass crust made with crushed pecans (pronounced "peh-caaaahns"). You can make the fancy-ass sauce by whisking grated cheese in warm milk while the chicken cooks in the oven. Get the recipe here.
An overnight marinade of buttermilk, maple, and Dijon mustard tenderizes the meat (that's the acid in the buttermilk) and permeates it with bold flavors (that's the magic of time). On the side: a maple-honey mustard sauce that reinforces the spicy-sweet flavors. Recipe here.
Let's be real: as delicious as fried food is, it's a pain in the ass to pull off at home. Leave the vats of potential third-degree burns to the pros. Get your satisfyingly crispy strips by "frying" them in the oven (otherwise known as roasting). Learn the technique here.
Instead of a crunchy crust, these tenders go for the sticky-sweet territory with a marinade of peanut butter, soy sauce, brown sugar, and hot sauce. Chopped pineapple and herbs mixed in with coleslaw offer a refreshing counterpoint to the dish.
In a play on the American-Chinese classic, a stir-fry of broccoli with hoisin, ginger, garlic, and sambal oelek (an Indonesian chili paste) is poured over panko-crusted chicken tenders. Get the recipe here.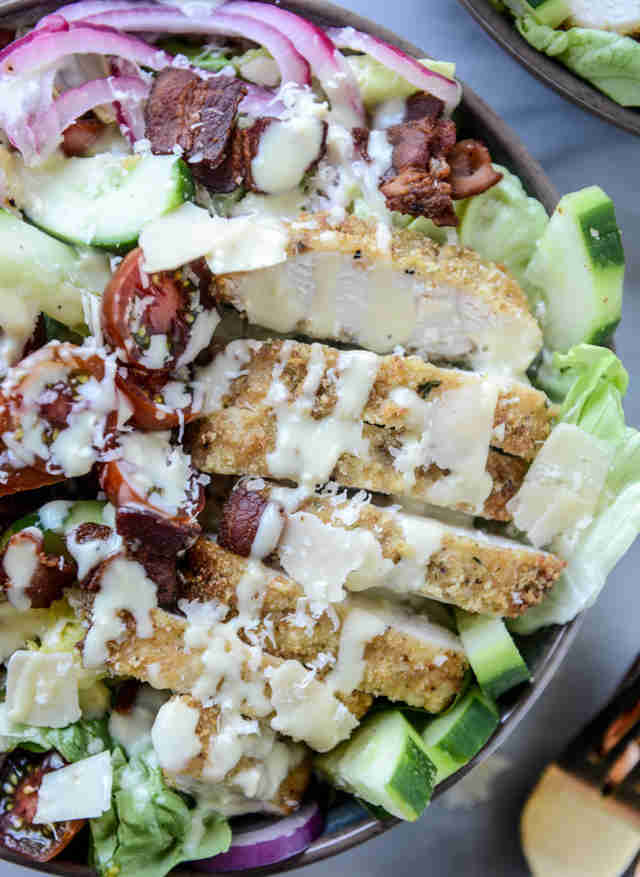 Sometimes you need a salad to justify your chicken finger-eating habit. This one pairs Parmesan-crusted chicken tenders with a crisp bed of romaine lettuce, bacon, cucumber, tomato, and red onion. The zippy yogurt-Parmesan dressing ties everything together. Get the recipe here.
This pan-Asian twist on the American classic employs nutty sesame seeds and smoky, spicy paprika. The pan-fried tenders get a sweet complement in a dipping sauce of marmalade kicked up with mustard. Learn how to do it here.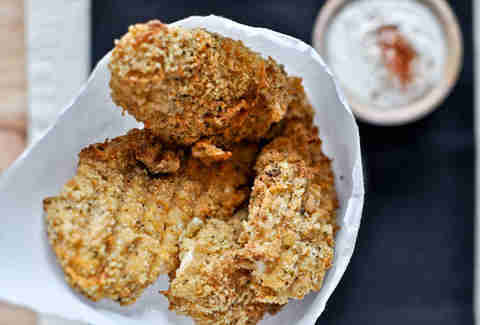 Swiping a classic fried chicken technique, this recipe calls for marinating the meat in buttermilk to tenderize it. The addition of cheddar to the breading lends the fingers an ultra-crunchy, baked cheese crisp-like crust. Get the recipe here.
Even if you can only bring yourself to pull a bag of tenders out of the freezer, you can whip up a quick sauce that's leagues better than anything bottled. Just whisk honey, mayo, mustard, vinegar, and cayenne together for this sweet, creamy condiment. Get the recipe here.
Sign up here for our daily Thrillist email, and get your fix of the best in food/drink/fun.