22 Grocery Store Hot Dogs, Ranked
No matter what you do this summer, odds are you're going to be eating a hot dog, whether it's charred on a campfire, cooked on a fancy grill, or scored from some legendary nonagenarian vendor at a stadium. But that doesn't mean it's going to be good. There are so many hot dogs on grocery store shelves, in fact, that finding out which is truly the best can be a daunting journey into the dark abyss of tube meat. We're here to help.
For this expansive taste test, we scoured national grocery store chains to find non-fancy dogs available to most of the country. Yes, you can order great regional dogs like Olympia Provisions, Koegel's, Vienna Beef, and Tony Packo's online, but we're keeping the last-minute shopper in mind here (if those are at your store, lucky you!). We opted for the most basic options -- no cheese-stuffed business here -- and leaned toward beef/pork, unless a brand only traffics in fowl. And no veggie dogs... Sorry, Paul McCartney, but we're sure you're already loyal to a brand.
We opted to cook each on a gas grill, then loaded them naked onto a cheap grocery store bun, because, again, this is not rocket science. It is, however, delicious, so join us as we give you the lowdown on 22 varieties of hot dogs available at popular grocers across the land.
22. Hempler's Uncured Beef Franks
I sure hope Hempler himself doesn't have any children, because they will be teased mercilessly for their family's disappointingly tiny take on dogs that taste more like the air near the roller grill at a Flying J Travel Plaza than an actual hot dog made, as they claim, with Kobe and wagyu beef. Avoid at all costs.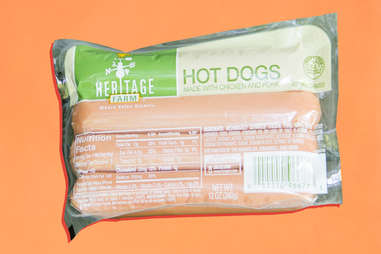 21. Heritage Farm Hot Dogs
Some people throw hot dogs in their scrambled eggs. This isn't a choice we can endorse, but we respect it. If you're feeling too lazy to cook the eggs but really want that gooey, undercooked egg mouthfeel built into your frank, then this is the dog for you.
20. Bar-S Franks
Not only were bargain-bin Bar-S dogs the smallest of the lot, they somehow managed to taste dry and wet at the same time. More akin to a hot dog-flavored mousse, the interior of these dogs was a scientific marvel in texture best explored by no one.
19. Oscar Mayer Classic Wieners
There comes a time in every child's life when they have to face harsh realities. One of the first is that Oscar Mayer bologna is actually bad. It took us long into adulthood to realize their hot dogs -- which basically consist of said bologna rolled into a gooey, salty tube -- are perilously low on the totem pole. This hurt almost as much as learning that Santa isn't real.
18. Foster Farms Turkey Franks
The appeal of turkey dogs is their ostensible lack of cheap bologna taste, but Foster Farms thought it best to split the difference between that and the texture of a disembodied tongue. No thanks!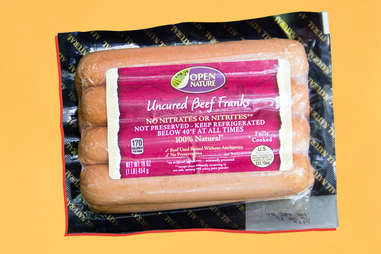 17. Open Nature Beef Franks
The casing was snappy and enjoyable, but the interior of Open Nature's dogs had a metallic tinge and squeaky texture that almost felt like cheese curds. The finish tasted like the idea of herbs, which was as nonsensical and off-putting as it sounds.
16. Nature's Rancher Uncured Beef Hot Dogs
We were hoping for a secret explosion of ranch dressing inside this one, but all we got was a bland, one-dimensional flavor surrounded by a sticky exterior that wrecked the bun in the process. Better go back to the Hidden Valley and relearn everything you thought you knew about food, my guy.
15. Sam's Choice Natural Uncured Beef Hot Dogs
The acceptably dialed-down flavor of Sam Walton's personal wiener brand is offset by a cheapness that's perfect for entertaining large groups of people you don't really know or care about. A trunk full of these will do just fine for your next outdoor engagement, assuming the guilt of shopping at Walmart is lost on you.
14. Applegate Organics Uncured Beef Hot Dog
We had high hopes for Applegate Organic, but the combination of the chewy, crumbly texture and the overwhelming taste of seasoning salt and charred flat-top grill remains did little to compel us to ever want to purchase these again unless some bizarre craving for a salt explosion took precedence over quality and flavor.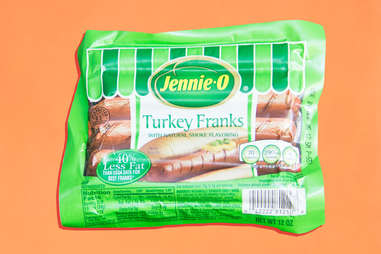 13. Jennie-O Turkey Dogs
This was the top dog of all the turkey varieties sampled. The flavor was pretty nondescript, with a subtle hint of, "Hey! This is a hot dog!" that lingered on the palate, making it a solid option to have on hand for folks who don't eat beef but also don't want to feel left out.
12. Trader Joe's All-Natural Uncured Beef Hot Dog
Under a different context, it would be hard to have any knocks against this offering from everyone's favorite junk food nexus, but the size and flavor of Trader Joe's dogs had us wondering if they were really just lil' smokies thrown in the wrong package. They were delicious, but the truncated size and overt notes of maple syrup led us to believe that Trader Joe's is actually cheating, which we would rather not know about.
11. Great Value Uncured Franks
If you're able to ignore the color of their exterior -- which maintained the kind of pale, fetid tone you'd find on the face of a drowning victim who just got yanked out of the pool no matter how long we cooked them -- this is a fantastic dog by Walmart that hits all the checkmarks of taste and texture in a value-priced package
10. Ballpark Bun Size Beef Frank
Arguably the most classic, well-known entrant on the list, Ballpark is an aggressively average dog with a flavor that's deeply ingrained in America's psyche. The inside is a little slimy and mealy, but it's still entirely possible to happily go through life knowing nothing but the simple joys of Ballpark hot dogs. You can do better, but you don't really have to, which may be the essence of what makes hot dogs so special in the first place.
9. Private Selection All-Beef Hot Dogs
Like an oiled-up minor league wrestler glistening under the flickering lights of a soon-to-be-razed municipal arena, the casing of Kroger's "high-end" in-house option was almost hypnotic to watch as it crackled and cooked on the grill. The texture and flavor of the inside were nothing to write home about, but goddamn was the juicy snap and salty gloss of that outside something special.
8. Wellshire Premium All-Natural Uncured Beef Franks
While some dogs on the list scored high marks for a distinct casing, Wellshire's highfalutin nitrate-free offering was unique in that our teeth sank seamlessly through the outside into a juicy, lightly sweetened interior that pairs quite well with fruity beers like Leinenkugel's Summer Shandy or Stiegl Radler. This is the perfect summer dog for a highbrow, white tablecloth affair with an inordinate amount of attendees donning Sperry Top-Siders and Brooks Brothers polos. Oh, you know, just people who decide to spring for slightly-more-expensive hot dogs.
7. Farmer John Jumbo Wieners
As grotesque as it sounds on paper, Farmer John Jumbo Wieners had a smooth and glossy texture that reminded us of a fancy bread pudding crafted from the finest turkey and pork products from John's native home of California. Why this brand hasn't paid Anthony Kiedis to rap the ingredients over these fantastic dogs over a funky nu-metal beat is a mystery to us, so here's to hoping the Red Hot Chili Peppers's publicist sees this in their Google alerts and makes it so.
6. Boar's Head Lite Beef Frankfurters
Trimming the fat might have something to do with the predilection for the crispy char and dry crunch that made Boar's Head's franks such a pleasant surprise. Subsequent bites revealed a flavor closer to a mild pepperoni than an actual hot dog, but it's unfair to fault them if that's the happy accident that comes about when cutting the calories is the name of the game.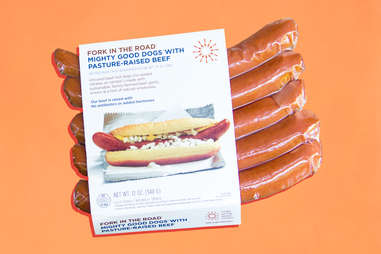 5. Fork In the Road Mighty Good Dogs
A noticeable trend among the more obscure brands in this list is the liberties they've taken with the idea of what a hot dog is, but it's a risk that pays off handsomely for this hippy-dippy NorCal meat manufacturer. The bold aroma and strong, juicy skin were the strongest features of Mighty Good Dogs, but don't underestimate the slow onset of the gentle smoke flavor that's hiding at the end of every bite.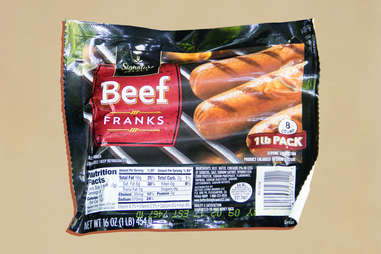 4. Safeway Signature Select Beef Franks
If you can set aside the slight hint of liquid smoke that rings with the aftertaste of grocery giant Safeway's signature dog, this is the closest you'll ever get to a mass-produced store brand greatness. The chewy exterior gives way to a juicy, salty interior that's just about as perfect and simple as it gets, which is all you can ask for a dog that's available by the pile at a ubiquitous grocery chain in almost every corner of the country.
3. Hebrew National Bun Length Beef Franks
Hebrew National's perfect balance of savory saltiness and a pleasingly even texture makes it the king of basic, garden-variety hot dogs. Top it off with a texture that's smooth and devoid of that gamey processed meat aftertaste that ruins cheaper bologna-esque competitors, and you've got yourself a ride-or-die dog that's ready to impress at any occasion that would require one to show up with grillables.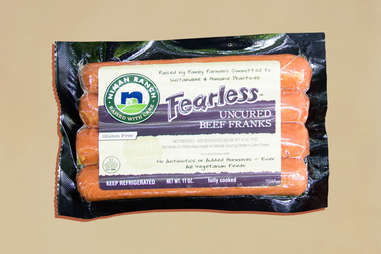 2. Niman Ranch Fearless Uncured Beef Franks
For those who value a thick, salty skin that retains unparalleled amounts of juice and radiant grill heat, consider this nationally renowned purveyor of restaurant-grade meats as your new favorite epicurean-approved operation to nerd out over. Subtle and distinguished, the interior flavor of these franks is perfect for discerning adults who don't need to be smacked in the face with sodium to know good things are happening in their mouths. Save the store-brand wieners for the kids, because this is now the official hot dog of the final adults-only hours of the summer cookout scene.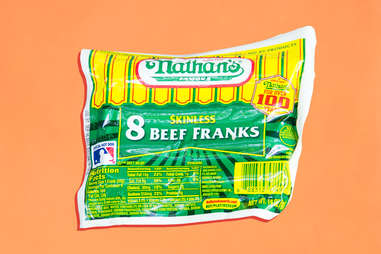 1. Nathan's Famous Skinless Beef Franks
An overt effort was made to try Nathan's last because we had a notion that no one would come close. This wasn't entirely the case in light of the boutique brands that pleasantly surprised, but bestowing this legendary Coney Island brand with "best in class" distinction among its mass-produced brethren would be a harsh injustice. With alternating layers of smoke, sweetness, and salt captured in a magically skinless package that chars up perfectly every time, this is all anyone could ever possibly want in a hot dog.
None of the fancier brands came even close, but considering an entire cottage industry has grown around stuffing as many of these things in your face as you can, how can you be even the slightest bit surprised to learn this? Like most great American stories, Nathan's Famous was brought ashore by an enterprising immigrant who believed the USA was where his dreams of gastronomic greatness could be achieved. Hot dogs are America's food, and this is, without argument, America's finest hot dog. God bless America, and God bless the processed tubed-meat products we've perfected over the past century.
Sign up here for our daily Thrillist email and subscribe here for our YouTube channel to get your fix of the best in food/drink/fun.

Pete Cottell is guaranteed to be pleased with just about any old hot dog as long as it's slathered in Cleveland Stadium Mustard and washed down with an ice-cold bottle of Miller High Life. Follow him and his frank-related feats and follies at @Vanifestdestiny.