Few things in life are better than eating an ice cream cone on a hot day. Like maybe finding your soulmate. Or learning how to do the dance moves from Will Smith's "Men in Black." And since we can't help you with your dating life or teach you how to take a walk with me, we opted to just eat all of the ice cream over the past year, in everywhere from college-town creameries, to desolate stretches of Maine, to BROOKLYN (?!?). We kept many from our original list of 21, and tried to get in some old-school legends we missed, and some new-school spots just waiting to be legendary.
So just throw on your classiest pair of elastic-waisted jeans and get ready to indulge your eyes in picture after picture of frozen perfection. And, as Will Smith said in the '90s, don't jeer us, we're fearless. Except in the comments section.
Recommended Video
These Onion Rings Are Stuffed With Cheeseburgers
Brooklyn, NY
Before Brooklyn was teeming with moms pushing babies in strollers and dudes wearing fedoras and moms pushing babies wearing fedoras in strollers, it was teeming with cows. And while those cows are missing -- as are the hills Walt Whitman famously waxed about -- Ample Hills pays tribute to the era from its two-story Gowanus creamery. Everything is made on-site -- seriously, they are a registered dairy plant -- and the result is delicious concoctions, like peppermint ice cream that's loaded with dark chocolate-covered mint patties and regular favorite, the Munchies, a pretzel-infused ice cream packed with Ritz crackers, chips, more pretzels, and M&M's. Plus, there's the basics, like strawberries and cream, meaning there is a flavor for every Brooklyn fedora wearer.
University Park, PA
Don't worry new high school graduates: if you act now, you can still transfer to Penn State by second semester, which is plenty of time to spend your dining hall dollars strictly on the cheddar, yogurt, ricotta, sour cream, chocolate milk, ice cream, and sherbet that basically pours out of Berkey. The university's creamery makes 225,000 gallons of the frozen goodness annually, and its short course boasts Ben & Jerry (THAT Ben & Jerry) as alumni. The only downside is their strict no-mix policy when it comes to choosing cone flavors. But, remember, you're about to transfer here, so you have so much time left to put on the freshman 15 (plus more?) via Black Cow (vanilla with root beer sherbet swirl) and blueberry cheesecake (blueberry swirled into cheesecake ice cream).
San Francisco, CA
We've said it before, as they're on our list for the second straight year, but if you see someone lining up on 18th street in the Mission at, say, 2pm on a Wednesday, it's not a protest against tech. It's the line for the original Bi-Rite opened across from the market in 2006. Their Straus Family Creamery dairy ice creams are perfection, whether you get them in the original Mission store by Dolores or over in NoPa inside the newer Bi-Rite Market. Either way, it's worth waiting for. On a weekday morning.
Ledgewood, NJ
This Jersey spot is an all-encompassing tug at the nostalgia strings from the atmosphere to the flavors. Looking exactly like it was opened in '75 -- it was -- this is a drive-in ice cream stand, rather than a parlor. Park, go up to the window, and start the very long process of choosing from 11 soft ice creams and 60 hard, hand-dipped ice creams. You should, eventually, get the strawberry, because you're at the kind of old-school spot where you feel like you should but also because it's award-winning, and then grab a seat at the picnic table. When you finish and lick the melting strawberry off your hand, go back again for the double dark chocolate fudge crunch, sit back down, and maybe pretend you're 8 years old again. This is the spot to do it.
Chattanooga, TN
Fifteen years in the business, Clumpies was opened by the son of a third-generation candy maker, who turned the family's sweet tooth to the freezer section. Working in small batches, the creamery keeps things simple -- mostly -- with rich and creamy flavors, like chocolate chocolate chunk and butter pecan. And then not-so-simple with tongue-tingling, Pop Rock-infused Tutti Frutti ice cream. This does have candy-making genes, after all.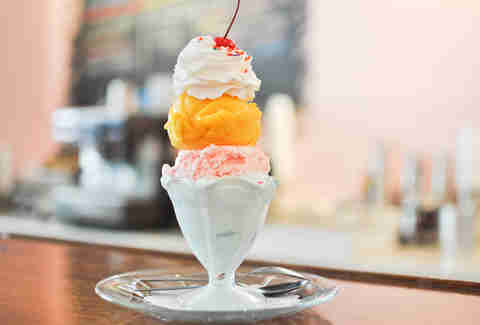 New Orleans, LA
With an old local bakery's neon sign still mounted over its doorway, Creole Creamery looks like a soda fountain -- and, with a hot-pink interior reminiscent of an old-school parlour, that impression doesn't alter much once you step inside. The flavors, however, do step outside the box with a surprisingly tasty avocado and a refreshing, fruity peach Riesling, but stay old-fashioned, with their signature Creole cream cheese. The ice cream uses an old-style farmhouse cheese -- think sweet, more spreadable cream cheese -- and whips it into the ice cream. The result is velvety smooth, refreshing ice cream that's just about the only thing that can help you survive a New Orleans August.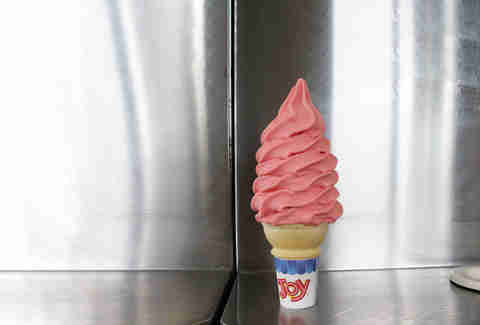 Weston, MA
I've been eating this ice cream since before I had teeth, so yes, some of the love for Dairy Joy is clearly nostalgia-based. But the other is that they simply make some of the best soft-serve ice cream in all of New England. Sure, it is annoying that they're only open seasonally and they close as soon as it gets dark out, and you usually have to go sit on the logs over in the corner of the parking lot because it's so crowded, and lick your Java Berry or Creamsicle quickly lest it melt all over your hand. But that just kind of adds to the charm.
Fairfax, CA
Back 14 years ago when Ray Martin first opened his tiny Scoop, there were no other locally sourced organic ice creams being peddled around Marin. And yet Ray insisted that all of his ingredients from the berries to the honey in their famous honey lavender to the red chiles in the fantastic cinnamon/ginger/chili Controlled Burn come from local purveyors, and you can watch him or his employees ladle their homemade waffle batter onto the press for the cones and waffle cups. Yes, it's small, and cramped, and the line is often stretched out around the block. But it's ever so worth it.
Houston, TX
Yes, you can get into the whole locally sourced from Texas farms thing. And yes, their packaging is all compostable down to their damn spoons made of cornstarch. But your stomach and taste buds won't know that. All they'll know is that you're eating a flavor called Waterloo strawberry buttermilk made with strawberry jam, buttermilk ice cream, and Waterloo Texas gin, and you never want to stop. Unless you get the milk chocolate stout. Or one of their incredible seasonal flavors (and yes, the rumor was true: they did have an Easter-themed malted milk ice cream with Cadbury Egg pieces inside).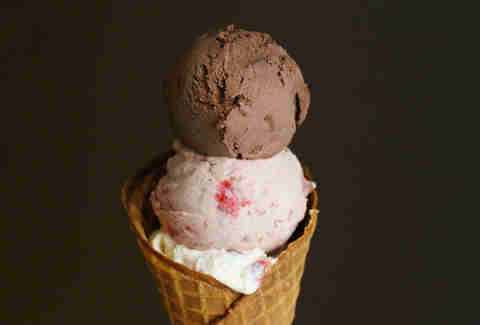 Kansas City, MO
Once you realize that Glacé is the brain-freezing dessert project from the same man plopping neon, metallic-hued sweets into boxes at Christopher Elbow Artisanal Chocolates, and then go back a little further, and learn that Elbow did stints along the Vegas Strip, including a stop with Emeril, then this ice cream wonderland begins to make a great deal of sense. Don't come expecting a scoop of plain ol' vanilla. Rather, think a little higher for the rosewater vanilla. And then just ignore that anyway because you can get a scoop of goat Cheese & cherries. Or blackberry chocolate flake. Or peanut butter and jelly. But, still, appreciate the beauty of rosewater vanilla.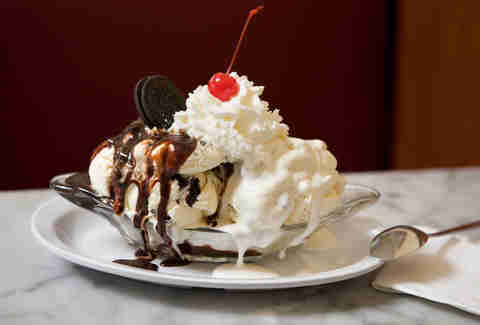 Oakland, CA
Melvin Fenton is a legend. Not just in Oakland, but all over the world, ever since his grandfather E.S. opened the creamery in 1894. Fenton didn't just invent memorable flavors for his store, he damn well made them up for THE WORLD, including toasted almond, which is my recommendation for the flavor you should be eating when you go there. Assuming they don't have spumoni. Or Heavenly Hash. Or...
New Gloucester, ME
Picture driving through Maine with your grandparents every Summer and stuffing yourself with lobster rolls and fried clams and blueberries and L.L.Bean fleeces. And then, even though you are so full that you actually wish the elastic in your Umbros stretched a little more, you stop at this little roadside who on Lewiston Road in New Gloucester and opt for the vanilla in a cone, expecting that it will be just like the normal ice cream you've eaten. And you'd be wrong. The frozen custard is thicker and creamier and somehow stays on your tongue longer. It's delicious. Oh yeah, and this was my Summer ever year until I got too old to wear Umbros. Which was sometime after I was 17.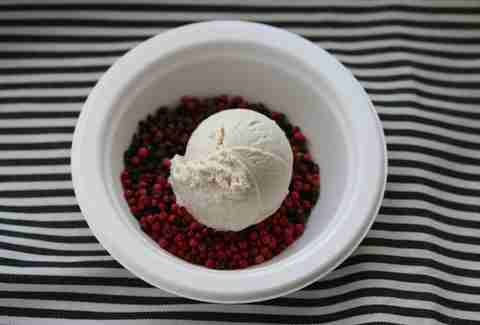 San Francisco, CA
I take the ferry in San Francisco all the time. I love it. It reminds me of that scene during the first season of Grey's Anatomy when Meredith Grey is commuting to -- you know what, never mind. The point is this: every time I get off said ferry and enter the ferry building -- no matter what time of day it is -- I pop into the Humphry Slocombe stand and grab a quick scoop of their most famous creation, Secret Breakfast. There is something invigorating about bourbon and caramelized corn flakes in that cool creamy ice cream. And please, forget what I said about Grey's Anatomy. JUST DROP IT OKAY?
Washington, DC
It can take a lot for us to crave ice cream during an East Coast Winter, but Ice Cream Jubilee managed to change that entirely by adding booze, of course. When the temperature dropped in DC last year, flavor-wizard Victoria Lai rolled out egg nog, a cream laden with nutmeg and rum. Lai, who attended that Berkey ice cream short course we mentioned earlier and also spent some casual time as a presidential appointee to the Department of Homeland Security, has only had her shop about a year, but those creative flavors (think gin and tonic -- lime sorbet with Beefeater -- and coconut lychee lime) have won her quite the following. Because who doesn't want to sub out the egg nog thermos for a waffle cone?
St. Paul, MN
It's rare that you see anyone described as an "upbeat ice cream specialist" on a Google description, but that is pretty apt for Lara Hammel and Jeff Sommers, both Minnesota natives, and owners of Izzy's. As a lawyer and a teacher, they had no experience when they opened 15 years ago, but studied hard, and now the name rings out for pretty much anyone in the Twin Cities. We're partial to some of their signature flavors, like the cereal milk with baked Kashi in the mix, as well as the addictively spicy Norwegian chai.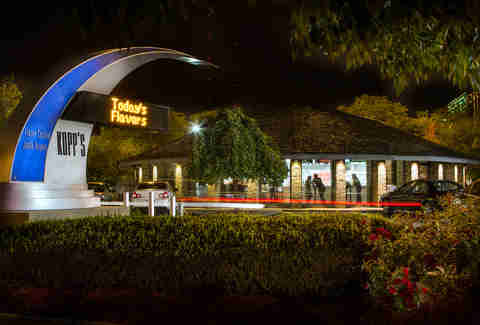 Milwaukee, WI
The burgers at Kopp's are pretty damn good, but THAT ISN'T WHY WE'RE HERE. We're here because Elsa Kopp started making custard 65 years ago, and the Kopp name remains synonymous with the best damn custard in the Midwest. Also, just listen to the description of their featured sundae for Thursday, May 14th, the day I wrote this: "Three generous scoops of Vanilla Custard, topped with slices of ripe Banana, Pastry pieces, "made from scratch" Banana Marshmallow Cream and Chocolate Marshmallow Cream, and Whipped Cream sprinkled with Chocolate Flakes." Yeah. Maybe you should go there now.
Savannah, GA
At just four years shy of turning a century old, Leopold's is a Savannah institution. Founded in 1919 by three immigrant brothers, the spot is truly an old-school soda fountain diner, with BLTs and pimento cheese sandwiches sharing menu space with chocolate chip and pistachio ice creams, happily scooped by white hat-wearing workers. Leopold's is still in the family and you're going to want it covering the mouths and faces of your family anytime you're in the Peach State.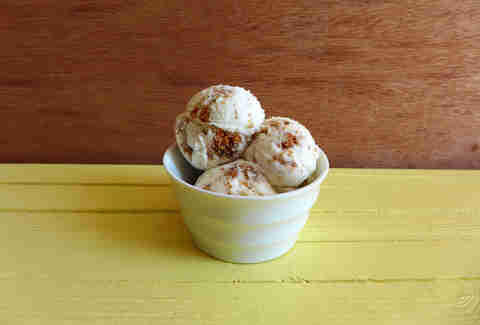 Austin, TX
On the list for another year, we'll quote our staff writer on last year's writeup, when he said "You haven't truly had mint ice cream until you've had it made with fresh leaves. The guys at Lick apply this mantra to their entire menu, opting for whole ingredients in their super-dense, eggless ice cream that's sweetened naturally with brown-rice syrup for a healthier but still tongue-tickling taste. Traditional flavors like vanilla bean with honey and Caramel Salt Lick are great choices, but what sets Lick apart is the curious use of veggies, like beets, sweet peas, and carrots (we promise they're still rather delicious)."
Seattle, WA
Yes, they have nine locations in Washington now. And so you start to worry that the quality will flag. But that just means you've never had one of Michael Avery's decadent flavor creations. Take, for instance, the sneak Summer preview he put out this week: orchard peach with "Honey Crisp Farms Peaches baked in slow churn butter, vanilla bean and bourbon vanilla, nutmeg, ginger, cinnamon, sugar and a dab or two of Tennessee Honey Whiskey." Or the time he created an ice cream that tasted exactly like chocolate chip cookie dough. The man is a 'scream genius, and we can only hope he eventually takes over the world.
Chicago, IL
If your father created a cradle in the back of a candy case to literally raise you in an ice cream parlor, you'd have some pride too. And that's exactly what happened with Peter George Poulos Jr., who owns the legendary ice cream shop in Chicago, open since 1921, and known for their hot fudge sundaes. If you go, don't mess around: go straight to one of those old-school booths with the tableside jukebox, put on something by Chubby Checker, and cover your face in fudge as if you're applying war paint. Oh, and then eat the ice cream too.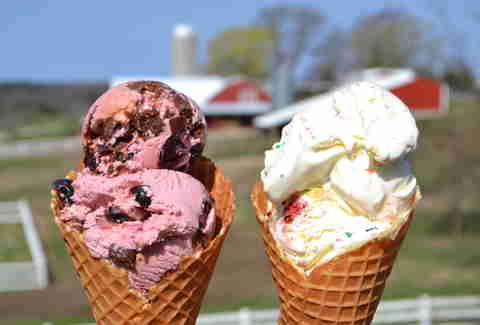 Traverse City, MI
They have a saying in Northern Michigan, but I think it's about cherries. Either way, there should be a saying about MOOmers, who've made our list for the second straight year thanks to their destination-quality ice cream churned from the cows sitting adjacent to the shop. If you can't find a favorite among their 160 FLAVORS (ranging from hot cocoa ice cream to a very cherry made with those damn delicious things everyone in Northern Michigan is talking about), there will soon be a saying about you, and it won't be nice.
New York, NY
Nicholas Morgenstern's ice cream cart at the General Greene was famous, not only for the delicious ice creams it offered, but also the lines that came with them. So when he decided to focus on an ice cream parlor, everyone in New York got very excited about the possibility of waiting in shorter lines to eat more and more ice cream. Morgenstern focuses on mastering simple flavors with different tweaks, like four different kinds of vanilla (we like burnt honey), and three kinds of caramel (and yes, he even goes for unsalted). But if you want to scrap all of that and just get a crazy flavor profile from something like banana curry or American egg, be his guest.
Burbank, CA
Fun fact: a quenelle is a shape that fancy restaurants often use to make your ice cream or sorbet look appetizing. Even more fun fact: you can't get the ice cream at Quenelle in the quenelle shape. But their loyal customers don't care, because when you have everything from blueberry pie ice cream to monthly rotating flavors like Red Bull/vodka popsicles (bring your ID) to hand-dipped apple pie ice cream bars you can cover in a brown butter glaze with graham cracker streusel, there's something for everyone. If it wasn't clear that they're not a traditional ice cream shop, you won't find sundaes or milkshakes on the menu. But you can find local brewery Golden Road's IPA in ice cream form. Yeah, you're gonna need to bring that ID for sure.
Portland, OR
Like many Portland favorites, Salt & Straw started as a custom cart -- the old-school push kind, even. A few short years and four brick-and-mortar shops (including a new one in LA) later, and S&S has taken the concept of artisan ice cream to ridiculous heights, and in a town that contains great scoops from the likes of Ruby Jewel and What's the Scoop, its ability to stand out is astounding. While seemingly wacky flavors like pear & blue cheese and dandelion sorbet might be a stretch for purists, the place also does beautiful things with simple flavors like salted caramel and almond brittle, plus great collaborations on boozy scoops with local breweries and distilleries. The secret is the ice cream architect's combination of chef-like approach and Wonka-like imagination, which together churn local and seasonal ingredients into spectacularly unexpected concoctions. With long lines and cultish followers, Salt & Straw is like the Voodoo Doughnut of ice cream. Except it's worth the wait.
Columbus, WI
Unless America somehow breeds a cow that dispenses ice cream from her udders, the ice cream does not get any fresher than it is at Sassy Cow. That's a result of a dairy farm located a half-mile North of the creamery, owned by the same family. And in the Summer, when they're making ice cream as fast as possible, you could get ice cream two to three days after the cow's been milked. That delicious ice cream comes in 30 flavors, including 10-15 new flavors each season. Don't pass up on the Caramel Overload, which takes their uber-popular salted caramel ice cream with pecans, and adds caramel pretzels, whipped cream, and a cherry to the mix.
Middletown, RI
It's easy to see why everyone misses this spot. First off, it's on Sweet Berry Farm, which I'd initially never heard of, despite having been dragged to every interactive farm in New England as a child. Second, the ice cream comes out of the freezer case, and so purists are like "NOOOOO." But then the purists try Susanna Wiliams' flavors, like the maple pecan made with Quebec maple syrup, or the honey vanilla using honey from the bees at Sweet Berry, or any of the local fruit flavors, and then they buy several of those pints, and come back. It's been called the best ice cream in New England, and if it isn't, it's damn close. Plus, you know, an interactive farm!
Denver, CO
A few years back, a small but hungry team of Thrillist writers tasted 24 delicious flavors of Sweet Action and ranked them. It's a testament to the ice cream geniuses at Sweet Action that the ranking is now completely and utterly irrelevant, like yesterday's newspaper, or newspapers in general. See, the flavors change all the time... and we mean ALL THE TIME. Their Twitter helpfully keeps you posted on the newest goodness, which showcases their frozen creativity. Lately, that's meant buttered popcorn, cannoli, and horchata, plus a smattering of vegan stuff that's just as creamy as the real thing. And yeah, you'll have to wait in line most Summer nights, but you'll need that time to peruse the newest flavors on their Twitter anyways.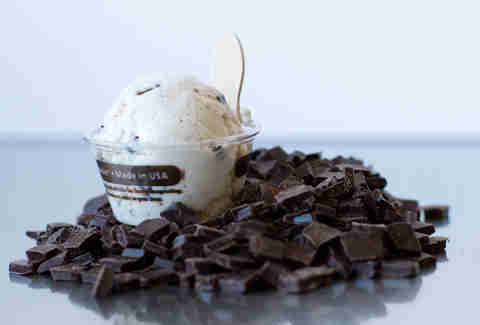 Louisville, CO
I never liked oatmeal cookie ice cream until I tried it at Sweet Cow. And then I tried it again. And again. And again. That about sums it up for all of us.
Scottsdale, AZ
Not just a phrase polite bros say to Ireland Prime Minister Enda Kenny when they meet him, it's also a Scottsdale institution on our list for the second year, and known for using hella recycled materials/making the best ice cream in the Grand Canyon state. Though we're usually partial to pure ice cream, we recommend you mix it up and opt for one of their Brown Cows, which use their delicious Madagascar vanilla ice cream and Mexican Coke.
St. Louis, MO
Before Shake Shack came along and made the whole "concrete" thing popular nationwide, there was Ted Drewes. The family has been selling frozen custard for more than 80 years, and -- even more strange but nonetheless awesome -- "Christmas trees for over 50 years." So even if you're just there to purchase a tree under which you will put wrapped boxes of Micro Machines, you might as well get one of their amazing concretes, especially the Twisted Caramel, since the crumbled pretzels add just the right saltiness to that caramel.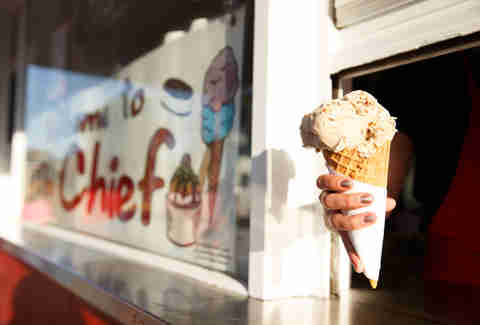 Goshen, IN
Maybe it's the hand-painted sign that simply says "The Chief." Or the simple red and white decor. Maybe it's their fantastic version of that weird Midwest flavor "Blue Moon," which kind of tastes like blue raspberry and vanilla, but is neon enough that you'd think it was created during an EDM concert.
Durham, NC
We won't hold it against them that it took a Philly-bred couple to come down to Dukie-land and give the Southern kids this delicious 18% butterfat ice cream. But now everyone is glad they're there, and so are we, especially after trying their salted butter caramel -- that sea salt and the rich buttery flavor is their most popular for a g-damn reason.
Cambridge, MA
On the list for the second straight year, we just have to quote from last year's writeup, mostly because I still feel like it represents my teenage years accurately: "Since 1981, there has been a specific move when you are in Cambridge and you are a teenager: go look at the shoes you can't afford at Concepts, get ice cream from Tosci, and then get kicked out trying to weasel your way into a Harvard Finals Club after trying to identify yourself as "Thad." But before you get tossed from Owl, stuff yourself with either malted vanilla, Hydrox cookie, or their famous burnt caramel, and live to fight another day, Thad."