9 Surprisingly Delicious Foods You Can Buy at IKEA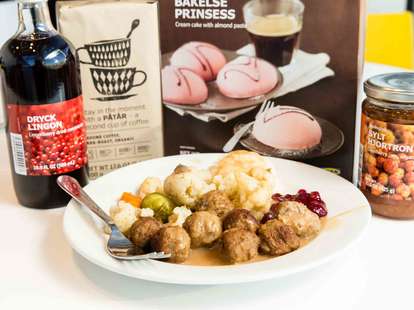 IKEA is probably best known for two things: its cheap flat-pack furniture with pretty much impossible-to-pronounce names, and its affordable cafeteria that serves a pretty much endless stream of meatballs.
But there is even more food available at IKEA that can't be found at the store's restaurant. Each IKEA actually has its very own food market filled with an incredible assortment of Swedish treats, from smoked seafood to fancy jams, that you can take home and serve on your new table (if you ever figure out how to build it).
To help us navigate the selection, we spoke to Gerd Diewald, the Swedish furniture store's US food manager. Part of Diewald's job is to know the products inside and out, and he revealed the nine foods he just can't get enough of, below.
Price: $2.99
While these might resemble latkes, these aren't your bubbe's Hanukkah specialty. These Swedish potato pancakes are made from cooked potato (instead of raw potatoes like latkes) that is then fried, and they tend to be dressed differently, too. "My wife and I like savory flavors, and serve them with smoked salmon and crème fraiche," Diewald said. His daughter, on the other hand, goes the sweet route, topping the potato dish with things like berries and applesauce.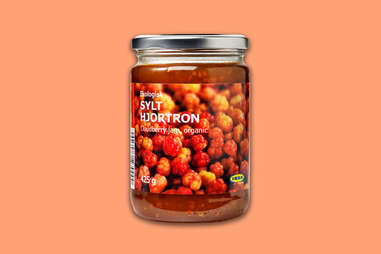 Price: $7.99
While America's supermarkets are jam-packed (pun intended) with strawberry and raspberry products, it's rare that you'll find foods flavored with cloudberries. The tart berry -- which has a much cooler name than most berries -- is a Swedish favorite, and is often used to make jams. Luckily, you don't have to go to Sweden to buy a jar, as IKEA's got you covered. Diewald said he often eats the jam with meatballs and hot sauce for a sweet-and-savory treat.
Price: $5.99
Will you become a princess after eating this cake? Probably not, but you will placate your sweet tooth. The combination of raspberry and custard filling inside a marzipan-coated, oval-shaped cream cake is hard to resist. "I cannot count how many times my friends have gone to IKEA after trying it at one of my dinner parties to buy their own stash of this cream cake," Diewald said.
Price: $14.99
Smoked salmon is not cheap -- if you don't believe us, here it is for $29.98 or $39.99 for a similar size. But it's affordable at IKEA! Diewald told us that this is his favorite of all the salmon products available in the market. (Sorry, Lax Filé.) It also happens to be responsibly farmed, so you can feel good about eating it.
Price: $4.99
This pick is for all the LaCroix lovers out there. "At home, we combine this lingonberry syrup with sparkling or soda water for a delicious alternative to traditional soda," Diewald said. When you're sick of chugging Apricot LaCroix, consider this tart, refreshing Swedish-style drink made with lingonberries (it's like a cranberry, but popular in Scandinavia!), which, according to Diewald, is also high in antioxidants. Mmm, antioxidants!
Price: $1.49
For those long days walking around IKEA's endless showroom, a trail mix is just what you need to stay alert. Meet Munsbit, or snack packs of roasted nuts and dried fruit. The most satisfying option? A bag of dry-roasted cashews, almonds, organic dried apple, and dried blueberries. Diewald says he keeps them in his car for his commute.
Price: $4.99
Making bread at home can be a pain in the ass. Kneading bread takes valuable time, time you could be spending angrily commenting on Thrillist's Facebook page. There's an easier way to get fresh bread: Pick up this bread mix from IKEA, pour hot water directly into the carton, shake, pour it into a loaf pan, and bake it. Diewald says it's delicious topped with IKEA's cheeses, smoked salmon, or ham. It's probably killer with a healthy dollop of the aforementioned cloudberry jam, too.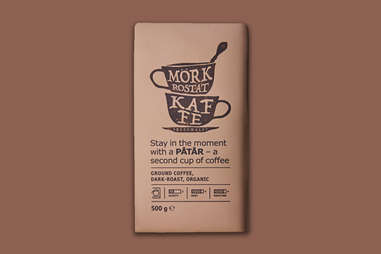 Price: $5.99
The fact that IKEA is selling over a pound of organic, UTZ-certified coffee (which is similar to being Fair Trade-certified) for just $6 is absurd. But then again, the brand sells entire living rooms for around $5 (approximately), so it makes sense. This is one of its newer coffees available in the market, and Diewald says he likes the "full-body taste" of the roast so much, it's how he starts all his mornings these days. After he gets up out of his IKEA bed, we're assuming.
Price: $8.99
If you've ever had a craving for IKEA's famous meatballs, but never wanted to drive to a store, find parking three miles away, and then wait in line to buy them, this 2lb freezer bag full of balls is perfect for you. Diewald recommends plating the classic Swedish dish with equally Swedish eats like lingonberry jam and cream sauce (both are available in the market, too). Or you could just zap them in the microwave and douse them in Sriracha like we do if you're feeling lazy.

Sign up here for our daily Thrillist email, and get your fix of the best in food/drink/fun.