Ramen noodles have far surpassed their status as a cheap staple for college kids, transitioning into the world of stunt food and gourmet eateries. But we can never forget the good that ramen does for the starving scholars. With that in mind, we raided the local Asian supermarket in search of the best ramen... and when we discovered there were hundreds of brands, we randomly intelligently chose seven to put up against America's favorites. And to keep the experiment controlled, we only tried beef flavors. Then failed chemistry.
Recommended Video
This Restaurant Will Expand Your Paratha Horizons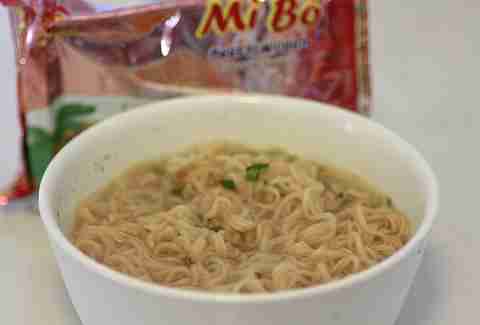 9. Mi Bo
So, there's a packet of dried scallions to mix into the soup, so there's today's vegetable serving. But the seasoning is… well, it's white. I'm no zoologist by any means, but there's definitely something off-putting here… it's kind of like Crystal Pepsi, if Crystal Pepsi tasted like beef. The flavor resembles gristle, and the seasoning refuses to dissolve, leaving wet little boogers of gross white beef powder.
8. Mama Stew Beef Flavour
In addition to a decidedly darker seasoning, this thing came with a packet of thick, white goop with caramelized onions inside. Turns out Mama, in an effort to make comfort food, emerged with something scarier -- an oddly sweet, greasy slop that tastes like a misguided attempt to make meat candy.
7. Unif Tung-I Ramen Noodles
If somebody ever decided to make a "beef broth" flavored sports drink, it might taste like this oddly mild, super watery stuff, which comes with a seasoning packet full of dried herbs and a "flavoring" oil that looks like Tang, if Tang was twice as orange. That means there are a bunch of bright orange oil slicks all over the noodles, and a ring around the bowl that makes it look like a rejected page from The Cat in the Hat Comes Back.
6. Wai Wai Casserole Beef Flavour
These Asian varieties take their seasonings pretty seriously, and this one comes with a tube of palm oil loaded with minced shallots. Pretty fancy for a $.49 dinner. And too bad that the addition of the oil kind of ruins an otherwise tasty soup by seeming to coat nearly every one of the super-skinny noodles and, of course, your mouth. I swabbed my teeth with a paper towel to make it go away.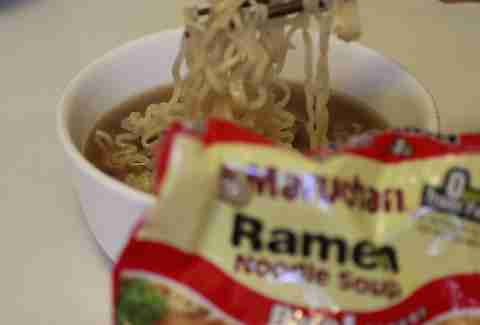 5. Maruchan Ramen Noodle Soup
The first of the Americanized noodles makes its presence known instantly with its mega-jolt of salt... which says a lot, considering most of these things could keep the heart medication industry alive on their own. Still, aside from the sodium explosion, these are relatively bland. Which could also mean our taste buds have exploded. It was hard to tell.
4. Top Ramen
Yes, we are relatively biased, considering that this tastes like college and gave us flashbacks to that one time we totally, totally, TOTALLY triple-kissed girls whose lips tasted like beefy ramen. But following the mild and oily tastes of the previous entries, the overpowering beefy/salty suckerpunch is a welcome change of pace, even if eating Top Ramen while totally sober doesn't seem right.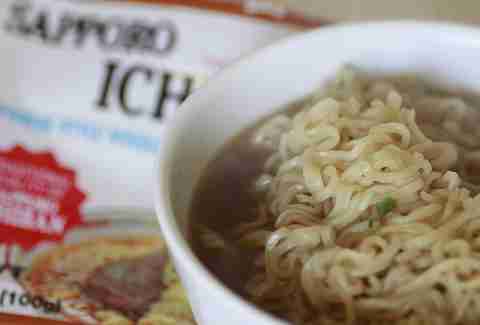 3. Sapporo Ichiban
Ichiban means "number one", and while there might be a little hubris in the soup here, it's still pretty great. The gigantic brick of noodles stays relatively intact, facilitating maximum noodle slurpage. And the seasoning tastes like Top Ramen did the first time you fell in love with it -- or at least what you fondly remember it as tasting like, which is idealized fake beef.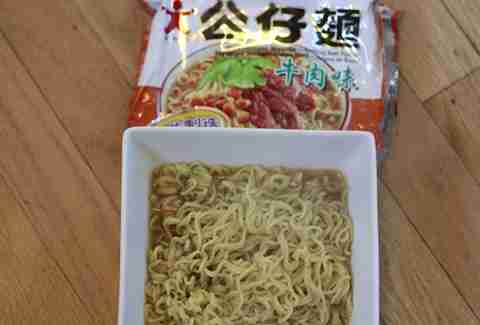 2. Doll Instant Noodle
Something's not right here. The noodles are big and thick and look like they're made of butter and other real ingredients. They also don't turn to mush. They work like sponges to absorb the broth, which is extra great because the broth tastes kind of like pho. Ok, maybe Campbell's pho, but it's still pretty delicious. And, more importantly, tastes less fake than everything else. Wow.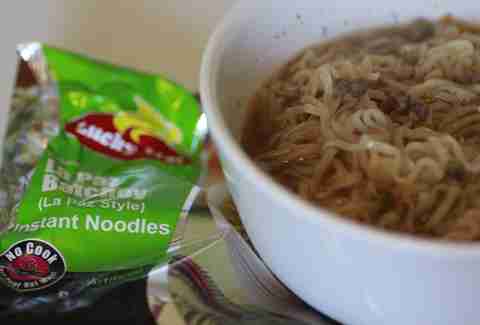 1. Lucky Me! La Paz Batchoy
Opening this little packet was like opening a science kit: Inside there were four more little packets, including a tube of some weird garlic paste, some crispy fried onions, and a bunch of little balls that looked and tasted like burnt Grape Nuts. But when they hit the soup, they were revealed to be dehydrated meatballs, which would be gross if they didn't taste so good, especially as part of a package that tasted like extra-thin noodles marinated in steak drippings. Okay fine, the meatballs weren't great. But we'll excuse that since this is the only really legit soup substitute of the bunch.
Andy Kryza is Thrillist's National Eat/Drink Senior Editor, and has proudly lived vegetable-free since 2001. Follow his adventures/slow decline via Twitter at @apkryza.