The best international fast-food items from 10 major chains
Most conversations about foreign fast food tends to focus heavily on the bizarro stuff like black ninja tongues. They should hold their tongues, as that's not appetizing, but what about the legitimately great delicacies that cruelly remain out of our Yankee grasp? We decided to round up an amazing international selection from 10 chains you know and love, mainly to make you jealous. And you will certainly seethe after seeing what McDonald's, Subway, and BK are serving up overseas.
Mac 'n' Cheese Pizza
The Chain: Pizza Hut
The Country: Germany
Our homemade version didn't live up to expectations, but we have zero doubts that a slightly more integrated pie, like this one from Pizza Hut Germany, would be a very tasty source of daily calcium. Danke schön, Deutschland. Now just airmail it over here.
Wildberry Pancakes
The Chain: Wendy's
The Country: New Zealand
In the pantheon of American fast-food breakfasts, Wendy's is barely even a DIII player. But that's not the case in New Zealand, where they serve sumptuous dishes such as these wildberry pancakes. Nevermind that it's technically classified as dessert -- this is the perfect companion for your 9am Frosty.
B.O.S.S. Sandwich
The Chain: KFC
The Country: France
An acronym for Best Original Sanders Sandwich, the B.O.S.S. has lent its name to a couple different sammies around the globe. Our favorite is this iteration from KFC France, which features the Colonel's original recipe chicken, Monterey Jack fromage, lettuce, onions, and special sauces on a sesame-pepper-poppy bun.

Chicken Tikka Sub
The Chain: Subway
The Country: India, the UK, the United Arab Emirates, and more
Finally you can house some classic Indian food on the go. This sub piles on tikka-seasoned chicken and all the veggies you can handle. And no matter which country you order it in, it's probably made by a Sandwich Artist who majored in liberal arts.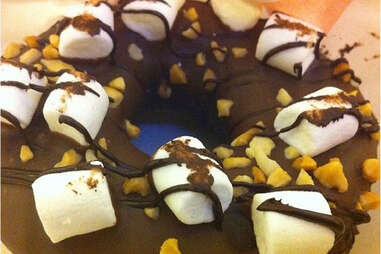 Supreme Rocky Road Donut
The Chain: Dunkin' Donuts
The Country: Philippines
Things tend to get weird with abroad Dunkin' -- need we remind you of the pork seaweed donut? -- but this delectable pick from the Philippines makes us so jealous we'd give up Munchkins for it.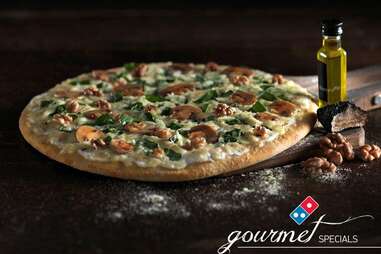 Tartufo Pizza
The Chain: Domino's
The Country: Greece
Those Greeks weren't messing around when they rolled this pie, a beauty topped with mozzarella, fresh cream, parmesan, spinach, walnuts, mushrooms, basil, and truffle oil.

CBO Cheesy Bacon
The Chain: McDonald's
The Country: Brazil, Argentina, Spain, and more
CBOs, or cheddar-bacon-onions, aren't news to any 'Murican McDonald's loyalist, but that life-changing bonus bacon-and-cheese topped bun most certainly is. It's big in España, as well as basically any nation where the locals are impeccably tan.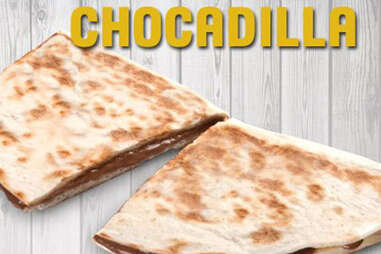 Chocadilla
The Chain: Taco Bell
The Country: Spain
Those lucky bastards in Spain are feasting like kings on chocolate quesadillas for their Taco Bell desserts. We want this to be our fourthmeal through tenthmeal of the day.

Every single Thai pie or cake
The Chain: Starbucks
The Country: Thailand, dummy
Casual international Sbux pastry connoisseurs might get distracted by stuff like Malaysia's Banana L'opera, but the seasoned vets go straight to Starbucks Thailand for their mesmerizingarray of dessert slices. Suddenly, our chocolate meringue cookies seem way less impressive.

Poutine
The Chain: Burger King
The Country: Canada
Because Canada will continue to taunt us with their cheesy, gravy-laden fries (with maple bacon, to boot!) until the end of time.
Kristin Hunt is a food/drink staff writer for Thrillist, and is still reeling from the time she accidentally drank banana milk in 9th grade. Follow her at @kristin_hunt.