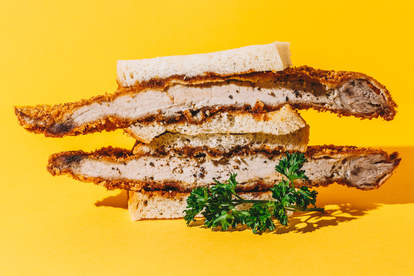 Japanese Sandwiches Are Beautiful to Look at and Even Better to Eat
Japan has given us so much. We've received rows upon rows of whimsical cherry blossoms that bloom during spring, bitter and sweet variations of canned coffee, beloved animes, and -- not to be forgotten -- the humble sando. What is a sando, you ask? It's the Japanese word for sandwich, but the Japanese interpretations of sandwiches are unlike any of the French dips, Italian deli sandwiches, or tortas you've had before. And they're miraculous. 
Japanese sandos are in a category of Japanese food known as yōshoku, or Western-inspired Japansese food. Though yōshoku dishes initially began as simple adaptations of Western foods -- like ketchup-y spaghetti known as naporitan and pan-fried cutlets of katsu -- it quickly transformed into its own established category of food that is uniquely Japanese. In contrast to their Western counterparts, Japanese pastas and risottos tend to be less dense, cakes and sweets are lighter and fluffier, and the construction of sandwiches are neater and aren't weighed down with intense slabs of proteins, cheeses, and condiments. 
"The first noticeable difference [between Western sandwiches and Japanese sandwiches] might be the bread," said Nick Montgomery, the co-owner of rising Los Angeles sando shop, Konbi (one of our picks for best sandwich shops in America). Japanese sandwiches are typically made with what is called shokupan and known as milk bread, a slightly sweet white bread crafted from an enriched dough that is soft and pillowy.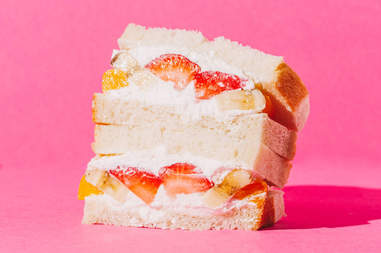 Fruit sandos make perfect breakfasts, desserts, or afternoon tea snacks.

| Cole Saladino/Thrillist
The milk bread used at Konbi is sourced from Bub and Grandma's, a Los Angeles-based bakery, and is cut into perfectly even squares. The slices barely contain a crust, meaning the area of the bread that hungry diners bite into are mostly going to be the cloud-like interior of the loaf. 
"One other thing that sets [Japanese sandwiches] apart might be the attention to construction. They are generally well made so that the ingredients don't fall out as you eat the sandwich and it doesn't make a mess," added Montgomery.
 
Across the country in New York City, Sakura Yagi -- the chief operating officer of T.I.C Restaurant Group, which owns Japanese coffee/sando shop Hi-Collar and bento box-themed Kiosku -- agreed with Montgomery's assessment. 
"Usually, the sandwiches are neatly wrapped like a present. The well-thought-out packages are easy to open and to eat," she affirmed. In her mind, the "photogenic packaging" and "soft milk bread" are key to making an authentic Japanese sando.
But Japanese sandos come with all sorts of fillings. There are the immensely popular katsu sandos, a reinvention of the German schnitzel that takes panko-crusted pork and panfries it to a golden brown before sliding it between two snow white pieces of milk bread. It's one of the most popular sandwiches at both Konbi and Hi-Collar, and features a sweet and tangy katsu sauce. Konbi also offers a variation made with eggplant.
There's also fruit sandos that contain colorful slices of strawberries, peaches, and kiwis gently encased in a whipped-cream cloak -- more apt for those with a sweet tooth. Fruit sandos can function as a dessert, an afternoon tea snack, or even breakfast -- afterall, fruit is an acceptable snack in any of these scenarios.
For breakfast, tamago -- or omelette -- sandwiches can be found, as well as egg salads often made with Japan's favorite mayonnaise, Kewpie.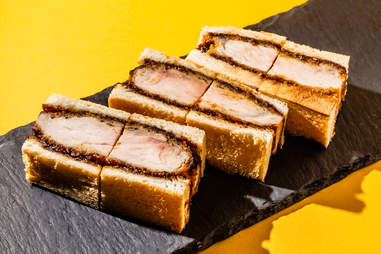 Katsu sandos place fried cutlets between neatly cut milk bread

| Cole Saladino/Thrillist

"Sandwiches are a great 'any time' snack in Japan. They first started becoming popular in the very late 1800s and early 1900s. You'll see them at convenience stores -- conbini -- for sure," explained Montgomery. The idea to open up Konbi came when Montgomery's business partner, Akira Akuto, tapped into his nostalgia for the convenient snack item after a childhood spent in Japan. After testing out recipes and experimenting with pop-ups, Konbi opened in the fall of 2018 to much fanfare. 
"What really sets it apart is the quality of the ingredients," Montgomery said. For Konbi, that means pork loin brined overnight, shredded cabbage dressed in Meyer lemon juice, and eggs sourced from a local farm. For Hi-Collar, that means the softest milk bread possible baked from sister restaurant and tea house, Cha-an.
"Since Japanese food revolves around rice, bread was something new. There were less rules about what sandwiches could be since Japanese people weren't familiar with them so a variety of inside flavors were invented," Yagi hypothesized about the growing sandwich culture in Japan.
Some more experimental fillings include the starchy French-inspired croquette sandwiches, or korrokes. Simple sandwiches -- like ham, cheese, and cucumber neatly and proportionately arranged -- are also popular and can be found in convenience store fridges. 
The popularity of the well-constructed, wholly Japanese sandwiches has seeped into the rest of the world; Japanese sandwiches are now carried at Japanese specialty grocery stores across the states in the classic variations -- like katsu, croquette, and egg salad -- and are constructed just as neatly as you would find at any conbini. They're delicious in their simplicity and great grab-and-go options for sandwich aficionados who happen to be in a rush but still desire a well developed snack. In addition, fancy, chef-helmed sandwich shops across the country have begun adding their takes on sandos to menu boards.
Like ramen and izakaya fare before it, the Japanese sando seems to have found a place in the heart of eaters around the US; the mass appeal may have something to do with the comfort the sandwiches can provide, as well as the appealing presentation. 
"Because bento culture is big in Japan, moms/wives [also] took sandwiches as a vessel to spice up their beautiful bento rotation. Eating with your eyes first is very important in Japan, so it's no surprise conbini have beautiful, tasty sandwiches," Yagi explained.  
If you've yet to ever try a Japanese sando, expect perfect ratios of bread, cheese, veggies, and sauce; clean and easy-to-eat sandwiches (no sloppy joes over here!); and touchably soft bread. And if you haven't had a Japanese sando yet, there's no excuse -- they're popping up everywhere, if you know where to look.
Sign up here for our daily Thrillist email, get Eatmail for more food coverage, and subscribe here for our YouTube channel to get your fix of the best in food/drink/fun.
Kat Thompson is a Japanese sandwich enthusiast and staff writer at Thrillist. Follow her on Twitter @katthompsonn.