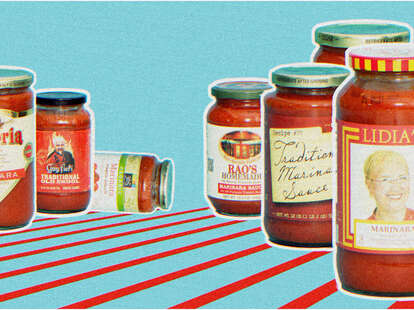 Photo by Cole Saladino for Thrillist
Photo by Cole Saladino for Thrillist
Sauce matters. It's the only thing keeping us from consuming naked, tasteless noodles lying in a limp tangle. But show up at the average grocery store and you'll see dozens of options, ranging from swill to swank. Some are so sweet it feels like you're drizzling on tomato syrup, while others are so tasteless you're better off sticking with butter. How do you decide which sauce is the one?
Don't worry, it's a science that we've come to master. Here's how: first, we rounded up a group of the country's top store-bought marinara sauces and picked out some recommendations for you. We then whittled down a lengthy list of 26 simple marinaras to a few standouts by testing them on their own and using them in our own everyday meals. We judged them on aroma, flavor balance, and coating ability. And because brands and tastes change over time, we update this list every year or so to make sure the quality and availability still holds up. These jars are our current favorites:
Price: $7.79
From the looks of it, this marinara seems like some sort of refined, tomatoes-airlifted-from-Sicily situation. The small jar's packaging is rustic: fake hand lettering on rough, khaki-colored paper—it's all very Nonna's house in Italy. Inside the jar, the sauce was thin and runny but filled with tomato and onion chunks at the same time, almost like a marinara salsa. Cold, it finished clean, and with its ample spice quotient it could really set off some veal meatballs. But once warmed up, the spices dulled and the tartness took over, making for a very sharp flavor. It's best paired with fatty meat to balance that acidity.
Price: $7.69
Rao's is unstoppable. It's been a go-to since they hit grocery store shelves, and we've always felt that it tastes like everything a good pasta sauce should be: velvety but not pureed, rich but not overwhelmingly spiced, consistent but never boring. It smells enticing and clings beautifully to pasta, but the heated sauce revealed a strong umami flavor that dominated each bite.
The marinara is great, but you've gotta try Rao's Arrabbiata. Everything that puts the marinara on this list—the scent, the texture, the pasta cling, the umami—is all here. But the Arrabbiata has a spicy heat that demands mentioning. It's not distractingly spicy; it's just picante enough to give your face a glow while you're eating it, which kind of makes it a beauty product, when you think about it.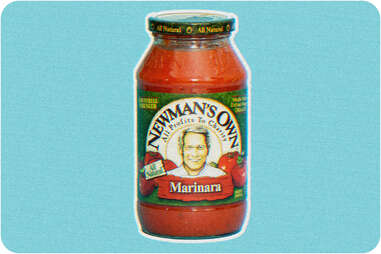 Price: $2.99
Paul makes a pretty decent product, and this marinara was no exception. It's definitely not going to blow anyone away, but with its pleasantly thick consistency, clean finish, and gentle fennel and basil flavors, it'll make your spaghetti 10-20% better than butter and salt. The only negative, besides a general blah-ness, is that the sugar factor grows stronger with heat. I'm not sure I could eat an entire bowl of the stuff un-doctored, but throw in some salty pancetta or earthy mushrooms, and you're in good shape.
Price: $7.99
Sopped up cold with a chunk of bread, Lidia's is top-notch (seriously, I basically made everyone in the office try it and the consensus is that it was so good). It tastes as fresh as a spring garden, with bright basil on the nose, soft layers of grassy vegetables, and sweet plum tomatoes. But heat completely transforms it in nearly every way. It takes on a soupy quality, losing its bite and devolving into bitterness. It might be improved by some diced onion, sea salt, or a handful of briny green olives to cut through the astringency, but on its own it's best served as a dipping sauce for mozzarella sticks.
Price: $3.99
Look, I'm not one to be swayed by an obvious marketing ploy, especially one that aims to charm bring-your-own-grocery-bag types with a mason jar-style container, rustic brown paper label and distressed fake stencil lettering.
But damn you, Prego, you wormed your way into my jaded heart. Overlook the exterior and you're in for a refreshingly simple ride that feels more like it came from a legit garden instead of an assembly line. It's all garlic right out the gate, followed by a rich blend of black pepper, tomato, basil, and oregano and summed up with a sweet-n-tangy kicker. The consistency is on the thicker side, not a great match for a slippery bowl of noodles, but it would be incredible in something that calls for a heartier spread, like lasagna or thick crust pizza.
Price: $5.59
Thanks to a healthy dose of EVOO, the texture of this sauce is light and delicate, broken up by juicy tomato hunks and the crunch of the occasional carrot. Cold, it tastes fine but the veggies combined with the oil make it more of a gazpacho situation—not terrible, but not altogether appetizing. Heated, however, the garlic comes to life, the chunks softened and everything gelled brilliantly. Even the pear concentrate, which sounds kind of gnarly on paper, actually produces a rounded sweetness that has us coming back for more.
Price: $2.99
This is the sauce of your exhausted dreams. It's simple and completely inoffensive in every way, but it's also not going to blow your tastebuds away. It's a little oily on top, clings nicely to the noodles, and smells like absolutely nothing despite the fact that all the herbs in the mix still pop on the tongue. It needs no additives on its lonesome, though a few hearty shreds of freshly grated parm wouldn't hurt at all.
Price: $1.29
Trader Joe's sometimes misses, but this sauce is on point. It's hearty with strong, unabashed flavors of black pepper, fennel, oregano, parsley, fresh-cut basil, and large hunks of stewed tomatoes that maintain their dexterity from start to finish. It smells wonderful poured over hot pasta, its sweetness cut with the lovely acidity of an aged cabernet. There is no sour aftertaste to be found and it opens up as you continue to eat it, as if the bowl were a decanter and the sauce a fine wine. It doesn't coat the pasta as firmly as we would have hoped, but, hey, our friend Trader Joe still makes a hell of a sauce.
Meredith Heil is a former freelancer, former-former Staff Writer, former Senior Cities Editor, and current Editorial Director of Travel at Thrillist.