The Entire Jollibee Menu, Ranked
Do ChickenJoys actually provide joy?
Photo by Cole Saladino for Thrillist
Does the ChickenJoy actually spark joy? Will I feel jolly after eating the famed Jolly Spaghetti? These are the questions that arose as I made my way to my local Jollibee, ready to the devour their entire menu.
For those who haven't had the pleasure, Jollibee is a Filipino specialty fast food restaurant that was founded in the Philippines in 1975 and made its way stateside in 1998. The growing chain now has over 30 U.S. locations—from Los Angeles to New York City—and isn't slowing down anytime soon. In fact, Jollibee has plans to open a huge location in Times Square and are working on post-pandemic expansions.
I ventured to a Jollibee on a quest to try every menu item and rank them. After an hour and a hundred dollars spent, I had tasted everything from breakfast to the chain's famous chicken to frosty desserts. Here are the results, ranked from least delicious to most delicious.
23. Jolly Hot Dog
I almost missed ordering this, and that maybe would have been for the best. The mystery grated cheese was gritty, the banana ketchup a bit too sweet to my liking, and the beef hot dog itself lacked flavor and any sort of grill marks. The bun was also did not have any positive qualities; it was a tasteless piece of white bread. Then again, I don't know how many people go to Jollibee specifically for the hot dogs. I know I wouldn't. Throw the hot dog into some spaghetti and then we'll talk.
22. Buttered Corn
It's exactly what it sounds like: a bowl of corn tossed with melted butter. Tastes more like butter than corn, but I'm not complaining. It's a good side dish, but the other sides are just better.
21. Two-Piece Burger Steak
This dish essentially felt like a subpar version of Ikea's Swedish meatballs. It arrived with two thin patties that were a bit rubbery and sprinkled with a generous helping of mushrooms. Ladled over the patties was a thinner, runnier mushroom gravy. It tasted as if it had been microwaved. This dish was monotone for me, both in color and taste.
20. Buko Pandan Pearl Cooler
This slushie-like beverage is kind of reminiscent of an Icee, but unfortunately it slightly missed the mark. It was a bit watery and the tapioca pearls were hard. I was really excited for the pandan flavor—which is like Southeast Asia's vanilla—but there just wasn't enough of it.
19. Ube Pearl Cooler
This was a slight step above the buko pandan pearl cooler. The pearls were still hard and the entire thing was a bit too icy for my liking, but the ube flavor—which comes from sweet purple yams commonly used in desserts in the Philippines—was prominent and tasty. Overall, the flavor was good but the textures were not.
18. Adobo Rice
I was expecting a stronger adobo flavor—more vinegar, more spices, more garlic—but instead, this just tasted like a very peppery rice. There were small bits of pork sprinkled throughout which was a nice, meaty touch. It was an enjoyable side but it lacked some of the flavors and deeper savoriness that make adobo so special.
17. Mashed Potatoes
These whipped potatoes are a bit runnier than your typical Thanksgiving mashed potatoes. The gravy drizzled on the potatoes provides a nice, salty balance to the creaminess of the potatoes. That being said, the texture is all one note: soft, loose, and, honestly, what you'd expect for fast-food mashed potatoes.
16. French Fries
For reference, these taste just like your average, run-of-the-mill fast food fries—which means they are good, hot, and crispy. But good fries are still just fries at the end of the day. I'm here for all the Filipino hits, not your typical, formerly frozen french fries.
15. Big Yum
The Big Yum is Jollibee's version of a cheeseburger, which arrives with lettuce, tomato, Cheddar cheese, and plain—not banana—ketchup. The meat is actually juicy, but I found this burger to be blander and less seasoned than their other options. It's more like a Medium Yum.
14. Beef Tenders
This dish is a staple of the breakfast menu and features bite-sized strips of seasoned meat with a mound of garlic rice all topped with an egg. The beef tenders were a bit over salted and dry, but I did enjoy the garlic rice it came with (rice for breakfast everyday, please). It was filling, but not my favorite item on the breakfast menu. That being said, I'd get it again.
13. Ice Cream Sundae
Who doesn't love an ice cream sundae? It tastes like what a McDonald's ice cream sundae would if McDonald's ever had a working ice cream machine. The chocolate sauce on top is perfect: fudgy, sweet, and delightful. No complaints here!
12. Pork Sausage
This is also part of Jollibee's breakfast menu, and comes with two scored sausages, garlic rice, and another hard-cooked egg. This sausage is juicy and salty and has a kielbasa-like quality to it. Though it's described as a hot dog on their menu and not longanisa—traditional Filipino-style breakfast sausage—it appears to be a riff on the latter. Sausage, egg, and rice; what more could you want from breakfast? My only wish is that they'd cook their fried eggs a bit more gentler. No one likes a grey, powdery egg yolk.
11. Aloha Yum Burger
The Aloha Yum Burger has all the goodness of the Yum burger but with a big ole ring of pineapple too. And as we all know, pineapple is good with savory things (like on pizza, I will not be silenced!). The patty of this burger is much juicier and better-seasoned, too.
10. Sweet Pork
The sweet pork breakfast reminded me of lap cheong, or Chinese sausage. In the Philippines, it's known as tocino—or bacon cured in salt and sugar. Texturally, the pork is similar to jerky, but flavor-wise the meat is coated with a sweet, sticky marinade that marries perfectly with the garlic rice. It is also served with a fried egg for good measure.
9. Jolly Spaghetti
The legendary Jolly Spaghetti is a medley of spaghetti noodles, ground meat, sliced hot dogs, and a somewhat sweet sauce made from banana ketchup. It's not nearly as sweet as I thought it would be, and it's hearty and filling. I understand why this is a staple party food in the Philippines. It's delicious, and the naysayers who disagree with banana ketchup don't know what they're talking about.
8. Fiesta Noodles
The pancit palabok, which is also known as "Fiesta Noodles," is a Filipino noodle dish that comes with an array of toppings—like shrimp, ground meat, hard-boiled eggs, and green onions—and is tossed together in a shrimp sauce. This variation was made with glass noodles and had a lot going on, both flavor-wise and texturally. There were some crunchy bits of chicharron, a lot of wet noodles, shrimp, pork, and eggs, and the whole thing is served with lemon juice that you're meant to drizzle over and mix together. The acidity cuts through all the heaviness and makes the pancit palabok a tasty, balanced dish.
7. Corned Beef
Corned beef can be incredible; I especially love the kind from a can, studded with bits of cubed potatoes. This one is reminiscent of that, with slivers of soft-cooked onions swimming throughout the juicy, salty beef. This, with the garlic rice (and an egg), is a breakfast match made in heaven.
6. Halo-Halo
This fast food take on a staple Filipino dessert—consisting of ice cream, ice, various beans, a flan, and jellies—was delicious. Halo-Halo roughly translates to "mix-mix," which is kind of what you end up doing when digging into the frozen dessert. I loved the combo of the ube ice cream, the jellies, the beans at the bottom, and especially the flan. People who say beans don't belong in desserts clearly have never had Halo-Halo.
5. Breakfast ChickenJoy
This is the best breakfast at Jollibee, and honestly, are you even surprised? This is the proper way to start the day: with fried chicken, gravy, garlic rice, egg… what else would you need? All the elements of this breakfast platter complement one another and together form the hearty breakfast of your dreams.
4. Chicken Sandwich
I love a good chicken sandwich, and this one completely blows other fast-food chicken sandwiches out of the water (except maybe Popeyes' viral chicken sandwich, which deserves the hype and praise it gets). It doesn't taste like it could have come from a fast-food joint. The bread is soft but holds up nicely, the lettuce was fresh and crunchy, and the chicken was generous. Plus, the whole thing is covered in a generous layer of mayonnaise, which as we all know is the perfect condiment for a fried chicken sandwich.
3. Peach Mango Pie
I will say it: This is the ultimate fast food pie. The outside was equal parts flaky and buttery while the filling was a wonderful, gooey mix of mango and peaches. I tasted more peach than mango, but certainly wasn't mad at it. It's tropical, flavorful, and encased in a perfectly crispy fried shell. I would take this pie over McDonald's classic apple any day of the week.
2. Chicken Dippers
These chicken dippers, which are basically boneless tenders, are perfect for kids and adults alike. Similarly to the chicken sandwich, these tenders were juicy and had a lovely fried batter on the outside. Dunking them in the hot gravy that accompanies this dish was sheer joy, as was dunking them into my mouth. You can't really ever go wrong with chicken tenders.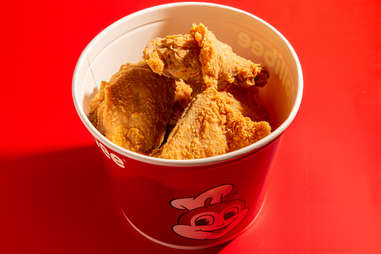 1. ChickenJoy
ChickenJoy is basically the Filipino counterpart to KFC's fried chicken buckets (but infinitely better). It's delicious. The chicken comes out hot and perfectly battered, with a crunchy exterior and juicy interior. It's well-seasoned and cooked just right—not dry like other fried chicken spots. It's real chicken paired with silky and savory gravy (that accompanies the chicken), a perfect combination. It's all in the name: ChickenJoy brings genuine joy. I will order this fried chicken again, and again, and again.
Kat Thompson is a staff food writer at Thrillist who would genuinely drink Jollibee's gravy. Find her on Twitter @katthompsonn.