Every Flavor of Kettle Chips, Ranked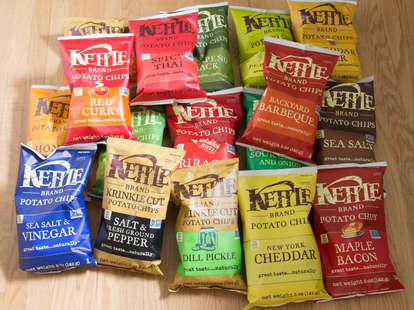 Andy Kryza/Thrillist
Andy Kryza/Thrillist
Since 1978, Kettle Chips has been raising the bar on the potato game with bolder flavors, thicker chips, and enough crunch to humble Nestlé. Now, they're everywhere, with a cult of greasy-fingered followers ready to swallow up whatever they concoct.
At this point there are 20 regular Kettle flavors (we're not counting baked here)... but which one is best? To find out, we ventured down to the headquarters in Salem, OR, snuck off with a bag of each flavor, then had a day-long chip binge to determine the winner. Which was us. Because they were all pretty damn good.
20. Sour Cream and Onion
Look, I know I'm in the minority on this whole Sour Cream and Onion thing, but I just do not get the appeal of taking something delicious like a potato chip and hitting it with rancid milk powder. If you're one of the majority of people who has horrifying taste, this is the chip for you. But not me! I'm glad to be in the minority here. Weirdos.

19. Unsalted
Um… why now?

18. Jalapeño
The flame-engulfed pepper logo reading "hot" on the front of the bag is a little misleading, as there's not a ton of boom going on in the jalapeño chip. That's good for a spice-wuss like me, because it gives me a chance to really dive in to jalapeño flavor and realize I just don't like it very much.
17. Sriracha
Unlike our writer Dan Gentile, I don't worship at the altar of cock sauce. Just smelling it gives me heartburn (it doesn't take much for me), and this bag has the same powerful smell. I do love the flavor, though -- red chile, garlic, vinegar, and sugar are wonderful bedfellows -- and though some might slight Kettle's Sriracha for being too mellow, it allows me to finally get a taste of hipster ketchup without losing esophageal lining. So... well played Kettle. And shut up, Dan Gentile.

16. Honey Dijon
Note to the Kettle brain trust: start making pretzels. Then cover them in this stuff. You're welcome.

15. Maple Bacon
Living in Portland as I do, I'm kind of over the whole "maple bacon everything" crazy (it's sooooooooo four years ago). But I will say this: In the realm of fake bacon, these beat the smoke out of most chips. And they're not aggressively sweet, either
14. Jalapeño Jack
Monterrey Jack is the unsung hero of both cheese and rodent-based detective services, and Kettle here uses it to make jalapeño a more nuanced flavor, with the cheese mellowing the spice and also bringing down the pepper flavor. It's pretty mellow, but sometimes that's what you need. That and a little help from Cheddarhead Charlie, when you're in a pinch.

13. Dill Pickle
Love pickles? These are your new favorite chip. I don't love pickles. Also, doing a pickle back with these does not work.

12. Buffalo Bleu
The cheese really hangs back on the flavor profile here, but the buffalo sauce is also pretty mellow. There's a slight hot sauce tang, but nothing explosive. People in Buffalo probably would scoff. They do that at a lot of things. Me, I like my Buffalo mellow. So I like these.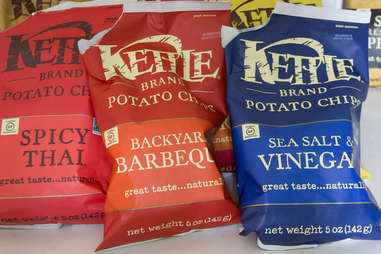 11. Backyard BBQ
So, take this for what it is: Kettle makes the only BBQ-flavored chip I actually like, because it's not too sweet, not too smokey, and not too overwhelming. If you're a huge BBQ nut, this is going to underwhelm. For those of us who think of the sauce as a complement rather than the main event, this hits the sweet spot. But not too sweet.

10. Spicy Thai
I'm not entirely sure what Thai dish this is emulating, but I'd like to know, because between the super-light heat, the subtle sweetness, and the mystery spices, I'd probably order it. And I'd probably pronounce it wrong.

9. Sea Salt & Vinegar
Nothing too crazy here. Just a classic, with the flavors amped up.
8. Carolina BBQ
Carolina might still be the all-time champion of taking your shirt off and spinning it 'round your head like a helicopter, but they're still they unsung heroes of the BBQ world. For those of us who don't like BBQ sauce, the combination of mustard and vinegar is the perfect contrast, and here the potato brings them together beautifully. Not as good as pulled pork, but whatever. Kettle Chips are vegetarian.

7. Red Curry
I don't know what possessed Kettle to make a red curry chip, but we're lucky it did. Because holy crap, is this unexpectedly delightful. It's like a chunk of potato floating in a bowl of red Thai curry. Except that the potato has been deep fried. And you can eat it in the car without spilling curry all over your lap.

6. New York Cheddar
I'm not sure what makes the cheddar New York (especially since Kettle is located within an hour of Tillamook, home of the best cheddar west of the Wisconsin Dells), but the thing that makes these chips really unique is the fact that they're unsalted. That's right. White cheddar powder subs in for saline. And it's magnificent. If I could just fill a salt shaker with this stuff, I'd put it on everything. Not as a substitute for salt. In addition to salt. Because that's how I roll.
5. Salt & Fresh Ground Pepper
My trip to the Kettle factory dispelled my fantasy that each bag had a little waiter in a white shirt and black tie grinding pepper into each bag of these. It was a stupid fantasy, but it was mine, dammit. It doesn't happen. But it tastes like it does.

4. Roasted Garlic
If you love garlic, take this as a ringing endorsement: My wife could tell what I was eating from her second-floor office. These things could clear a Twilight convention in a heartbeat. A sparkling, loving heartbeat. They stick with you, too. Especially when you house the whole bag.

3. Sea Salt
The thing about the Kettle Chip, what makes it really stand out, is that the chip just stands on its own. It's oily. It's crispy. It's slightly thick. And it's inspired a bajillion knockoffs. With all these great flavors, there's something still magical about a simple chip hit with just the right amount of salt. Sure, it's the missionary of the potato chip world. But there's a reason people like missionary so much.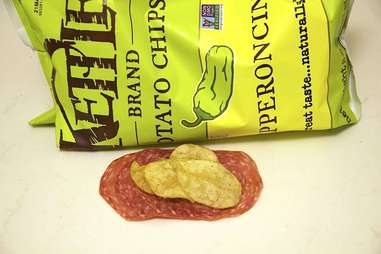 2. Pepperoncini
You know when you get a big, fat Italian sub and the pepperoncini juices leak out and get your chips soggy? It's incredible. This is basically that. Except the chips are still crispy. Of all the pepper-based chips on the market, these are the most accurate from a flavor standpoint and from a being delicious standpoint. And yes, they pair great with salami.
1. Cheddar Beer
Look. I'm from the Midwest. And I work at Thrillist. So it's a foregone conclusion that a fried product with the flavor of my two main dietary staples was going to win. It doesn't exactly taste like beer, per se, but more like beer cheese soup. Which, coincidentally, these would be wonderful sprinkled atop. Which is to say, I'm off to Wisconsin for the weekend.
Sign up here for our daily Thrillist email, and get your fix of the best in food/drink/fun.
Andy Kryza is a senior editor at Thrillist who firmly believes in the virtues of powdered cheese as a condiment. Follow him to cheddar snow @apkryza.