Krispy Kreme Donuts, Ranked in Haikus
Cole Saladino/Thrillist
Cole Saladino/Thrillist
The perfect donut is like a haiku. Its beauty lies in simplicity. Its rounded in its symmetry. And, it's easily consumable.
So when I was tasked with ranking everything available on Krispy Kreme's bountiful roster of glazed (and occasionally unglazed) delicacies, I thought the only format worthy was and still is the haiku.
You might disagree
Sorry, I don't really
It's my article
24. Pumpkin spice cake
Of course it's a thing
Why wouldn't it be a thing?
Please make it stop. K?
23. Apple fritter
Are fritters donuts?
Does it matter anyway?
Still, doesn't taste good
22. Dulce De Leche
The word "caramel?"
Three syllables, or two? Hm.
Really matters here.

21. Glazed raspberry filled
Not a fan of fruit
Especially in donuts
This one is just 'aight

20. Glazed blueberry cake
So, this resembles
A NASA lunar photo
Not a great look, right?
19. Powdered lemon filled
Have you tasted Pledge?
Rightfully so, most have not
Try this, and know why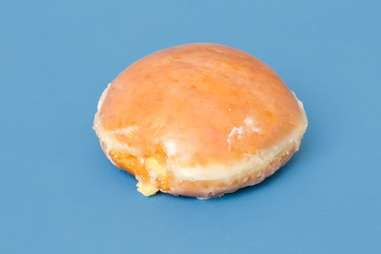 18. Glazed with Kreme filling
Hm, a glazed donut?
Oh wait? Is there more inside?
Hello, nice surprise!

17. Traditional cake
Simplicity's nice
This one's a little bland, though
Need something sweeter
16. Powdered cake
Oh, well, here it is
It's sweeter, definitely
Thanks, powdered sugar
15. Cinnamon bun
So rich, savory
Just like grandma used to make!
Only this time, worse
14. Glazed chocolate cake
Cacao overload
Too much chocolate, for me
Please dial it back, bro
13. Chocolate iced cake
So, ultimately
This is still a "cake" donut
This, I hold against
12. Chocolate custard
The chocolate stuff
A tad too overwhelming
I wish it wasn't
11. Chocolate glazed donut
With glaze and icing
You get the best of both worlds
But still, not the best

10. Powdered strawberry Kreme
Mad light and fluffy
Spells "Kreme" in a quirky way
Wait, now I get it
9. Cinnamon twist
It's a figure eight
But, you know, you can it
Though, it makes a mess
8. Glazed cruller
What is a cruller?
Excellent question, my friend
Don't know, but it's good
7. Mini original glazed
Just like number one
Except much, much, much smaller
Whoops, spoiler alert
6. Glazed lemon filled
The peak, filling-wise
Complements the donut well
This is a good mix
5. Strawberry frosted
The frosting is strong
Homer Simpson's favorite
Better than Dunkin'
4. Maple
Lumberjack special
A true taste of the Great North
Canadian flare
3. Cinnamon sugar
Not too sweet, un-glazed
This is a moderate's fav
Fuck off, Cinnabon
2. Chocolate iced glazed with sprinkles
Chocolate icing
With crunchy -- not soft -- sprinkles
Almost first, but not

1. Original glazed
Sometimes the best things
Can be the simplest things
Here's an example
Sign up here for our daily Thrillist email, and get your fix of the best in food/drink/fun.
Wil Fulton is a staff writer for Thrillist. He actually blames Gwyneth Paltrow for most of the world's problems. Follow him @wilfulton.