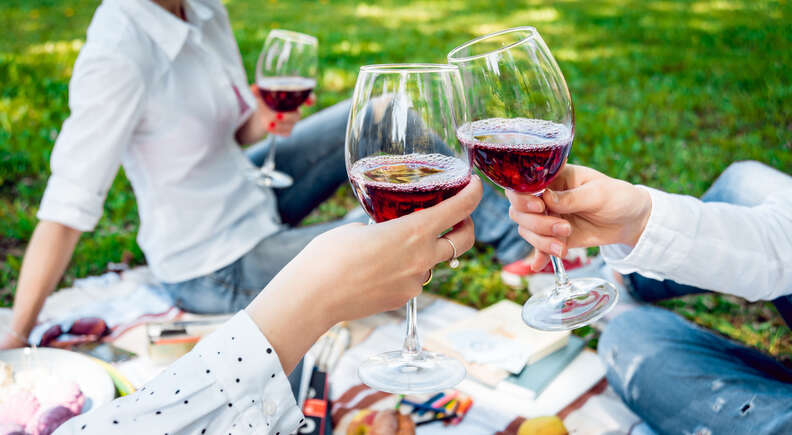 Meet Lambrusco, the Bubbly Wine that Tastes like Grape Soda
Welcome to Pour Decisions, a column dedicated to highlighting the cool, interesting and trendy in wine, beer and spirits that you need to drink ASAP.
For me, rosé has gone from "all day" to "no way." The boom in pink wine feels old and tired now, with winemakers and brands churning out oceans of the stuff to trick you into spending money on lifestyle and #content for your Insta. Did you really think your photo wasn't buzz marketing for a multinational company?
Don't get me wrong: Drowning yourself in rosé is a wonderful way to while away humid summer days. It's damn easy to drink, even easier to enjoy, and hilariously uncomplicated -- who gives a shit about tasting notes when you just want to float in a pool, buzzed under the sun? That said, most bottles these days -- the palest shades of blush, Provence-inspired rosés -- taste insipid and boring, so much so that most of the $10 to $15 bottles all taste the same.
Enter lambrusco, the easy-sipping sparkling red wine that's a step up from bland rosé and straddles the divide between red wine, fizzy lifting drinks, even beer. This is the porch-pounder you need to try this year.
Hailing from the Boot's Emilia-Romagna region (also home to Parmigiano-Reggiano cheese), "lambrusco" refers to a family of grapes as well as the wine style. It's often categorized by wine pros as "cheap and cheerful," which I like to translate as "a great Tuesday impulse purchase." For a while, that's all this fizzy Italian wine was known for -- sweet as hell, like a boozy Dr. Pepper -- but drier, downright delicious options are blessedly more common these days, accessible for any budget but tasty enough to elevate your next pizza night or potluck.
Did I mention this is a sparkling red wine? OK, fine, you can find rosé and white versions, too, but the red variety is the most common -- and the most delicious. The bubbles are characteristically light and tight, less "fizzy" and damn near velvety, like you're licking a couch in West Elm. (Not that you'd do that, ahem.) Production tends to be a little more mass-produced than finer bubbles thanks to the Charmat method, a modern production style also used to make Prosecco, which introduces light effervescence without the cost and labor associated with traditional bubbles like Champagne.
Made from a half-dozen related grapes from different growing areas in the region, these inky wines are at their best when they're earthy, crisp, and dry, with just the slightest hint of a bitter edge, which balances out flavors of dark berry pie and dried fruit, like figs.
Back in the '70s and '80s, Lambrusco used to have an image problem. When our parents were drinking too-sweet rieslings in blue bottles, neon-colored wine coolers and booze-addled Long Island iced teas, lambrusco was known for being syrupy and cloying. These days, this couldn't be further from the truth -- tastes have changed, and so have winemaking standards. And most lambruscos are pleasantly dry.
Frothy and refreshing, these are not wines that you need to linger or fuss over, nor do they carry insane price tags. In fact, really great bottles hover around the $15 to $20 range. Drink them chilled in regular wine glasses or jam jars (skip the hoity-toity flutes) with everything from burgers to brisket (hello, Memorial Day barbecue) to pizza -- even the frozen kind.
Bottle Recommendations
Medici Ermete Dolce Quercioli Lambrusco ($14)
Racy, fine bubbles create a frothy texture that kicks up fun aromas of black cherry soda and even a little chocolate-dipped orange. It's semi-dry, with a bit more sugar than other bottles on this list, but still not entirely sweet. Crisp and lip-smacking.
Lini 910 "Labrusca" Emilia Lambrusco ($16)
Tiny bubbles and a bitter edge, like orange pith, make this a nice aperitif, to drink with stinky cheeses and charcuterie. Soft-textured, it tastes of black cherry, cola, and really ripe blackberries.
Ca' Montanari "Opera 02" Lambrusco di Modena ($18)
From a family-owned, organic vineyard, this fresh sparkler dances across the tongue -- bubbles last seemingly for days. Fruity, dry and tannic like a lighter black tea, it's a fun wine to drink with vegetable dishes, like biryani or roasted root veggies.
Cleto Chiarli Lambrusco del Fondatore ($18)
This bottle is produced via the traditional method, that is, second fermentation occurs in the bottle as opposed to the Charmat method's vats. Jewel-toned with tiny crowd-pleasing bubbles, this is lambrusco is damn fine.
Cantina Paltrinieri "Radice" Lambrusco di Sorbara ($20)
A pale, dreamy orange hue, like a beachside sunset, this stunner is a far cry from lambruscos of the past. Made in the traditional method with wild yeast, this wine trades darker fruit flavors for zingy acidity and grapefruit notes.
Prices may vary depending on region and retailer.
Sign up here for our daily Thrillist email, get Eatmail for more food coverage, and subscribe here for our YouTube channel to get your fix of the best in food/drink/fun.
Joseph Hernandez is Thrillist's senior travel editor. A legit certified wine person, he managed a wine shop in a past life, where he evangelized the life-changing magic of bubbly wines to anyone who would listen.