9 incredible late-night-only menus from around the country
Everyone remembers sneaking downstairs at midnight to clandestinely microwave an Ellio's Pizza (usually with mixed results, such as an irate, pizza-starved Dad). It was late, but you didn't care -- sometimes a bite was just what you needed before heading off to sleep. With that in mind, we decided to scour the country for the most amazing late-night-only menus America has to offer. These places might look unassuming during the day, but after sundown, they transform to roll out some true surprises.
And because we're always hungry, let us know what we're missing while we're sleeping (or settling for another hot dog) in the comments.
Mandu
Washington, DC
When you can get it: Tuesday-Saturday, 11pm-1am
What it is: This authentic Korean spot in our nation's capital serves up -- you guessed it! -- traditional Korean dishes to political types and presumably Frank Underwood's more adventurous cousin every day for lunch and dinner, but converts into an innovative Korean fusion joint when closing time grows near. Think Korean BBQ tacos, double-fried chicken, kimchi quesadillas, and something called a "kimchizza". There's no saying down in Gaffney for stuff like this.
New York, NY
When you can get it: Monday-Wednesday, 12-4am
What it is: One of New York's premier ramen places is tucked away inside Hill & Dale, where it (not-so-) clandestinely slings some of the most mouth-watering, velvety tonkotsu miso ramen to ever grace the stomachs of Lower East Side revelers (or anyone, for that matter). And the best part? While you're there, you can enjoy H&D's live music, cheap ($7?! In MANHATTAN?!) cocktails, and shot-and-a-beer specials. How's that for a late-night meal and a show?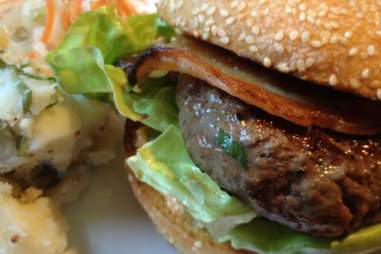 Biwa
Portland, OR
When you can get it: 11pm-12am (or later)
What it is: By day, Biwa's a sprightly, hip basement ramen joint. By night, the sprightliness and hipness remain, but the folks there serve up one menu item you'd probably never expect a ramen joint to broach, and they do it damn well: Biwa's burger, for $8, is a beauteous combo of seasoned beef, kimchi mayo, and a succulent piece of char siu BBQ pork. So good, it's one of Portland's top-rated burgers -- but you've gotta stay out a bit past your bedtime to get it.
Joe Starkey
San Francisco, CA
When you can get it: Friday-Saturday until 2am
What it is: Charlie Palmer's classy Burritt Room is one of San Francisco's best cocktail bars (they shake up a hell of a Prohibition-style 'tail), but they've also got a rather impressive menu of bar bites you can use to soak up a night's worth of boozy punch. Be sure to try their cheesy tater tots with housemade ketchup, or a red-wine braised short rib on toast with a soft egg for just $7.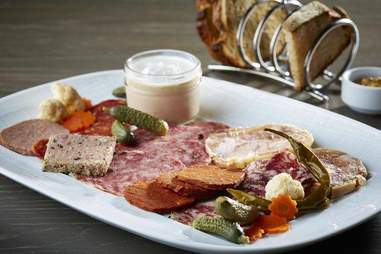 Knife
Dallas, TX
When you can get it: Until 11pm
What it is: The hotel-adjoining steakhouse Knife (open for business as of May 2014, from Top Chef contestant John Tesar) has, in addition to a 240-day-aged ribeye on their standard dinner menu, a killer bar menu that's served until 11pm (hey, that's late for Dallas!), which includes such fare as a Maine lobster pizzette, charcuterie plates, an "Ozersky" burger, and beef-heart tartare. Not for the faint of… well, you know.
Portland, OR and New York, NY
When you can get it: 10pm-close
What it is: Pok Pok maestro Andy Ricker's Thai drinking-food emporium is typically dedicated to authentic and less-known snacks, like toasted cuttlefish and pig ears. But after 10pm, WSL caves into the mainstream -- kinda -- by offering up a spread of Phat Thai, a traditional take on the standard Thai food takeout. Here, the noodles come cooked in pork fat and loaded with prawns, pork, crab, or all three. It will taste unlike any pad Thai you've had... and no matter how many tamarind whiskey sours you quaff while waiting, you won't soon forget it.
Chicago, IL
When you can get it: After midnight only
What it is: Au Cheval is already recognized as one of Chicago's best restaurants -- it's got some of the city's best French fries (topped with a fried egg and Mornay sauce) and, in our opinion, the city's best burger -- and now it's moving to usurp the city's best everything else with the addition of their after-midnight exclusive chilaquiles, which they've heaped up to mountainous proportions with scrambled eggs, sour cream, queso, jalapeños, red onion, and cilantro.
Jeff Miller
Los Angeles, CA
When you can get it: 11pm-3am
What it is: After a lively night carousing around the streets of Los Angeles, it's nice to be able to drop into a diner and get some comfort food. Fred 62, a lively 24-hour diner in Los Feliz, is offering up just that, with a bit of greasy-spoon charm thrown in for good measure. In fact, they've got a menu subtitled "Stoners & Drunkards" (no subtlety there) -- served exclusively from 11pm-3am -- that features chicken & waffle sliders, lobster tacos with habanero salsa, and BBQ short rib mac 'n' cheese balls.
Hog & Hominy
Memphis, TN
When you can get it: Constantly changing
What it is: From the name, you can pretty much assume that Hog & Hominy's menu involves a lot of pork and alliterations. And, dammit, does it deliver, with such savory delights as poutine with neckbone gravy and chili oil and guanciale meatballs with Parmesan and tomato sauce. But here's the kicker -- THAT'S NOT EVEN THEIR LATE-NIGHT MENU. In fact, the Memphis resto turns its concept on its head after dinner service to serve stuff like ramen, fresh oysters, and hamachi tartare. Not exactly what you'd expect from an Italian-Southern resto in Tennessee (but then again, what could you expect?).
Adam Lapetina is a food/drink staff writer at Thrillist, and believes the best meals take place after 1am. Read his musings on Twitter at @adamlapetina.