The 21 Best Mac & Cheeses in America
The best childhood foods are usually combinations of two strong elements, be them peanut butter & jelly, milk & cereal, or ice cream & whatever vegetable you had to eat in order to get ice cream. But perhaps above all other kid-food duos, macaroni & cheese has grown into a full-fledged adult entree that's ordered at fancy restaurants with only a minor tinge of embarrassment.
In celebration of this dream team of starch and dairy, we've compiled a list of the 21 best macaroni & cheeses in the country. Although we did include a few bolder iterations, these mac & cheeses err more toward what mom used to make rather than truffled slight of hand from Michelin-starred chefs. With a dish as personal as this, everyone has their own favorite, which we expect to hear about in the comments. Just be sure to wipe your fingers before typing.
Miami, FL
Orecchiette, shells, cheese mittens... call them what you will, American Social delivers a skillet of mac that is one of the best things our Miami-based writer has ever put in his mouth, which is saying a lot. You can choose your own adventure in terms of protein, but the best match for the Vermont cheddar and Gruyere is the braised short rib or the wild boar, which is flavorful enough to hold its own against even the sharpest of cheddars.

Detroit, MI
Barbecue joints are usually too focused on keeping the fires burning to spend too much time on sides, but Slows in Detroit makes time for a masterful mac. To the disbelief of customers who laud its luxurious flavors, its must-try side is fueled by only cheddar, béchamel, and more cheddar.
Chicago, IL
If an article like this is proof of anything, it's that mac & cheese is just as much a vessel for other flavors as a pure expression of dairy and starch. Kuma's is renowned for its signature burger, but when it comes to mac, it lets you have it your way by customizing the well-balanced combo of Jack/Gouda/cheddar with your choice of everything from proteins like andouille sausage, bacon, and chicken, to veggies like sun-dried tomatoes. But no matter the supporting cast, the cheese is center stage.

Madison, WI
Choosing our favorite mac in America's Cheese Basket proved harder than a slice of Swiss left in the sun. But the folks at The Old Fashioned scramble all over said basket, sourcing the best local products, which for their mac means the sharpest cheddar in the state mixed with SarVecchio, Wisconsin's creamy homegrown riff on Parmesan-Reggiano. The cheese here does, in fact, stand alone.
New York City
If you were to be stuck with one mac for an eternity, you could do far worse than the smokey Gouda béchamel at one of Westville's four brunch hotspots. The top layer is just scorched enough, and although it doesn't take a genius to sneak some hog's gold into mac, some definite thought went into the smoke-on-smoke pairing of bacon and Gouda.

Philadelphia, PA
Under walls adorned with dog portraits, discerning Philly diners tear apart upscale takes on traditional comfort food like duck confit pot pie, and the high/low balancing act carries over into an entree-sized dish of mac & cheese that hides Gruyere, Gouda, and white cheddar under a bed of perfectly crispy corn flakes. They don't serve it for breakfast -- but they should.
Brooklyn, NY
Waffle iron hacks are nothing new, but rarely do you see a restaurant pumping irons to the limit like Arrogant Swine. The Carolina 'cue experts here make the list partly as a reward for a pitmaster putting extra oomph into a usually boring barbecue side, but it's proven to outlive novelty status by nearly outranking the chopped pork as the restaurant's most popular dish.

New Orleans, LA
Don't get distracted by the giant lunches of pork belly or lamb or pastrami: Donald Link may've opened Cochon Butcher as a meat-centric sandwich spot to accompany his dinner-focused Cochon, but the move here is actually the side of mac. Nothing shows off pancetta's smoky, crispy, meaty deliciousness quite like burying it in incredibly creamy cheddar and white wine sauce that has just the right hint of tomato paste. Feel free to save the BLT for after. And definitely leave with duck pastrami and Kurobuta bacon (it will, in fact, be the best bacon you'll ever taste) from the deli case. But trust us: start with the mac.
Austin, TX
The man responsible for some of the greatest moments in Longhorn football history also happens to be responsible for the city's most lip-smacking mac. The bread crumbs are toasted to perfection, and the house-cured bacon is everything you'd expect from a prime steakhouse. But the texture of the cheese is the real secret weapon, in that it's so thick you'll need to chew each bite for longer than it took Young to scramble for the national championship

Los Angeles, CA
Comfort is king at California's iconic chicken & waffle joint, and the baked side of mac & cheese fits right into the lineup of soulful foods that go down as well in the morning as late night. It's perhaps the most basic version on our list, but the simple creaminess earns it Most Like Mom Used To Make honors. And mom is always at the top of our list!
Denver, CO
In the canon of mac-friendly cheeses, American is often overlooked. Not so at Steuben's in Denver, where they mix both yellow and white American with fontina, Camembert, and Swiss for one of the most complex, but still classic cheese medleys on this list.

Minneapolis, MN
Adding lobster claws to mac & cheese is like bringing a gun to a knife fight, but since it's become so common for seafood shacks to fight dirty these days, we'd be remiss not to include one crustacean-topped cheese bomb. Smack Shack boasts the biggest lobster tanks in the Midwest, but even without the lobster, its mac is an undeniable winner thanks to rare ingredients like white wine, semi-soft taleggio cheese, and corn, plus a handful of white American for good measure.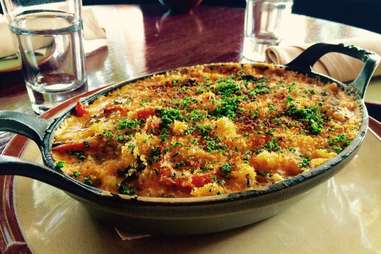 Seattle, WA
Any restaurant with a day of the week specifically devoted to M&C deserves your respect, but Golden Beetle in Seattle is worthy of downright unbridled admiration. Start with a pitch-perfect bechamel (spiked with either garlic or harissa), then choose your own cheese-venture (white cheddar, smoked Gouda, Gruyere), and if you're going all-in there are plenty of choices of protein (local bacon) and veggies (kale, of course).

Boston, MA
During the eight-month Boston winter, there are few things better than trudging in from the windy cold hell and going subterranean to Downtown Crossing's beloved Silvertone, getting yourself a booth, a beer, the Weekly Dig, and ordering its famously intense, creamy mac & cheese. They give you a variety of options to top it, ranging from peas (NOOOO) and steak (nooo?), but the only real move is to get it with bacon, and ask for some hot sauce, or -- if you truly want to spend the winter only wearing snow pants -- that Tabasco butter sauce they give you with the jerk chicken.
Atlanta, GA
A cast-iron skillet levels up just about anything, and that's a maxim that's especially true in the realm of dairy-drenched pasta. The gooey factor on this is out of control, and they go the extra mile with the cheese by actually smoking the cheddar beforehand to give it an intensity that you don't usually see in macs that aren't souped-up with truffles or other fancy ingredients.

Mount Pleasant, SC
At this point, the Charleston Mac Off isn't even a competition anymore. The chef from Crave has taken home top honors five times in a row for his beloved cheddar, Parmesan, and mozzarella mac & cheese, which is given an even greater mystique thanks to a secret ingredient dreamed up by his daughter.
Portland, OR
Long lines are the norm at Portland's best brunch spots, and Screen Door is no exception (unless "there's also a long line for dinner" counts as an exception). What is exceptional is the mac and cheese, a first-string soul-food side whose special power is the ability to envelope the entire outside of the bowl in a crispy, chive-flaked crust that keeps the cauldron of cheese as steamy as its Southern roots.

Memphis, TN
Lunchbox gets bonus points for offering its mac in a sandwich alongside pork butt, but with or without hog, the mac & cheese is incredible enough to warrant a visit. The cheeky school theme is backed up by a chef with a serious Johnson & Wales culinary degree, and although the recipe is a secret, rumor has it that there's a spike of Worcester sauce and cottage cheese hidden under the crisped top.
Alexandria, VA
We at Thrillist love an old-fashioned, just-like-mom-makes bowl of elbows as much as anyone, but if we're going to trust anyone to elevate a mac experience, it's a cheesemonger. The Parmesan professors at Cheesetique don't disappoint: the fusilli is flavored with a stinky Cambozola sauce whose pungency is tempered by roasted tomatoes and bacon hunks.

Dallas, TX
Since 2002, Hattie's has been throwing some of the hardest 'bows in Texas courtesy of four-cheese mac. The deep skillet creates a molten core of pepper jack and three cheddars (sharp, white, and smoked) that would make any mac lover want to do Dallas.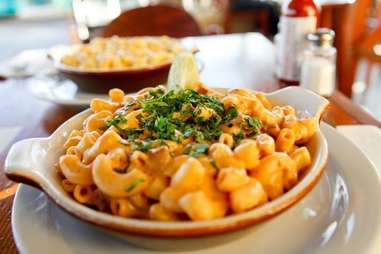 Oakland, CA
Each of the 10 choices at the mac-only Oakland cafe Homeroom has its strengths, but our money's on the Sriracha Mac, which transcends hot-sauce fads by upping the Asian flavors with ginger butter and scallions, but using a more neutral cheese like Gouda to balance things out.
Sign up here for our daily Thrillist email, and get your fix of the best in food/drink/fun.
Dan Gentile is a staff writer on Thrillist's national food and drink team. He has strong opinions about the best grocery store mac & cheese. Follow him to Crazy Bugs for dinner at @Dannosphere.