The Best Weed Strains for Making Everything Seem Hilarious
Courtesy of Leafly
Courtesy of Leafly
This article is cont­ributed by Leafly, the world's largest cannabis information resource. For more information please visit Leafly.
As you might have suspected the last time getting high made you hysterical, certain cannabis strains lead to more laughing fits than others -- and, given that laughter is the best medicine, that's a good thing. You might already know what your go-to giggly cannabis strain is, but we have some recommendations for the next time you need an accompaniment to that funny movie, comedy marathon, or time spent kicking back with friends. With the help of the Leafly reviewer community, we uncovered the strains that cannabis consumers rate as giggliest. Here are seven top contenders; you can also browse an expanded list of gut-busting strains in the Leafly Strain Explorer.
Laughing Buddha's effects can be understood simply by reading its name: a relaxed state of mind gives way to joyful elation. With an earthy and herbal sage aroma, this sativa helps you let go of stress and unlock a more lighthearted outlook on life. This strain is a favorite for weekend nature excursions with friends, or for getting your day started with a smile. Per Leafly reviewer Rusto, "[Laughing Buddha] made me feel like nothing could annoy me, I just laughed it off! Very giggly, and made me take myself less seriously."

Introduced by strong flavors of sour blueberry, Blue Diesel is a hybrid to elevate you to an uplifted and jovial mindset. Its nimble cerebral effects make Blue Diesel a perfect daytime companion strain, and the giddy euphoria is sure to bring on spells of laughter (unfortunately to an exaggerated degree for one Leafly reviewer, deadvirgo, who writes, "I laughed so hard that I threw up. And that made me laugh more.")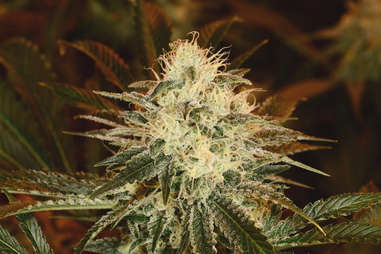 The effects produced by Chemdawg's high THC content can manifest in many ways, one of which is clearly fits of laughter. This one's a personal favorite of ours for creative collaborations and chilling with close friends, since it lends both social and artistic energy. However, mind the word of caution from Leafly reviewer uwotm8: "Prepare for laugh attacks and an extremely heavy body and head high. Everything becomes funny as hell and I legit pissed myself while laughing so hard at a Steak and Shake drive-thru."

A serious name for a not-so-serious strain, Church OG is a heavy indica that'll knock you into stupefied episodes of laughter (especially if friends are around to trigger it). The OG Kush descendent packs a sleepy punch in large doses, so take this one slowly if bedtime is still far off.

Sometimes the best way to unwind after a long, active week is to sit down with a sedating couch-lock strain and a Netflix comedy marathon. Black Diamond is a perfect match for lazy weekends or long bed rest recoveries that take a toll on your mood. As Leafly reviewer Flutterbaked explains: "One of the main things I noticed when I'm on this is that the smallest things trigger the biggest laughing spell you will ever see in yourself again. I swear I saw the funniest shit ever on it, and it was the first time any strain made me laugh for more than 20 minutes straight."
First comes that unforgettable mango flavor, and then it's all giggles. Few strains have more to offer the flavor enthusiast and the social butterfly alike than Mango Kush. Named for its strong fruity mango aroma, this hybrid keeps you chatty and upbeat for social outings or when you're just kicking it with best friends. Leafly reviewer neptunechillwave tells us, "Two bowls put me and a buddy into a fit of giggles for a good 45 minutes while munching down on a bag of Cheetos. Then we got serious for a bit and had just about the most beautiful in-depth talk ever."

With a champion heritage from OG Kush and Sour Diesel, Sweet Diesel masterfully captures everything we love about sativas: a little boost of wakefulness, creative energy, social engagement, and nonstop giggles.
Sign up here for our daily Thrillist email, and get your fix of the best in food/drink/fun.
This article was originally published as 7 Giggly Cannabis Strains for Inducing Laughing Fits. For this and more articles on cannabis news and culture, visit Leafly News.