Megan Chong/Thrillist
Megan Chong/Thrillist
When I was first assigned the seemingly daunting task of testing out 10 of the top "meal replacement shakes" on the market, I have to admit, I might have dry heaved a little bit. Because really, I assumed the content of these shakes would be equivalent to the very bile I was forcing myself to keep down. I thought of 'roided out bros sucking down beige, grainy sludge before pumping various irons, or desperate housewives chugging down mystery mixes to help them cut calories.
But when I actually tried them, my first unfiltered thought was, honestly: "Holy shit. This tastes good." Obviously, the experience is not as enjoyable as sipping on a Shamrock Shake—but considering these MRS's are viable, healthy replacements to daily meals, loaded with good old-fashioned vitamins and minerals, and are perfect for a quick meal on the go, I must say the overall package won me over, in spite of me.
There's a meal replacing shake here for every type of person, and every variety of lifestyle. Once you find the one that's right for you, you may never want to go back to solid food ever again (just kidding… you shouldn't do that).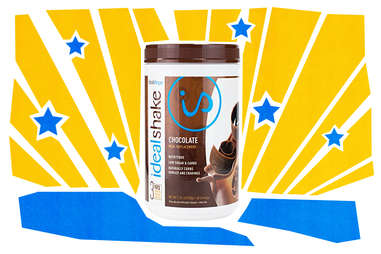 IdealShake: For those who want the most filling shake, ideally
This shake powder ended up being the most filling out of any of the shakes I've tried. I mixed the chocolate flavor with almond milk and just a tiny bit of all-natural peanut butter (not needed, but definitely added to the taste), and I was pleasantly surprised at how much I didn't hate it. The texture is admittedly a little gritty... as was expected. But it was certainly not hard to get down, and it kept me full for at least three hours. Overall, if you're looking for a basic, affordable option that doesn't require a ton of work and extra ingredients, this is an exemplary option. So yes, IdealShake is an actual ideal shake. Good job marketing team!
If your normal diet skews toward the organic and vegan, you will find meal replacement solace in Garden of Life. While it is not the tastiest option on the list, admittedly, it really isn't that bad. I went for the vanilla option, and was happily shocked at the baseline sweetness, especially when blended with a cup of mixed fruit. One thing to note: If you are using this vegan option, you probably aren't about to use any animal-based milk. Meaning, the texture of this powder can get a little grainy and lumpy. So you should probably drink this right away, and not let it sit as this will just exacerbate the um... lumpiness.
Soylent Coffiest: For those who want to skip breakfast... and their morning coffee
Despite what your pop culture-based subconscious might tell you, Soylent is not made of people. The Silicon Valley hyped wonder-drink Soylent has had some… mixed reviews in the past. But this iteration of the ready-to-drink soy-based concoction features a kick of coffee powder (which means it has the caffeine equivalent of a cup of coffee), making it an ideal replacement for your first meal of the day. Soylent isn't necessarily loaded with ingredients that make it an option for a pre-workout meal. This is more something you guzzle down on the way to your desk job to make sure you don't opt for a bagel or donut instead. I actually enjoyed the two birds, one stone convenience here, especially as it requires no prep at all. And even though it wasn't the tastiest option on the list, it wasn't a struggle to drink. And again, it's not made of people. I swear.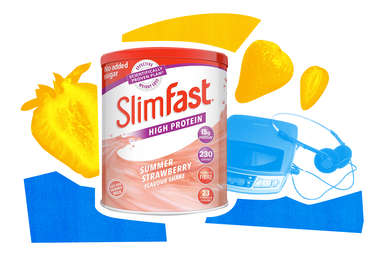 Yep, it does still exist. You may remember those little cans from your parents' fridge, circa 1999—and they are still alive, kicking, and ready to replace your meals en route to helping you lose some pounds. This strawberry-flavored powder actually has a lot going for it. It's loaded with protein, is one of the cheaper options on this list, and the flavor is— bewilderingly—super subtle. You'd think strawberry-accented SlimFast would have an awful, pseudo-saccharine flavor that overloads your taste buds, but it's actually quite smooth. Much like this other (still-relevant!) hit from 1999.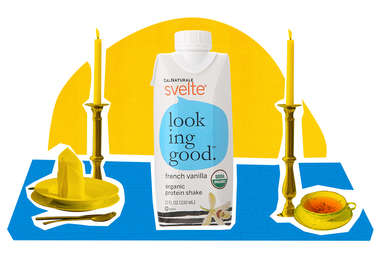 Even the name "CalNaturale Svelte" conjures visions of pinky-up sips while skipping meals on the French Riviera—and all jokes aside, the flavor here (particularly the French vanilla) does seem slightly more refined than the rest of the bunch. In fact, it might even be too sweet for some palates. The shakes are vegan, GMO-free, and contain 20% of your daily fiber intake (the other 80% is up to you!). Overall, the taste and ease of the shakes—which come ready-made in a nice little package—make this a great option for those who want good taste on the cheap and easy. And actually, who wouldn't want that?
This particular shake powder from Designer Protein has 10 grams of all-natural protein per serving, which is lower than some of their other offerings, more geared towards pre-workouts than simply skipping meals. Still, the protein content is high, and the price is definitely right. This option might deliver the best bang for your buck, overall. And the cookies and cream flavor, especially when mixed with actual milk, is shockingly smooth and tasty. It's basic and no-frills, for sure—but sometimes that's exactly what you are looking for in a meal replacement. And in life, really.
Despite being full of fiber, protein, and the general splay of standard meal replacement benefits, I was shocked and a little appalled (in a good way) at how this particular brand tasted. The strawberries and cream flavor had a sweet—but not overpowering—flavor, a solid texture, and actually kept me full for a few hours. It all comes ready to drink, making it an ideal option to grab on your way out the door. Or in the door. Or in between when you are on your couch watching Black Mirror.
Really, this stuff is delicious.
This one is a little bit different, admittedly. And it really brands itself as more of a "mobile soup" than a full-blown meal replacement. But in lieu of getting into a Seinfeld-esque debate about whether soup is really a meal or not, let's just concentrate on what we have here: It tastes like a veritable garden salad, mixed with coconut water, and is packed into these little cartons. It's got a citrus-y, smoky aftertaste (thanks cumin!) that is actually pretty enjoyable. And while they claim you can drink it either chilled or room temperature, I'd definitely recommend putting it in the fridge for a bit before drinking. When it's a little bit cold, it is super-refreshing.
If you're already on a ketogenic diet, you can still dig into the meal replacement game with Keto Chow. Though it sounds like a futuristic dog food, it's actually a weirdly tasty (especially the salted caramel!) option to substitute a meal or two per day on your keto-centric diet. In fact, it's so easy, filling, and full of protein, electrolytes, and minerals (you know, some of the things you need to live), using it daily might be one of the simplest ways to dive mouth-first into a full-blown keto diet. My pro tip here is to use avocado oil in lieu of a cream or milk, as it seems to just gel better. Plus, if you are already on a keto diet and drinking a meal replacement shake for lunch, you might as well go full millennial here.
This delightfully named "Caribbean Sunrise" blend has all of the protein and nutrition of the other options on this list, with a radically different taste. It's light and fruity, and tastes naturally sweet. I blended it with a scoop of vanilla yogurt and a banana, and the result was super-creamy, had a great texture, and made it an ideal substitute for a morning meal and cup of juice. Even if you are driving through a snowstorm in mid-February, this smoothie should make you feel full... and slightly more sunny. Or at the very least, just full.
Sign up here for our daily Thrillist email and subscribe here for our YouTube channel to get your fix of the best in food/drink/fun.
Wil Fulton is a senior development producer at Thrillist His favorite meal replacement is a toothpick. Follow him:@wilfulton.