The Best Meals for Every Kind of Trip to Borgata
BORGATA HOTEL CASINO & SPA
Because Atlantic City is just a short train/car/bus ride away from NYC, it's the prime stomping ground for everyone from bachelor parties to networking conventions. The Borgata sits in the middle of the action -- and with more than a dozen restaurants, eateries, and bars inside (some headed by some big name chefs, too) you won't be hard-up for dinner options during your trip. What you may encounter, though, is choice paralysis, so we made this handy guide to make sure you know exactly where to make a reservation, and what to order.
BORGATA HOTEL CASINO & SPA
A weekend away with your parents
You know you've reached peak adulthood when you can spend a weekend away with your parents, treat them to dinner, and actually have a good time.
The Restaurant: The newly-opened Angeline by Michael Symon is a family-style Italian restaurant dedicated to Symon's mom, Angel. It's designed to look like a modern take on a cozy Italian joint, so it'll feel just like home -- only without your mom letting you sample the sauce on a wooden spoon before the rest of your guests.
The Dish: Mom's Lasagne is inspired by the same dish Symon's mother used to bring to the table. It's layers of fresh pasta smothered in a homemade meat sauce, with ricotta and mozzarella, in a serving big enough to share. (If you want to, that is.)
After a concert
Atlantic City is known as the entertainment capital of the Jersey Shore, and Borgata is known for being the place to catch some big name acts (looking at you, Sting). After the show, you're gonna need a quick bite to keep the night going.
The Restaurant:Bread and Butter is Borgata's 24 hour cafe, and while you can also get a cup of coffee here (if you need it) look to their sandwich menu for some regional deli inspired eats.
The Dish: The sausage and pepper sandwich is a Jersey classic, and Bread and Butter serves it up at all hours of the night -- so that's a definite plus. Sweet Italian sausage is sauteed with red and green peppers in olive oil, then stuffed into a semolina roll. Just make sure you grab a few napkins before you head on to the next part of your night.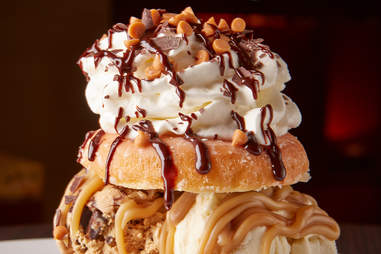 Borgata Hotel Casino & Spa
A bachelor party weekend
A bachelor party in AC is a classic choice, and for good reason: you've got everything from sports bars to dance clubs within your reach -- plus a comfy hotel bed when you're ready to crash.
The Restaurant: A last hurrah such as this requires red meat, and for that, head to Old Homestead Steak House. First created by two brothers and restaurateurs in New York, they carried on the motto "you shouldn't mess with a good thing" when they opened a second location in AC.
The Dish: The Gotham Rib Eye is the signature dish (diners love it "Oscar Style" with crab, asparagus, and hollandaise) but if you want a real treat, try the Empire Cut of Prime Rib on the Bone, then take it the extra mile and add on some of the signature toppings like a blue cheese melt.
Bonus: Before the groom is forced to stick to a pre-wedding diet, order him a glazed doughnut ice cream sandwich. It's filled with coffee and vanilla ice cream (so he can't complain he's "tired" later) and finished with Valrhona chocolate sauce, butterscotch, and chocolate shavings.
Halfway through a convention
Spending the day "networking" is a small price to pay for a mini-vacation to the Jersey Shore -- but when EOD rolls around, you'll you want to throw back a few casual drinks with your coworkers.
The Restaurant:Long Bar is the embodiment of the happy medium. It's not too stuffy, but far more classy than half the bars near your office back home. (And packs a good-sized bar food menu.) So whether you're trying to have just a casual drink and watch the game, or kickstarting a long night out of networking, it's the place to stop.
The Dish: If you only want something small and shareable but long on flavor, Long Bar's chips are barbecue seasoned, then served with a bleu cheese dip and topped with bacon and scallions. If talking shop has made you much hungrier, order their fire-grilled steak tacos, topped with pickled onion, charred poblanos, chimichurri, and oaxacan cheese.
Borgata Hotel Casino & Spa
Your first anniversary
You two have been together long enough to where you can basically place each other's orders -- and you're strategic about sharing sides.
The Restaurant: Despite being comfortable enough to spend entire weekends in sweatpants, when you celebrate, you want to go all out. Bobby Flay Steak is the ideal setting for this milestone, as it's the celebrity chef's modern take on a classic steakhouse. He's incorporated regional specialties into the menu, then decked out the dining room with wine displays and intricate wood details.
The Dish: The Philadelphia Style Strip Steak is a rustic dish you won't be able to find outside the tristate: it's topped with provolone cheese and caramelized onions. Also, be sure to split something off the Lobster Bar menu as an appetizer.
Your luxurious solo weekend
AC may be known for it's crazy parties, but you can still spend a weekend getting in some serious "me" time -- especially when luxe hotel The Water Club at Borgata has a two-story spa.
The Restaurant: After a massage, treat yourself to an indulgent dinner at Izakaya. Japanese restaurants are perfect for enjoying solo, as you can pull up a chair at the sushi bar and give the chef your undivided attention. If you prefer a table, there are plenty of secluded, comfy spots around the dining room.
The Dish: Let the chef handle all the decisions and opt for their $65 tasting menu to get a tour of all the best offerings, but make sure you get more than a bite of the big eye tuna roll. Go all out, you deserve it.
Borgata Hotel Casino & Spa
An impromptu trip down the shore
You and your friends decided on Thursday that you should spend the weekend in AC -- so after Summer Friday, you trekked down the Garden State Parkway. You all agree that you want a fun night out in AC, but first you want something tasty to kick off this weekend without busting your budget.
The Restaurant: The upscale comfort food offerings at Wolfgang Puck American Grille will insure that everyone is happy with something on the menu -- from your foodie friends to that one picky eater in your group.
The Dish: Wolfgang Puck also boasts a woodfire grill for specialty pizzas, so you can't go wrong with the duck sausage pie. It's topped with shiitake mushrooms, shishito peppers, and goat cheese -- so it's a fine dining take on a classic pie. Perfect for a spur of the moment celebrations that summer is known to host.
If you're on a lucky streak
You remembered to split the eights, and you were rewarded when you risked it by asking for a hit at 17. Now you've got a pocketful of chips and an empty stomach, so you need a quick break before you head back out to the pit.
The Restaurant: Noodles of the World, AKA N.O.W., is right on the main casino floor -- so you'll be back to your table before it cools off. The menu features Thai, Japanese, Chinese, and Korean specialties in a sleek, modern space. Plus, they're open late.
The Dish: Chicken Pad Thai is a classic, and N.O.W.'s version does not disappoint. Wide rice noodles, chicken, egg, scallions, bean sprouts, and peanuts are tossed with sesame oil and a spicy fish sauce, giving the dish a slight kick. If you're hungry enough for an app too, the bacon roll features ground shrimp wrapped in bacon and served with a wasabi cream sauce for dipping.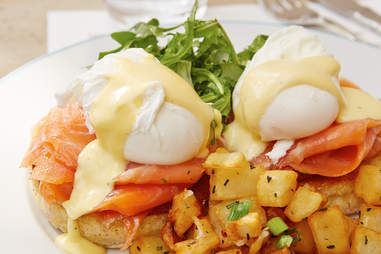 Borgata Hotel Casino & Spa
That long-awaited girl's weekend
You have been planning this for weeks, and your group chat is filled with bathing suit suggestions, dinner reservations, and of course -- you all agreed you needed to do a champagne brunch.
The Restaurant: The Sunroom at The Water Club is Geoffrey Zakarian's casual restaurant, specializing in brunch. As you peruse the menu, you'll be surrounded by greenery and water features -- just the calming space you need to recover after last night's festivities.  
The Dish: If you go to brunch and didn't order an eggs benedict, did you really brunch at all? The Eggs Norway is a spin on that classic brunch option: poached eggs, smoked salmon, doused with hollandaise -- the perfect fuel before you head up to the rooftop pool.
To relax and enjoy your date
Unlike the first anniversary crowd, when you plan your first weekend away with your new SO you're still getting to know each other -- but you don't want things to be stuffy. You're comfortable with each other by now. 
The Restaurant: The Metropolitan has the ambience of a European bistro, so if your date wants to order an entree, and you're fine with just a burger, neither of you will feel out of place.
The Dish: No matter what you choose for a main, you both should split something from The Metropolitan's Oyster Bar to start. Cape May Salt oysters are what the locals would order, but there are also Delaware Bay and Blue Point options on the menu. 
For the morning after the club
Last night it was bottle service at Premier Nightclub. This morning it's bottled water and two aspirin. But, you know the real fix you need is food, something a little greasy and sugary preferred.
The Restaurant: The Borgata Baking Company shelves are lined with everything from French macaroons to cake pops and whoopie pies, and you can snack on them in the casual seating area next door.
The Dish: After a night such as yours, in the morning you'll need the ham and swiss sandwich on a glazed doughnut. (Plus if you're the bachelor party, the groom might have developed a taste for such things.) There's just the right hint of sugar and fat to cure what ails ya -- while still being a tasty dish to write home about.
Must be 21. Bet with your head. Not over it. Gambling Problem? Call 1.800.GAMBLER.