Presented By
These 8 Delivery Services Bring Prime Grilling Meat Right to Your Door
Save a trip to the grocery store.
Presented By
Welcome to the future you've always dreamed of: the version where there are a ton of different ways to purchase meat. And sure, carnivores can snag their favorite cuts the classic way by visiting the grocery store or butcher, but thanks to a vast array of online meat delivery services, they no longer have to move beyond their grill to place an order. No matter your particular preference -- whether you're seeking to cook a fat rib-eye steak or a hunk of kangaroo meat -- we've found the best services to fit your budget and your needs.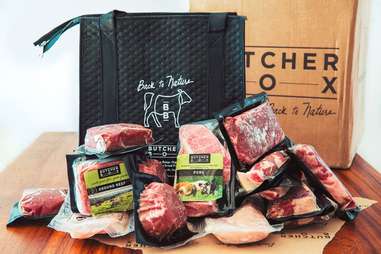 The idea behind the monthly subscription-based Butcher Box is giving anyone, no matter their location, exposure to grass-fed beef, heritage-breed pork, and free-range organic chicken. Customers can opt for two different types of boxes, depending upon the amount of food you'll need for the month. Curated boxes start at $129 per month, allowing for a mix-and-match selection of beef, pork, and poultry based on customer preference. The custom boxes, which begin at $149, allow subscribers to pick specific cuts, with a classic box option granting six choices and a big box option permitting 12. Wild-caught Alaska salmon can also be added onto any option, in case surf & turf is your thing. The service is optimal for home cooks who utilize a consistent amount of meat in a given month but might not have access to a high-quality butcher. However, it also provides a no-fuss, one-stop shop to those of us who want to avoid the grocery store. And the best part: You can always change what's in your order, as long as the switch is filed before the next billing period.
Sign up at ButcherBox
Founded by two former Nashville chefs, Porter Road allows customers to make one-time purchases or subscribe in order to receive sustainably raised beef, pork, chicken, and lamb, locally sourced from Tennessee and Kentucky farms and moderately priced. Subscription boxes start at $50 with the basics box, which includes four pasture-raised chicken breasts, two boneless sirloin steaks, and one pound of dry-aged beef. Prices go up to $125 for the Beef + Pork box, which includes four premium steaks, two premium pork cuts, two pounds of ground beef, and one pound of cherrywood smoked bacon. Whether subscribers get their Porter Road deliveries every other week or every two months, they can feel good knowing that they're not harming the earth when they throw out the shipping container. Porter Road's packaging is biodegradable -- it can even be dissolved near-instantly in the sink, which would honestly be pretty cool regardless of what was in the box beforehand.
Shop the selection at PorterRoad.com
Halal Pastures is an Upstate New York-based farm that delivers halal meat coast to coast. The service features a wide range of cuts, including quality beef, pork, lamb, goat, and turkey options, but one of the coolest items is its community shared meat ("CSM") option. For customers located in New York, New Jersey, Connecticut, Boston, or Philadelphia, Halal Pastures allows groups of 10 or more to buy into their own cow share for $1,000. All prospective groups have to do is meet the geographic requirements and submit a cut sheet to the farm and Halal Pastures will provide 250-425 pounds of grass-fed zabiha halal cow. The farm also provides free shipping for all CSM orders.
Sign up at HalalPastures.com
Bring the bayou wherever you might be cooking this summer, with help from Teet's Food Store. For 64 years, Teet's has supplied Cajun meats, foods, and supplies to Evangeline Parish, but now its online store allows anyone anywhere to purchase its boudin and stuffed pork chops. And the prices for Teet's goods mean a Cajun cookout is attainable for anyone. Smoked half-chickens go for $3.99, while five pounds of boudin runs $26.95 and the smoked meat special (which has five pounds of smoked turkey wings, five pounds of smoked turkey necks, and five pounds of Smoked Pork Neck Bones) clocks in at $43. Despite the prices, Teet's does mandate that you spend at least $30 on every order and recommends every order be at least five pounds, as it's not cost-effective otherwise.
Stock up at TeetsFoodStore.com
When you're seeking to take a cookout over the top, D'Artagnan is the go-to meat delivery service. Why? The company not only has a robust selection of items like wagyu beef, heritage pork, and Australian lamb, but customers can order an insane amount of different birds, from duck and chicken to guinea hen, pheasant, and squab (which is a young pigeon). D'Artagnan's roots are in slinging foie gras, so it figures its selection of winged proteins is unparalleled if pricy. Beyond the luxe meat options, D'Artagnan also offers charcuterie, truffles, and mushrooms in the case that you're really wanting to take your feasting to the next level. And the less adventurous home cook can check out the company's collections, which partially prepare many of the meats offered by D'Artagnan for easier, speedier cooking.
Shop the selection at Dartagnan.com
Simply put, Marx Foods perhaps provides a veritable menagerie of game meat out there. Its selection includes options from animals like ostrich, kangaroo, wild boar, and camel, and its seafood offerings are robust as well, providing a wide range of fish fillets and shellfish, plus tougher-to-find underwater delicacies like sea cucumber. We suggest taking a look at the Staff Recommendations and recipe sections on Marx Foods' website, as each provides home cooks ideas about how to properly prepare a meat like alligator tail tenderloin or rabbit rib chops.
Shop the selection at MarxFoods.com
KC Cattle Company has a small, well-curated selection of wagyu meats that allows customers the option of making one-time purchases or highly customizable repeat deliveries (want 11-12 pounds of beef brisket delivered every other week? KC Cattle Company allows you to do that). While its offerings for now might be slim, the young company has a large mission. Founded by a veteran of the US Army, KC Cattle Company employs and mentors returning veterans on its farms and frequently donates proceeds from sales to many veterans charities and foundations, like the Warhorses for Veterans program in Stillwell, Kansas. If you're looking for a delivery service with a finely tuned list of beef products and a mission larger than selling meat, KC Cattle Company is the one for you.
Shop the selection at KCCattleCompany.com
Full disclosure: If you're going to get down with "New York's Butcher" -- the nickname century-old DeBragga gave itself, despite being based in Jersey City -- it's gonna cost you. For example, a four-pack of strip steaks will set you back at least $91, while a whole tenderloin of Kobe beef-style Japanese Miyazaki wagyu runs $1,475. However, despite its price, the real star of DeBragga's delivery service is its dry-aged meat selection. The dry-aging program is world-renowned -- optimizing the ultimate flavor for each piece of meat that undergoes it -- and online customers can select from an array of cuts like rib roast, strip steaks, and T-bones. For home cooks who have an extra bit of cash to spend and a full party full of attendees to impress, DeBragga's got the meats, pork, lamb, poultry, and game to supply.
Shop the selection at Debragga.com
Sign up here for our daily Thrillist email and subscribe here for our YouTube channel to get your fix of the best in food/drink/fun.
Ryan Joseph is a freelance writer and Ohio native who thinks your Cincinnati chili hot take is trash.