Sometimes, you love something that you simply can't handle, like a pet tiger or whatever that "jelly" Beyonce was talking about in "Bootlylicious" was. For many, hot sauce falls in that category, which is ironic given its presence in Queen Bey's purse. Hot sauce is easy to love, but many people -- this writer included -- just get their asses whomped by it. Even the thought of sauces that hardcore spice heads consider "weak" like Tobasco or Franks is enough to put a hole in some folks' esophaguses. 
For those of us who love hot sauce flavor but just get leveled by heavy spice, there's hope lurking on the shelf. These bottles bring a little heat but not the pain, offering up all the great flavor of a standout hot sauce without the side of suffering. Add them to your pantry, then hit the comments and tell us what else we should be trying. 
Recommended Video
Art of the Meal: Chloe Rose Makes Super Mario Bros Art With Hot Sauces
Along with complaining about Californian transplants and waiting in line, there is nothing Portlanders enjoy doing in restaurants more than dousing their food in Secret Aardvark, a magical sauce that can often be found tethered to tables because people always steal it. It comes in varying degrees of heat, from the original habanero to a new Serrabenero (like Voltron of hot sauces), but for the weak of esophagus who want a taste, the Drunken Garlic Black Bean Sauce is the jam. Or the sauce, actually. Anyway, it's minimally spicy, allowing the garlic to do most of the work, along with a little whiskey and black bean, making it a good way to kick up stir fry or anything else that could use some extra garlic and wow factor. 
Sometimes, things that seem completely in contrast to one another just make sense. For proof, just look at Frostys and fries. Or Martha & Snoop. Or this incredibly complex and unexpected hot sauce. Now, nobody's ever accused a jalapeño of being ultra spicy, especially when diluted. That gives the spice-averse an inroad for a pepper sauce that won't kick their ass. Throw in the sweet, semi-sour Granny Smith and you've got a complex, unexpected pairing of sweet and spicy that adds layers of nuance to whatever you put it on. Try it with pork. Maybe use a Martha & Snoop recipe.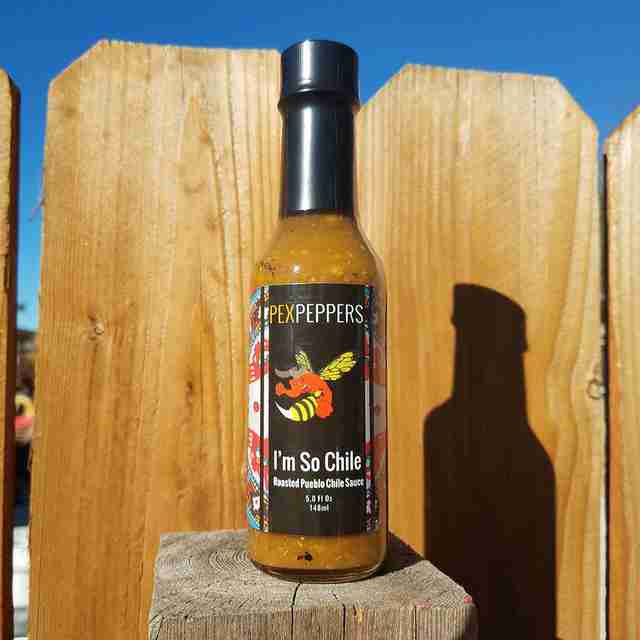 Not to be mistaken for an autobiography about TLC that I just made up in my head, the label says it all here. This is a solid, flavorful, and fresh hot sauce that was forged as a companion for enchiladas, but became a favorite for anything sauce-friendly. The beauty here is that the complex flavors work to turn the heat up, then turn it down, with Pueblo chiles going to flaring before balancing out with roasted garlic, then getting tamed by sugar and lime. 
It's paleo friendly! And Whole30 friendly! Most importantly, it's both chicken-wing friendly and doesn't require you to dip your drums in Pepto. The secret here is pineapple juice, which eliminates the need for added sugars while also counteracting the spiciness, which allows for a flavor that's remarkably close to what you'd get from your favorite bar wings (or cauliflower) without the burn. Of note, some folks in the review section claim this is a little spicier than expected (I didn't agree), but hey, that's what blue cheese and celery are for. 
Thai food has a habit of bringing the heat, as any spice-challenged person who has ever decided to live on the wild side and order their pad kee mao "medium" can likely attest. That makes choosing a solid Thai-style sauce -- even the "mild" ones -- at the store a little daunting. Yai's does bring a bit of heat, thanks to its infusion of jalapeños and serrannos, but they're expertly balanced with a dose of lime, cilantro, and that kick of ginger, which really makes you feel like you're eating something much hotter than you are… until the heat immediately subsides. With this in your arsenal, you can feel free to sample all the sweet chile sauces you want, knowing that you've still got a little extra flavor laying around when you inevitably have to chug a half gallon of milk. 
For 90 years, Louisiana's been the ideal accompaniment -- a word that sounds wonderful in a New Orleans drawl if ever there was one -- for everything from fried chicken to crawfish, po' boys, and grilled alligator. And also, you know, things that aren't so intrinsically tied to Louisiana, like scrambled eggs. Which is to say, it's a wonderfully versatile sauce that packs just the right amount of cayenne heat into its vinegar-forward flavor without sending you to the nearest gastroenterologist. Naturally, it's also the perfect sauce for a pile of Popeyes. 
Pickapeppa's been doing its hot sauce thing in Jamaica since 1921, offering up a fill line of sauces that serve as a solid alternative to standard jerk. They can get very, very hot. Not the Gingery Mango Sauce, which has a slight kick on the back of the palate courtesy of the ginger and melds incredibly with the namesake tropical fruit. It's great on meat, but also touted as being perfect with cream cheese. Bagel purists, take heed. Maybe you've been doing it all wrong with those scallions. 
Sinai Gourmet is part of the naked food movement, which is more about clean foods and ingredients and less about eating in the buff. We don't discourage the latter, though if it's your thing, we'd steer clear of their Ghost Maple and Reaper hot sauces, not only because this is an article about mild hot sauce, but also because we'd imagine accidentally dripping those on your bathing suit area would really suck. Lucky for the heat-avers and the nudist hot-sauce aficionados, Sinai makes a fantastic, vinegar-free Poblano Maple sauce, which augments the mild-but-bold flavors of the Mexican poblano with Quebecois maple syrup, offering up a slightly sweet, wonderfully layered taste of cross-border diplomacy.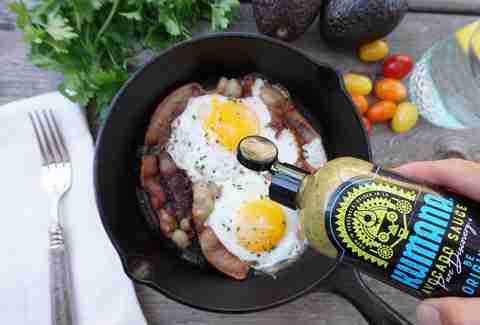 A Venezuelan-style avocado sauce transported to LA, Kumana's line of shelf-stable avocado sauces has a little something for everybody, and is a particularly stellar way to liven up a breakfast burrito, a plate of eggs, or fries. The mellow avocado flavor pairs up with a blast of herbs and veggie puree and a smack of vinegar, creating a taste that's super fresh and slightly acidic in the best way. For the super spice-averse, there's a sweet version with mangos standing out. If you want to heat things up a little, the original lends a zip without sending your tongue to the seventh layer. And then there's the hot variety, which, well, you're reading this article, so maybe skip that one. Your egg tacos will be fine without it. 
Don't let the word "habanero" scare you. Actually, if you're spice-averse, DEFINITELY let the word habanero scare you, especially when it's paired with "extra hot." But on the bottle of the original red version of this vibrant Mexican sauce, it's almost a false flag. Yeah, it's spicier than most of the stuff on this list, but the heat's not intense, and if you use it as intended -- lightly, as a complement to tacos, breakfast, or burritos -- it works in tandem with the other ingredients, particularly fresh-sliced tomatoes and onions. The heat turns down quickly. Just don't overdo it.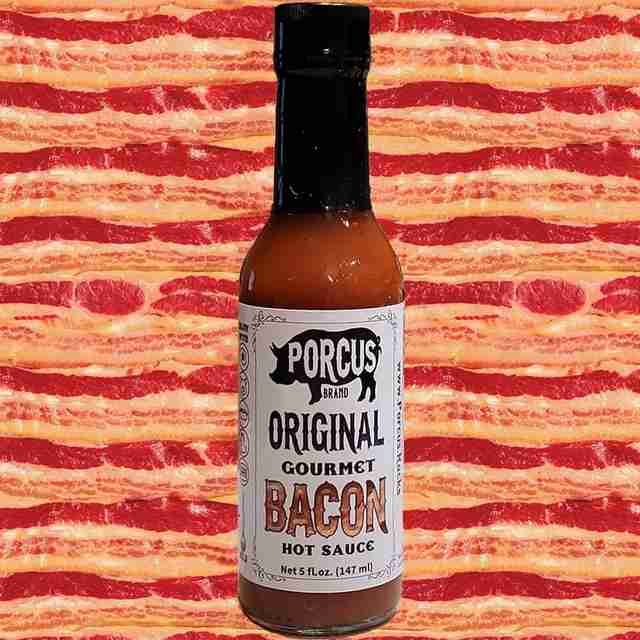 The name of this concoction from Voodoo Chile Sauces, in case they tried to cancel Latin at your prep school, is "hog." And inside that bottle is something that we never knew we needed: a bacon-flavored mild hot sauce. But this is no gimmick: The incredibly smooth sauce packs a little bit of punch, sure, but not enough to make weak tongues buckle. The complex flavor profile includes smoke in addition to tomato and ham/pork profile, which manages to augment the flavor rather than overwhelm. Needless to say, this is perfect for eggs, pulled pork, burgers, bloodies, and anything else where peppers and bacon make things better.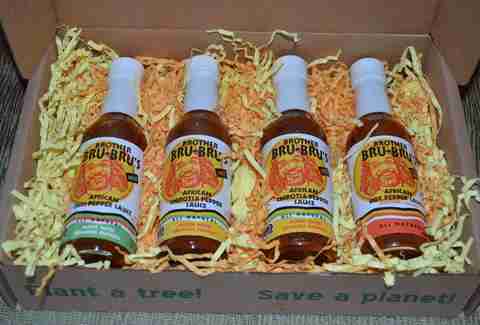 The late Bruce "Brother Bru-Bru" Langhorne, who passed away last year, was a legend long before he started making the signature hot sauce whose bottle is emblazoned with his face. Way back during the folk revival, Bru-Bru became a fixture of the scene, playing his unique style of guitar and percussion (made even more unique by the fact that he was missing three fingers) with the likes of Gordon Lightfoot, Joan Baez, and, most famously, Bob Dylan. Bru-Bru even played electric alongside Dylan's acoustic on "Mr. Tamborine Man." Oh, and Langhorne inspired the song to begin with. It's quite a story. Also, and he made some fantastic hot sauce, some of which are really hot. But he also made a mild version, with no sugar, lots of peppers, and very little heat. I guess that's pretty important, too, considering the title of this article. 
Sign up here for our daily Thrillist email, get Eatmail for more food coverage, and subscribe here for our YouTube channel to get your fix of the best in food/drink/fun.