After we ran down TV's greatest bars and restos, we got to thinking: which greasy spoons of the big screen would we most want to order a gross amount of food at, very late at night? There's a lot to consider: the food, the decor, the atmosphere, whether or not Vince Vaughn would pass us things he would never eat, etc. So we took it all into account before landing on these 11 movie diners, and ranked the crap out of 'em. Now grab a cheap cup of coffee and start scrolling.
11. A diner somewhere in California (Coffee and Cigarettes)
Admittedly, we know next to nothing about this joint, which is "somewhere in California", according to the super helpful title card. But Iggy Pop and Tom Waits hang there and they leave you whole pots of coffee, so it looks like a solid greasy spoon.
10. Joe's Pie Diner (Waitress)
Because look. At. Those. Pies.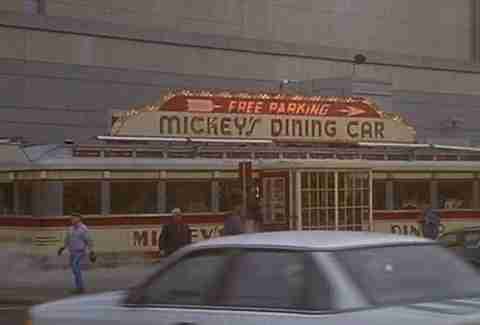 9. Mickey's Dining Car (Mighty Ducks trilogy and Jingle All the Way)
The go-to spot for Coach Bombay AND Yuletide Schwarzenegger, Mickey's Dining Car is an actual eatery in St. Paul that's been around since the FDR administration. It's so beloved that they even made collectible versions of the railroad car, in case you have some Mighty Ducks alternate endings you've been meaning to workshop.
8. Lou's Cafe (Back to the Future)
We guess if video Michael Jackson waiters are your bag, you should skip Lou's for the Day-Glo explosion that is Cafe '80s. But there's something to be said for the trilogy's original diner, where the authentic decor is just right and you might be served by a future mayor. So jeez, calm down about their lack of Pepsi Free, McFly.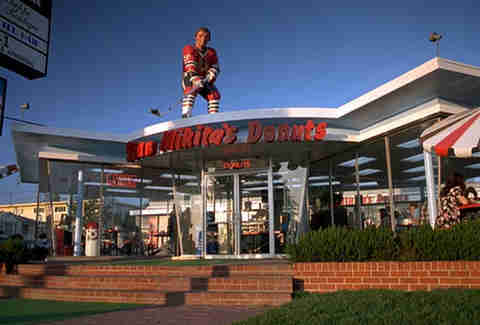 7. Stan Mikita's Donuts (Wayne's World)
Alright, let's get the cons out of the way up front. This place admits psycho hose beasts, and is run by a man who is seconds away from murdering all the customers. That said, they've got some great glazed donut action going on, are totally cool with spontaneous Jimi Hendrix dances, and have a secret back room full of elite force dudes training for absolutely no reason.
6. Tip Top Cafe (Groundhog Day)
The diner so good that one man came back every day for, like, ten years! Sure, it may have been a little involuntary, but Phil had some good company at Tip Top Cafe... that one perpetually clumsy waiter aside. Plus, the cake he smeared all over his face looked damn tasty.
5. Hollywood Hills Coffee Shop (Swingers)
The guys frequent this place so much, Vince Vaughn's honking laugh practically echoes off the walls. The Hollywood Hills Coffee Shop was actually Jon Favreau and Vaughn's favorite haunt in real life, and they wrote a lot of the movie over cups of Joe at that very spot. It's still running in LA, though nowadays it goes by the name of 101 Coffee Shop.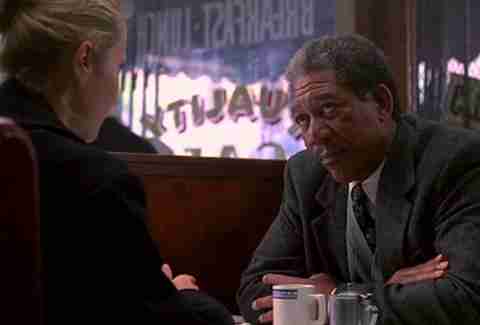 4. Quality Cafe (Se7en, Training Day, Gone in 60 Seconds, etc.)
This fake diner must be serving up some seriously baller omelets, because it's managed to attract clientele ranging from dirty cop Denzel to Se7en-era Gwyneth Paltrow... before the whole "WHAT'S IN THE BOOOOOX??!!" incident. Quality Cafe actually used to be a functioning resto in LA, but it stopped serving in 2006 to pursue its dream of becoming a rolling cameras-only establishment. Ever since, the kid has been killing it in Hollywood.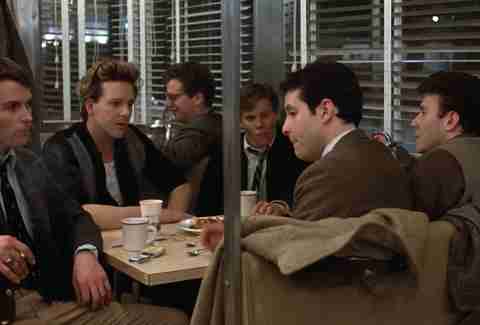 3. Fells Point Diner (Diner)
If '50s Mickey Rourke and Kevin Bacon are willing to spend all their time at one diner, you know it's gotta be good. If '50s Steve Guttenberg is also willing, you know it's gotta be great. Fells Point Diner was inspired by the director's beloved Baltimore joint Hilltop Diner, which had devolved into a liquor store by the time he was ready to shoot this thing. So he scouted the diner graveyards of New Jersey, resurrected one, and trucked it out Baltimore. It ended up staying there permanently, and became a star in its own right through additional cameos in Enemy of the State and The Wire.
2. Soul Food Cafe (The Blues Brothers)
Step into Aretha Franklin's alt-universe Chicago diner and you'll be served the best chicken in the state, along with some awesome musical breaks with Jake and Elwood. If poultry's not your bag, hey, there's always dry toast.
1. Jack Rabbit Slim's (Pulp Fiction)
It's kitschy as hell, but when it comes to the movie diner we'd most like to visit, Jack Rabbit Slim's wins handily. Boss milkshakes? Check. Recycled car booths? You know it. Totally sublime twist contests? Better believe it. We would've gotten a real Jack Rabbit Slim's too, if it weren't for that meddling Tarantino and his damn satire.