Seafood nachos, pastrami dogs & other crazy concessions at NBA arenas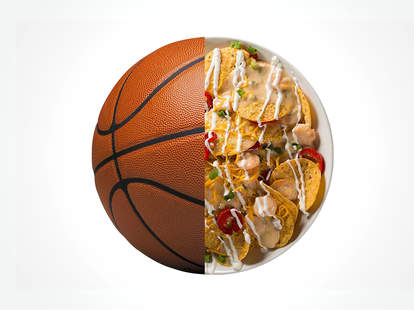 Much like baseball stadiums before them and football stadiums never, NBA owners have decided that their concession stands will no longer concede to just serving chicken fingers and really well-priced $9 sodas. We spotted a pastrami-wrapped hot dog from the Magic's arena on ESPN sexy-food-reporting fiend Darren Rovell's Twitter feed a few weeks back, which prompted us to dig into what other teams are serving to Shawn Kemp up their fans. Most of which were luckily on Darren Rovell's Twitter feed.
Seafood mac 'n cheese
New Orleans Pelicans
The shrimp, crawfish, scallops, and crabmeat over cheesy shells for the Pelicans' seafood mac 'n cheese would cause Anthony Davis to raise one really huge eyebrow.
Fried double Twinkie
Memphis Grizzlies
The Griz have a slew of time-tested fatteners at their State Fair stand, but of course the greasy crown jewel is the fried double Twinkie.
Seafood nachos
New Orleans Pelicans
More Pelicans -- nachos with a N'awlins spin. The seafood nachos come doused in shrimp, cheese sauce, and jalapeños.
En Fuego Bowl
Orlando Magic
No, you don't know anybody on the Magic, but you do know that this En Fuego Bowl is a fiesta of pork, rice, beans, corn, cheese, and pico de gallo.
OMG Dog
Orlando Magic
What we have here is a pastrami-wrapped, chorizo, and cheese sauce-studded OMG Dog, which'll satisfy your hunger while simultaneously making you sound like a 13yr-old girl/Randy Jackson hybrid.
Blackened shrimp and avocado flatbread
Orlando Magic
More Magic: a fancy blackened shrimp and avocado flatbread entree.
Bruschetta fries
New Orleans Pelicans
Soggy curly fries, meet your maker. The Pelicans temporarily jumped off the seafood train to bring you these bruschetta fries topped with tomatoes, basil, and Parmesan.
BBQ brisket nachos
San Antonio Spurs
Seeing the Pelicans' seafood nachos are the Spurs' BBQ brisket nachos, a glorious bowlful of chips, brisket, pinto beans, queso blanco, and homemade Jack Daniels BBQ sauce. Once Pop eats these, he can't stop. Popping. Yeah, however that one goes.