7 New England Fast Food Chains the Entire Country Needs
You had us at foot-long lobster rolls.
Clam chowder, frozen lemonade, marshmallow Fluff, Ben & Jerry's, your morning Dunkin'—New England loves its no-frills culinary creations. Which explains why we're also home to a few great local chain fast food empires that define the way we eat, whether it's a thin-sliced roast beef sandwich slathered in mayo, cheese, and barbecue sauce or an oversized Italian sub stuffed full of salami, provolone, and veggies (okay, fine, dieticians we are not). And while newer regional franchises have brought healthier fare into our grab-n-go diets, this list is all about keeping it classic: Burgers, dogs, and every manner of sandwich (AKA spukie, grinder, or wedge) worthy of a weekend chow-down, all of it cheap, comforting, and ideally ordered via a drive-through or pick-up window.
Where they are: Massachusetts
Why you need them: The North Shore roast beef sandwich culture is a strange bird indeed. Head to Massachusetts' northern coastal towns and you start to encounter takeout spot after takeout spot boasting the best roast beef sandwich around. But Kelly's Roast Beef started it all. The story goes that in the early 1950s, a local couple canceled their wedding and donated a large roast beef to the proprietors of a Revere Beach hot dog stand who, in turn, invented a brand new sandwich by shaving the roast down and plopping the slices onto hamburger buns. Fiction or not, it's all very Revere and the legend endures. Claiming to sell 1 million sandwiches a year, Kelly's continues to distinguish itself from the beefy pack by hand-slicing its medium-rare sirloin and stacking it inside a grilled sesame seed bun. You have your choice of condiments, but there's only one real way to go (see below). Beyond its calling card, Kelly's also does right by its fried clams, fish and chips, hot dogs, and, surprisingly enough, a particularly plump and juicy lobster roll. Head to the OG Revere Beach location for the full experience.
What to order: I mean, duh:Aa large roast beef labeled with tangy barbecue sauce, mayo, onions, and cheese.
Where they are: New Hampshire, Maine, Massachusetts
Why you need them: You have to love a sandwich chain founded by a former cheese salesman. Phil "Moe" Pagano founded the original location in Portsmouth, New Hampshire back in 1959 on the strength of his mom's sandwich recipe: Layers of mild, thinly-sliced salami, creamy provolone, thinly-sliced onions and peppers, dill pickles, tomatoes, olives, spices, and a dash of olive oil, all served on a roll that's not too hard and not too soft. Yes, he sold exactly one sandwich… and became incredibly successful doing so. Today the menu has certainly expanded, but not as much as you might expect—a full 12 sandwiches currently top the list. Pro tip: Request a hit of "spicy oil" to take your sub to the next level.
What to order: Sink your teeth into fast food glory with the Original, the meaty pile-up that started it all.
Where they are: Connecticut, Maine, Massachusetts, New Hampshire, Rhode Island
Why you need them: Those of us who grew up in New England completely forget that outsiders have never experienced the joys of the D'Angelo sub. The regional chain is one of the most reliable sandwich peddlers around, chain or no, offering more than 40 hot, cold, and grilled options. A little history lesson: Brian J. McLaughlin and Jay Howland opened the original outpost, Ma Riva's Sub Shop, in Dedham, Massachusetts back in 1967. It was renamed Angelo Sub Shop at some point, and the "D" was tacked on in 1978 so as not to confuse the shops with Angelo supermarkets (rumor also has it that the "D" stood for "delicious"). In the 1990s, PepsiCo bought our beloved regional chain and planned to take it national a la Taco Bell, but we feel eternally grateful it never happened—some things are best not shared with the masses. One more fun fact? When the chain first introduced their famous lobster roll some years back, the people initially scoffed, then marveled at how serviceable it was, and finally, gasped at its price: A foot-long runs $22.99, an absolute steal when you do the math.
What to order: The Number 9 is the purest distillation of the D'Angelo experience: A heap of sirloin steak (or chicken), grilled right behind the counter then slathered in melted American cheese, onions, peppers, and mushrooms. Perfection.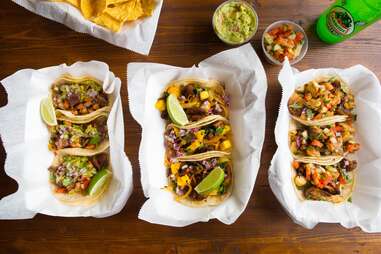 Where there are: Massachusetts
Why you need them: For more than 25 years, Anna's has been handily satiating all our late night burrito needs—no small feat in a state not exactly revered for its Mexican cuisine. Founded in 1995 by Michael "Mike" Yoshiomi Kami with the intent of bringing San Francisco's epic burrito culture to the good people of Boston. Anna's was a revelation when it first appeared on Beacon Street in Brookline, featuring burritos constructed assembly-line style with the freshest ingredients. (For context: Massachusetts barely even had any Taco Bells at that point.) The burritos are so beloved that, as reported by the New York Times, a woman once took a bus all the way from New York City to Boston just to feed her craving. Tragically, the pandemic recently shuttered the original flagship, but there are still seven locations at the ready to stuff our maws with beans, guac, and all the fillings.
What to order: A carnitas super. And if you happen to be around for St. Patrick's Day, definitely indulge in the corned beef and cabbage special.
Where they are: Massachusetts and Rhode Island
Why you need them: It's not that we're trying to sell you on hot dogs—we're here to sell you on these hot dogs. We're talking 100 % beef dogs cradled inside soft, freshly-baked French rolls, topped with all manner of, well, toppings, from hearty chili to bacon and cheddar to honey mustard and swiss. The curly fries also hold their own, served in both bare and loaded forms, and the burgers stand up mightily beside it all. Spike's only drawback is that there aren't as many locations as there used to be: Only two stores remain from the six that spanned the region in its heyday. Let's not let that number drop any further.
What to order: Start with the Junkyard Dog: Spike's proprietary mustard, tomato, pickle, hot pepper rings, and chopped scallions.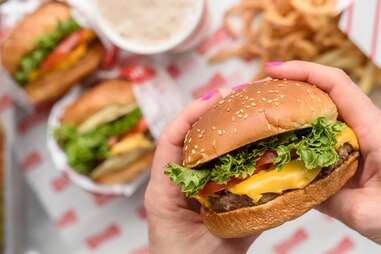 Where they are: Massachusetts
Why you need them: Remember back in the day when all your DC friends used to brag about Five Guys and you'd sit there silently seething over their burger superiority? Well, now Five Guys is just another national chain and we've got our own local burger franchise to boast about. Tasty Burger started in a little split-level building behind Fenway Park, founded by a group of local chefs who knew the value of a high-quality, grab-and-go burger (and yes, it's totally named after the Pulp Fiction line). Now five locations strong, this standout joint gives you a quality throwback drive-in burger at throwback prices not to mention pretty great patty alternatives like crispy chicken sandwiches and griddled hot dogs. And while these spots are creeping into fast-casual territory with beer, wine, and sit-down dining options, those in the know stick to a good old-fashioned sack full of burgers and fries washed down by a couple divine milkshakes.
What to order: The Big Tasty, a classic cheeseburger crowned with lettuce tomato, pickle, onion, and a dollop of signature Tasty sauce.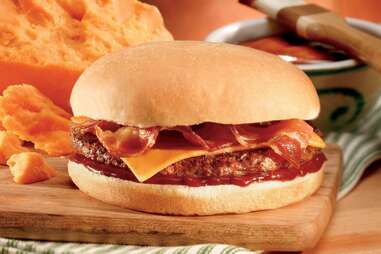 Where they are: Connecticut
Why you need them: There ain't no burger chain like an old-school burger chain. Founded in Bridgeport in 1956, Duchess is New England's answer to In-n-Out—burger-centric fast food that's fresh, never frozen, and always cooked to order. Seriously, there are no freezers on site, and if you order a fried chicken sandwich, the meat has been fileted and breaded earlier that same day. We suggest hitting the drive-thru again and again to work your way through the more than 100 items available, breakfast included. Where else can you get blueberry pancakes in the morning, a turkey wrap for lunch, and a griddled hot dog with fries for dinner, all without leaving the driver's seat?
What to order: If you only have one shot, go for the classic Big D double cheeseburger, a double-stacked patty finished with lettuce, tomato, onion, pickle, mayo, and ketchup.