Clam chowder, lobster rolls, baked cod, crab cakes, quahogs, wax paper-wrapped salt water taffy, marshmallow Fluff, pints of Ben & Jerry's, even your morning Dunkin': the good states of Connecticut, Rhode Island, Massachusetts, New Hampshire, Vermont, and Maine have been the place of origin for more than a few important culinary creations. They're also home to more than a few great local chain restaurants that define the way New Englanders eat, whether it's hot pizza ordered to their door in the midst of a blizzard or hard-serve ice cream from a bench on a warm night in July.
Disclaimer: we've highlighted restaurants that are essential to the region's culture, although some franchises have outposts elsewhere.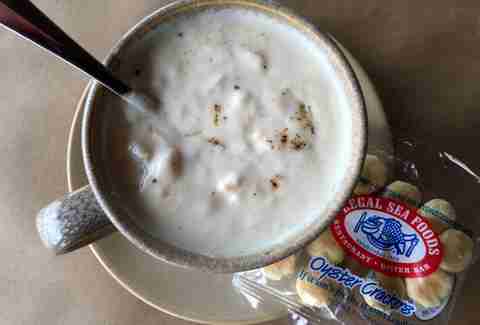 Where they are: Massachusetts, Rhode Island, Virginia, New Jersey, Pennsylvania,
Why you need them: The clam chowder has been served at every presidential inauguration since Ronald Regan's in 1981 for a reason. The shrimp cocktail is a regional favorite for a reason. The restaurant is an iconic Boston institution for a reason. In Cambridge's Inman Square in 1950, George Berkowitz opened Legal Sea Foods, a fish market that sold fresh fish and fish-and-chips to go, next to his father's grocery store. Eighteen years later, he added a casual restaurant next door. Diners seated at picnic tables grazed on fare such as fried clams, fried shrimp, and fried scallops from paper plates. Since, Legal's has grown up considerably. Today, it's known for upscale food and a casual vibe -- fresh fish has remained constant -- which it will never, ever let us forget with the omnipresent slogan "if it isn't fresh it isn't legal."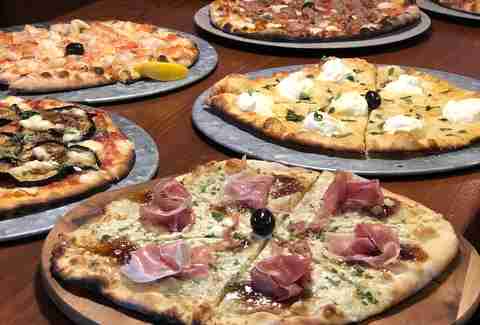 Where they are: Connecticut, Rhode Island, Massachusetts, New Hampshire, Delaware, New Jersey, New York, Virginia, Maryland, Washington D.C., Pennsylvania
Why you need them: Brick oven pizza is a smoky, crunchy treat. The advantages of 800-degree heat, rapid bake time, and a wood burning flame are great: crispy toppings, thin crusts, and chewy dough. Bertucci's gets this. Their bread rolls and Margherita pizza alike are prime examples of this cooking method's wonders. These carb-forward star menu items are best enjoyed to go, especially the fresh, hot rolls on the car ride home. The original Davis Square location, opened in 1981, was called Bertucci's Pizza and Bocce, and had a bocce court in its basement, a feature the second location in Brookline continued. Some food for thought: brick ovens are the restaurant's only cooking process, even their pastas are baked in them.
Where they are: Massachusetts
Why you need them: For North Shore noshing, Kelly's Roast Beef is the first thing that comes to mind. The roast beef sandwich is a local legend. A carving machine thin slices 25-day aged, medium rare roasted sirloin-tip meat -- five to six ounces for a small sandwich and seven-and-a-half to eight-and-a-half for a large --, plopped on a buttered, griddled hamburger roll, and topped with barbecue sauce, mayonnaise, and cheese. The original location at Revere Beach opened in 1951, the same year their website says they dreamt up the classic sandwich (they sell about a million of 'em a year!) Other beloved menu items include fried clams, fish and chips, lobster roll, hot dogs, and chicken finger plates.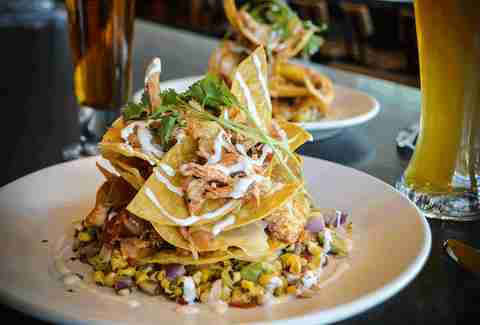 Where they are: Massachusetts, New Hampshire, Rhode Island, Maryland, Pennsylvania, Virginia
Why you need them: NYAJ's rules the world of appetizers. Nachos, lettuce wraps, dumplings, coconut shrimp, and flatbread things satisfy all snacking cravings. This is the place to go with a group. There's something for everyone -- the menu length rivals that of the Cheesecake Factory with dishes inspired by myriad global cuisines. It doesn't skimp on drinks or desserts, either. The gooey, food porn star-status Peanut Butter Thing is a dessert not to be missed, and bottomless bevs for the sober-curious and your little brother alike, like the Raspberry Lime Rickey -- lime juice, raspberry, and soda water -- and housemade mango lemonade add even more options than you thought you needed.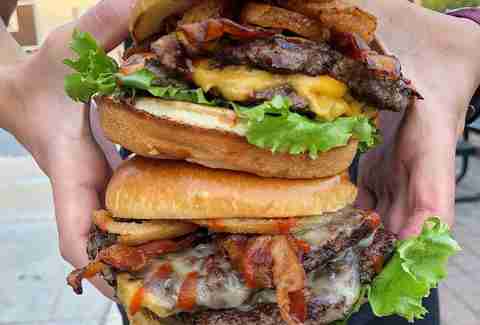 Where they are: Connecticut, Delaware, Florida, Kentucky, Maine, Maryland, Massachusetts, New Hampshire, New Jersey, New York, Pennsylvania, Rhode Island, South Carolina, Vermont, Virginia
Why you need them: If we're being real, Friendly's has fallen on some tough times recently, but that doesn't mean there shouldn't be a nostalgic place in America's heart for the kind of comforting family-friendly atmosphere Friendly's and other restaurants of its ilk provide. Truth be told, while Friendly's breakfast and lunch offerings are solid enough (including some sneaky good burgers), Friendly's heart and soul is the ice cream business -- it was founded  as an ice cream parlor in Springfield, Mass during the depression, so don't underestimate them! This is the kind of place your grandparents would take you in order to let you order more ice cream than your parents would normally allow, and everyone needs a little more of that in their life. So have a Fribble -- which is basically a milkshake, but so much more fun to say.
Where they are: Connecticut, Maine, Massachusetts, New Hampshire, New York, Rhode Island Vermont
Why you need them: Because sometimes you just want a laid-back bar & grill with something for everyone that fits like a cozy sweatshirt. Often referred to as "the nines" by those who frequent it/ appreciate brevity, think of it as a New England-leaning, post-flair TGI Friday's that can actually turn out a solid lobster roll at a decent price point. Ditto the weekends-only prime rib. It's the kind of place you can take your kids or take your meathead friends to maul a bunch of wings and Sam Adams while watching the Pats and saying unspeakable things about Roger Goodell -- just don't say them too loudly. There are kids over there.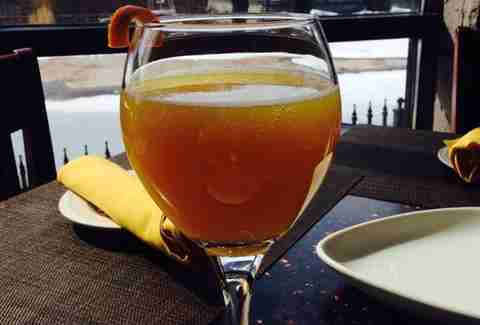 Where they are: Massachusetts, New York, Rhode Island
Why you need them: You've always wanted to stroll into a bar and drop your best Affleck-accented "so this is a Harvard bar huh? I thought there'd be equations and shit on the walls," haven't you? Important note: this is not actually THAT bar, but it is a damn fine brewery mini-chain that hearkens back to the pre-craft craze of simple local brewpubs. The beer is reliable, and lately they also do a fine job of spotlighting other excellent area breweries on guest taps. And the food is enough of a draw on its own to warrant a visit even if you aren't planning on indulging in any ale -- including both Cuban and fried chicken sandwiches that have no business being this good this far north. Also don't miss the upscale White Castle-style sliders called "Harvard Squares", because that's just good wordplay on so many levels.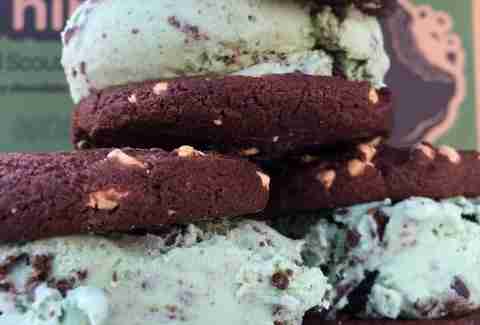 Where they are: In and around Boston
Why you need them: Everyone needs more ice cream in their life, especially when the creamery in question is the mini-empire Vince Petryk has built since opening his first game-changing location in Jamaica Plain in 1981. Now 14 locations strong, they've built a fanatical following one cone at a time on the strength of their high quality, impossibly flavorful ice cream. While they're not afraid to take big swings (think noodle kugel ice cream or tomato basil sorbet) when it comes to their monthly flavors, you can only get away with that kind of wild experimentation if you unequivocally know what you're doing. And they do. As a bonus, they do a better job than most of catering to the dairy-free set, and because they weren't busy enough, they also roast their own coffee now.
Where they are: New Hampshire, Maine, New Jersey
Why you need them: Because it's like a better, friendlier version of certain other much larger and more ubiquitous fast food sub shops that New Hampshire has been stubbornly hogging for 60 years now! (Though they've recently set up in a couple of other states). Cheese salesman Phil "Moe" Pagano founded the first location in Portsmouth in 1959 on the strength of his mom's sandwich recipe -- mild salami and provolone with tons of Italian veggies, spices, and a bit of olive oil. It's still the flagship sandwich, and although they've expanded the menu a touch it's still pretty streamlined with an emphasis on doing the little things well. Pro tip: ask for the spicy oil to take your sub to the next level.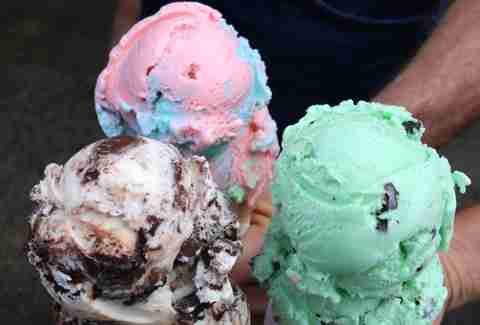 Where they are: Maine
Why you need them: Truth be told Gifford's retail footprint extends far beyond Maine, but any ice cream aficionado knows that's not quite the same as getting it straight from the scoop shop -- Gifford's operates five of them, a number we'd really like to see pushed to similar territory of another New England ice cream retailer that rhymes with Len & Harry's. Their five-generations-old family ice cream recipe combines with milk and cream sourced from local farms to turn out flavors like pink peppermint stick, sea salt caramel truffle and Maine wild blueberry. Bonus point for the scoop shops: that's where you can sample offerings like blackberry cobbler and Maine lobster tracks (note: contains some lobster-colored caramel cups but no actual lobster, much like Moose tracks doesn't have moose) that don't make it to the freezer aisle.
Where they are: Connecticut, Maine, Massachusetts, Rhode Island
Why you need them: Sandwiches, sandwiches, sandwiches. New Englanders call them subs. D'Angelo Grilled Sandwiches is one of their most reliable purveyors in the area, offering more than 40 hot and cold options. The franchise is well-known for their steak and cheese sub and wraps. Brian J. McLaughlin and Jay Howland opened the original, then-called Ma Riva's Sub Shop, in Dedham Massachusetts, 1967. It was renamed Angelo Sub Shop at some point, and the "D" was tacked on in 1978, which rumor has it stood for delicious. Makes sense. Fun fact: they even serve lobster rolls a foot-long (at $22.99 an absolute steal if you do the long division) and, gasps, 29 inches long.
Sign up here for our daily Thrillist email, get Eatmail for more food coverage, and subscribe here for our YouTube channel to get your fix of the best in food/drink/fun.