The 12 Best New Restaurants in America, 2016
Editor's Note: This article is part three of Thrillist's year-end look at the best of America's food and drink scene in 2016. Below, you'll find our picks for the absolute top dining destinations around the country, but check out our coverage of the best new restaurants in your favorite cities as well.
Though 2016 has been quite a year in a lot of respects, it was not the year of the restaurant. There was not a massive upheaval in the status quo. There was not a lot of "disrupting the industry." There were fits and shakes and some scary signs of things to come, but on a whole, complacency seemed to rule the day.
But not with these restaurants. Longtime readers may've noticed that when we normally pick our best new restaurants of the year, we choose 21. But when we sat down to discuss our picks this year, we felt that starting at a number and working our way up to it was not the best way to recognize excellence in cooking. So instead we ditched the number and had a real discussion about the places that truly deserved to be on this list. And in the end, we had 12.
As for how we picked them: Well, we go to the restaurants, and we eat. And if the place got us excited, we went again. And again (and in many cases, again and again and…). To qualify, a restaurant needed to have opened after November of 2015 (when we closed the list for last year's selections).
There will be places we missed. There will be places you disagree with. But, in a year when it was particularly hard to budge, all of the places mentioned below helped move America's culinary needle. Eat up.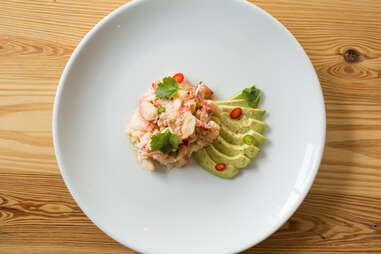 Atlanta, Georgia
If you come to 8 Arm in the morning for coffee, or to work on your spec script for Season 2 of Atlanta over one of Sarah Dodge's legendary biscuits, you might be surprised to find a place that is happy to just serve you coffee and an excellent pastry on the list of best new restaurants in the country.

But go to dinner service while Angus Brown is cooking, and you will be converted. I went in the fall with our original Thrillist Atlanta editor, Mike Jordan. It was still early enough that it didn't have its liquor license yet, so it was recommending to all diners that they pop out to the Green's across the street to pick up some booze and they wouldn't be charged a corkage.

We ordered, and while Mike was still off in Green's, our first course came, basically some butterbeans and peppers with feta and mint. I told myself I'd just take a few bites as I waited for him because I'm a gentleman, but this was a lie, because the flavor combinations of the creamy feta and spicy peppers and the mint and beans made me immediately selfish as hell. I basically stuffed the entire thing in my mouth as Mike came walking back through the door, ruining my strategy of just telling him they forgot to bring it.

Luckily, the rest of the dishes held up as well. Now I'll be honest with you -- the notes I took on this night are less specific, and more just expletives -- there is one about the "tasty as ****ing hell ceviche with crab maybe?" and another losing my mind about a "quail that's spicy and cheesy (fontina!) and there is a sage" (not sure why I felt the need to present the sage on its own). But if the specifics have failed me, my brain's Pavlovian response to that meal has not. Oh, also -- I think Mike's still mad about the salad. -- Kevin Alexander, national writer-at-large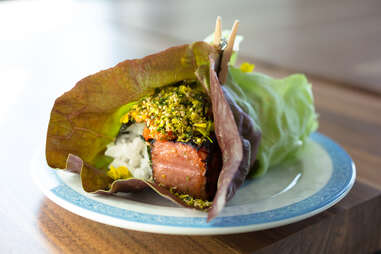 San Francisco, California
The Dogpatch neighborhood in SF is a strange 'hood, indeed. Separated from most of the city by the 280 highway, it sits by itself, crowded during the days with a combination of tech workers, artists, and builders, and eerily quiet at night. That is, before chef Jordan Keao started serving dinner at aina.

Chef Keao is from Hawaii and his love letter to his home state is certainly on trend with the rise of Hawaii-focused cuisine on the mainland in the past year (anyone want to open another poke shop?). But the main difference between Keao's spot and the others is that Keao's food DESTROYS ALL COMERS.

My most recent visit for brunch featured malasadas filled with guava custard, rolled in coconut sugar, and topped with tiny little slivers of mint; perfectly moist chicken katsu with udon noodles, curry carrot puree, and a fluffy omelet; and the best loco moco I've ever eaten, thanks to the slow-braised kalbi short rib and eggs given perfect balance by a hearts of palm pico de gallo. At dinner, I had charred octopus luau with kalo coconut cream, spiced almonds, and potato, and it made me almost uncomfortably excited, especially considering I don't really even like octopus.

Oh, and Jason Alonzo's cocktail menu features both a smoked guava soda and a cucumber swizzle (at brunch and dinner, respectively) that are good enough on their own to bring you back even if you don't like food. If Dogpatch needed a landmark restaurant, it has one now. -- KA
Nashville, Tennessee
The bar at Bastion features nachos for $10 (two bucks more with meat). And that may be my favorite example of how Josh Habiger, famous for making The Catbird Seat one of the best places to eat in Nashville, offers up Bastion as a restaurant serving highly evolved food wearing a casual joint's clothing.

The 24-seat restaurant hidden behind the bar isn't serving nachos by any means. And the enigmatic, painstakingly involved American menu prepared each night changes constantly, anchored only by the weight of Habiger's skill and the faith that he will guide you to eat something mouthwatering, prepared in a way that'll be as delicious even if it's initially hard to decipher. This could mean lamb tartare wrapped in sorrel leaf, giving it a sour apple bite against the earthiness of the lamb, or scallops in a buttermilk foam that ends with some serious heat due to it being steeped with hot pepper.

At some restaurants, you have a dish, love it, and think, "I'd love to do that at home." At Habiger's joints, you have a dish, love it, and think, "Good lord, I may never eat something this beautiful and complex again." In a way, it's a freeing feeling, knowing you can't re-create it, so all you can do is relish it in the moment. But fear not, friends: The nachos never leave the menu. -- KA
Santa Monica, California
I'm no vegan: As the Thrillist LA editor, I'll eat anything from offal to chicken, so long as it's tasty (and often even if it's not). So when Erven -- a small vegan restaurant in the touristy part of Santa Monica that's way better than it has any right to be -- opened up, it wasn't anywhere near the top of my list to try next.

That was clearly a mistake. Chef Nick Erven's all plant-based, two-story restaurant packs as much flavor into dishes like a kale cavatelli or a plate of Brussels sprouts and tofu as any traditional meat-based restaurant, using ingenuity, creativity, and that je ne sais quoi known in the restaurant world as "love." It should be no surprise, in retrospect: Erven's background is in meaty meals, thanks to his stint at the now-defunct, critically acclaimed restaurant Saint Martha; his dishes at Erven are clearly cut from the same cloth (if not the same butcher.) There's no no-chicken chicken, no seitan, and very little of the grainy stomach-filling fillers that are the trademark of lesser plant-based restaurants. Erven is vegan by mistake -- and delicious because there's no other choice. -- Jeff Miller, Los Angeles editor
Chicago, Illinois
Jason Vincent will not care that his new Logan Square diamond of a restaurant is on this list. Jason Vincent will read this, roll his eyes, possibly call me a swear word, and then return to the kitchen and continue making some of the best food in the country, just because that is what he gives a shit about. That's why we named him our chef of the year.

Giant is small. Forty-four seats. It is always crowded and hard to get into. But my Lord is it worth it. I had the best meal of the year at Giant late this fall, and I can still recall every single dish we had without looking at the menu. The Jonah crab salad that sits on a perfectly crispy waffle fry like a tiny open-faced crab sandwich. Sweet-and-sour eggplant with just the right amount of acid and fat, two perfectly cooked pastas, and the best part: an otherworldly fish chowder Jason only made because he "fucked up some fish."

My suggestion to you: Go to Giant, order three more plates than you think you can handle, and then pray Jason fucks up some more fish. This man is a national force to reckon with, though tell him that at your own risk. -- KA
Portland, Oregon
Were it only for the pork & chive dumping soup -- with three perfectly plump, meatball-sized dumplings floating in an acidic broth of black vinegar and ginger -- Han Oak would be a standout, and right at home amid the row of single-item micro-restaurants it sits behind. But a one-trick spot this ain't. It's the home (literally, actually) of prodigal Oregonian Peter Cho, who honed his skills in New York with chef April Bloomfield before returning to his hometown to show diners what happens when you take Korean beyond the tabletop grill.

Those dumplings, by the way, are technically optional. Because Cho's place -- pulsing with old-school hip-hop, doors often flung open into a tiny courtyard outside the wood-laden, family-style dining area -- specializes in prix fixe. Three days a week (plus Sunday brunch), $35 gets you three courses from a rotating array of Cho's decidedly playful Korean cuisine. It starts with a trio of banchan (from kimchee to sauteed greens w/ oyster mushrooms) before transitioning to three mains passed around the table... think hand-pulled noodles swimming in eggdrop broth, or a salted pork belly whose crispy explosion of flavor will remind you of a time before pork belly had infiltrated the American food chain.

The prix fixe is enough, but don't resist the add-on a la carte items, which include that essential dumpling soup, a blood cake topped with a crispy duck egg, and an immaculately spicy, tamarind-kissed plate of fried cauliflower. With the prix fixe price this low, you can splurge on extras. And with food this good, you can make the conscious decision to endure some extra stretchmarks. Welcome home, Peter. You were missed. -- Andy Kryza, senior Food & Drink editor
Detroit, Michigan
The night I went to Katoi it was pouring. My Airbnb was leaking. Kanye was playing a show in the city and everyone was freaking out. AND I found out we missed Thai Fried Chicken Tuesdays by one night.

Katoi is, according to Gwyneth Paltrow's publication, "scene-y." The people of Katoi refer to themselves as "the Mothership." The lights are crazy colors. My spelling autocorrect keeps wanting to change the restaurants name to "Kate." A place like this, if not executed perfectly, could wear on you. So it's a good thing its execution is so damn on point.

I don't fully remember all the dishes we ate -- I know there were thrice-fried sweet potatoes, and som tom Thai (papaya salad), and at least six other dishes we kept digging back into, even though this was maybe the third dinner of the night. And I know I had at least one Alberta Clipper, and it was perfectly made. And I'm fairly certain that chef Brad Greenhill and his staff have proven that they can do whatever they damn please. As for me, I'm coming back on a Tuesday, dammit, and I'm bringing Gwyneth. -- KA
New Orleans, Louisiana
On paper, Kenton's is what the New Orleans culinary scene has long -- but quietly -- distrusted: an outsider. Co-owners (and husband and wife) Sean Josephs and Mani Dawes moved to the city, hell-bent on replicating the success of their Manhattan-based, Southern-inflected, whiskey-pouring Maysville -- in a newly built shopping strip, no less (we don't take well to new down here).

The connections go a bit deeper, though. Dawes is a local, who is simply moving home; Kyle Knall, the young chef behind the curtain, is from Alabama, with training in Frank Stitt's kitchens before heading to New York for Gramercy Tavern and, finally, Maysville. Their restaurant is an extension of that fine-line toeing, subtly and pretty brilliantly toying with both Southern and New Orleans dishes, and tossing in a bit of nuance from that city that deigned to call this corner of town "remote, yet up-and-coming."

The crispy grits -- fat, golden cubes of the breakfast grain -- are topped with delicate, thinly sliced country ham, an unidentifiable dish next to the buttery grits bowl and hunk of thick country ham I grew up eating for breakfast at diners. The whiskey list rivals some of the best in a city that prides itself on its alcohol repertoire, and the staff's knowledge of the brown stuff is, in fact, the best; ask for an after-dinner pour for under $7 (at last count, it actually has 91 options at that price), and let the bartenders do the work. Even the raw oysters stray from the norm: the bivalves, like Alabama's Murder Point, are small, almost sweet, and clean, like the kind you'd find in many parts of the Northeast, and could not look more out of place in a city used to Casamento's or Pascal's Manale's hulkers. But the oyster bar has never strayed from varietals that are local; Kenton's is just introducing a new version. -- Liz Childers, senior Cities director
Brooklyn, New York
Nearly a year after it opened, Lilia still remains harder to get into than a suburban Olive Garden on a Friday night -- and there isn't even the promise of unlimited breadsticks and salad. There is the promise, however, of insanely good pasta.

Chef Missy Robbins, last seen running A Voce in NYC and known in Chicago as Obama's favorite chef, is something of a pasta whisperer. She and her team make every noodle in-house, churning out piles of pasta that could make even the staunchest of CrossFitters give up their carb-abstaining ways.

While the spicy rigatoni diavolo and the luxurious sheep's milk cheese-filled agnolotti (made with saffron and honey) are definite standouts, no visit to Lilia is complete without an order of the wavy mafaldini topped with pink peppercorns.

But to stop at just the pasta would be a major mistake: The spacious restaurant, which is housed in a former auto body shop, also knows how to work miracles with vegetables (see the whole artichoke loaded with garlic and mint), meat (the tender-as-hell veal flank steak), and seafood (don't skip the grilled clams topped with breadcrumbs).

Best of all, if you don't want to wait for a table, you can always visit the restaurant's caffé portion. There are no pastas available, but there are plenty of freshly fried bomboloni on hand to help ease any hunger pangs. -- Khushbu Shah, senior Food & Drink editor
Pittsburgh, Pennsylvania
It was late on a summer Wednesday night. I'd spent the day eating burgers and bowling poorly. I sat with our editorial director and a local Pittsburgh chef named Sonja Finn. My energy was low and my mood was worse. Although I didn't say it aloud because I am a gentleman, I was thinking, "What the hell am I doing at a Spanish restaurant in Pittsburgh?"

But the answer, of course, was "Justin Severino runs this place." I want to say Severino, who also is the chef/owner of Cure, is a food magician, but that suggests that what he's doing involves tricks. There are no tricks here. It's just an exquisitely thought-out Spanish menu with by far the best Spanish charcuterie in the country -- excluding the jamon Iberico and the serrano -- there are six different Spanish-style salamis to choose from, though if you don't get the spreadable sobrasada, you will look back at your life on your death bed and weep with regrets.

This isn't just a meat show, though -- the queso en aceite (which translates nicely to "cheese oil") -- was the most satisfying combination of salty, nutty manchego, citrus acid from Seville sour oranges, olive oil, and roasted garlic on a piping-hot baguette. And we haven't even talked about the montaditos, croquetas, pork belly a la plancha, the sherry selection, or the unfiltered Spanish "sidra" that taste like creaky farmhouses, apples, and secrets. Get thee to Pittsburgh, friends. -- KA
Washington, DC
Chef Aaron Silverman is like a pitcher who had 20 wins his rookie season, and then followed it up with 30 wins his second year, despite the fact that everyone in the league was now gunning for him, and managers keep track of pitch counts nowadays, and blah blah blah something about Tommy John surgery.

But amazingly crafty Strasburg references aside, the Washington now-and-future food king's follow-up to 2014 national superstar Rose's Luxury is a transformative stunner, turning from a fantastic coffee shop by day (Mexican hot chocolate buns!) into the best and most creative prix fixe restaurant to open in a year filled with them, with modern American dishes that feel utterly familiar yet entirely new. And yes I know that doesn't make sense, but have you ever had RIB-EYE FROM A DAIRY COW?!!? Or a chip with the dip inside? Silverman's restaurants aren't just excellent, they're excellent fun.

Here's hoping he keeps icing and elevating his chef's arm for the next 10 years. -- KA
San Francisco, California
If you come requesting hummus or falafel (or kebab for God's sake), this is not the Mediterranean spot you're looking for. But Azhar Hashem and chef Joseph Magidow's SF Mission spot has so much more -- with influences spanning all of the Eastern Med world, from Iran and Syria, to Turkey and Greece, and everywhere interesting in between.

On each of my visits, I opted for the Tawla Selection ($48 a person) and let them steer the ship, and each time, the meals were different and damn exquisite (plus, it comes with as much of the house bread as you can eat, and this may be the finest dipping bread in the country). The sweet potato meze tasted like it came from a Southern grandmother who grew up in the Middle East, with a whipped labneh and brown butter that melts in your mouth. The samakeh harrah was an entire rockfish with a spicy walnut stuffing that I couldn't stop shoveling into my mouth.

The wine list was as eclectic as the regional influences, with a focus in France that dipped into Morocco, Hungary, and Slovenia, and you can't miss the Negroni Levant, which includes the "We Three Kings" power move of frankincense, myrrh, and booze. -- KA
Sign up here for our daily Thrillist email, and get your fix of the best in food/drink/fun.