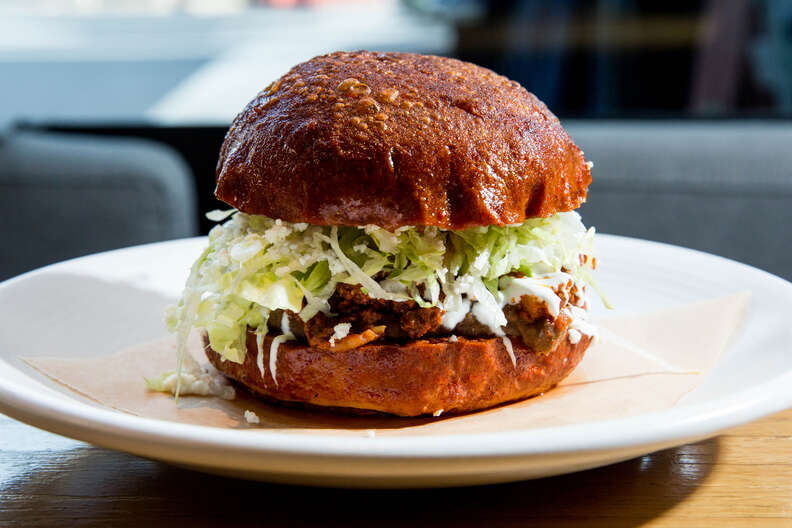 Atla Is the Mexican Café You'll Want to Eat at for Every Meal
There are a growing number of "one-night stand" restaurants -- or more accurately, "one-meal stand" restaurants -- specializing in gimmicky foods that appeal to the Instagram set hungry for likes and followers. They're fun for a single dinner, but it's not a place you'd want to get into a relationship with. The allure isn't sustainable, the food isn't nourishing. Unlike Atla, where I could eat at morning, noon, and night.
That's exactly what chefs Enrique Olvera and Daniela Soto-Innes intended when they opened Atla in New York's NoHo neighborhood. The sister venture to their beloved contemporary Mexican restaurant Cosme, just 20 blocks north, Atla is a much more casual affair. The space is sunnier and airier than its more formal counterpart. Half of the walls are large panes of plate glass. Leafy green plants frame the entrance and the short back wall, adding a punch of color to the otherwise minimalist interior. You can make reservations, but they're hardly a necessity.
Atla starts serving food at 8am, and doesn't stop until 11pm. Breakfast -- which is served through 4pm -- can mean a bowl of chilaquiles, coated in a smoky red chili sauce and topped with a sharp tangle of sliced onions, a soft poached egg, and a flourish of flax seeds, an ingredient beloved by health fanatics for its high fiber content. Or it can be a fluffy egg white omelette stuffed with zucchini or a bowl of house-made coconut yogurt crowned with blueberries. It's the kind of food you can eat without feeling like you need a nap afterward.
"I eat here every single day," says Soto-Innes, our pick for New York's Best Chef in 2017. "I'm not just saying that because it's my restaurant," she adds with a laugh. The restaurant is set up to embody the idea of "healthy-ish." It altogether smashes the common misconception in America that Mexican food is one plate of meat, cheese, and sour cream after another, washed down by tall pitchers of sugary margaritas. "That's not how people eat in Mexico everyday," says Soto-Innes. "This menu is based on how people in Mexico eat daily." The food is not heavy on anything but flavor.
Order the pambazo and you'll see exactly what I mean. The sandwich, a lunchtime staple in Oaxaca, is what Soto-Innes calls the "perfect hangover cure." Two soft buns ("fermented with a little bit of crust"), dipped in a smoky guajillo chili marinade and gently toasted, serve as a vessel for a mixture of house-made chorizo, potatoes that have been roasted and boiled, and black beans stewed with avocado leaves and dried chilies. The mixture is topped with a mound of shredded lettuce -- "you have to have a lot of lettuce on a Mexican sandwich," says Soto-Innes -- drizzles of crema, and queso fresco.
Atla is not just a Mexican restaurant in America. It was essential to Olivera and Soto-Innes that the cafe's menu meet in the middle of both cultures. For example, chia bowls are not a common breakfast dish in Mexico, but the seeds are used in some of Mexico's most popular agua frescas. "It's an ingredient both cultures are familiar with," says Soto-Innes. Chicken soup is traditionally served with red rice in Mexico, but Soto-Innes nixed it, worried the rice would be a little too unfamiliar for Americans. She serves the comforting soup with a small basket of fresh tortillas instead. Each bowl, its broth pellucid, comes garnished with diced avocado, cilantro, and white onions. "You'll never find chicken soup in Mexico without that," she says.
This meeting of cultures is most evident in Atla's arctic char tostada. Thick slices of pink fish, combined with capers, serrano peppers, and a swipe of fresh cheese evokes all the flavors of a classic bagel with lox. The main difference is that a crunchy blue corn tostada stands in as the base.
Classics like cheesy quesadillas -- made with organic blue corn, of course -- and guacamole are on the menu, and are worth ordering. In the guacamole, the standard mash of avocados, lime, and salt is elevated from a handful of fresh herbs on top. (Who knew that fresh mint was a crucial guac ingredient?) There are margaritas, too -- potent ones. Soto-Innes was insistent that the restaurant carry a collection of rare and exceptional mescals, the boozy foil to Atla's extensive coffee and agua fresca menu. Even through drink offerings, they're asking you to stay all day -- and it's easy to oblige.
Sign up here for our daily Thrillist email and subscribe here for our YouTube channel to get your fix of the best in food/drink/fun.

Khushbu Shah is the Senior Food Features Editor at Thrillist and thinks the perfect meal at Atla consists of chilaquiles, guacamole, and a concha. Follow her travels to the best restaurants around the country @khushandoj.