Bonhomie Is Chef Philip Speer's Potato-Packed Second Chance
Austin is a city with a thriving culinary scene; one that is teeming with mind-blowing barbecue, even better breakfast tacos, and a slew of notable Asian-leaning restaurants. To open a restaurant that offers not one of those things is audacious, which is why Bonhomie, Philip Speer's return to the Austin food scene after a three-year hiatus, is his riskiest-ever venture. "There are many great restaurants in Austin, but the diversity of the food is still to be desired," says Speer. "There really aren't many French restaurants here, especially."
Not that Speer and his team consider Bonhomie to be a French establishment, per se. In capital letters, the restaurant website's "about us" page kind of waffles: "We are a French bistro-inspired American diner. Or an American diner-inspired French bistro." Regardless of how you categorize it, Bonhomie is Speer's second chance.
For years, Speer was the darling of the Austin food world. The chef garnered scores of accolades as the head of Uchi Restaurant Group, one of the city's most lauded. Twice, Speer was a James Beard Award semi-finalist. He was the embodiment of the "rock-star chef" trope -- the only things that surpassed his talent were his hard-partying ways and ego. (He once ran a restaurant called St. Philip.)
Thomas Allison / Thrillist
In 2014, Speer's career came to a screeching halt when he flipped his car into a natural gas pipeline while heavily intoxicated. His fourth DWI, Speer was sentenced to 10 days in jail and seven years of probation. The chef quietly retreated into the background to rebuild his life. "I've had my battles and troubles, and they will always be in play and always on people's minds," says Speer reflectively. "I'd like to eventually not be identified with the rise and fall of my career."
Bonhomie, which translates to "good-natured" in French, is a reflection of the person Speer is today: sober, but not somber. Aesthetically, the minimalist design is a departure from the city's penchant for quirk. The open kitchen, a series of stainless steel surfaces, commands attention in the center of the space, flanked on all sides by booths with marbled red-leather cushions that match the cloth of Speer's motorcycle. There is no art on the walls and only a handful of light fixtures. People on Yelp complained, as they do, that the interior feels austere. In reality, it simply puts the spotlight on the food.
Speer's coadunation of French bistro cooking and American diner fare translates to a menu heavy on American dishes elevated by way of France. A standard order of eggs and toast is transformed into a plate of supremely creamy soft scrambled eggs that rest on a base of gently griddled house-based pan de mie, swaddled by a blanket of shaved black truffle. A classic banana split arrives on a plate, instead of a boat-shaped bowl, a layer of perfectly caramelized bananas sitting under three profiteroles stuffed with house-made vanilla ice cream, a generous coating of thick, dripping chocolate sauce poured over each mound. The star garnish is not a neon-red maraschino cherry, but a flourish of hazelnuts, including one dipped in molten sugar and pulled to form a dramatic spike.
Thomas Allison / Thrillist
No diner concept -- with or without a bistro component -- is really complete without a hash brown element, so Speer, inspired by the Waffle House, wanted to offer "smothered and covered" hash browns with "10 to a dozen" toppings. While doing the research and development for Bonhomie, he quickly realized that the traditional hash brown, cooked to order on the flat-top grill, was just not going to work logistically with the rest of the menu, and so he settled on pommes rosti, the hash brown's more shredded, deep-fried Swiss cousin.
Speer forms his rostis from a combination of russet and Yukon gold potatoes that are grated and rinsed and then steamed to set the circular shape. The discs are then frozen and dropped in the deep fryer to order. Each fluffy-but-crispy rosti is crowned with one of six combinations of toppings like bacon, soft scrambled eggs, and thick Boursin cheese for those looking for an egg-bacon-and-potato fix, or the sweet-and-salty merger of pear butter with yogurt and chives. The most decadent version comes topped with a soft-boiled egg and a foie gras-and-cognac gravy that packs a fatty and umami punch.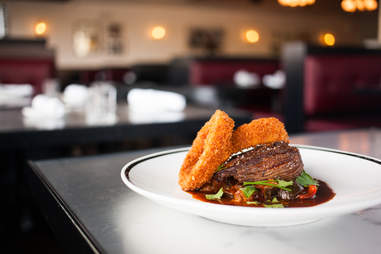 Thomas Allison / Thrillist
The rostis also appear on the brunch menu as buns for the restaurant's ultra-popular cheeseburger. "I was never going to make a gluten free bun because I'm a baker and pastry chef," Speer says with a laugh. "So I guess this is my gluten-free answer." They may technically be gluten-free, but for the most part, Bonhomie is blissfully unconcerned with accommodating the latest fad diet. Speer is generous with the pour of velvety béchamel on the restaurant's satisfying croque monsieur, and even the memorable roasted squash, dotted with soft golden raisins and savory pine nuts, is tossed with a munificence of brown butter and goat cheese.
Say someone was on the search for something lighter, even diet-friendly -- order the bowl of lettuce. In fact, it's something every diner should do. Though it sounds unassuming, the salad -- made from a mix of crisp greens, a refreshingly citrusy vinaigrette, and a bounty of herbs -- is one of the best I've ever had. It's the simplest dishes that tend to reveal how smooth a restaurant's ship is sailing, and Bonhomie has caught a tailwind. More focused than ever, Speer is back and Austin is better for it.
Sign up here for our daily Thrillist email and subscribe here for our YouTube channel to get your fix of the best in food/drink/fun.
 
Khushbu Shah is the Senior Food Features Editor at Thrillist and recommends everyone get a rosti and the roasted butternut squash at Bonhomie. Follow her travels to the best restaurants around the country @khushandoj.