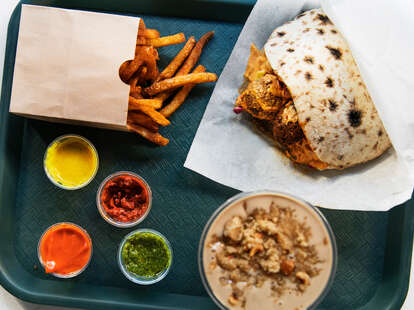 Jillian Guyette / Thrillist
Jillian Guyette / Thrillist
In a Tiny Storefront, Goldie Is Churning Out Life-Changing Vegan Milkshakes
The quickest way to elicit a reaction of pure, visceral dread from most people is to suggest that they go eat at a vegan restaurant. "I would rather slit my wrists," a well-traveled and adventurous friend texted me verbatim when I sent her a list of recommendations that included one. I don't necessarily blame her: The idea of "vegan food" tends to conjure images of limp tofu, dry and tasteless grain bowls, and Plasticine fake cheese with a side of self-righteousness.
But Goldie, the latest restaurant in chef Michael Solomonov's ever-growing modern Israeli restaurant empire, is a vegan restaurant that does not suck.
The food here is anything but insipid. A robotic arm cranks out beautifully golden falafel that gets blanketed in fresh pita with crunchy cabbage salad, and drizzled in thick, silky tahini. Another deep fryer bubbles away, inexhaustibly browning one batch of fries after another, which get tossed with either za'atar, the citrusy thyme and sumac spice mix, or shawarma spices. But the busiest station in the shop is, unexpectedly, the milkshake machine. Goldie's milkshakes are dense, addictive, and laced with sesame undertones thanks to the heavy hand of tahini. The most prudent customers order two for themselves.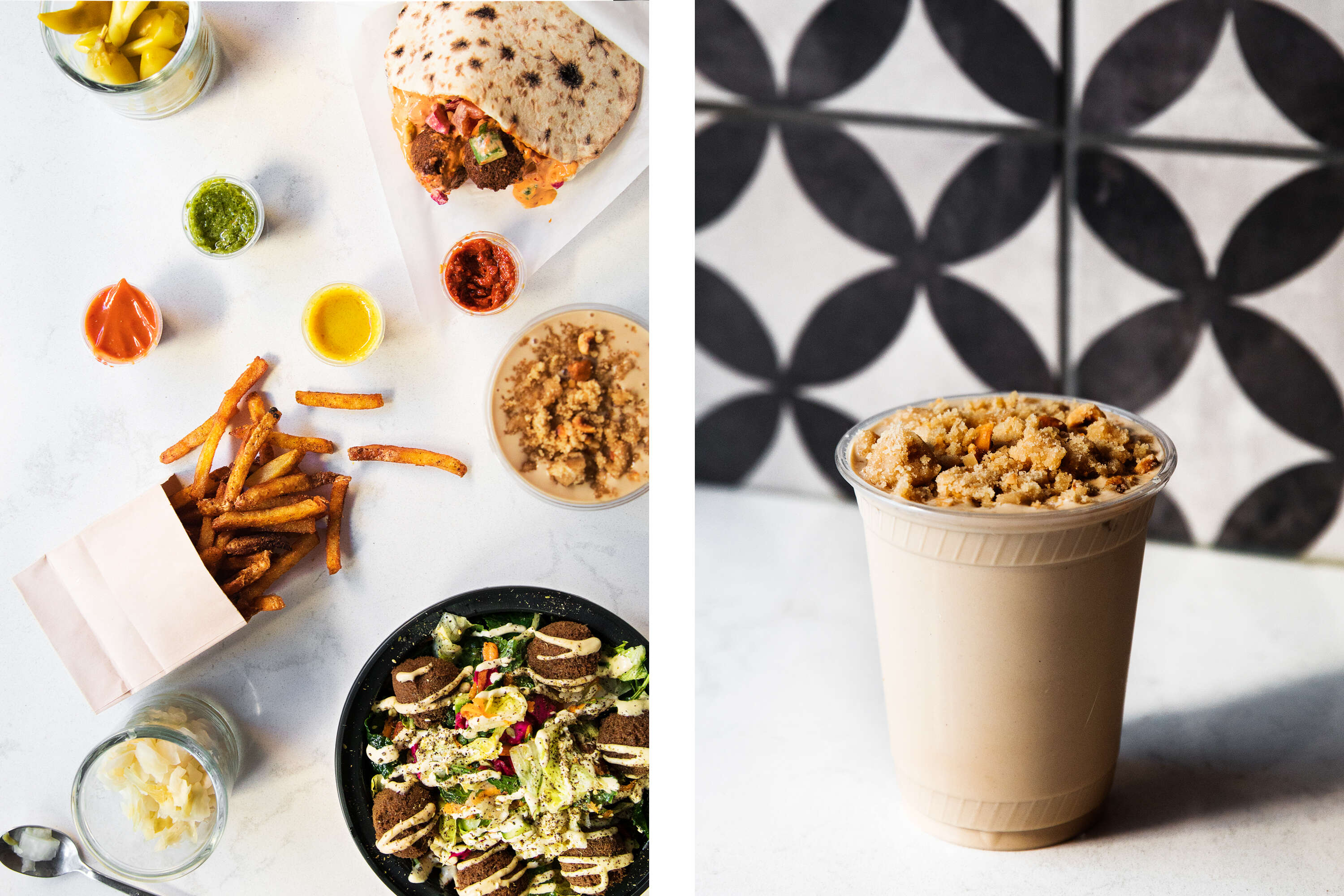 It was never Solomonov's intention to open a restaurant that eschewed animal products, but it came about naturally. "We have a very tiny bit of meat on the menu at Dizengoff, so it was not that much of a stretch for us," Solomonov says, referencing his super-successful hummusiya that now has four locations. "What's nice about Goldie is that it happens to cater to vegans without being a restaurant specifically built for vegans. We see it as a bonus."
Solomonov was also reluctant to open a full falafel concept. When he first opened Zahav, his highly-acclaimed Israeli restaurant in Philadelphia in 2008, Solomonov says he wanted to "fight the misconception that Israeli food was only falafel and shawarma." But nearly 10 years later, he had a revelation: "The truth of the matter is that everyone wants really good falafel. The places I loved eating at the most when I lived in Israel were the falafel shops."
But the chef didn't want to just plop falafel onto the menu of one of his existing restaurants; the best falafel in Israel are found at shops that only make that and maybe one other thing. So for Goldie, he decided to limit the menu to just three things: falafel, fries, and shakes. It's a menu that works well for the compact space on Sansom Street, just above another of Solomonov's restaurants, Red Rooster Soup Co.
Despite its size, the restaurant still manages to make everything from scratch (except for the pita, baked down the street at Dizengoff). Solomonov's falafel recipe is a simple one of just three components: chickpeas, garlic, and spices. While it might seem odd to have a robotic arm frying the falafels, Solomonov says that was done for textural integrity. The robotic arm doesn't compress the falafel balls as much as a human hand, resulting in consistent falafel that is creamier and fluffier. The falafel are served with three house-made sauces: amba, a tangy mango pickle, schug, a Yemenite hot sauce, and harissa, a hot chili pepper paste. But perhaps the most impressive condiment is the tahini ketchup. The brainchild of Goldie's chef Caitlin McMillan, the spread is a mix of ketchup, tahini, and amba, together forming the perfect, complex dip for the restaurant's spiced fries.
Solomonov knows that falafel and milkshakes aren't exactly a traditional combination, but the chef wanted to include a "bit of Americana" on the menu. That move paid off big time. I bring up the milkshakes at least three times a week. I'm planning future trips around the milkshakes. I see other milkshakes and wish it was the one from Goldie. So convincingly rich, I checked with the staff multiple times to confirm all four flavors -- plain, banana, mint chocolate, and Turkish coffee -- were really diary-free. I still almost don't believe it, but Solomonov swears they are made from a simple combination of high quality tahini and almond milk. If Goldie is the future of vegan food in America, consider me a convert.
Sign up here for our daily Thrillist email and subscribe here for our YouTube channel to get your fix of the best in food/drink/fun.

Khushbu Shah is the Senior Food Features Editor at Thrillist and recommends you get every milkshake, especially the Turkish coffee one. Follow her travels to the best restaurants around the country @khushandoj.