For Southern Food With History, Head to Seattle's Junebaby
For some of the best Southern food in the country, head to Seattle. On a quiet tree-lined street in the city's Ravenna neighborhood, you'll find Junebaby. Even if you arrive at 5pm, right when the doors open, there will still probably be a two-hour wait for a table. But that's OK. The charred whole okra, tossed with a smoked chili vinaigrette and crunchy peanuts, is worth the wait alone. Add in an order of the pimento cheese, served in an elegant quenelle with shards of paper thin saltine crackers, and I'd probably be willing to wait three hours.
Junebaby is chef Edouardo Jordan's sophomore restaurant effort. (His first, Salare, an Italian concept, is just a few blocks away.) He didn't want to open "just another Southern restaurant," he says. "I realized there was a bigger story that needed to be told about Southern food, and from a black chef's perspective." Jordan continues: "The landscape of Southern restaurants in the United States that we see in most media are run by white chefs, for the most part, and it's from their perspective." It's a sentiment echoed by many others, including food historian and author Michael Twitty who elaborated on the unjust media proclivity to celebrate white chefs cooking Southern food in the Washingtonian in August. "I have a different perspective on Southern food," Jordan says, offering that there are things he is willing put on menus that most white chefs and restaurateurs associated with the culinary South will not. Case-in-point: chitlins.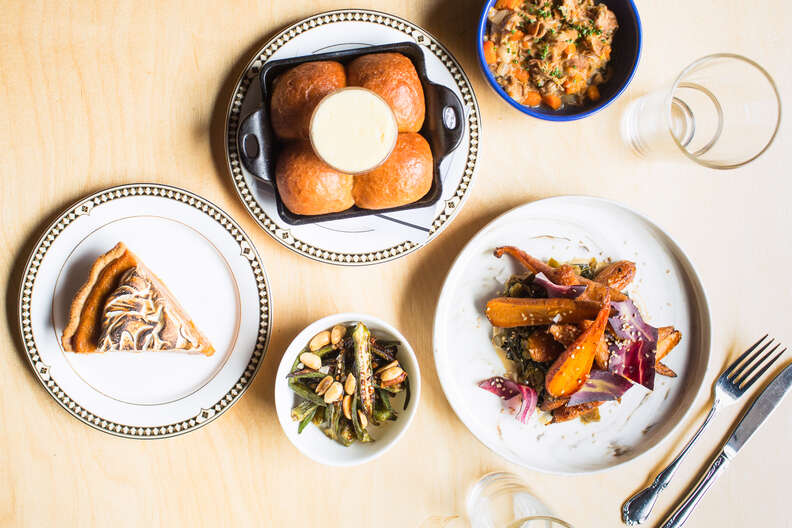 Also known as chitterlings, these are the small intestines of pigs that have been meticulously cleaned before they are stewed or fried. At Junebaby, Jordan cooks the intestines in whatever type of pork stock the restaurant has on hand that day -- though sometimes he uses chicken stock and jalapeños instead -- finishing the dish with a habanero vinegar or one of the restaurant's house-made hot sauces. The dish is polarizing: Either you love it or it's not quite for you. There is no middle ground.

Junebaby is one of the few high-profile Southern restaurants with chitlins on the menu, in part because it was a dish of Jordan's youth. "Not many people grew up on it because they didn't have to eat it," he says. "It was poverty food, in a sense. It was food that you ate because it was cheap." But it was important to Jordan to serve dishes that were part of his culinary foundation, so he tweaked the recipe to make them as delicious as possible.
Telling a culinary story, both his own and that of the greater South, is a core motive of the restaurant. Before opening Junebaby, Jordan set out on a road trip, eating through cities like Asheville, Charleston, Memphis, and Birmingham, to further expand his knowledge, compiling a full encyclopedia of Southern food terms as he went. As a result of his travels, Junebaby's range is expansive. Swamp cabbage -- the Floridian nickname for hearts of palm -- is cooked down and served alongside green beans cooked in oxtail fat and pickled strawberries. Next to that is an order of oxtails, roasted for hours until the meat is tender and just clinging to the bone, an ode to his mother's recipe. Smoked carrots are served atop of pile of tender collard greens and sprinkled with benne seeds -- an heirloom sesame seed grown in the South; the dish is meaty, savory, and hearty.
The rotating selection of pies, bread puddings, and cobblers offered for dessert are all excellent, but save room for a slice of watermelon. Not just any cut of fruit; it's from a Bradford Watermelon, one of the first varieties grown in America that commercially disappeared in the 1920s. Recently resurging on a small scale, Jordan worked with a farmer in Seattle to cultivate the crop. "I've been digging around trying to find some of the heirloom things that are going away that were essential ingredients when slaves were brought over," says Jordan. "These are the seeds and grains that they stuck in their blouses and their hair to grow here."
The stereotype that black people eat a lot of watermelon is hardly lost on Jordan, but he refuses to turn away from dishes that, at face value, are generalizations of the South, so long as they're delicious. "Black folks eat watermelon, but white folks eat watermelon too," Jordan says. "Watermelon tastes good and you should embrace whatever tastes good."
Sign up here for our daily Thrillist email and subscribe here for our YouTube channel to get your fix of the best in food/drink/fun.

Khushbu Shah is the Senior Food Features Editor at Thrillist and suggests you get the charred okra and the smoked carrots. Follow her travels to the best restaurants around the country @khushando.