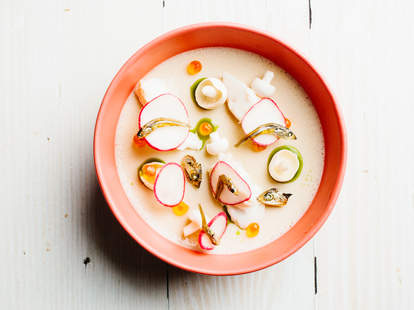 At Chicago's Kitsune, Japanese Food Meets Midwestern Ingredients
We are not to be over-thought, yet our goal is to make you think," reads the about section of Kitsune's website like a set of instructions rather than a brief summary of the restaurant. It's hard to do the former, but chef Iliana Regan manages the latter with ease.
Kitsune is Regan's sophomore restaurant -- a small and angular space in Chicago's Ravenswood neighborhood that seats just 28. At Elizabeth, her lauded first restaurant, Regan gained notoriety for her devotion to local Midwestern ingredients. That mentality is carried through to Kitsune, except that those same ingredients are cooked through a Japanese lens. "I've always been interested in Japanese culture," says Regan. "It's as simple as that. When the opportunity came up to open my own Japanese place, I took it."
Looking at the menu -- which includes everything from bowls of fatty tonkotsu ramen and pork belly slices to a bread pudding topped with matcha ice cream and a salted plum, or umeboshi, sauce -- it's unclear whether Regan is going for a traditional or fusion bent. The answer, it turns out, is neither. She has no desire to become the next great authority on Japanese cuisine in America, nor does she want to spend her time making karaage-topped deep-dish pizzas. "We simply incorporate fundamental techniques, flavor profiles, Japanese culinary philosophies, and comfort into our menus," states Kitsune's website. Regan wants people to walk away full, happy, and still contemplating what they just ate.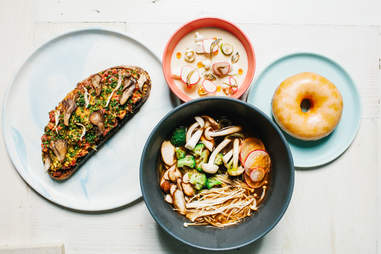 Matt Haas / Thrillist
Regan's skillful Japanese egg techniques are reason alone to visit Kitsune. The chawanmushi, a savory, eggy custard, is flawlessly set, suspending bits of umami-packed wild mushrooms and funky white fish. A bowl of tender brassicas -- partial to local Brussels sprouts -- is tossed in a mellow miso dressing and brought to the table under an umbrella of shaved bonito-cured egg yolk. Perhaps most impressive is the onsen egg, which is slowly cooked in dashi until it is silky soft. Each ramen variety also gets a split soft-boiled egg, perfect for biting into in between slurps of noodles. The best bowl, however, goes without.
Regan keeps space on her menu for a seasonally rotated ramen option that happens to be completely vegan. During my visit in early October, I was treated to a version made with pine-colored noodles lurking in a murky, dark broth made from a mix of mushrooms both local and more obscure. Regan takes a Zen approach to broth-making: "It is all about patience; you can't rush these things. The depth of flavor comes from time." The noodles, made in-house, get their color from stinging nettle ash folded into the dough. Regan swaps standard ramen toppings like pork belly slices and bamboo shoots for barely cooked mushrooms. The bowl is earthy and comforting.
Matt Hass / Thrillist
One would be remiss to eat at Kitsune and not order the okonomiyaki. While many people would call the dish a "Japanese pizza," it's more accurately a large, savory pancake topped with a melange of seasonal vegetables, pickled ginger, kotsuobushi (smoked tuna flakes), a hefty drizzle of Kewpie mayo, and a blanket of dancing bonito flakes.
The most Midwestern aspect of Kitsune is its ambitious bread program. It relies on kogi, a mold used to ferment sake and soy sauce. "There is nowhere in Japan that would serve bread," says Regan. "But they use kogi in so many ways... so we put the two together." The bread, made from a mix of kogi, sourdough starter, rice, and bread flour milled from grain grown just a few states away, is dense but with an airy crumb structure. It's best consumed as the base for a "toad in the hole" made with miso butter, egg, and a topping of raw, sapid beef tartare. At $20 per slice, it's probably one of the most expensive pieces of toast in the country, but it is also one of the tastiest.
Matt Haas / Thrillist
Like its food, Kitsune's interior is charming and quirky: there's a framed photo of Barack Obama that sits on a shelf behind the stocked bar. Above that are a few shelves housing adorable cartoon figurines. The bathroom has a three-wall mural of the restaurant's namesake spirit animal, a magic fox that shifts into human form. The table setting includes small white porcelain bunny-shaped chopstick rests frequently pocketed by customers. (If I'm being honest, I considered taking one home, too.) Regan has never been to Japan, but that sort of adds to the earnestness of the restaurant. Kitsune, in every sense, is uniquely hers: packed with Midwestern ingredients and untainted by a quest for authenticity.
Sign up here for our daily Thrillist email and subscribe here for our YouTube channel to get your fix of the best in food/drink/fun.

Khushbu Shah is the Senior Food Features Editor at Thrillist and believes everyone needs a bowl of nettle ramen and a loaf of kogi bread in their lives. Follow her travels to the best restaurants around the country @khushandoj.