Mh Zh Is Los Angeles' Vowel-Free Israeli Spot Breaking All the Rules
Very little about Mh Zh makes any sense for a restaurant in 2017. There is no menu online, let alone a website. Their Instagram -- a platform other restaurants spend thousands of dollars curating -- has posted 36 times since mid-January, and only a handful of the photos are actually of Mh Zh's food. The name, devoid of vowels, turns explaining where you are going to dinner into an awkward game of fumbling for a semblance of believably correct sounds. (It's pronounced "mah-zeh," by the way.)
This all before you arrive at the restaurant on the intersection of Sunset Boulevard and Maltman Avenue in Los Angeles's notoriously hip Silver Lake neighborhood. The space is so tiny that most of the seating is a sidewalk pastiche of tottering tables, covered with thin pieces of brown paper, and worn colorful metal chairs that looks if they were plucked straight out of the Urban Outfitters clearance section. (You could sit inside, but there is only 450 square feet, and the kitchen takes up half of it.) The menus are scribbled by hand in black Sharpie on brown paper bags, the kind you used to pack your grade school lunches in. There are no drinks, only water. You'll find yourself questioning many things about the arrangement you've wandered into, which is fitting, considering that the Hebrew translation of Mh Zh loosely translates to "What is it?"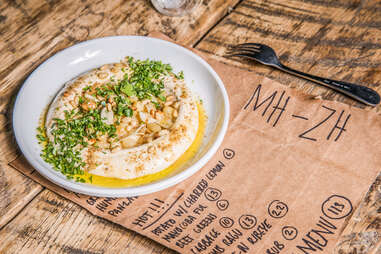 But as the food comes out -- a bowl of supremely creamy but airy hummus topped with just the right amount of pickled vegetables, a tall pile of frisee tossed with shaved Cheddar and nutty dukkah, a swirl of cool and tangy house-made labneh hiding under a flourish of za'atar -- it all becomes clear. Mh Zh is one of Los Angeles's best restaurants, and one of the best examples of modern Israeli cooking today.
Chef and owner Conor Shemtov didn't buck every trendy restaurant convention to be "cool" or go "against the status quo." He just doesn't really care about much beyond the food. "I'm just concerned about delivering value to the guests and the neighborhood," Shemtov says. "I wanted to take away from the formality of most restaurants and for it to just be about eating good food." It's a refreshing break from the current hospitality zeitgeist where restaurant groups are churning out shiny, manicured, and, frankly, cookie-cutter restaurants driven by what plays on Instagram. Mh Zh is an antidote to over-the-top experiential restaurants, like Vespertine on the other side of town, where the food trumps a chef's self-indulgence.
The lack of custom ceramics and spendy Edison bulbs frees up Shemtov to keep prices shockingly low. It's immensely satisfying to look your server dead in the face and confidently ask for one of everything on the menu, please. Our meal cost just $114 before tip, and included more food than four people could possibly finish in one sitting.
Had I gone with a group of eight, I would have asked for four times as many orders of the potatoes. The spuds are hands down one of the simplest items on the menu, but also one of the most addictive. A plain old Idaho potato is cooked in the restaurant's coal-fired oven until the skin is just moments away from becoming completely burnt. The charred potato is cut into wedges and dressed with olive oil, salt, rosemary, and lemon, and served, predictably, on a paper bag. If you lack patience like me, and take a bite as soon as the plate hits the table, you run the risk of burning your tongue. But it's worth it.
Shemtov is not afraid to throw any ingredient into the charcoal oven, but the method is optimized for cooking beets. The root vegetable are off at 700 degrees after marinating in tart-but-sweet pomegranate molasses, sherry vinegar, and black soy sauce. The extreme temperature helps concentrate the sugars inside the beets and gives a smoky flavor to the outside, according to Shemtov. He plates the blackened vegetables on a raft of labneh and hazelnuts. I typically don't like beets, but I was annoyed that I had to share these.
There is little meat on Mh Zh's menu, but not because Shemtov wanted to open a vegetarian restaurant. "I just find figuring out ways to cook vegetables more fun and exciting," he admits. "And I really just don't crave meat that much." But of the two proteins on the menu, it would be foolish to skip over the lamb ragu — though it's more commonly read as "lamb ragoooo," the number of o's fluctuating based on the mood of the person writing the menus that day. Ground lamb, deeply rich and funky, arrives in a pool of tahini spiked with sumac, begging to be mopped up with pieces of crusty grilled bread.
After nearly eight months in business, there are a few changes afoot at Mh Zh. The restaurant is inching closer to acquiring its beer and liquor license, meaning there will soon be drink options other than water. Shemtov is also toying with menu changes and is planning on adding at least one more protein -- a fish -- to the menu. He is also working on building enclosures for the sidewalk seats, on the chance that it rains in LA one day. But for the most part, Shemtov continues to put out plates of some of the most unexpected food in the country, always keeping customers asking, "What is it?"
Sign up here for our daily Thrillist email and subscribe here for our YouTube channel to get your fix of the best in food/drink/fun.

Khushbu Shah is the Senior Food Features Editor at Thrillist and recommends you definitely get the beets and the lamb ragoooooooooooooooooooo. Follow her travels to the best restaurants around the country @khushandoj.