Aubrie LeGault / Thrillist
Aubrie LeGault / Thrillist
Tiffin Asha Is Portland's Love Letter to South Indian Food
Fourteen years ago, an energetic public defender named Sheila Bommakanti ran into an up-and-coming chef named Elizabeth Golay in Seattle. Wanting to impress the cute chef with her food knowledge without coming off as cheesy, Bommakanti asked Golay if she had ever heard of South Indian food, the food of the her childhood. The conversation immediately took off from there with Bommakanti bringing Golay a book her mom had just gifted her. "Elizabeth fell for this South Indian and South Indian food at the same time," Bommakanti says with a laugh. Nearly a decade-and-a-half later, the couple is happily married and a few months shy of the one-year anniversary of their first restaurant together, Tiffin Asha. The menu is filled with South Indian food, of course.

It's easy to walk by Tiffin Asha if you don't know what you are looking for, especially since it's located on the bottom floor of a small, modern apartment building in a residential area of Portland's Alberta neighborhood. The restaurant has none of the neon signage that's so popular these days, instead opting for an understated look that blends in with its surroundings. It's just a few blocks from an outpost of Portland's most famous Indian restaurant, Bollywood Theatre, which believes in am obverse set of aesthetics. This is not to say Tiffin Asha is devoid of color and Indian touches — the walls are muted shades of maroon, beige, and blue, and a rickshaw is tucked away to the right side of the entrance. Bench seating lines the main wall opposite tables with folding chairs. There are no tablecloths, but there are traditional stainless steel cups for water.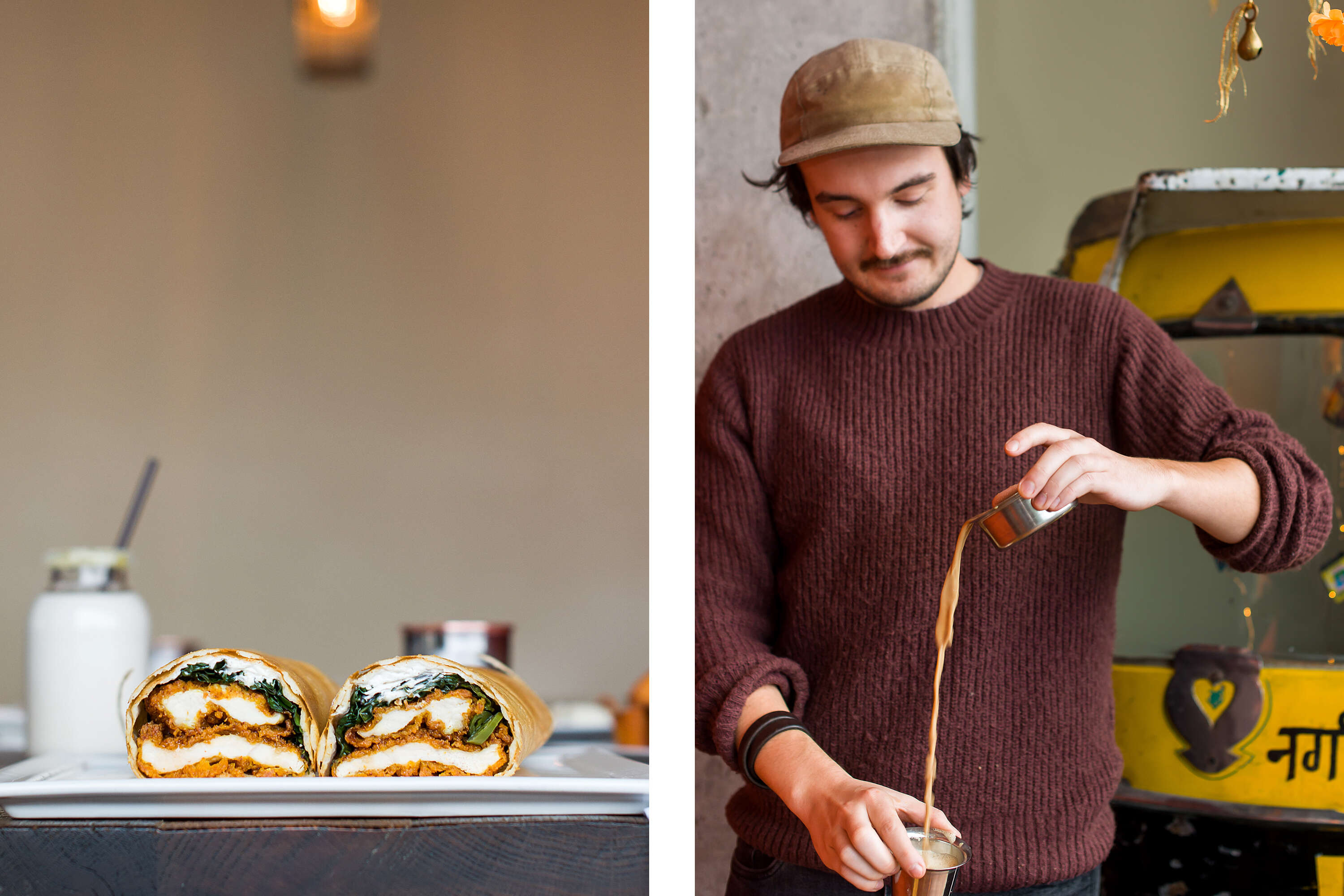 Tiffin Asha flies in the face of what Americans have come to expect from Indian restaurants -- a homogenous combination of Bollywood kitsch, "curries" made with a hefty and unnecessary pours of heavy cream, and piles of naan -- some excellent and some subpar. Of course, there are exceptions to this -- Badmaash in LA, Delhi Accent in NYC, Rasika in DC. But even these tend to focus on food from from the northern part of India, the region with which Americans are most familiar. There are 29 states, over 22 major languages spoken, and infinitely more culinary traditions throughout India; aside for the occasional co-opting of the crepe-like dosa as a "health food," South Indian food does not often register as a blip on the radar.
Golay, an alum of notable kitchens around the country including Boston's Oleana, is essentially a self-taught South Indian cook. "I did a lot of research online, looking through cookbooks and watching videos," she explains. "Sheila also knows this food so intimately so she would tell me texturally how something should taste, or what the flavor should be."

When Bommakanti got a job offer in Portland in 2013, the couple saw it as opportunity to open Tiffin Asha, the food cart. "I really felt like there was a lack of information out there about South Indian food and that people just had no idea about the cuisine," explains Golay. "I really loved tiffin food like dosas, vada, and idli, and I wanted to introduce it to people who weren't familiar with it." Four years after the couple opened the cart and three years after Bommakanti quit her day job, Tiffin Asha became a brick-and-mortar restaurant.
The menu at Tiffin Asha centers mostly around the food of Andhra Pradesh, where Bommakanti's family is from, but it also pulls elements from other parts of South India, as well as ingredients from the American pantry. To go to Tiffin Asha and not order a dosa is like going Baskin-Robbins and walking out with a coffee: You missed the point. Made from a mixture of fermented lentils and rice, the dosa here are crispy on the outer edge of the circle and get softer and tangier further inward. There are forks and knives, but the best way to eat the dosa is by ripping off a piece and dipping it in either the spiced lentil stew known as or one of the restaurant's many gunpowder chutneys, made in-house from a dry mix of spices.
The Hot Chick, the cart's most popular offering, still remains. A dosa is stuffed with juicy pieces of chicken pakora, pickled kale, and a sweet black cardamom infused-honey. It arrives to the table tightly wrapped, sort of like a tarter, more piquant fried chicken burrito. If quesadillas are more your thing, the cheese dosa, which comes stuffed with melty white Cheddar is probably the right order. But I was most blown away by the Sweet & Salty with its dots of pungent blue cheese, sweet honey, and flourish of fleur de sel.
While Golay shines most cooking "fusion" combinations, she also has a mastery of more traditional items. From the restaurant's deep fryer emerges a steady stream of vada, or savory doughnut holes made from a similar lentil-based batter as dosas, tossed in a coconut-chili salt. They are what you want out of any fried food -- golden and crispy outsides that give way to pillowy soft insides that billow steam when you tear into them.
And then there is the idli fry, perhaps the best plate of food I've eaten all year. A rare find on restaurant menus, the dish is made from leftover idlis (steamed cakes made from fermented rice batter) that are tossed directly into the fryer, coated in a masala, and served with a curried ketchup. The result is similar to a perfect wedge fry -- a thin and crunchy exterior, a creamy and thick interior, and salted to keep you always reaching for just one more. They were so good that I had to share. I pilfered a few pieces to bring as contraband to a friend while she dined at a different Indian restaurant nearby.
Sign up here for our daily Thrillist email and subscribe here for our YouTube channel to get your fix of the best in food/drink/fun.

Khushbu Shah is the Senior Food Features Editor at Thrillist and believes everyone needs the cheese
dosa
and the idli fry in their lives. Follow her travels to the best restaurants around the country @khushandoj.