Sure, a simple, cheap charcoal grill can get the job done. But when grilling becomes a way of life, only the finest -- or most expensive -- grill will do. While serving deliciously smoked meats and veggies is one purpose for owning a grill, the other one is the smug satisfaction you garner from showing it off to your envious friends and family members. Here are 11 wild BBQs, grills, and outdoor ovens to really up your outdoor cooking game... and your "making your neighbors jealous" game too.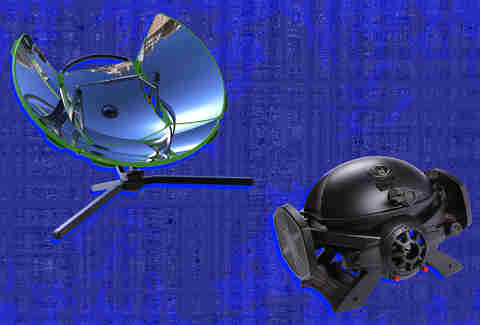 Solarsource Grill
For the environmentally conscious "futurist" home chef comes the Solarsource Grill. It may resemble a satellite dish in a 1960s Bond movie, but it's actually a solar cooker. The parabolic mirrors focus and concentrate sunlight towards the cooking dish, with temperatures up to 550 degrees Fahrenheit, allowing you to boil water, sear meat, and roast vegetables. And now, the makers have launched the Solarsource Sport, which is a smaller, more portable version at a lower point, allowing you to take it with you and grill/torture British secret agents basically anywhere there's sun. 
Price: $$389
Where to purchase: One Earth Designs
Tie Fighter Grill
Do you need to make absolutely sure that your friends know you adore Star Wars, even during a casual BBQ? Then you need a Tie Fighter shaped grill, and one that sears the Star Wars logo onto every piece of meat or vegetable that goes on it, just as George Lucas would want it. The Tie Fighter Grill is a portable propane grill with a cast-iron 220 square inch grill plate with the Star Wars logo and two "wings" that double as prep trays. Don't forget to blast some John Williams while you serve your guests; nothing accompanies burgers or steaks like the Imperial March.
Price: $299.99
Where to purchase: Starfire Direct
Carson Rodizio Brazilian Churrascaria Grill
Turn your home grill into a Brazilian style BBQ with this "multi-rotisserie turbo kit." Impale meat on the six massive skewers and a battery powered frame rotates them to seal the juices in. The system works with just about any type of grill, so long as it safely sits above a heat source. We cannot guarantee a "Utopian State of Barbecue Bliss," as the website promises, but it should provide some pretty great Brazilian style meat.
Price: $498
Where to purchase: Carson Rodizio
Komodo Kamado Serious Big Bad
If you're worried about having too much money and not enough massive, high-tech, ceramic + steel grilling ovens, then the Komodo 42" "Serious Big Bad" Kamado Oven is the vanity cooking device for you. This behemoth of a luxury item comes from teak furniture designer Dennis Linkletter, who happens to be the son of legendary television host Jack Linkletter. It consists of a tiled, ceramic body with a hinged lid, four stainless steel racks, and a charcoal basket. It weighs in at 1,500 pounds and will set you back more than $9,000. Sure, you can always go for one of their smaller, more inexpensive models for half the cost, but why not go with the biggest, baddest, and costliest?
Price: $9,200
Where to purchase: Komodo Kamado
Grillworks 36 Asador
Made with both restaurants and home grilling in mind, the 36" by 20" Grillworks Asador has a small footprint: it even fits on smaller patios and yards. Reinforced for high-heat with a grill plate directly above the charcoal tray and fire bricks for optimal thermal retention, it also boasts a hand-cranked rotisserie system that supports up to 80lbs of meat -- because sometimes you need to cook an half an antelope so your whole neighborhood gets jealous. Or angry, depending on where you live.
Price: $7,675
Where to purchase: Grillworks USA
Engelbrecht Campfire Grill
When camping, you can always go classic by jamming a hotdog on a skewer and charring it over a fire. Or you can bring out the Engelbrecht Campfire Grill, designed to fit perfectly over your campfire, with an adjustable grill rack for assuring the optimal temperature. It's just like cooking at home, but with the added fun of dragging a 60-pound piece of cooking equipment into the wilderness. Luckily, it also works over backyard fires and, obviously, is essential to any wagon train.
Price: $299
Where to purchase: Engelbrecht Grills and Cookers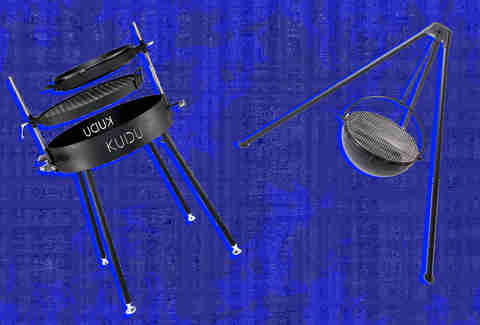 Kudu Portable Grill
How boring would grilling be if you only grilled burgers? Variety is the spice of life (and also keeps you from being so bored you fall asleep on the grill), and the Kudu grill manufacturer knows that. That's why it has multiple cooking surfaces you can lower and raise to control the temp at which your meat and veggies are grilling. Tack on a smoker lid and it'll transform into a smoker faster than the checkout line at Costco. (Seriously, where else are you going to buy half a ton of ribs at once?) And because you never want to be without a grill whether in your backyard or on a campsite, the entire system is designed to be portable. 
Price: $549
Where to purchase: Orvis
The Urban Cowboy
The perfect grill for anyone who's listened to "Old Town Road" on repeat, the Urban Cowboy is ideal for cooking a ton of meat and veggies on its two-piece charcoal grate… or even just a Lil (our sincerest apologies to Mr. Nas X). It looks like it belongs in another era, and yet its minimalist design still feels modern. Sure, grilling over a live fire inside a badass cauldron is undeniably fun, but it also has multiple uses: slap a cover on the cauldron to turn it into a table, or throw some firewood inside and you've got a legit looking campfire. 
Price: $1,695
Where to purchase: Cowboy Cauldron Co.
Ooni Koda
Woodland Direct and Kalamazoo Gourmet both make fantastic wood-fired and ceramic pizza grills, respectively, but this new kid is a beast: A sleek, portable little gas-fired pizza oven that brings the heat. 935 degrees of it, specifically. That means you can use it to make a pizza in less than two minutes, pretty much anywhere, just in case you're suddenly craving a perfectly blistered Neapolitan pizza while deep in the woods. It's also ideal for roasting meats and veggies, or employing for a ridiculously quick reverse-sear (it's the secret to great grilling!). And if the ease of use and portability isn't selling you, the price will. While the above mentioned grills are great, they're quadruple-digit, stationary affairs. The Ooni Koda can be taken anywhere for $300. 
Price: $299
Where to purchase: Ooni
GoSun Grill
The sun is amazing. Photosynthesis? Check. Providing unlimited power to calculators? Check. And now it can also power the hell out of your grill, as long as you pick up GoSun's fuel-free cooker that can prepare food for up to eight people. You'll need to preheat it in advance, but it'll work even in overcast skies or cold temps. All you need is sunlight to prepare any kind of dish you desire, from lasagna to French toast and pot pies. A less obvious benefit to this sun-powered grill is what it doesn't make: a mess. There's no scraping charred food and charcoal off the grates here -- the tube your food cooks in is borosilicate glass, making it significantly easier to clean.
Price: $699
Where to purchase: GoSun
PK360 Grill & Smoker
The 360 in the name of the grill doesn't refer to how many degrees are in a sweet dunk -- it's how many square inches are on the massive cooking surface. The enormous shelves on either side of the grill are also helpful, especially if table space to place cooked meat or beers is limited in your backyard or on a patio. But this truly differentiates from other grills in two ways: the striking design (it's patented!) and the four-point venting system that PK says provides consistent heat. It doesn't get any easier to cook protein via indirect heat on the grill; simply load up half the grill with charcoal as usual, and easily close two of the vents to get the meat as slow and low as your heart desires. 
Price: $724.99 (after instant rebate)
Where to purchase: PK Grills
Sign up here for our daily Thrillist email and subscribe here for our YouTube channel to get your fix of the best in food/drink/fun.