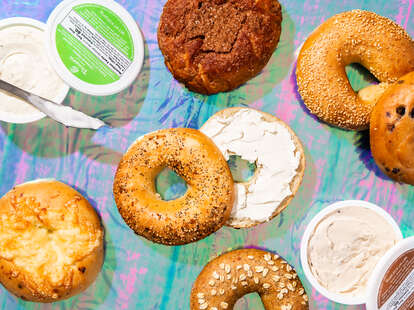 Photo by Cole Saladino for Thrillist
Bagels are arguably the most versatile breakfast food. They are the perfect base for smoked salmon; a great container for bacon, eggs, and cheese; and even delightful with a plain spread of good cream cheese.
At Panera Bread—the bakery-cafe chain that whips up buckets of salad, bread bowls of soup, and even bread sliced bagels—bagels come in a variety of flavors with a unique twist from traditional bagels: they're created with a sourdough base (yes, even the sweet bagels!). In straying from tradition, Panera bagels also aren't boiled, but steamed (though this step is supposedly meant to mimic the traditional method of boiling).
So which of Panera's nine bagel flavors is best? For this ranking, I considered flavor and texture; did the toppings complement the tang of sourdough? Was the interior of the bagel soft-yet-chewy, like that of traditional bagels? Here's how everything stacked up.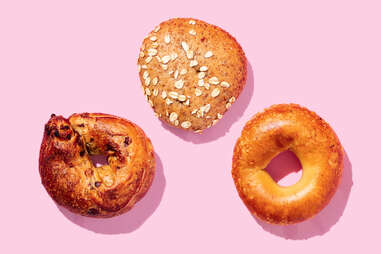 9. Sprouted Grain Bagel Flat
Unfortunately for this bagel, it fell a little… flat (I'm not sorry). The exterior was tougher than normal, and the interior of the bagel was crumbly and dry, making it hard to spread cream cheese without feeling like a cake decorator beginning a crumb coating. The flavor wasn't bad, with a touch of sweetness and added texture from the oats on top. But between this and all the other bagels, I'd rather have something that has the look of a bagel (the hole is missing) and the soft, chewy texture of a bagel.

8. Plain
The plain bagel arrived with random bubbles and blisters speckled on its skin, not looking particularly like the smooth, shiny, appetizing bagel that typical plain bagels are. That being said, the flavor was delicious—as good as any plain bagel I've ever had. Despite not looking the best, the little bumps and bubbles actually added a unique, crunchy texture on the exterior that was welcomed. I learned an important lesson: do not judge a book, or bagel, by its cover. That being said, at the end of the day, it's still a plain bagel, which is boring.
7. Cinnamon Swirl
The cinnamon swirl bagel is full of surprises. In one bite, you'll find sweet raisins. Another has crunchy bits of cinnamon chips. The aroma of brown sugar within this bagel is also entirely alluring. The only downside to this bagel was that it was a little bit tougher than some of the other bagels, but it wasn't anything that a toaster and some honey walnut schmear couldn't fix.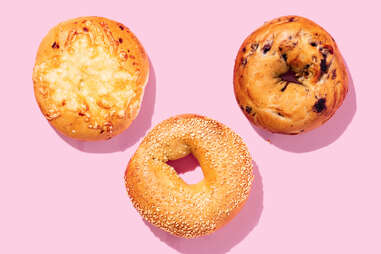 6. Sesame
I never really go out of my way to eat toasted sesame bagels, but maybe that should change. This bagel was fragrant and nutty, thanks to the sesame seeds, but still versatile enough to go with any cream cheese. The texture inside was cloud-like—a nice contrast to the little bits of crunch from the sesame seeds. The only downside is getting those little sesame seeds stuck in all your teeth, but it is a sacrifice I am willing to make to eat this again.

5. Asiago
The whole top of Panera's asiago bagel is covered in salty, fragrant cheese—melted down and crisped up in the oven. Inside, the bagel is light and fluffy. Though it doesn't have a hole, like the normal structure of a bagel, I'm not mad at it; it's just more surface area for all that glorious, glorious cheese.

4. Blueberry
I've never met a blueberry bagel I didn't like and Panera's is no exception. It's loaded full of both dried and fresh blueberries and has that distinctive baked blueberry smell I love in pastries, muffins, and breads. The texture is soft and comforting. Simply put, it's a delicious, fruity bagel that takes me back to being a kid.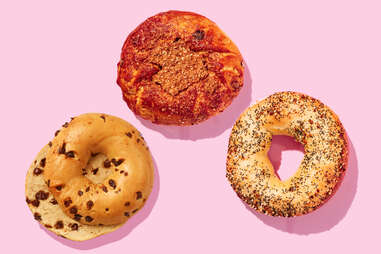 3. Chocolate Chip
Who wouldn't want a breakfast pastry loaded with chocolate to start the day? Panera is extremely generous with their chocolate chips, which makes this bagel exceptional. Every bite was studded with chocolatey goodness, and the texture of the bagel was soft and chewy. It's essentially a stack of chocolate chip pancakes in bagel form.

2. Everything
There's a reason everything bagels are so popular. They've got everything going for them (see what I did there): texture, flavor, mouthfeel. It's unsurprising that "everything" seasonings are packaged and sold; the combination of poppy seeds, sesame seeds, salt, garlic, and onions are so harmonious that it instantly enhances everything it's sprinkled upon. For Panera's variation, I honestly could have done with more garlic and onion, which would make the bad breath worth it.

1. Cinnamon Crunch
This is the best Panera bagel. It's missing some bagel elements (i.e. a hole) but makes up for it by being so undeniably good. The cinnamon sugar crunch on top is so satisfying, like cracking the top of a creme brulee with a spoon. The bagel itself is pillowy—not too dense, but not too feathery, either. This bagel tastes fantastic plain. It tastes great with honey walnut and plain cream cheese, too. It just encompasses everything you'd want in not just a cinnamon sugar bagel, but any type of bagel: flavor, texture, and chew. To put it simply, it is Panera's best bagel and deserves a gold medal—or at least space on your breakfast plate.
Kat Thompson is a senior staff food writer at Thrillist. Follow her on Twitter @katthompsonn.