Taste-test: Which peanut butter is the best?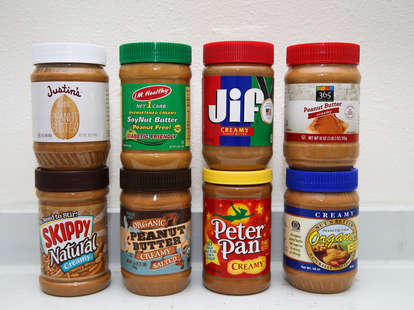 All photos by Dan Gentile
Scientific research says that you ate 1,500 peanut butter and jelly sandwiches before you turned 18 (more crazy PB&J facts here!), but until you reached voting age, it's unlikely you had much say in deciding which peanut butter brand was in your pantry.
Now that you're an adult and can buy whatever you want (take that, MOM!), let us guide you through the packed shelves in the peanut butter aisle. We taste-tested eight of the major brands: Skippy, Peter Pan, Jif, Nut'n Better, Justin's, Whole Foods 365, Trader Joe's, and, for good measure, the I.M. Healthy SoyNut Butter peanut butter substitute. And for more grocery store investigations, check out all of Thrillist's other taste-tests.
To erase any possibility of a taste-tester's brand loyalty, we sampled each butter blindly in the form of a PB&J, on a saltine, and straight from a spoon. We then rated them in the categories of peanutiness, texture, PB&J potential, and overall flavors. Read on to see if your childhood favorite reigned supreme and also to see a pretty satisfying Jif gif.
8. Brand: Justin's Classic Peanut Butter
Peanutiness: 0 -- No peanut flavors. Tasted more like Chinese red bean paste.
Texture: 1 -- Soupy. Left an oily stain on the plate.
PB&J Potential: 2 -- A chaser of Welch's is the only way to make this palatable.
Overall flavors: 1 -- This is savory in the worst way. Seems like it should be eaten by babies. Hints of the plant section at Home Depot.
Final score: 1 -- WE'RE SORRY JUSTIN, WE DID NOT LIKE YOUR BUTTER, BUT YOU'RE STILL PROBABLY A NICE ENOUGH GUY.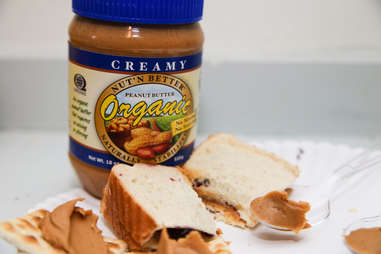 7. Brand: Nut'n Better Organic
Peanutiness: 4.5 -- There is a genuine peanut taste, but that's about all this has going for it.
Texture: 1 -- It is amazingly chunky for a creamy peanut butter.
PB&J Potential: 1 -- Very low. Not even the sweetness of concord grape can cut through the intensely bitter taste.
Overall flavors: 2 -- It doesn't taste like it belongs in a pantry. Or a stomach for that matter.
Final score: 2.1 -- LOTS OF BUTTERS ARE BETT'R THAN THIS.
6. Brand: Peter Pan
Peanutiness: 4.5 --  Very light peanut taste with strong sugar notes.
Texture: 7 -- Luxuriously creamy. Visible peanut granules.
PB&J Potential: 3.5 -- The butter's so sweet it isn't able to contrast the jelly.
Overall flavors: 6.5 -- This is the Mark Zuckerberg of peanut butters -- it's mad rich.
Final score: 5.4 -- JUST KEEP THINKING WONDERFUL THOUGHTS.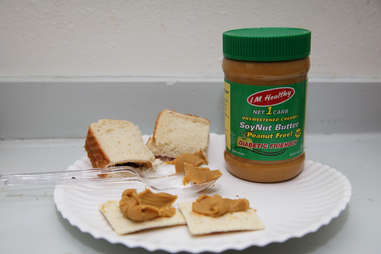 5. Brand: I.M. Healthy SoyNut Butter
Peanutiness: 8.5 -- Definitely tastes like peanuts. (Ed. note: this fooled us completely!)
Texture: 4 -- Heavily processed. Thick and overly sticky. Not as creamy as claimed.
PB&J Potential: 6.5 --  Cuts through jelly effectively while retaining its own flavors.
Overall flavors: 4 -- Very bitter. More parent-friendly than kid-friendly.
Final score: 5.75 -- I.M. HEALTHY AND NOT THAT BAD TASTING.
4. Brand: Whole Foods 365
Peanutiness: 7.5 -- If you're in it for the peanut and not the butter, this one is for you.
Texture: 3 -- Goopy, but not runny. Extremely shiny, but not at all viscous.
PB&J Potential: 7 -- A true team player, this PB is Chris Paul to J's Blake Griffin. They work together in perfect harmony.
Overall flavors: 6.5 -- Tastes like you could make it at home without any fancy flavor additives.
Final score: 6 -- MORE PEANUT THAN BUTTER.
3. Brand: Trader Joe's Organic
Peanutiness: 8.5 -- You can taste a lot of bitter shell. Hints of baseball bleachers.
Texture: 5 -- Closer to soup than butter. Maybe needed a bit more stirring. Pairs well with hippie parents.
PB&J Potential: 6.5 -- The jelly is definitely wearing the pants in the relationship, but the two ingredients get along well enough.
Overall flavors: 5.5 -- Very natural taste, but you won't want to spoon it out of the jar.
Final score: 6.4 -- WORTH TRADING FOR.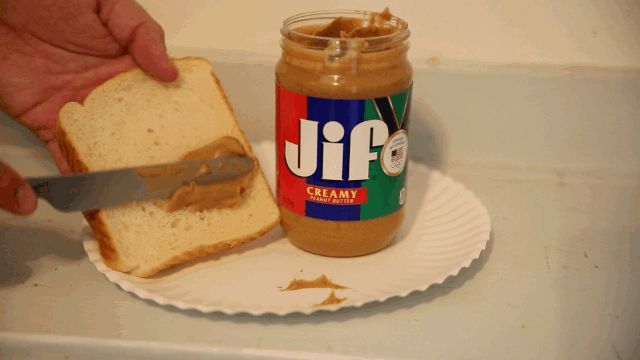 2. Brand: Jif
Peanutiness: 8 -- More like peanut candy, but, despite the sugar, the peanut flavor shines through.
Texture: 9 -- Silky, voluptuous.
PB&J Potential: 4.5 -- This is a dessert PB&J for sure. High potential for deep frying.
Overall flavors: 8 -- The most maximal flavor profile of the group. Tastes very big budget and explosive. The blockbuster of peanut butters.
Final score: 7.4 -- GIF-WORTHY.
1. Brand: Skippy Natural
Peanutiness: 6 -- It's delicious, but seems like there's more citric acid than peanut. (Ed note: afterwards, we discovered there isn't.)
Texture: 9.5 -- Your teeth melt through this like a hot rake through soft snow. It doesn't get much creamier.
PB&J Potential: 9 -- As wonderful a soulmate as jelly will ever find.
Overall flavors: 9.5 -- Worthy of eating with a spoon.
Final score: 8.5 -- SKIP ALL THE OTHER ONES. BUY THIS.
CLOSING THOUGHTS
Going into the contest, Jif was heavily favored by all parties involved, but despite its intense flavors, it was inched out by Skippy. And even more surprising is that it was defeated by Skippy Natural, a purportedly healthier version of the original (though really the main difference is in its not using hydrogenated oils).
While the other brands existed firmly as savory snack pastes, these two industry titans succeeded at tempering a real peanut taste with enough sweetness to make them suitable for both a meal AND a dessert, a concept of which Mom would certainly not approve. Unless you ate all your vegetables first.
Dan Gentile is a staff writer on Thrillist's national food and drink team whose life-long allegiance to JIF was shattered during the writing of this article. Follow him to both creamy and crunchy tweets at @Dannosphere.