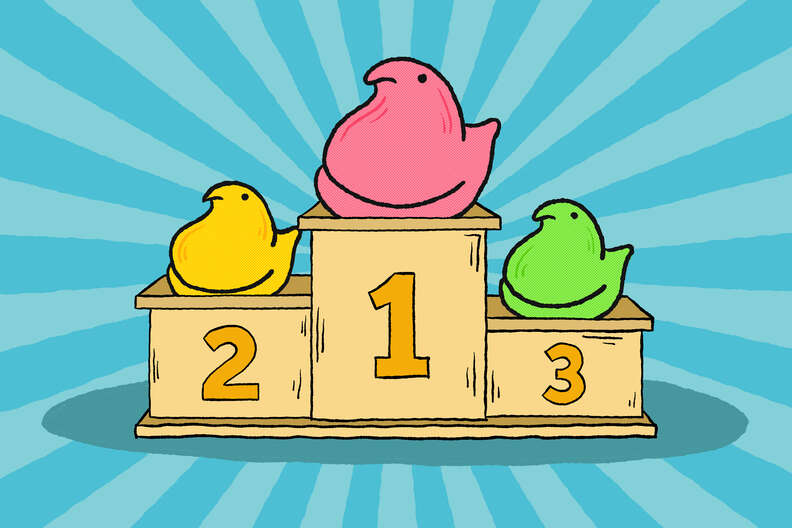 All of the Peeps Flavors, Ranked
Peeps are the ultimate Easter basket stuffer and have been delighting kids and adults alike with their marshmallow concoctions since 1953. (Though back in 1953 Peeps were shaped by hand and took 27 hours to create… one.). What began as simple, sweet chick and bunny confection has expanded to include year-round marshmallows including pumpkin-shaped Peeps and reindeer-shaped variants; Peep bath bombs and plushies; and an assortment of flavors that range from surprising to delicious to less than pleasurable.
In honor of the ultimate Peeps season -- spring -- I decided to try all the Peep flavors that are currently available. This ranking includes marshmallows that are only shaped like sweet little chicks, and the judgment is based on overall flavor, texture, and -- if I'm being real -- how cute and appetizing these sweet little sugary friends are. See the winners below:
17. Fruit Punch
These Peeps smelled like a combination of Hawaiian punch (a nostalgic, childhood favorite) and cough syrup. The flavor, somehow, was much worse. My editor compared it to the fluoride that fills your mouth at the dentist's office -- gummy, slimy, and a bit overwhelming.
16. Sour Watermelon
This is an extra cute Peep. It's sugary green on the outside, with a bright, bubblegum pink center -- a fun attempt at imitating an actual watermelon. It smells just like a watermelon Jolly Rancher or the watermelon-flavored Sour Patch Kids. The flavor, however, was too artificial, without the punchy sour pop you'd expect from a sour-flavored confection, and not very pleasant. If you love watermelon-flavored candies, this might be your jam.
15. Blue Raspberry
A waft of blue raspberry scent (what is blue raspberry, exactly?) definitely washes over you when tearing into these glowing blue chicks. And the taste didn't surprise me at all: like a fake, fruity sugar bomb has blown up in your mouth. It's not my least favorite flavor, but there's something off-putting about tart, fruit flavored marshmallows.
14. Raspberry Dipped in Fudge
Like the Blue Raspberry flavored Peep, the raspberry dipped in fudge tastes unpleasantly artificial. It reminds me of the flavored fluoride one encounters at the dentist's office: sticky and sweetly aromatic, but horrible to actually eat. The fudge is creamy and attempts to hide the unwelcomed fake raspberry flavor, allowing this raspberry Peep to just edge out the blue raspberry one.
13. Root Beer Float
I never thought that the syrupy sweet flavor of root beer would translate well into marshmallow form. And it doesn't. This Peep certainly smells like a root beer, but the taste leaves much to be desired: it's reminiscent of what happens when the soda fountain runs out of soda flavoring and dispenses diluted, bubbly, barely passable root beer. If you're yearning for a Peep that isn't too sweet, but captures the essence of root beer, then this marshmallow friend just might be right for you.
12. Sugar Free
If you're weary of consuming sugar, I wouldn't necessarily recommend Peeps as a decent snack. That being said, the taste wasn't inherently different from the all-consuming sweetness that Peeps are, but the texture was entirely off. These Peeps were a little flatter and denser than the average. The outside was coated in a coarser texture -- like sandpaper -- rather than the fine sugar grains that usually envelop Peeps. It wasn't bad per se, just bizarre.
11. Froot Loops
Froot Loops were certainly part of the Saturday morning cereal-and-TV rotation I had during my childhood, but these Peep versions were mildly disappointing. They smelled like the real deal, which got my hopes up, but the flavor simply tasted like sugar and not much else. It wasn't an offensive Peep in any manner -- it's just not something I'd go out of my way to eat again. Perhaps a good use for this Peep is to melt it down and make cereal treats with actual Froot Loops.
10. Pancakes and Syrup
The taste of pancakes isn't very apparent, but the smell of sweet, pancake syrup (not maple syrup, but specifically pancake syrup) is what you'll get out of these marshmallow chicks. It's like they condensed the flavor of an IHOP into a tiny, fluffy candy and it works great. I'd genuinely buy a candle scented like this Peep (Peeps people, please get on that).
9. Original Peeps
These are the original of the original. They're fluorescent shades of different pink, orange, yellow, blue, green, and lavender highlighter colors; were fun to microwave as a kid and watch them expand; and were wedged between cheeks and tongues in childhood games of Chubby Bunny. They're nostalgic and find that balance between being a sweet treat but not overwhelmingly so. It's a good marshmallow, it makes for cute dessert decorations, and it's been there for me every Easter season. Is it the best Peep? No, but it's reliable and it gets bonus points for that. (Fun fact: the original, yellow Peep is the best-selling Peep of all time).
8. Cotton Candy
Speckled with blue flecks, like a robin's egg, the cotton candy Peep is shockingly not as sweet as I anticipated it would be. The flavor is subtle and agreeable. I mean, if I'm being entirely honest, it simply tastes like sugar -- but isn't that basically what cotton candy is? Nailed it.
7. Hot Tamales
I was fully expecting this Hot Tamales Peep to be nothing short of disgusting. Though I love hot sauces and burning my tongue off with heat, I'm not usually a fan of any sort of spicy cinnamon product -- so no, I don't like the candy, Hot Tamales. Shockingly enough, these don't really taste like Hot Tamales. The spice is subdued to the point that these peeps are almost like eating a cinnamon bun-flavored peep, if you can believe that. There isn't an abrasive Fireball-like smell to the marshmallows either; in fact, they smell like absolutely nothing. Though the packaging says "fierce" cinnamon, I'd probably change the copy to read as "gentle" or "delectable" cinnamon instead.
6. Original Dipped in Milk Chocolate
The original Peeps dipped in milk chocolate are much better than the plain originals because they get that extra crunch from the chocolate coating. That being said, this wasn't as good as the other dipped Peeps because the milk chocolate, paired with the original marshmallow flavor, was a little bit too sweet. If it were swapped out for dark chocolate -- something with a little bit more nuance -- these would be even higher on the list.
5. Party Cake
The party cake Peep is truly like having a party in your mouth. I am usually impartial to cake-flavored things (too sweet, too sticky), but these Peeps found the perfect balance of flavor, giving off notes of vanilla, sprinkles, and frosting. It smells and tastes just like the birthday cake flavor everyone has come to love in ice creams, protein bars, and, uh, birthday cakes. This Peep gets bonus points because it is the cutest Peep I have ever seen in my life.
4. Chocolate Pudding
Peeps really nailed the flavor of chocolate pudding for this newest addition to their marshmallow lineup. It takes me back to the Snack Pack puddings found in my lunches growing up and smells like a comforting cup of hot chocolate from your favorite local diner -- creamy, chocolaty, but not aggressively fudgy or rich. If you, like me, used to lick the pudding off the peel-back tops of your daily pudding cup and would not leave a trace of the velvety dessert behind, you'll appreciate this flavor as much as I do.
3. Coconut Dipped in Dark Chocolate
If you're looking for a marshmallow that tastes just like Mounds, then here it is. I know people feel strongly about Almond Joys and Mounds -- you either love it or hate it. I am in the love it category, and I love the way this Peep made me think about all the Almond Joys I shoveled in my mouth during Halloween as a kid. Usually, coconut-flavored things are too artificial in flavor, but these Peeps really nailed it. They're tropical and fun and balanced with the richness of dark chocolate.
2. Strawberry Dipped in Fudge
Eating this Peep was like popping up in front of an ice cream truck and ordering a strawberry shortcake bar. It has all those nostalgic flavors -- tart strawberries paired with sweet cream -- enhanced by the decadence of the white creme fudge. This Peep smelled luxurious, tasted like the flavor it was meant to replicate, and looked cute.
1. Chocolate Caramel Swirl
I'm not sure if this Peep can ever be beat. It's so indulgent and tastes so fancy that I forget I am basically just eating a marshmallow. The center of this Peep is filled with caramel of the perfect consistency -- not too runny, but not so sticky that your teeth are glued together. The chocolate that coated the bottom was rich, but slightly bitter, and it paired with the caramel nicely. And the marshmallow itself was balanced and not overly sweet. This Peep is the Peep of all Peeps -- the one Peep to rule them all.
Sign up here for our daily Thrillist email, get Eatmail for more food coverage, and subscribe here for our YouTube channel to get your fix of the best in food/drink/fun.
Kat Thompson is a staff food writer at Thrillist. She's not sure if she can make eye contact with Peeps for a while after this. For more food rankings, follow her on Twitter @katthompsonn.