If Peruvian cuisine isn't already on your food radar, well, it should be. Of late, it's been competing with the likes of Italian, Thai, and Mexican for American cravings. The country itself is famous for the Incan citadel of Machu Picchu and cities such as Lima and Cusco, but in recent years interest in its cuisine has been piqued by interest in quinoa.
But the grain you struggle to correctly pronounce at Whole Foods is just one small ingredient in Peruvian cuisine, which includes influences of the indigenous Incan population and food brought over from Spanish, Asian, and West African travelers. Here are nine essential dishes to get you started on a Peruvian culinary kick.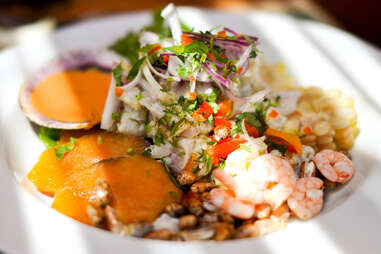 Ceviche
What it is: Raw seafood at its best. Probably the most popular of Peruvian dishes, ceviche is a marinated raw fish or seafood dish that is usually garnished with herbs and served with veggies and potatoes.
What's the deal: There are various ceviche dishes throughout Latin America. The Peruvian variety --typically made with a white fish like tilapia or sea bass -- features Andean chili peppers (aji limo), onions, and pure lime juice mixed together for a refreshing and lightly spicy dish.
Cancha
What it is: Toasted corn that's served as a nibble plate before or during a meal at a restaurant, and could also be served with several different dishes such as ceviche. Think of it as the rolls of a Peruvian eating experience.
What's the deal: Corn is a traditional core staple when it comes to Peruvian cuisine, and cancha is actually fairly easy to make if you get addicted to it (as it can be a great snack anytime paired with cheese). Traditionally, fat or lard is heated in a clay pot and yellow corn is added with salt. You can also heat vegetable oil and salt in a skillet with a lid and add in yellow corn to get a modern version of cancha.
Papa a la Huancaína
What it is: Simply put, this central Andean dish is boiled yellow potatoes served on a bed of lettuce with a spicy, creamy cheese sauce.
What's the deal: Potatoes are another core ingredient in Peruvian food. Easy and inexpensive, it's usually a starter dish and can be found in almost every kind of Peruvian restaurant in the country and elsewhere. Aji amarillo (a local chili) is used to make the sauce, and the dish was created in Huancayo, a city located in the Mantaro River Valley.
Causa
What it is: Yellow potatoes mashed and seasoned with lime and hot pepper. It is then filled with chicken, tuna, or other seafood such as shrimp.
What's the deal: Another dish where the potato is the key ingredient, causa is a potato cake that can be served as a cold starter or a light dish. Its roots are undetermined, though it could be from the pre-Hispanic or colonial era. Regardless, it seems its creation is based on the simplicity of the ingredients and using what's available to be put into a potato for a quick fix.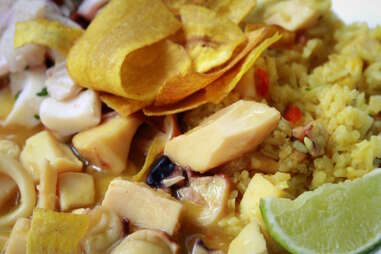 Arroz chaufa
What it is: Peruvian fried rice, influenced by Chinese cuisine, with vegetables, eggs, and meat cooked together with soy sauce added.
What's the deal: Peru has had many cultures influence its cuisine when various populations invaded or immigrated to the country. Among them is the Chinese, which has become a big part of Peruvian cuisine as represented by arroz chaufa. Lima has a plethora of Peruvian-style Chinese restaurants which are locally known as chifas.
Lomo saltado
What it is: One of the most delicious beef tenderloin dishes you'll ever have. Slices of beef tenderloin are sautéed with onions, tomatoes, hot peppers, and other spices, then topped or mixed with French fries. Yes, fries, and they soak up the God-sent juices of the dish. The plate is also served with white rice, which also tastes amazing with the soaked-up juices.
What's the deal: A staple in Peruvian cuisine, this stir-fry dish was also one influenced by Chinese cuisine. And deep fryers.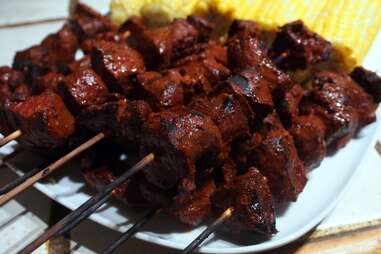 Anticuchos
What it is: A Peruvian street food of beef heart marinated overnight in a various Peruvian spices and made into grilled brochettes. Can also be served as a main dish, usually served with a cold boiled potato.
What's the deal: A hearty yet quick food, anticuchos originated in the pre-Columbian era when llama was the main source of meat, but a modern dish was adapted during the colonial era in the 16th century when the Spanish came across it.
Pachamanca
What it is: Through the use of a pre-Hispanic style of cooking on hot stones buried into the ground, a variety of meats, potatoes, and other vegetables are seasoned with herbs and cooked underground.
What's the deal: A dish from the Andes region, skilled cooks are needed to prepare a pachamanca meal due to its tediousness and old-school roots in the Incan empire.
Cuy
What it is: Fried guinea pig. Yeah, but hear us out.
What's the deal: A traditional Andean dish from the highlands, cuy resembles the taste of rabbit. Guinea pigs would be (and still are) raised in the huts of the Peruvian Andes, with some growing exponentially large, making them a great source of lean, healthy protein.
Andrew Villagomez is a freelance writer and blogger who covers travel, men's fashion, and other lifestyle topics. Along with Thrillist, he has also contributed to Travel + Leisure, Details, Passport, and Essential Homme. Check out his blog, and follow him on Twitter and Instagram at @VeeTravels