Desserts are the stars of any Thanksgiving spread, but let's be honest here: Unless you're a a master baker or Marie Callender's long-lost granddaughter, it's also SUPER easy to screw up. Especially when it comes to pie, a dish that seems simple until you're covered in flour with only a burnt husk of crust to show for it. 
It doesn't have to be that way. If ever there was a Thanksgiving offering to cheat with, it's pie. And while we've got nothing but love for Sara Lee, the modern miracle that is the internet has joined forces with some of America's greatest bakeries and the USPS to deliver iconic, nostalgic, show-stopping pies nationwide. Why settle for a can of condensed milk and a pile of gourd puree when you can have some of the country's best pies delivered to your doorstep? These are those pies. And look, nobody's gonna begrudge you for taking credit and saying you made them. You paid a hefty premium to have them delivered, after all... 
Recommended Video
This Massive Dessert Waffle Is a Chocolate Lover's Dream
Los Angeles, California
Los Angeles is home to many an excellent pie shop, but when Cake Monkey burst onto the scene, it threw down the sticky-fingered gauntlet. The cherry almond pie is the stuff of legends, while the cider-roasted apple pie gets an unexpected savory kick with the addition of cheddar crust, officially diffusing the weird looks you get if you're one of those people who melts cheddar on apple pie. Oh, and it you really want to blow some minds, their Pop Pies -- basically fancy Pop Tarts -- can be delivered too. 
Brooklyn, New York
The Elsen sisters have made a huge splash in the Brooklyn baking scene on the strength of their incredible pies, honed in the cold of their motherland South Dakota and brought to stunning life out east. They'll ship pies pretty much everywhere, meaning you can get a taste of their Bittersweet Chocolate Pecan, the comfort-food-plus Salted Caramel Apple, and the Black Bottom Oat anywhere… even South Dakota. These are pies made with love and a commitment to local ingredients… well, local to Brooklyn. It'd be weird if they were sourcing ingredients from the places they're shipping. 
Traverse City, Michigan
GTPC takes its name from a bay that's world famous for its cherries, so it stands to reason that you should absolutely get one of its legendary, crumbly topped pies, a gallon of ice cream, and a pillow. And while that pie is wonderful and perfect on its own, there are a bazillion other options too. Luckily, there's a pie of the month club, which you should 1,000% join, because pie is too damn delicious for once a year… especially the there are chocolate cream pies, peanut butter chocolate cream, and every fruit imaginable packed into the crust. 
Miami Beach, Florida
Key lime pie is perhaps the greatest thing to come out of Florida, with respect to Sidney Poitier, Faye Dunaway, and, um… look, Key lime pie is super delicious, and perhaps the most famous and delicious variation comes not from the Keys, but from Miami. For 105 years, Joe's has been the king of crabs, but also the king of Key lime, and now that they ship all over the US, they can help add a little sunshine to even the darkest of post-Thanksgiving conversations. 
Memphis, Tennessee
One of the very best bakeries in the entire country, Muddy's slings the kind of amazing pies that cool on the windowsills of our hearts. Now, thanks to the folks at Goldbelly, you don't need to make a pilgrimage to Graceland to get a taste, with pies like the ultra-rich Cocoa Chanel Chocolate Chess Pie, the Nancy's Boy Coconut Chess Pie, and a show-stopping Punkin' Pie on offer. And since it'd be a crime to skip the cookies, they also offer the pies as part of packed baker's boxes. Or, as Elvis would call them, light snack boxes. 
New York, New York
Picking the right pie at a place like Pete's can be an exercise in deprivation, what with chess pies like Lemon Poppy Seed, Black Bottom Almond, and Black Currant vying for precious real estate in your stomach. The beauty of this delivery is in its size: They offer up a crate of 8-12 mini pies, allowing you to really dominate the dessert spread. Or just throw a shitload of pie in your own freezer, if you're not into sharing. We wouldn't blame you.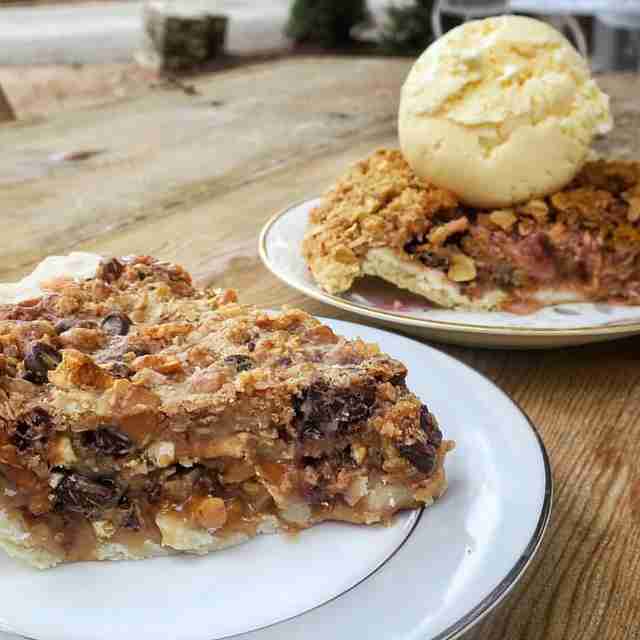 Round Top, Texas
Generally, when somebody presents you with something with "trash" in the name, it's not the most appetizing. But the folks at Royers in Round Top -- which, coincidentally, will be your new nickname after you become addicted -- have become world famous on the strength of their Texas Trash Pie, which makes the choice between candy and pie easy by loading its crust with graham crackers, pretzels, caramel, chocolate chips, coconut, and more. They make a variation with white chocolate too, but don't skip the Butterscotch Chip Pie. It makes a great dessert for, well, dessert.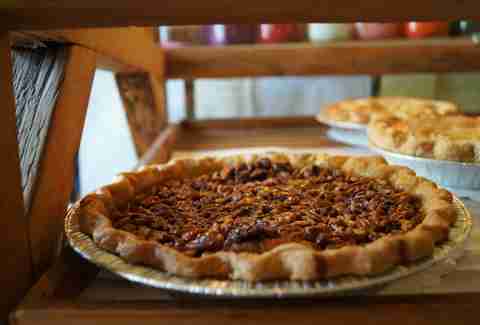 Portland, Maine
Two Fat Cats is one of those adorable, small bakeshops that specializes in the old-school ideal of pie-making, working with classic flavor combinations and honing them to perfection rather than trying to reinventing the pie tin-shaped wheel. Basically, when your dorky friends go on fall color tours of the NE and talk about charming pie shops, they've got a place just like this on their minds. Deliverables here includes one of the greatest Strawberry Rhubarb pies in the universe, plus a Maine apple number that is never better than in the fall. It's the kind of bakery you think of when the colors are changing and New England's winds take on that brilliantly crisp… JESUS KAREN STOP IT, WE KNOW IT"S PRETTY UP THERE OK?!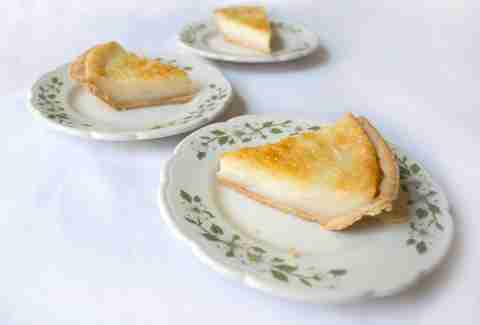 Winchester, Indiana
There are few foods more iconic in Indiana -- sorry, St. Elmo's shrimp cocktail and pork tenderloin sandwiches -- than the glorious, rich, tooth-numbingly delicious sugar cream pie. Wick's has built an empire on these custardy delights, and for good reason: Nobody makes them better. If you're a Hoosier far from home, this will bring you right back to the tables of yore. But a case. And maybe add a German Chocolate pie for good measure. 
Sign up here for our daily Thrillist email and subscribe here for our YouTube channel to get your fix of the best in food/drink/fun.