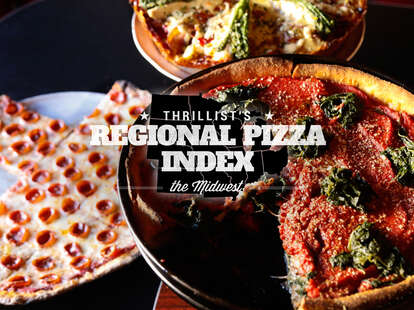 Grant Condon/Jennifer Bui<br /> &nbsp;
Grant Condon/Jennifer Bui<br /> &nbsp;
Ask 10 people to tell you which region can lay rightful claim to pizza -- that illustrious, oozing, Italian-American disc over which we all obsess -- and you'll get 10 different answers. But we're not here to argue; we're here to educate! So we teamed up with World Champion Pizza Maker Tony Gemignani* and Roots co-founder Scott Weiner** to create the official Thrillist Regional Pizza Index, a multi-part series exploring the proud provincial pie persuasions that are found across the country (and the world). We started in the Northeast; now, the Midwest!
Chicago. It's what we talk about when we talk about Midwestern pizza, and rightly so: its deep-dish is a national treasure. But that's just one of the three (3!) pie-nnovations that The Chi has given the world, and beyond Windy City limits, there's an even vaster plain of perpetually overshadowed Midwestern 'za. From St. Louis to Detroit, and from The D to the Quad Cities, Chicago's deep-dish is surrounded on all sides by the lesser-known Midwest pizza hotbeds. Strap on your rust belt, kids.
Back-of-the-napkin report
Oven: Gas brick
Cheese(s): Whole or part-skim mozzarella
Key practitioners:Lou Malnati's; Art of Pizza; Pizzeria Uno and Due; Pizano's
Tony's take
If you had any doubts deep-dish was a heavy-hitter, Tony puts those to rest. "You're cooking [deep-dish] like you'd be cooking a cake", he says, with temperatures at the (relatively low) range of 450-520ºF. After oiling/buttering the round, black steel pan, the dough -- "traditionally... butter or lard, along with cornmeal, potato" -- gets tucked in, then loaded up with cheese. After that, it's on to toppings (sausage & spinach are popular) and sauce, usually "a blend of chunky with hand-crushed tomatoes".
Ingredients of greatness:
Don't you dare cook that sausage!
The deep-dish shown here is topped with spinach and sausage (it's hard to see!), but in Chicago, "'ingredients usually means 'sausage'", says Tony. "More importantly, raw sausage." The meat is either laid in patty form or squeezed from its casing, then baked concurrent with the 'za so it stays juicy and moist.
Back-of-the-napkin report
Oven: Gas brick
Cheese(s): Wisconsin brick cheese (which is very real), plus white cheddar (sometimes)
Key practitioners:Buddy's; Cloverleaf; Niki's; Jet's; all these places
Tony's take
"The flavor profile" of the Detroit pie, Tony explains, "is sorta like mac & cheese -- that slightly burnt mac & cheese taste". That's because the edges of this rectangular Sicilian/cast-iron hybrid are crispy brown flanges of cheese that've been flash-caramelized by the searing heat from the pan's walls (more on that in a minute). "It's all about those burnt edges & corners. Everyone wants the corners. That's just life," he muses. "That's why I cut my Detroit [pies] into fourths -- so everyone gets a corner."
Ingredients of greatness:
Blue steel pans are paramount
You can't cook one these right-angled monstrosities in just any pan, by the way. The official vessel is a blue steel pan sourced from a small manufacturing company in West Virginia. "The blue steel... gets to a high, high heat, so it really burns the corners," says Tony. Wes Pikula, the general manager of Buddy's, told Detroit Free Press in 2011 that the pans "have a way of capturing the flavors in the metal", similar to a black skillet.
Skillets are intended for the kitchen, but apparently, blue steel pans were never supposed to be "pans" in the first place. In an odd twist of Motor City history, the manufacturer -- who inadvertently caused a pan shortage when it moved its operations to Mexico three years ago -- claimed in the same article that its blue steel pans were meant as small-parts trays for factory work, not for baking. No one's quite sure how they came to be a Detroit pizza essential, but they remain one to this day.
Back-of-the-napkin report
Oven: Gas brick (sometimes wood-fired)
Cheese(s): Mostly traditional whole/part-skim mozz; Tony's seen provolone, cheddar & Pecorino Romano added, too
Key practitioners:Aurelio's, Mama Luna's; Vito & Nick's; Pat's
Tony's take
This oft-overlooked thin-crust member of CHI's pie pantheon is actually super strong despite the lack of national love it gets. "Cut into squares, it's kind of its own thing", filling the drinking man's need for a manageable piece that won't take up valuable stomach space for more drinking. Because of this association, some people call this party/bar/tavern-style pizza, but the form is way beyond basic pub fare.
Ingredients of greatness:
How thin is thin?
Chicago's thin-crust has a similar profile to the St. Louis pie, both of which are thinner than the New York slice's mid-depth crust. The hallmark of the Windy City version is its crunch; compared to the other two, its crust is fairly brittle, like... well, a cracker.
Back-of-the-napkin report
Oven: Gas brick, or sometimes conveyor (Tony hates conveyors)
Cheese(s):Provel, a blocky Swiss/cheddar/provolone blend invented specifically for this pie
Key practitioners:Imo's; Frank & Helen's
Tony's take
"It goes the cracker-thin route you'd see in Chicago", says Tony, but "it has a super-sweet sauce and Provel cheese, which is totally different" than the Windy City's variety. How sweet is super sweet? "I've seen places add sugar or corn syrup to [the sauce, and] I use a little cane sugar, myself," he explained. How different is totally different? "Provel has this Velveeta-like flavor profile that brings you right back to being a kid. It may stick to the roof of your mouth. So good, and so bad for you."
Ingredients of greatness: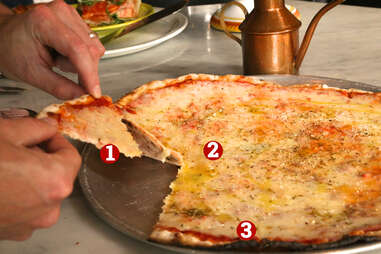 Flavor, squared
A defining characteristic of the St. Louis pie is the way it's cut. Instead of triangular slices, it's scored into a criss-cross of "party squares". Why? According to Tony, one of the city's founding families of pizza, the Imos, worked in a linoleum factory before opening up their eponymous joint in 1964. "When [Ed Imo] cut the linoleum, he cut it into squares. So he cut his pizzas the same way." Imo's took the area by storm with its novel-back-then delivery service, and thanks to its popularity, squares have been the gold standard of St. Louis pies ever since.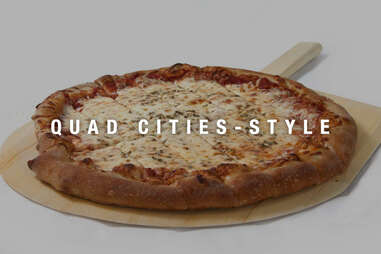 Back-of-the-napkin report
Oven: Gas-fired stone deck, usually by Rotoflex
Cheese(s): 2.5% milk-fat content Wisconsin mozzarella, and alot of it
Key practitioners:Harris; Frank's; Wise Guys; Roots (Chicago)
Scott's take
The crust ranges up to 16" in diameter, and has "a nutty sweetness to it", which Scott says is due to the malt syrup used in the dough. "The dough is slow-rise, which means that the yeast eats off that malt at a cold temperature and gives [the crust] the complexity of a sourdough", even though it's way sweeter. "People tend to fight over the crust because it's so sweet," he says. Note: tradition dictates that a Quad Cities pie should be long strips cut with big kitchen scissors, not a pizza wheel.
Ingredients of greatness:
Aerated sausage pillows? Aerated sausage pillows!
When it comes to toppings, Quad Cities gets full-on Midwest with it, hiding a super-fine layer of ground sausage beneath that Wisco mozz. "We buy what's called 'cushions [of sausage]'", says Scott, then "grind it once and cook it. After we've cooked it, we put 50lb bags of flour over it to draw as much grease out as possible. Then we grind it again, and it actually gets really fluffy and aerated. Like a pillow."
If you've ever referred to the Quad Cities as part of "the flyover states", now is a good time to start making amends.
Back-of-the-napkin report
Oven: Gas brick
Cheese(s): Whole or part-skim mozzarella
Key practitioners: "Giordano's started stuffed pizza."
Tony's take
Because Chicago is itself, some pizza shops decided the insanely substantial deep-dish needed to be just a bit more substantial. Thus, the stuffed pizza was born. "It's the exact same thing [as deep-dish], but with a 'lid' on it," explains Tony. "That's like a 'pizza dome' that goes on top, and then the sauce goes on top of that." Check out the breakdown below for an artery-clogging visual.
Ingredients of greatness:
Deep-dish descendants
Though it makes the pie (and you) a bit heavier, the stuffed crust addition affords pizzaiolos even more creative space in which to sandwich toppings (Exhibit A: Art of Pizza's Art's Meaty Delight). But stuffed pizza isn't the only derivative of Chicago's almighty deep-dish. There's also cast-iron -- a scarce-but-beloved subset that we're treating as its own type because it's that damn tasty. (And also, because Tony told us to.) Onward!
Back-of-the-napkin report
Oven: Gas brick
Cheese(s): Whole or part-skim mozzarella
Key practitioners:Pequod's; Burt's Place
Tony's take
Cast-iron is a deep-dish pie, sure, but it's also "similar to the Sicilian pizza", according to Tony. "It gets pushed out in a round, cast-iron pan that could be buttered or oiled. Your dough is risen to about 1.5in high." But there's also another similarity afoot: cast-iron's defining characteristic is its coveted caramelized-cheese edges, just like those found on the Detroit pie.
Ingredients of greatness: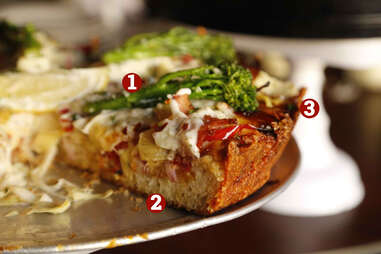 A Chicagoan's two cents on cast-iron
For more clarity on this incredibly dense relationship between incredibly dense pizzas, we turned to Matt Lynch, a lifetime Chicagoland native & longtime Thrillist editor. He had some reservations. "How do you label it a 'style' of pizza when it basically derives from one guy?" That's Burt Katz he's talking about, the founder of both Pequod's and -- you guessed it -- Burt's Place. Those two shops are "basically" the sole players in the category, and both were started by Katz, who's considered the godfather of cast-iron caramelization in Chicago.
"I don't know [if] anyone from Chicago would know what you meant" by the term cast-iron, "other than 'y'know, how Pequod's makes it!'" Even though the cooking styles are different, and the edges are crispy, cast-iron has become synonymous with general deep-dish over the years. In fact, many "deep-dish" spots make their pizzas in cast-iron pans instead of the traditional steel job.
Whatever it's called, a pie this sexy couldn't be omitted from this index. So here it is.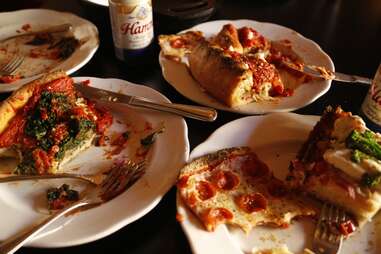 Conclusion
Even though it dominated this here index, there's way more to the Midwest pizza scene than Chicago. This nation's heartland is actually chock-full of resplendently sturdy slices (and squares!).
Let us know which is your favorite in the comments, and stay tuned for our next region.
*More about Tony: When he's not fattening San Franciscans at his bevy of Bay Area 'za spots, or running his chef-certification school, or dominating the World Pizza Championships again (he's won 11 times), Tony also writes books about his sacred craft. Pre-order his latest tome, The Pizza Bible, right here.
**More about Scott: Along with his business partners, Scott is spreading the gospel of Quad Cities pie BEYOND the Quad Cities with his Chicago pizza joint, Roots.
Dave Infante is a senior writer for Thrillist Food & Drink, and has never been closer to God than during his first bite of Detroit deep-dish. Follow @dinfontay on Twitter, Instagram, and Snapchat.