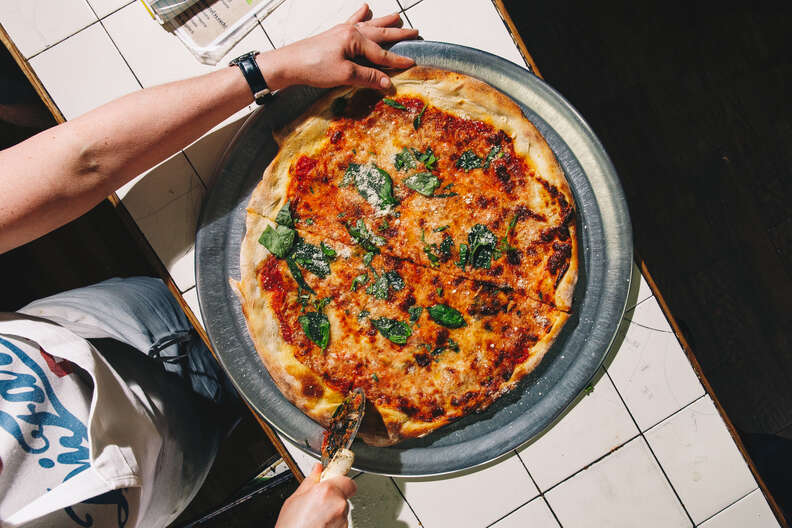 There's a reason everyone loves the pizza they grew up with. The best pizzerias are one-of-kind. They serve pizzas you can spot on Instagram without a tag. They have specific flavors and textures that don't exist in the same form anywhere else in the world. They're the originator of a style or the place that mastered it. They have stories behind them that inspire and spaces inside that transport you. And above all, they have insanely passionate people who have put their life into making a place where magic can happen—where you can love a slice of pizza just as much as the one you ate when you were 10.
Pizza—even great pizza—is subjective. You may like a certain pizza more, but we don't think you'll find many pizzerias better than the following list. These 28 spots are all very different, but each of them can make one helluva pie.
Portland, Oregon
Every town in America seems to have a popular neighborhood pizza place with classic arcade games, but none of them serve pizza as absurdly great as Portland legend, Apizza Scholls. Scholl's serves thin crust, but it's definitely not New York style. The ends are puffier and more flavorful, the bottom sturdier, and there's more cheese than you expect on a pizza so refined in taste. Master bread baker Brian Spangler has been a pizza rock star for the last 15 years, and his plain pies are killer on their own, but his toppings are fantastic, too—especially the sausage. Spangler's also a man who lives by a specific code: overloading ingredients ruins pizza. Oh, and that collection of vintage arcade games Spangler regularly rotates? That's probably the best I've seen at any pizzeria as well.
New York, New York
Perhaps the ultimate pilgrimage for anyone interested in NYC pizza lore, this old school shop dates back to 1965, when Italian immigrant Domenico De Marco ("Dom") opened what would become one of Brooklyn's most legendary pizza joints. Imported Italian ingredients, plus the keen eye of a pizzaiolo in his early eighties make this thin pie (also sold by the basic slice, but you'll want to pile on specialty toppings like soppressata, prosciutto, and broccoli rabe) worth the trip to the original Midwood spot. Additional locations in the Lower East Side and Williamsburg are also now open.
See the top pizza shops in all of New York City.
Miami, Florida
Sometimes out of the ashes of a pandemic-era closing, a pizza can rise like a Phoenix and shine over a city like a beacon of cheese-covered hope. Such is the case with Eleventh Street Pizza, a creation-of-convenience from restaurateur and chef David Foulqiuer, who opened up a to-go shop where his old restaurant, Fooq's, was forced to close. The large, Brooklyn-style pies became an instant sensation, mixing a masterful, spicy sauce with a crust that strikes the perfect blend of crispy and doughy. It's enough to support the pizza, but not so much to weigh it down. There's also traditional Sicilian pizza, where thick pan-cooked slices are topped with onions, tomatoes, herbs, and no cheese. (Note that slices are half-off during weekday happy hour.) In a city where it's often impossible to separate hype from the real deal, Eleventh Street delivers, showing us all that sometimes when a project fails, it can lead to something greater.
See the top pizza shops in all of Miami.
Berkeley, California
On a quiet street in Berkeley, the one and only employee of Emilia's Pizzeria quietly serves the best pizza in California four nights a week. Emilia's can best be described as coal oven-esque, even though owner Keith Freilich is cooking in a gas oven that runs much hotter than most. His pizza is a nod to the classic joints Freilich worked at back in New York like Grimaldi's, but the crust is more supple and flavorful, and his blend of fresh and aged cheeses is more refined. It doesn't taste like the classics it descended from—it actually tastes much better. There's a catch for pizza lovers who want to dine out though. Emilia's has a tiny footprint and there's only room for one table in the place, so it's primarily a takeout operation. But land a reservation (the website has tips) and you're guaranteed to be served by one of the best pizza makers in the country.
San Francisco, California
The original Flour + Water restaurant has great Neapolitan pies and even better pasta, but when Thomas McNaughton made the decision to open a pizzeria, he knew he had to change things up. True Neapolitan doesn't travel well. You can set a timer when it comes out of the oven and you're lucky if it survives for five minutes. This incarnation of Flour + Water keeps McNaughton's notoriously high standards for ingredients, but drops the leopard spots in favor of bulbous, bready crust that's built for the long haul. Though pizza (red and white) is the reason you're likely going to this pizzeria, there are other tasty things on the menu, including mozzarella sticks that are well-seasoned and gooey and just crispy enough on the outside, a couple of salads, and soft serve for which you definitely need to save room.
See the top pizza shops in all of San Francisco.
Las Vegas, Nevada
Recently, Vegas has become a pizza scene that is worthy of some of the heaviest-hitting pizza cities in the country. It can't all be credited to lifelong pizzaiolo Vincent Rotolo and his shop Good Pie, but it certainly changed the game. It started as a tiny pizza shop in Pawn Plaza in early 2018, and most recently has grown into its very own sit-down restaurant and bar with a walk-up window serving hot slices in the extremely happening Arts District. Good Pie specializes in a lot of different pizza styles, and each one is a stellar representation of form, from the giant foldable triangles of its Brooklyn style to three distinctly different square pies—the thin and chewy Grandma, the fluffy-but-not-too-thick Sicilian (it is the Goldilocks of the three square styles), and the densely springy Detroit with its caramelized cheese crust. The off-menu Triple Pep features an entire pound each of pepperoni and cheese is stellar. More impressive is that Rotolo slayed the gluten-free dragon, as his Detroit-style take on what's normally a cardboard slab is without a doubt one of the very best in the country.
See the top pizza shops in all of Las Vegas.
Brooklyn, New York
The smallest pizzeria on this list could be a game changer. L'Industrie is a classic Brooklyn slice shop filtered through the mind (and hands) of Massimo Laveglia, a transplant from Florence, Italy. Laveglia combines Italian techniques and flours with the best domestic ingredients he can find. He's fermenting his dough longer and cooking his pies hotter in an electric oven to improve taste and texture, but the upgrades don't stop there. Nobody should walk out without trying his signature slice, which has a hulking dollop of creamy burrata on top, along with fresh basil, a shaving of Romano cheese, and a drizzle of olive oil. This heady mix of flavors and temperatures is wholly unique for a neighborhood spot. Just as impressive is that Laveglia is doing it all within the cramped confines of 450 square feet, so only a couple of people can even fit into the kitchen. Luckily it only takes one person to start a revolution.
Hazel Park, Michigan
Loui's lives in the shadows of Buddy's, the progenitor of Detroit style pizza, the vaguely Sicilian pizza that's currently popping up around the nation. The pizzas are made in aluminum pans with Wisconsin brick cheese that goes all the way to the edge. The sauce goes on the very top, but you'll really know it's Detroit when you see the gloriously burnt, caramelized edges. You can argue over which place has better squares, but Buddy can't hold a carburetor to Loui's experience. What seems like thousands of bottles that once held Chianti adorn the cavernous bar with kitschy lights and a staff that seems like it's been there for decades serving an uninhibited variety Detroit style. There's more cheese, more grease, and a decidedly un-organic sauce that somehow makes the rest of the flavors pop more.
Portland, Oregon
Talk to pizza people about the chef they're most excited about and Sarah Minnick's name is guaranteed to come up. Minnick is the co-owner of Lovely's 50/50, a pizzeria that quickly became a Portland institution. Lovely's pies aren't just seasonal, they're completely dependent on what she liked at the farmer's market that week. That means ingredients and flavors you've never had on a pizza before like roasted kohlrabi, apricot, and even marigold petals, along with a revolving blend of aged, funky cheeses. You haven't had anything like her rustic dough, either. It's a naturally leavened, whole grain variety that's as hearty and wheaty as pizza gets. After dinner, Lovely's 50/50 has one more trick up its sleeve. The other half of the 50/50 is ice cream made from the same organic, farm-fresh ingredients Minnick uses in her pizza.
Winston-Salem, North Carolina
Introducing authentic Neapolitan pizza to barbecue-crazed North Carolinians was a bold proposition, but Mission Pizza's founder Peyton Smith was on, well, a mission. Working out of a wood-fired pizza oven mounted on a trailer, Smith spent years perfecting his craft to offer a pizza just like they serve on the streets of Naples and introducing it into his local market. Besides his obvious drive to succeed, Smith earned laurels for refusing to cut corners and insisting on real deal Caputo 00 flour imported from Italy. Instead of the sweet tomato sauce that might tickle the palate of a typical barbecue fan, Mission Pizza tops its pies with crushed tomatoes, a pinch of salt, and a drizzle of premium olive oil, the way that Jupiter intended. After a fleeting pass through an infernal 900-degree oven, Mission Pizza's pies emerge with a crust that is improbably fluffy and crispy at the same time, with the perfect amount of charred "leopard spots" on the bottom. Dressed with both traditional and inventive toppings, it's enough to make a Carolinian eschew smoked pork—at least for a meal or two.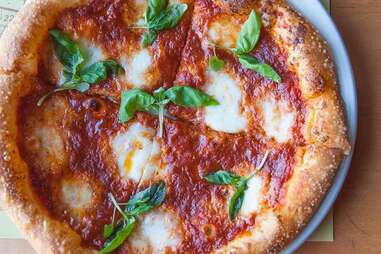 Los Angeles, California
Fifteen years ago, Nancy Silverton unlocked the secret to making great pizza in Los Angeles. As the founder of LaBrea Bakery and the woman who changed the way Americans view a baguette, Silverton developed a dough recipe based on her favorite bread and then put the best ingredients she could find on it. Seems simple, right? The dough process is complicated. Mozza has a true baker's crust that uses a sponge for a starter, as well as a mix of bread and rye flours and some barley malt to give a slight sweetness to the puffy crust. And not everyone can raid LA's farmer's markets for squash blossoms or knows which nooks and crannies of Italy to poke around to find the best olive oil of the season. In the years since Mozza opened, Silverton has gained even more acclaim as one of the country's best chefs. But beyond a few weak attempts in Los Angeles, nobody else has tried to copy her signature style. Maybe it's a sign of respect, but more likely they just can't. Nancy's that good.
See the top pizza spots in all of Los Angeles.

Sacramento, California
Fun fact: Over 90% of America's—and one third of the world's—canned tomatoes come from the farms around Sacramento. And One Speed is the realization of that potential. This unassuming bicycle-themed pizza restaurant in East Sacramento cranks out pies that not only stand above anything in the Bay Area, they could go toe-to-toe with any in New York City. One Speed's menu changes by what's in season at surrounding farms, a very California take on pizza making that harkens back to the old world. The New Jersey Tomato pie with sopressata salami, herbed mozzarella, parmesan, crushed tomatoes, basil, and garlic oil tastes like a dinner scene in a mob movie. While the Rick's pie with Canadian bacon, potatoes, three cheeses, caramelized onions, and salsa verde show that Chef Rich Mahan can combine cuisines and make it work.
Brooklyn, New York
Nobody has a better story—or is more happy to tell it—than Paulie Gee. More than a decade ago, Paulie was a burnt out corporate IT consultant who quit his job and took the biggest gamble of his life. Today he's one of the most celebrated personalities in the pizza universe with the hippest and best pizzerias in Brooklyn (and Columbus, Baltimore, Chicago, and New Orleans.) There's something truly magical about the original at 60 Greenpoint. It's a dimly lit, gorgeous space full of brick, wood, and antiques that people with much better taste than all of us chose. You're welcome to order a margherita that you'll see made in the open kitchen, but the strength of Paulie Gee's is the unique flavors. No place is better at combining elements Americans like about Neapolitan with unexpected ingredients to create new classics. Take the Sake Mountain Way, which features a tomato sauce made with garlic, onion, olive oil, basil, sake reduction and heavy cream. It shouldn't come out so well, but it just does. Such is the second life of Paulie Gee.
New Haven, Connecticut
Is it cheating to combine two different places? Pepe's and Sally's are at the very top of pizzerias in their class, legends that have served oblong, chewy coal oven New Haven apizza for a combined 175 years. They're also a block away from each other and even descended from the same family. Of course, the big counter to that argument is that the two spots excel at radically different pies. Pepe's white clam pizza is legendary. The definitive blend of grated romano cheese, fresh garlic, olive oil, and parsley perfectly highlight the fresh clams in such an absurdly simple fashion that no other pizzeria has been able to match. But Sally's tomato pie is a beautiful mix of tangy canned tomatoes with a dusting Pecorino Romano and fresh herbs. It highlights the flakey char, which is more present at Sally's. So if they're not actually the same, should they really be listed together? Eat them back to back for what could possibly be the best pizza night of your life and thank us later.
Chicago, Illinois
There's classic deep dish like Lou Malnati's, there's stuffed pizza like Giordano's, and there's pan, like Pequod's. When we're really craving a gut bomb, Pequod's is the nuclear option. This OG deep dish slinger serves up buttery pies loaded down with savory toppings and finished with its signature caramelized crust. Pan pizza pioneer and legendary character Burt Katz founded Pequod's before he later opened his own place (Burt's, of course), but since his passing in 2016, Pequod's seems to be the place where his legacy is most alive. The shop in Lincoln Park has the goods, but visiting the original Morton Grove location is an immersive experience. It's like you're in someone's basement-turned-bar that happens to serve one of the most soulful, over the top dishes of all-time. It all feels very Chicago and very Burt, and that's a great combination.
See the top pizza shops in all of Chicago.
Philadelphia, Pennsylvania
When Pizza Brain opened in 2012, it was touted as the first Pizza Museum. There is real history in Brian Dwyer's massive collection of memorabilia, but more than that, it was a reminder how much fun pizza is and how it's intrinsically tied to both communities and popular culture. Today, the script has flipped. All the toys and records and classic photos are still there, but customers aren't there because of the past, but for the pizza present. The shop doesn't serve New York style, it serves "American pizza" with a golden brown crust from a brick oven. A playful, seasonal menu features bahn mi pies, lamb curry, and lowcountry boil-themed pizzas with andouille sausage shrimp, pureed potatoes, and sweet corn. These don't feel like gimmicks though, partly because the crew is talented and partly because the intention behind it is so pure. Pizza Brain has been a constant for Philly's pizza landscape even as the city seems to have more options than ever before, even stronger with its Brewerytown Pizza Dads outpost.
See the top pizza spots in all of Philadelphia.
Los Angeles, California
Daniele Uditi grew up in an artisan bread baking family, working at one of the very best pizzerias in Italy. To some that may be a dream, but he found the rigid Neapolitan codes restrictive. So when he moved across the world to find a new life in Los Angeles, he threw the rules out the window and made something wholly original. On first glance, Pizzana may look like regular Neapolitan, but lift up a slice and you'll notice there isn't anything soupy or floppy about this pizza. The crust is delicate, but it's also more crisp and flavorful than a traditional Neapolitan pie thanks to a hand-mixed dough that is gently fermented and baked slightly longer at a lower oven temperature. Uditi also uses special cooling racks and serving plates that vent the bottom of the crust so the slices retain their structural integrity. Try the Neo-Margherita, a deconstructed version of the classic, or the Cacio e Pepe pie. Leave it to an Italian to re-invent Italian pizza.
Phoenix, Arizona
Nearly 20 years ago, Pizzeria Bianco was already known as the best pizza in the country. How can someone possibly top that? If you're Chris Bianco, the one true Jedi master of pizza, you reach out beyond Arizona and inspire a legion of men and women around the country to make the best pizza they possibly can. You've probably seen the results at the amazing new pizzeria in your neighborhood, but to really understand the pizza renaissance of the last decade, you have to make the trek to where it all started. Bianco cultivates relationships with local farmers and producers who treat the land right and, in turn, treat him right. At Pizzeria Bianco, the tangy mozzarella cheese his team makes in-house works perfectly with his organic California tomatoes, which impeccably pair with the dough his brother makes from local wheat. If you have any doubts, try the Rosa, a rustic mix of Parmigiano-Reggiano, red onion, rosemary, and Arizona pistachios. We argue that it's one of the most delicious pizzas ever invented.
See the top pizza shops in all of Phoenix.
Flagstaff, Arizona
Pizzicletta is a tiny pizzeria owned by Caleb Schiff, a former geologist who fell in love with Neapolitan pizza ten years ago while biking across Italy. Today, he's cooking up one of the most refined, naturally leavened pizzas in the country, on a bustling drag in Flagstaff. Pizzicletta is tiny, with room for just 15 hungry customers, and the menu is even smaller at just five pizzas, but there are enough add-ons on specials to keep it fresh. Schiff makes an amazing margherita, but get more adventurous with the Amore oi Mari—a salty, creamy base of marscapone and pecorino romano set the stage for peppery arugula, thinly sliced prosciutto, and a drizzle of meyer lemon olive oil. Schiff installed a second oven in nearby Dark Sky Brewery, which features a great selection of beers on tap and five new pies on the menu.
Jersey City, New Jersey
Every night there's a certain energy in the line on Grove Street in Jersey City. They're all waiting to get into Razza, a charming neighborhood place that just so happens to serve the very best pizza in the country. Going to Razza always feels like an event, and that's wholly due to the obsessive focus and dedication of chef/owner Dan Richer. He's got a beautiful wood-burning oven in the dining room, but he's not out to make cheffy, ornate pies. He just wants to make food that tastes as good as humanly possible, and in this case it's pizza that's perfectly crisp with a tender, flavorful crumb and crave-worthy toppings. Knowing the terroir of the tomatoes or the rigorous work that goes into prep can heighten the experience, and Richer is an incredibly engaging host who can walk you through the farms he works with or the years of experimentation he went on to make that slice on your plate perfect. But he's even happier if you're simply loving the food.
Boston, Massachusetts
This is when you forego both niceties and toppings and silently snarf the best cheese pizza in town. The gas and toll money is more than worth spending to reach this Eastie centenarian mainstay (forgo the Peabody outlet, unless you're far afield and desperate), which started as an Eastie bakery in 1903 and serves barbecued lamb and steak skewers in addition to pizza. Bonus points go to the inimitable people-watching and the $5 glasses of house wine.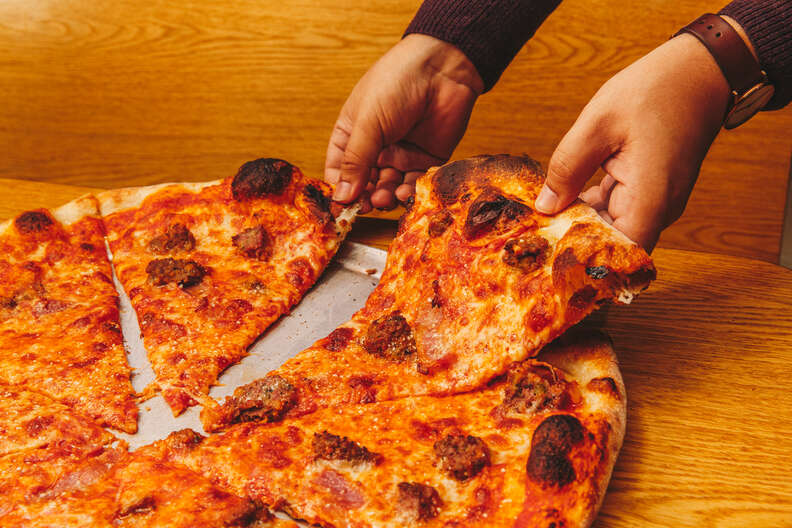 New York, New York
Owner and pizzaiolo Scarr Pimentel grew up in slice joints at the tip of Manhattan. As an adult, he learned the art of NYC pizza crafting at top spots like Joe's, Artichoke, and Lombardi's. And after he noticed the crumbling quality of slice joints in recent years, Pimentel read up on how to open his own place. No pizzeria in America has had a faster rise from upstart to legend than Scarr's. On first glance it seems a classic haunt that has always existed, but the pizza there is a couple steps above the classic slice. This 1980s-themed storefront trades in high quality ingredients, like the signature organic stone-milled flour that creates an airy, yielding vehicle for stringy cheese and flavor-packed pepperoni. In all its kitsch, Scarr's serves up an excellently refined back-to-basics slice.
Nashville, Tennessee
Slim & Husky's calls itself a "pizza beeria," and it does indeed serve up some great pies and cold craft drafts. But more importantly, this chain started by three friends who graduated together from HBCU Tennessee State University targets underserved neighborhoods, often near colleges. The decor inspired by '90s hip-hop-inspired menu features pizzas named Rony, Roni, Rone!, the PREAM (Pizza Rules Everything Around Me) and the vegan Nothin' but a "V" Thang. In just four years, Slim & Husky's has expanded to nine locations, including the only Black-owned restaurant in Nashville's downtown tourist district. Giving back is critical to its mission, whether it's employing neighborhood kids and offering scholarships to hardworking teenage employees or hosting local electoral debates at the shop.
See the top pizza shops in all of Nashville.
Chicago, Illinois
Would you believe some of the best Neapolitan pizza in the entire country is made by a Jewish guy from Chicago? Spacca Napoli owner Jonathan Goldsmith is a social worker turned pizzaiolo who reveres Italian culture. He's fluent to the point where he unconsciously drops Italian into everyday conversation, so it shouldn't be a surprise to learn he trained with the masters of pizza in Naples. That's most apparent in his dough. Every batch is hand-mixed at Spacca, so the pizza comes out as light and pillowy. The toppings are traditional, but he's always experimenting with ingredients like ancient cheeses he picked up on research trips to Italy. Goldsmith never stops experimenting with his dough to see if he can reach new heights, and based on his track record, he probably will.
San Diego, California
Launched in 2016 by a bonafide pizza nerd, this cozy neighborhood spot situated in a former post office pays homage to beloved pies from pizzerias across the nation, like Roberta's in Brooklyn, Pizzeria Bianco in Phoenix, and the food court in Costco (no joke!). Owner Matt Lyons finely tuned every detail of the operation to turn out the best possible pizza, including sourcing a specific brand of flour, splurging on a 1,500-pound wood-fired Renato oven, and installing a reverse osmosis system to make the water just right. Tribute gets bonus points for always coming up with extensive and delicious vegan and vegetarian options, and for special touches like serving Miller High Life in actual champagne bottles sitting inside a stainless steel ice bucket.
Austin, Texas
Sometimes you can't help but crave the type of decadent, greasy pizza that is guaranteed to leave you in a cheese-induced coma on your couch—hey, no judgment on our end. For those moments, there is no better option than the Detroit-style mastery of Austin pizza empire, Via 313. The thick, bready crusts of these pies are perfectly accentuated with the crispiness of caramelized cheese, making every slice the coveted "corner piece" you and your siblings fought over back in the day. Menu newbies can't go wrong with the Meatball, topped with green peppers, red sauce, grated parmesan cheese, and meatballs so on-point they will give your Italian grandmother's recipe a run for its money. And, with multiple locations throughout Austin, you never have to leave that couch for long to grab a pie.
See the top pizza shops in all of Austin.
Chicago, Illinois
The true pie in Illinois is something much closer to Vito and Nick's, the city's first square cut, tavern-style pizza. Vito and Nick's opened as a bar in 1923 and started slinging pie in 1946, and it hasn't changed much since. The crust is firm enough to hold a healthy coating of mozzarella and way too much extra-fatty fennel sausage, but it's more pliant and less crackery than the standard bar pie. Extra points for the ice cold Old Style beer blissful disinterest in the passage of time.
Addison, Texas
Jay Jerrier had great success with his VPN-certified Neapolitan pizzeria Cane Rosso, but when he wanted to do something less formal he brought New York transplant Lee Hunziger in to handle the oven. Zoli's serves up top-shelf slices and Sicilians that don't seem too far removed from the east coast even though they've got shops in Texas. But Zoli's really shines when it embraces its heritage and goes off script. Soppressata marmalades grace more than a few pies, while brisket and BBQ sauce get in the pen with pepperoni on the Meat Fight pizza. "Everything is bigger in Texas" may be a cliche at this point, but Zoli's embraces it with specials like the double-crust Meatzilla, loaded with a shocking amount of pepperoni, meatballs, soppressata, and sausage. Sometimes "too much" is just the right amount, and Hunziger and Jerrier have paved their own lane in the pizza world—including their newest Dallas offshoot, Thunderbird Pies.
Editors: James Chrisman, Kelly Dobkin, Danielle Dorsey, Meredith Heil, Jess Mayhugh, Liz Provencher, and Tae Yoon

Writers: Mary Beth Abate, Meaghan Agnew, Daisy Baringer, Chris Chamberlain, Melissa Kravitz-Hoeffner, Matthew Meltzer, Molly Moltzen, Lance Roberts, and Nicole Rupersburg