Baltimore natives -- myself included -- are used to being told it's just a stopover city, a place to pass through on the way from DC to New York. And, sometimes, we relish in that. We have so many well-kept secrets here that, often, it's nice to enjoy them for ourselves, while our public image remains a smattering of John Waters' antics and The Wire reruns.
But, we've come to a boiling point, it seems, where even we can no longer keep the lid on the great places our city has to offer. Of course, we have James Beard-nominated chefs and one of Esquire magazine's favorite bars, but if you dig a little deeper, there are tons of other innovative restaurants (many the size of a tiny rowhouse), bona fide cocktail bars and craft breweries, and, yes, bushels of local seafood to sample -- though we show you that crabs aren't the only Chesapeake Bay creature worth consuming.
So, next time you're road tripping on I-95 and you spot the neon, winking Natty Boh sign from the highway, consider a slight detour.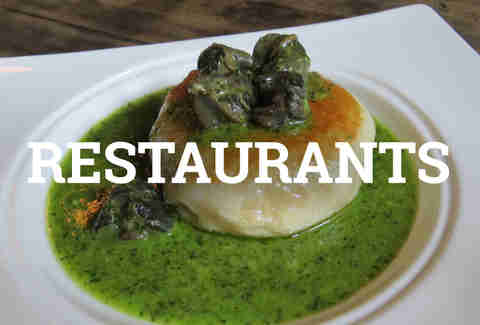 Maggie's Farm (address and info)
Lauraville
In Northeast Baltimore, on an unassuming corner of Harford Road in Lauraville, you'll find Maggie's Farm. The red-hued bistro features upscale, comfort-y starters like farmstead cheese plates and a fried green tomato & soft-shell crab dish, plus half-entrees and a "dirty hipster burger" with less dirty, but no doubt hipster toppings like kale slaw, bone marrow jam, and a fried egg.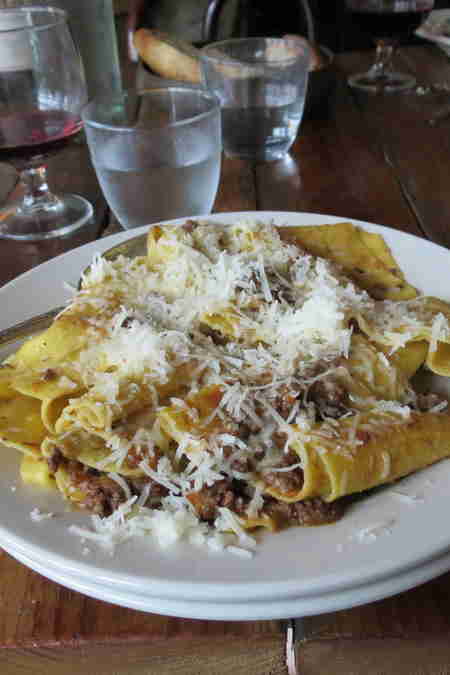 Bottega (address and info)
Station North
The intimate space used to be a home for underground punk shows, but it now houses Bottega, a tiny (we're talking 15-seat) BYOB restaurant in Station North. The Tuscan-influenced menu changes daily, but the last time we were in, owner Adrian Aeschilman informed us they just got a hog, which meant stellar pork cheek with parsnip and rapini hash, alongside mushroom and chèvre crostini, and pappardelle Bolognese.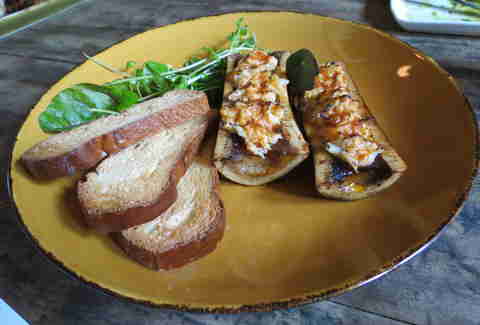 Fork & Wrench (address and info)
Canton
Local chefs and bartenders consistently name Fork & Wrench one of their favorite spots. This Canton restaurant suits a lot of needs -- whether it's the dive-bar inspired drinks (including a pickleback popsicle!) crafted by Shana Leachman or the out-of-the-box cuisine by chef Cyrus Keefer. Find everything from pierogi ravioli with pickled ramps to kale braised with pork jowl to the you-have-to-get-this-so-just-do-it escargot bun -- think a calzone that has the texture of a pork bun and is stuffed with provolone, caramelized onions, and escargot butter, then topped with the French snails. It may sound weird, but IT WORKS.
Jong Kak (address and info)
Charles Village
"Little Korea" may be a bit of a stretch, but the section of lower Charles Village near Maryland Avenue and West 20th Street is home to authentic restaurants and even has Korean newspaper boxes on the corner. Our favorite is Jong Kak, because it's open until 4am and has authentic charcoal grills. This place isn't fancy: a helpful server (who will lead any novice in the right direction) fans the coals with a hair dryer and cooks kalbi and bulgogi, while the diner slurps up the flavorful and spicy jjigae stew with pork, tofu, rice cakes, and kimchi.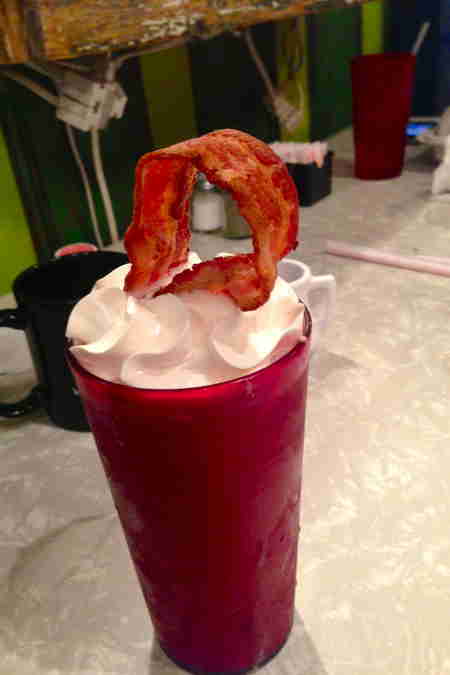 Papermoon Diner (address and info)
Charles Village
Papermoon is right near Johns Hopkins' main campus, though there's nothing buttoned-up about it. The décor is reminiscent of an acid trip, with Pez dispensers, action figures, and manikins glued to just about every surface. This eccentricity is reflected in the menu, which includes items like a bacon milkshake, Bananas Foster French toast, and a variety of TV dinners. Though it's no longer open 24 hours (but until 2am on weekends), it's damn entertaining any time of day.
Peter's Inn (address and info)
Fell's Point
A former farmhouse, Peter's Inn was also once a rowdy biker bar in the '80s and '90s. But when Bud and Karin Tiffany took it over in 1998, they started turning out extremely legit cuisine. The biker edge still lives on in its quirky decorations (a giant swordfish, pictures of Jesus) while the weekly rotating menu is decidedly un-Sons of Anarchy: soft-shell crab with orange hollandaise, burrata with oven-roasted tomatoes, and signature steaks.
Union Craft Brewing (address and info)
Woodberry
Though Union Craft Brewing just opened in Woodberry in 2012, it has quickly become a staple in the local craft beer scene with its signature Duckpin Pale Ale (an homage to a local version of bowling), Balt Altbier, and Blackwing Lager, among many others. These are best enjoyed straight from the source in the brewery's taproom Thursday and Friday evenings, when the parking lot outside Union becomes a party scene with live music, games of cornhole, and food trucks.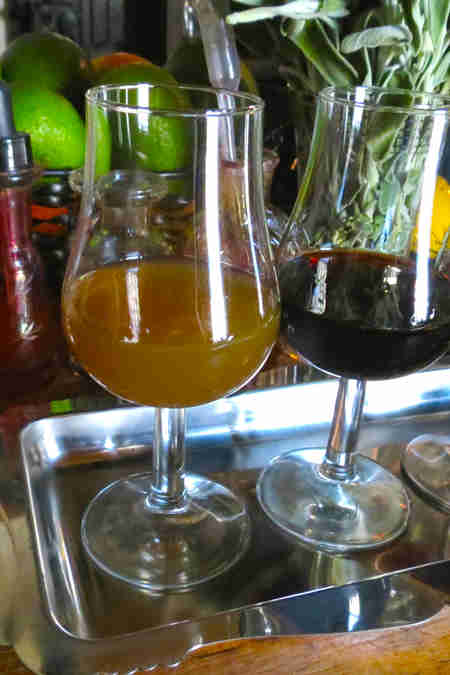 W.C. Harlan (address and info)
Remington
On a discreet side street in Remington, you'll find W.C. Harlan, a cocktail spot with the feel of a 1920s Parisian bar. Under low-lit chandeliers, bartenders in retro-flowery dresses pour well-made drinks like the stellar Old Fashioned with James E. Pepper 1776 Rye and a cinnamon cherry. Your beer choice here is simple (just light or dark) and don't miss the Amaro flights, where the Italian liqueur is served three ways, including a housemade version with local honey.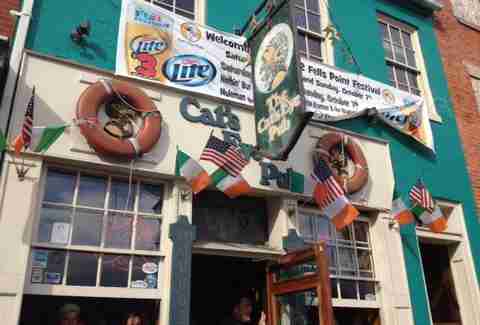 Cat's Eye Pub (address and info)
Fell's Point
When we visited Cat's Eye Pub on a recent Saturday afternoon, we heard one of the bartenders Rob pick up the ringing telephone and say a familiar phrase: "Yes, we have live music 365 days a year." Though hard for some to imagine, Cat's Eye, which has been around since the '70s, never takes a night off. This afternoon, it's local blues band Nothin' But Trouble rocking on the small stage, but the bar -- filled with Irish, nautical, and musical décor -- hosts talented bands of myriad genres from classic rock to zydeco.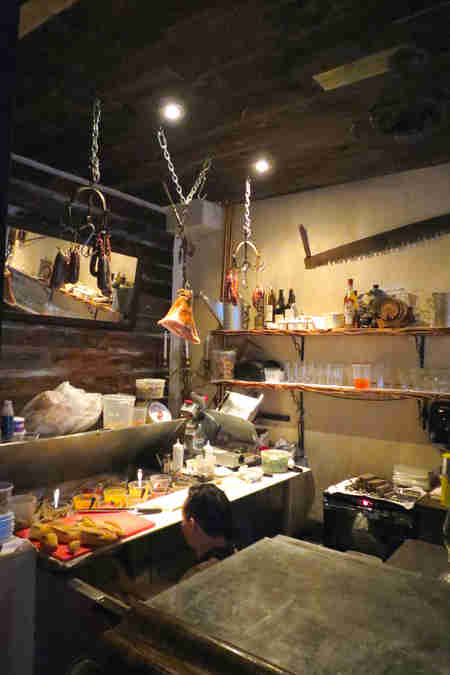 The Other Corner Charcuterie Bar (address and info)
Hampden
You know a bar is going to be good when you see meat hanging from the walls. The Other Corner is an offshoot of its neighbor, the upscale Corner BYOB restaurant in Hampden. The concept is simple: well-made cocktails, expert charcuterie plates, and select food from the kitchen next door.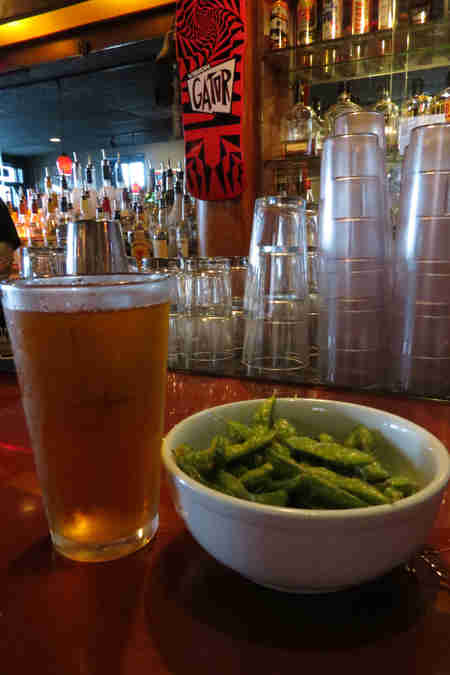 Johnny Rad's (address and info)
Fell's Point
This pizza pub at the cross-section of Canton, Fell's Point, and Butchers Hill fulfills all of our adolescent dreams with punk rock on the stereo, skateboards on the walls, and a diverse-but-approachable beer selection. Sidle up to the shiny red bar, and you're sure to strike up a conversation with any of the tattooed bartenders (Adam and Randy are among the best). Beers -- like Mama's Little Yella Pils or Union's Balt Alt -- come in a lot of canned varieties here, and, at some point, you're going to end up playing a round of skee-ball in the back.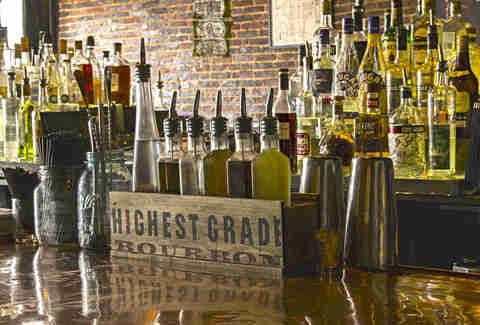 Rye (address and info)
Fell's Point
Rye is a respite from some of the more aggressive partying that goes on in Fell's Point. The narrow bar, with purple velvet lounge chairs and Edison light bulbs, is where to go if you want a Manhattan made right. Co-owner Doug Atwell creates an ever-evolving list of cocktails including our favorite, the Brown Derby (Bulleit Bourbon, honey syrup, and grapefruit). There are also canned beers, salty snacks, and a menu of $7 shots, perhaps to remind you that, after all, you are still in Fell's Point.
Thames Street Oyster House (address and info)
Fell's Point
For a different kind of regional seafood, head to the bright and airy Thames Street Oyster House, located on the main strip in Fell's Point. Of course, there's a raw bar with plenty of oysters to choose from, but don't sleep on the New England offerings like Block Island scallops or the lobster roll on a buttered bun, filled to the brim with tail and claw meat. To wash it all down, order an Orange Crush (vodka, fresh-squeezed OJ, and crushed ice) from Tommy and enjoy it on the peaceful back patio with stringed lights overhead.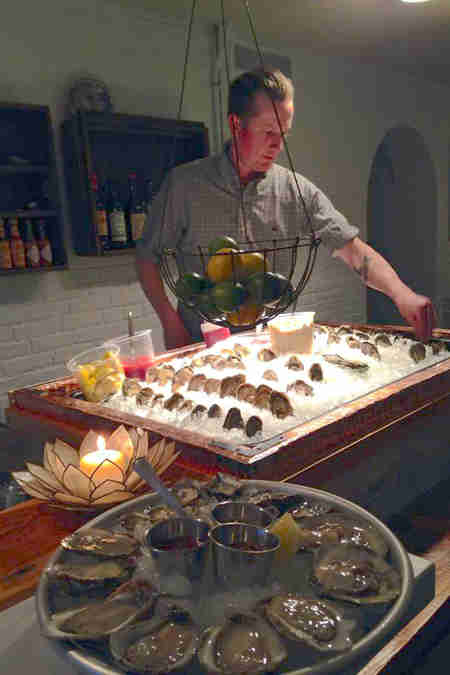 Dylan's Oyster Cellar (address and info)
Mt. Vernon
This basement pop-up shop is owned by nearby Dooby's Coffee and the concept is pretty straightforward: fresh, local oysters with complementary cocktails, wine, and beer. That's all they sell. But Dylan Salmon is an oyster expert (who formerly shucked at Ryleigh's) and has a story behind every mollusk he serves. Similarly, bar manager Adam "Slippy" Estes makes ideal cocktail pairings like the Cellar Sour with vodka, egg whites, orange bitters, simple syrup, and lemon juice. And, if you're not feeling fancy, there are always $2 Natty Boh cans.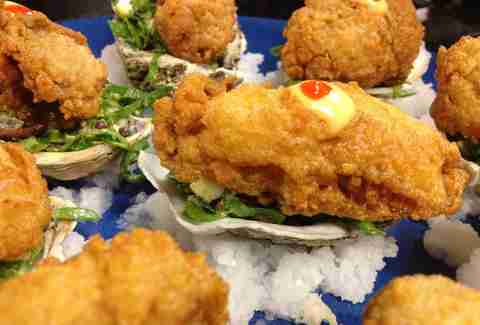 Ryleigh's Oyster (address and info)
Federal Hill
This two-story bar in Federal Hill (they also have a new location in the 'burbs) has a huge, iced raw bar that runs the length of the restaurant and great dishes like soft-shell crab with avocado and chili sauce and grilled corn with feta cheese and Old Bay (the state's signature spicy seasoning). The best time to go is during happy hour (3-7pm on weekdays) when oysters are $1, draft beers are $3, and people-watching from the patio is ideal.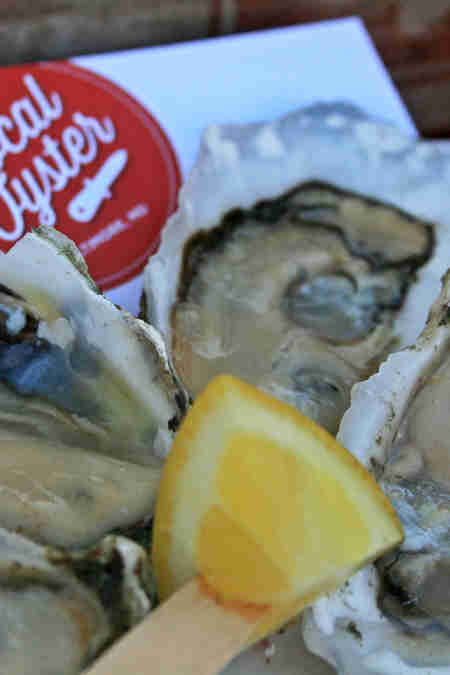 The Local Oyster (address and info)
Various locations
All it took was one party for us to fall in love with The Local Oyster, a traveling bar that only offers regional mollusks from the DelMarVa area. Nick Schauman and his team of shuckers always have smiles on their faces (and Orioles caps on their heads), as they wax poetic on each oyster's origin and flavor. Once you find the bar's location on social media (or hire them for a private party), don't shy away from the housemade toppings and sauces and, if you have the right beverages on hand, a well-crafted oyster shooter, as well.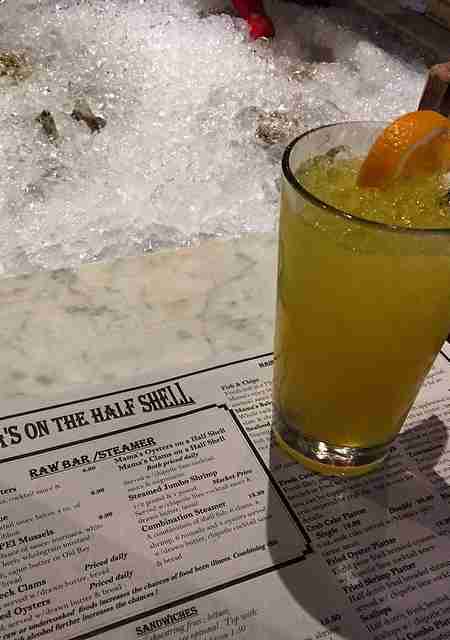 Mama's on the Half Shell (address and info)
Canton
Back in 1994, before Canton was a gentrified neighborhood, there were only a few bars on the square including the Mexican, Natty Boh-lovin' Nacho Mama's, owned by the late Patrick "Scunny" McCusker. Nearly 10 years later, McCusker opened a sister seafood restaurant down the street, and it didn't take long for Mama's on the Half Shell -- with its granite raw bar and colossal crab cakes -- to also become an institution.
Faidley's Seafood (address and info)
Downtown
To truly get to know Baltimore is to visit its public markets, and Lexington Market is one of the largest, continually run markets in the country (though, we admit, we're excited about its impending, much-needed facelift). The most popular stall is Faidley's Seafood, where a crowd always gathers to get fist-sized crab cakes handmade by Nancy Faidley Devine herself. But there's also the local "delicacy" lake trout, soft-shell crabs, clams, and, of course, oysters. In fact, a sign above the stall proclaims, "Forget Viagra, eat oysters."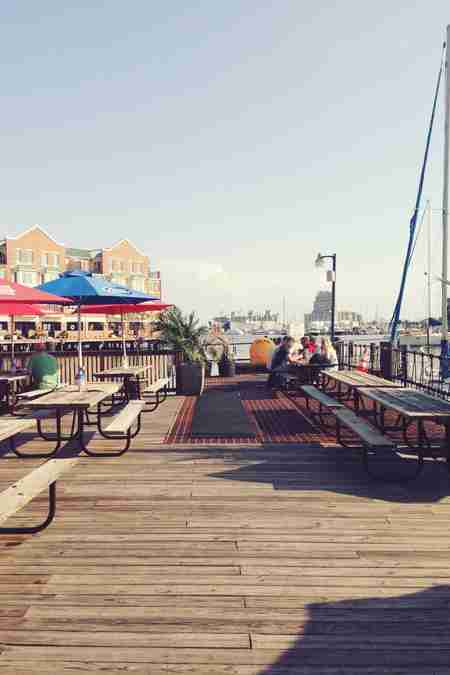 Captain James Crab House (address and info)
Canton
If you're driving along Aliceanna Street between Fell's Point and Canton and you see a giant ship that has surfaced on land, you're not hallucinating. That ship is home to Captain James Landing and, just across the street, is its outdoor crabhouse. Located right on the waterfront promenade, Captain James' crab deck is close enough for patrons to dock a boat and enjoy steamed crabs, buckets of beer, and authentic Boardwalk fries (a snack franchise started out of Ocean City, Maryland).
L.P. Steamers (address and info)
Locust Point
The tops of downtown row houses are peppered with roof decks, which make amazing spots for watching fireworks or, in the case of L.P. Steamers, cracking blue crabs. Located in the historic neighborhood of Locust Point (hence the L.P.), this seafood restaurant does crabs right -- serving them sweet and meaty and dusted with plenty of Old Bay. There are tons of other delicious seafood options, like scallops, lobster, and oysters, but we recommend sticking with the staple -- a side of hush puppies won't hurt either -- and enjoying them on the wooden deck with a skyline view.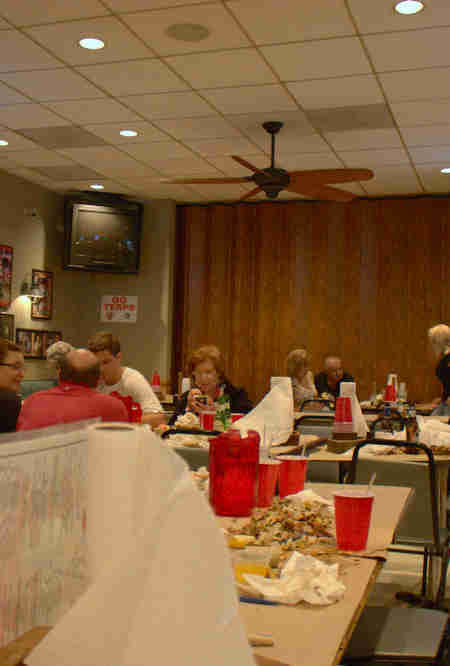 Mr. Bill's Terrace Inn (address and info)
Essex
Located in the waterfront community of Essex, Mr. Bill's Terrace Inn provides a no-frills, authentic crab-eating experience. Complete with brown craft paper on the tables and pitchers of beer flowing from the bar, this spot proves you don't have to be fancy to have high-quality food. From the plethora of seafood appetizers (we love the combination of Maryland crab and cream of crab soups) to the main meal hard-shells dusted with housemade seasoning, Mr. Bill's is the real deal. And that means no pliers, bibs, or cups of butter.
Riptide by the Bay (address and info)
Fell's Point
There's an atmosphere for everyone at Riptide by the Bay in Fell's Point -- whether it's the back dining-room booths for a more intimate meal or up-front in the bar where live, acoustic music is being played most nights. But our favorite nook is the bar's breezeway, where a narrow alleyway has been transformed into an outdoor dining space. Though steamed blue crabs are the main attraction, try out other items like crap dip, crab mac & cheese, and crab cake sliders, which all properly do the seafood justice.