11 Next-Level Popsicles for Shameless Grown-Up Indulgence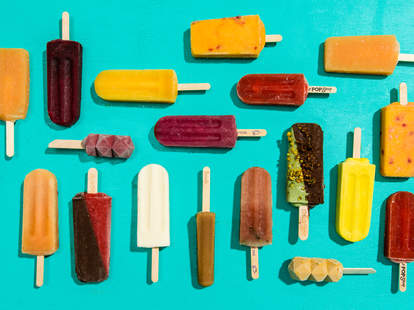 Unless you grew up in some perpetually snow-covered tundra, gorging yourself on popsicles was inevitably the cornerstone of your childhood summers. But why leave those sticky-sweet wonders in the past? Live out your deepest nostalgia-fueled cravings while steering clear of that red dye number five with these 11 adult-worthy frozen delights.
Cole Saladino/Thrillist
This NYC-based company has taken summer's go-to pick-me-up to new levels with this frozen treat. Made with organic milk, spiked with cold-brewed coffee, and finished with a touch of sugar, this has all the buzz of a New Orleans-style iced coffee but is a heck of a lot more refreshing. And even if sucking down a creamsicle on your morning commute might get you a few stares, anyone who's trudged to work in 100+ degree weather knows a little ridicule is nothing compared to that sweet relief.
Cole Saladino/Thrillist
If romance movies taught us anything, it's that there's nothing more luxurious than eating chocolate-covered strawberries and sipping Champagne while lounging in a giant bubble bath. But who wants to soak the day away indoors when you can recreate the scene poolside with Popbar's ultra-posh dark chocolate-dipped strawberry sorbet pops while simultaneously working on your tan? It's a true summertime win-win.
La Newyorkina's diverse fleet of upscale paletas, made by hand with natural ingredients, are sure to blow any bodega cocopop straight out of the water. A stimulating mix of pulpy Mango and Chamoy, a tart, salty, and somewhat sweet pepper sauce popular in Mexican cuisine, this icy-hot flavor combo pays heed to the popsicle's native roots while delighting New York chile fanatics of all backgrounds.
Cole Saladino/Thrillist
Who says you can't have your booze and eat it, too? Fruta's determined to make all your Spring Breaker ideas a reality with this frosty blend of watermelon juice, fresh mint sprigs, bright lemonade, and top-shelf vodka. And at less than 5% ABV, you can definitely have your fill and still keep your footing atop that next killer swell. Cowabunga, dude.
There are few things Michigan natives take more pride in than their Vernor's (sorry, Tigers fans), touted to be the oldest surviving ginger ale brand in America. The beloved soda translates beautifully into this tangy, slightly peppery, and sweet-but-not-too-sweet ice pop that tickles the tongue just like the notoriously bubbly soft drink. The shop also offers a Faygo Red flavor, but since this list focuses on more refined selections, we'll save that one for the Juggalos.
Cole Saladino/Thrillist
Can't afford a trip to Thailand this summer? Let your tastebuds do the traveling with Pop Nation's icy riff on the classic Thai iced tea. Backed by a rich coconut milk base, this decidedly grown-up pop is packed with a garden-full of flavor, including infusions of turmeric, lemongrass, Kaffir lime, ginger, and just a pinch of fiery cayenne to round out the herbs and temper the sweetness. All that's missing is a motorbike and a couple of Singhas.
Based out of Florida, the popsicle peddlers behind the Hyppo are no stranger to muggy weather. And, as one might expect, this cooling mix of fresh cukes, puckery lemon juice, fragrant mint, cane sugar, and a dash of sea salt has everything it takes to shine underneath the summer sun's brutal rays. Find a shady spot near some crashing waves, pair a few of these pastel-hued bad boys with a beachside cocktail or two, and watch your citified troubles melt away quicker than a popsicle in July.
Cole Saladino/Thrillist
North Carolina pioneers LocoPops has been churning out gourmet popsicles fit for palates of all ages for a decade now, finally finding a home base in Durham in 2014. Their Mexican-inspired lineup comes in a boatload of different flavors, including vegan options and even a pop especially for pups, but none is more geared towards Bull City's finest than the decadent lavender cream. Described as an "edible trip to Provence," this lush, calming cooler smells just good as it tastes.
When it comes to grown-up popsicles, savory is often the name of the game, and these velvety suckers from Aiko lead the pack with style. A masterful balance between crisp citrus and soothing avocado, downing one or two of these is almost like getting a full serving of your daily fruits and veggies -- except, you know, way, way more fun.
Cole Saladino/Thrillist
Remember Push Pops? Well, kiss Barney Rubble goodbye and say hello to the Southern Belle, an adult-friendly version of that cylindrical ice cream truck favorite. This sugary mix of sweetened iced tea, fresh peach puree, lemon juice, and, of course, premium bourbon, is kind of like those SoCo shots you used to slam in college. OK, it's exactly like those SoCo shots, but somehow the frozen element -- not to mention the hipster-friendly packaging and all natural ingredients -- make the experience feel a whole lot classier.
Cole Saladino/Thrillist
Both healthy and delicious, Matcha is trendy for a reason, and these sleekly designed geometric pops, imbued with Panatea Ceremonial Matcha, coconut milk, coconut palm sugar, sea salt, olive oil, and vanilla bean are case and point. The coconut's earthy sweetness softens the green tea's satisfying bite while layers of sea salt and vanilla add a sophisticated finish for an all-around soul-hugging experience.
Sign up here for our daily Thrillist email and subscribe here for our YouTube channel to get your fix of the best in food/drink/fun.

Meredith Heil is a freelance food, drink, and travel contributor for Thrillist. She used to cruise the parking lot, get treats from the truck. Bad boy, now she's all grown up. For chill vibes, see @mereditto.