Chain Restaurant Quesos, Ranked
Queso is not new. It has been a beloved regional staple for almost a century, it's been lining your grocery store shelves for decades (Tostitos' queso ain't bad, man), and some restaurants have had the cheesy dip on their menu for decades. But in the past year, a number of chains including Taco Bell, Del Taco, and most recently, Chipotle, have all rolled out versions of queso on their menus. (Though it appears Taco Bell has already discontinued its version, RIP.) All of a sudden, queso is having what some would call a moment.
For the doomsday preppers out there who've been too busy stockpiling cans of Chef Boyardee to care about real food, queso is the shortened colloquialism for chile con queso, a velvety, spicy, chili-flecked pool of liquid processed cheese that defies all scientific law by staying the same consistency at its boiling and freezing temperatures. The most basic formula for queso -- and we're talking, like, the most basic -- is Velveeta microwaved with Ro-Tel tomatoes. Some people swear by topping it with pico de gallo, or sour cream, or guac, or chili, but that's all beside the point. You got processed cheese, you got some acidic-and-spicy vegetable mixture, and that's queso.
It's hard to say why all these chains decided to make queso at the same damn time. Maybe our fast-food chains have exhausted all their regional American options, and they're circling back to Texas to find that, yeah, when they introduced that fajita chicken sandwich back in '90s, they totally forgot to exploit the possibilities of queso, too. But hey, why question a good thing? More liquid cheese in the world is a great thing for everyone.
But just because queso is made from melted cheese doesn't mean every version is incredible. So we ate our way through seven chain restaurants to see which cheesy dip is the most worthy of your tortilla chips.
7. Del Taco
You have to manage your expectations when analyzing a restaurant that offers three tacos for $1.29 (every Tuesday until further notice). There is a time and place for Del Taco, and that time and place is generally after 11:30pm and you're likely stoned. Whether or not their new queso blanco fits into that time and place is up to you.
The queso blanco is very, very bad. It comes served in a tiny plastic cup that looks like something octogenarians in a convalescent home would use to knock back their daily pill assortment. It is almost translucently white, a shade less opaque than Elmer's Glue, and it tastes like nothing. If a tiny cup of goopy nothingness is your thing, then, yeah, go for it.
6. Moe's
You know how black holes are so black that they actually absorb the surrounding light? (Please don't fact check me paraphrasing something a teacher told me in the third grade). Well, Moe's queso is so white that it actually emanates light; you could take a bowl of Moe's queso spelunking and you'd have a semi-organic flashlight. Seriously, this stuff is unnervingly white, and, in a way, tastes unnervingly white. You get notes of milk right off the bouquet, followed by a milky feel and a heavy milk finish. This is basically pepper milk, but an appropriately textured pepper-milk, so it does have that going for it.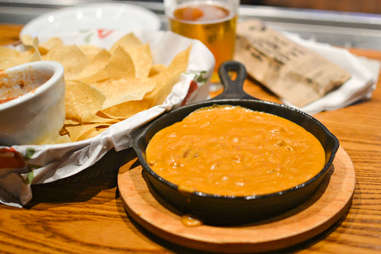 5. Chili's Grill & Bar
I am not totally sure what is going on with the queso here. It's burnt orange. There are large chunks of beef in it. A millimeter-thick membrane site on top. You can't really taste any cheese but you're drinking a Coors Light alone at the Chili's bar at 2pm on a Tuesday, so who cares? If I had to guess, I'd say the restaurant blended straight-up, from-a-can-style chili into a cheese sauce, threw it in a skillet, then popped it into an oven for 15-35 minutes until a nice film developed on top. In fairness, there are much, much worse ambiguous brown liquids to dip a bottomless basket of chips into. This one just doesn't taste that much like queso.
4. Chipotle
Chipotle's queso (which hasn't received many rave reviews) is conceptually flawed, and by strict definition it may not even be considered queso. The silken texture of legit queso comes from the science-wordy emulsifiers in processed cheese. Since soy lecithin and sodium alginate are no-nos at Chipotle, they instead use corn starch and tapioca starch to bind Cheddar with milk. That makes their queso more of a spicy cheese gravy. And that would be cool if it was a perfectly executed spicy cheese gravy, but it's not.
You can tell there was some serious recipe testing involved, and the flavors are complex and spicy and fragrant and that part is all good. The problem is, all those flavors come in a lumpy, jiggly, starchy cesspool that, even after hours on the steam table, manages to have unmelted shreds of cheese in it. It won't be satisfying your chips-and-queso craving in the slightest, but it is tasty enough to grease up the rice in your burrito.
3. Qdoba
The man in front me in line ordered a shrimp burrito, no rice, no beans, add fajita veggies and queso, and nothing else. This has nothing to do with the efficacy of Qdoba's queso -- I just want you to know how much I respect the personal tastes of this total stranger. The texture on the classic queso (they also offer Buffalo bacon queso and a diablo queso, but no one has time for that kind of shenanigans) is pretty spot on.
It's silky, there's some good viscosity to it, and there's an appropriate pepper-fleck-to-goo ratio. It's a little bit short on spice and salt, but I did get a fresh batch that had been sitting underneath plastic wrap in a warming box, which means some condensation water may have diluted it. After a few hours of gentle evaporation on the steam table, those flavors are going to intensify, and this will be a very solid bowl of fast-casual processed liquid cheese.
2. Baja Fresh
Baja Fresh had a better queso showing than they did a Tuesday-catered-lunch-showing at my first internship in college. The queso was served piping hot, there was a punch-to-the-face of cheese flavor, and a deep bass line of dusky dried chili heat running throughout the whole bowl. With each bite you discover a new layer of flavor. Never thought I'd be able to say that about Baja Fresh.
Plus, they have one of the better salsa bars in the fast-casual game right now, and you can customize the queso with any amount of salsa-floaters on top (for real, slap some salsa de molcajete on there, that stuff is fire). While it wasn't perfect -- Baja Fresh's queso was a little bit on the thin side -- it was still really good. You can't fake flavor like that. Good on you, Baja Fresh.
1. Buffalo Wild Wings
You never expect to walk into a B-Dub-Dub at 11am on a Wednesday and have your world completely rocked. But here we are. Of all national/semi-national chain restaurants, Buffalo Wild Wings had the closest approximation of a perfect queso.
And it's the little things that matter, really. The queso bowl is served surrounded by a crown of chips so everyone around the table has equal access. There's a garnish of pico de gallo and the tiniest little spoonful of chili con carne floating on top, both giving you the ability to customize each bite, and making you feel like a loved and respected human whose presence and money is important to a large corporation.
As far as the actual liquid gold is concerned, there's nothing distinctly special about it. But maybe that's the point of good queso. It's lush and velvety, it tastes like processed cheese and pickled jalapeño juice, and there's some nominal pepper chunks in there. Perfection can be found in simplicity.
Sign up here for our daily Thrillist email and subscribe here for our YouTube channel to get your fix of the best in food/drink/fun.