Slurp Down Some Noodles at These Charleston Ramen Spots
What was once believed to be nothing more than a poor college kid's last-ditch meal, ramen has transformed into a trendy dish in the most posh U.S. food scenes. The ramen we're talking about is so much more than a sodium-filled packet of flavorings and a hard brick of noodles. No, chefs throughout the country have reached back to this dish's Japanese roots to create comforting bowls full of delicious salinity, from the traditional to the trendy. And, Charleston is just as ramen-crazed as its bigger city counterparts. As new chefs flock here by the week (or so it seems), Charleston is now home to plenty of places to get steaming bowls of ramen -- and no two are the same.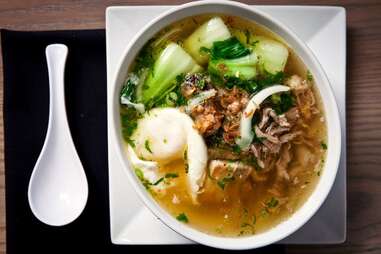 Downtown
Although CO owner Greg Bower has brought his authentic Vietnamese eats to other Southern cities like Atlanta, Savannah, Charlotte, and Raleigh, the Charleston spot was his first location. This swanky, two-story restaurant on King Street features a menu crafted by Chef Masanori Shirashi with items like banh mi, beef and kimchi dumplings, and curry laksa. But the star of the menu is the Vietnamese ramen. If you're looking to slurp down some noodles while exploring downtown Charleston, CO is your spot. A hearty pork broth gives the Vietnamese ramen a flavorful base mixed with traditional egg noodles and topped with bok choy, pork belly, shredded pork, and a perfectly poached egg.
Folly Beach
A favorite haunt for locals and visitors, Chico Feo is a funky surf shack cafe on Folly Beach. A beachside eatery might be the last place you'd expect to find great ramen, but this place is famous for its Wu-Tang ramen bowl. Though the items on this eclectic spot's menu rotate frequently, this staple remains, because its smoked pork broth gives the dish a distinct flavor especially when combined with the sweet and savory taste of caramelized pork belly. Pickled mung beans and house-made kimchi add a tangy element, while a soft boiled egg and roasted vegetables pay homage to more traditional styles of ramen.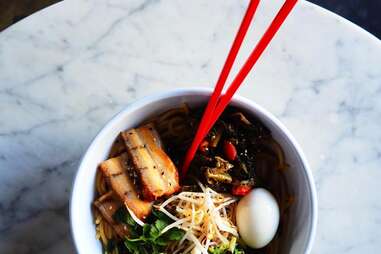 Downtown
If you're looking for a lot of variety in your ramen bowl, Warehouse is the place to go. Aside from a few appetizer options, Warehouse's entire menu centers around creating your own personal dream ramen bowl. Incorporating an array of Southeast Asian ingredients, Warehouse's ramen has a more Americanized style while still using elements like mung beans, kimchi, and bok choy. First, choose your style: black garlic tofu with edamame, five-spiced pork belly with braised collards, togarashi shrimp with bok choy, Thai chili turkey meatballs with blistered shishito peppers, lemongrass chicken with ginger carrots, or Korean BBQ short rib with pickled mushrooms. For a hearty, comforting base, opt for the traditional beef bone broth or go vegetarian with the umami flavored miso and vegetable broth. Warehouse even gives you the option to select alkaline noodles or flat rice noodles. If you're feeling adventurous, you can also add kimchi, a soft boiled egg, jalapeños, or chili oil to take the heat up a notch.
Park Circle
Once known as the Short Grain food truck, Jackrabbit Filly is a new permanent restaurant in North Charleston. Though the menu has slightly expanded, Jackrabbit Filly still offers all of its favorite items, including traditional and nontraditional ramen options. The duo behind the spot, Corrie and Shuai Wang, also pioneered an annual pop-up event called Ramen with Friends, which brings together top local chefs to create their own unique take on the dish. Keep a look out for this year's event featuring another favorite southeast Asian kitchen, Pink Bellies.
Downtown
Former chef at Tu and Xiao Bao Biscuit, Jamey Fairchild debuted a new pop-up concept in August to bring his knowledge of southeast Asian cooking to the table. While the menu at his pop-up is always changing, Fairchild often whips up a type of ramen dish called ba mii nahm bpet that uses a roasted Peking duck broth as the base instead of more traditional pork. The handmade alkaline noodles are a classic choice and sliced duck and chili duck fat adds a delightfully savory protein. To top it all off, the dish features mung beans and gai lan (also known as Chinese broccoli). Gingerbug frequently adds other types of noodle bowls to its menu including a vegan Buddhist-style pho chay and Kuaytiaw Kai tuun, a southeast Asian take on chicken noodle soup. Catch Gingerbug every Monday at Tu starting at 5:30pm and every Thursday at Big Gun Burger Shop at 4:30pm.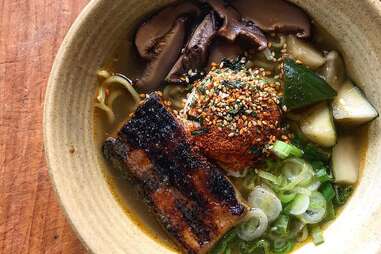 Downtown
Another ramen pop-up, 2Nixons takes over the kitchen of Proof every Wednesday, Friday, and Sunday, giving you tons of opportunities to slurp up some of the best ramen in the city. Since 2015, chef Jeffrey Stoneberger has been working to create modern twists on traditional ramen dishes. Prepared in the shoyu style, his ramen dishes use soy sauce to give the broth more of a savory spin. 2Nixons's does add a bit of pork belly to its chicken-aged shoyu ramen along with an egg, pickled tomatoes, malted shiitake mushrooms, and pickles. For a meatless option (and the best dish to reheat the for breakfast or lunch), the shiitake garlic shoyu ramen features all of the same vegetarian toppings.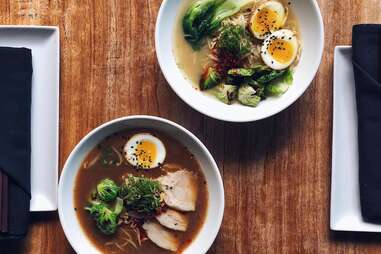 Downtown
This trendy Japanese eatery is best known for its fresh makimono (rolled sushi) and tartares. But, every weekend, the kitchen strays away from its typical offerings to bring late-night ramen to its diners. Whether you're looking to soak up booze between bar hopping or need a noodle nightcap, you can pop into O-Ku on Fridays and Saturdays from 11pm to 1am for a taste of its traditional ramen bowls made from beef or veggie broth -- and topped with pork or a soft-boiled egg along with bok choy, Brussel sprouts, and mung beans.
Sign up here for our daily Charleston email and be the first to get all the food/drink/fun in town.