Paid Content For
Frito Lay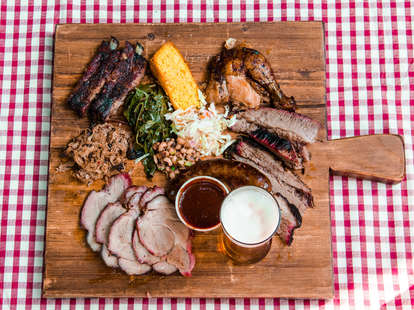 Andy Kryza/Thrillist
Andy Kryza/Thrillist
Although the dogmatic borders dividing barbecue regions are slowly starting to dissolve, the fact remains that if you want the very best, you need to go to the source.
But once you find yourself in legendary barbecue cities like Austin, Memphis, or Kansas City, the options for meals are nearly limitless. So to separate the moist from the lean, we tapped experts in each of America's essential barbecue regions to give us the slow and lowdown on the best place to score each area's signature meats. Some wrote lengthy treatises on the merits of their favorites, while others trimmed the fat and went straight to the meat of the matter with a simple recommendation. Read on to add a few more spots to your checklist of barbecue meccas.
Texas is obviously all about brisket, but after that, the Lone Star State's most important meats are up for debate. Our Texas expert, Jess Pryles aka BurgerMary, took the following stance: "The holy trinity of Texas BBQ for me is brisket, sausage, and beef rib. Many will argue that it's supposed to be pork rib, but as far as I'm concerned, beef is king in the Lone Star State. A colossal Flintstones-esque bone-in beef rib is the essence of BBQ porn, and reinforces the unofficial state motto: everything is bigger in Texas."

Austin
"There's an 'F-word' in town that involves three- to five-hour lines for barbecue. My personal policy is that no one should ever line up that long for food unless it's wartime and you have have food stamps in your hand. So taking that variable out of the equation, my pick for best brisket goes to Freemen's in Austin. A thick crust of bark that is impossibly black, yet somehow not burnt gives way to fabulously tender and juicy meat. There's a tiny window for brisket where it goes from underwhelmingly undercooked to a falsely tender state of overcooked mush, and when a pitmaster consistently lands it in the magic zone, as Evan LeRoy does, it becomes the stuff of legend."
Runner up:Micklethwait Craft Meats (Austin)

Taylor
"BBQ in Texas is a religion, so it seems fitting to worship the beef rib at the Cathedral of Texas Barbecue, Louie Mueller in Taylor. Originally offering short ribs, they now serve up enormous plate ribs cut from the middle section of the rib cage, which yield strands of tender beef that pull away from the bone with the mere push of a plastic fork. Red-meat nirvana."
Runner up:La Barbecue (Austin)

Lockhart
"When your sausage is so popular that other barbecue joints use it, and Shake Shack creates a whole burger around it, you know you're onto a good thing. Kreuz Market's horseshoe-shaped sausage links are predominantly beef-based, with a coarse grind and a killer snap that gives way to a burst of melted fat. Stand clear during first bite."
Runner up:Stiles Switch BBQ and Brew (Austin)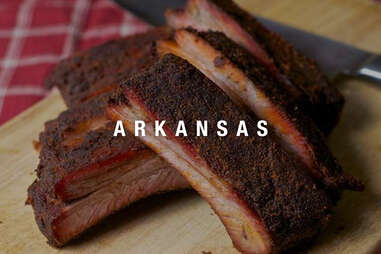 Touching three of the main four barbecue states, Arkansas takes influence from them all. It doesn't have a particular style to its name, but its location in the heart of the Southern Barbecue Belt means that the state has a deep reverence and storied history of its own, regardless of whether it's claimed a meat and branded its name on it.
To wade through this salt and pepper sea of barbecue influences, we talked with Scott Moody of grill-makers PK Grills. Here's his take on the meaty melting pot that is Arkansas.

Little Rock
"PK Grills is based in Little Rock, AR, and one of our favorite hometown barbecue joints is HB's. A small house located in a residential area of southwest Little Rock, HB's only serves their signature pork ribs on Tuesdays, but they are worth the wait. If you can't make it for the ribs, the pulled pork on an onion roll doesn't suck."

DeValls Bluff
"DeValls Bluff is a short drive west from Little Rock along US HWY 70 and home to Craig's. We go for the pulled pork sandwich with 'medium' sauce, which is topped with a great slaw and served in a wax-paper wrapper. Simple and good."

Blytheville
"The Dixie Pig in Blytheville is on a lot of 'best of' lists, and that's well deserved in our opinion. Some have claimed it the best barbecue in the country. The Dixie Pig has been around since the 1920s, and makes a consistently good product. They are well known for their finely chopped pork sandwich -- known as The Pig -- and unique pepper- and vinegar-based sauce."

North Little Rock
"Arkansas is definitely pork barbecue country, but we would be remiss if we didn't mention the brisket at the Whole Hog in North Little Rock. It's tender, peppery, and the slices pull apart just right. You can even pick up a cast aluminum PK Grill there if, after cleaning one of their brisket plates, you become inspired to go home and smoke your own."
Whereas some regions pride themselves on one signature meat, Kansas City does it all: brisket, burnt ends, pulled pork, and ribs are all cooked with the type of serious determination that only comes from having the barbecue world's largest governing body (the Kansas City Barbeque Society) looking over your (pork) shoulder.
Our Kansas City expert needs no introduction in barbecue circles. Ardie Davis literally wrote the book on barbecue judging by laying out the first curriculum for the Kansas City Barbecue Society, and has penned six books on barbecue, including the forthcoming Barbecue Lover's Kansas City Style, due out in September. Here's his take on his region's best smoked meats.

Kansas City
"What Kansas Citians call 'burnt ends' has evolved from beef brisket trimmings of fat, meat, and bark to lean, juicy pieces of brisket from the point end, sentenced to 17 or more hours pit time, and then cubed, glazed or sauced; served as appetizer, entrée, or sandwich. Chef Rob Magee's Culinary Institute of America training, tempered with his impressive championship competition barbecue record, shines through in all he touches. What Rob does with Kansas City's favorite barbecue candy is simply classic: tender and juicy with bark, a kiss of smoke, and sauce."
Runner up:LC's BBQ (Kansas City)

Kansas City
"Bovine breast meat is a duo of tough muscle and fat. When smoked to perfection, the flat portion yields tender, juicy slices of carnivorous splendor. SLAP'S Central Texas stick-burner style of brisket is juicy and thick-sliced with a slightly sweet Kansas City accent."
Runner up:Joe's Kansas City Bar-B-Que (Kansas City)

Kansas City
"Kansas City loves barbecue pork ribs. Although spareribs from the lower portion of porcine rib cages are most commonly served, baby back/loin ribs from the upper portion of the rib cage are also popular. Competition barbecue has influenced a change from traditional Kansas City-style untrimmed, unskinned whole spareribs to neatly trimmed St. Louis-style rectangular slabs sans breast bone, brisket flap, and bone-side membrane.
"Championship pitmaster Todd Johns transferred his winning ways with baby backs to his enormously popular Plowboys restaurants in Blue Springs and Downtown Kansas City. Your first bite will explain why Plowboys' competition barbecue team is no stranger to the winner's circle."
Runner up: Fiorella's Jack Stack Barbecue (Kansas City)

Kansas City
"Kansas City loves the upper portion of pork shoulder known as Boston butt, smoked for hours until pull-apart tender. Johnny White applied what he learned from Kansas City barbecue legend Anthony Rieke and tweaked it with his own signature flavor profile: lightly seasoned with award-winning rub and a hickory-smoked mix of tender juicy pork meat mixed with bark and a splash of tomato base sauce."
Runner up:Brobeck's Barbeque (Overland Park)
Folks from Tennessee aren't ones to piggyback on others' barbecue styles. A combo plate in Memphis means pork, pork, and more pork. And for the best hog, we consulted Chef Troy Black, championship pitmaster and author of All Fired Up, for a few short and sweet recommendations about his area's best meats.

Memphis
"Memphis is known for its dry-rubbed ribs. These ribs are some of the best in town... wet or dry. These baby backs are meaty, tender, and perfectly seasoned with just the right amount of smoke."
Runner up:Cozy Corner (Memphis)

Memphis
"Memphis barbecue is all about pork. The Bar-B-Q Shop is a bona fide barbecue joint serving pork that is moist, smoky, and very tender."
Runner up: Payne's Bar-B-Que (Memphis)
Alabama's main contribution to the barbecue lexicon is Big Bob Gibson's signature white chicken, but anyone from the state will tell you that they take their other meats just as seriously. Our Alabama expert, Bob Carlton, comes way of the Birmingham News and AL.com, where he reports on restaurants and culture.
"In Alabama, we're blessed with so much great barbecue that the state tourism department, as part of its Year of Alabama Barbecue campaign, created a mobile app that alerts travelers when they're near a joint they've been meaning to check out," says Carlton. "Picking a favorite spot for pork, chicken, or ribs is always a good way to start a friendly argument, but it is a debate in which there are no losers."

Decatur
"In Decatur, Big Bob Gibson Bar-B-Q serves smoked half-chickens dunked in its legendary white barbecue sauce (a concoction of mayonnaise, vinegar, and black pepper).
Runner up: Saw's BBQ (Homewood)

Bessemer
"For pulled pork barbecue, it's hard to go wrong with the smoked meat at Bob Sykes Bar-B-Q in Bessemer.

Leeds
"If you're going for ribs, by all means check out Rusty's Bar-B-Q in Leeds, a relative newcomer that is making the old pros take notice."

Birmingham
"Birmingham's Full Moon offers a smoked turkey sandwich with a thick, red sauce and a spicy-but-sweet chow-chow that is so good you may never want to eat pork barbecue again."

Northport
"If there were just one barbecue joint to go to before you die, for me, it would be Archibald's BBQ, a modest, cinder-block shack off the beaten path in Northport. My final meal would be the small mixed plate, with sliced pork and spare ribs, grilled over hickory wood in an open pit and served with a tangy, vinegar-based sauce that will spank your taste buds. Wash it down with a cold Grapico, and you're in barbecue heaven."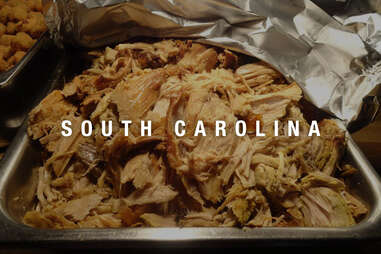 Sometimes overshadowed by its neighbor to the north, South Carolina's barbecue scene is just as hog-minded and perhaps even more vibrant thanks to the central part of the state's love of mustard-based sauces. To shed light on South Carolina 'cue, we spoke with Lake High, president of the SC Barbeque Association and author of A History of South Carolina Barbeque.

Leesville
"Jackie Hite's in Leesville does something every Friday that no one else in South Carolina does -- they put out a whole hog to be picked. First of all, he cooks it on a real wood-fired pit overnight and then chops it up into large chunks to make it easier for you to pick. At 11am, he puts out the first half of the hog in a large stainless steel pan, and then at noon he puts out the second half. Get there by at least noon, because if you get there at 1pm, you have to eat off of his generous buffet since the pig is gone. It's all done in the South Carolina German tradition; that is, it is done with a piquant mustard sauce. Try it one time and you'll never forget it."

Various locations
"Piggie Park does something no one else in the Unites States does: they cook 24 hours a day, 365 days a year. Yes, even on Christmas. They have to, because Maurice's serves more barbecue than anyone else in America. Maurice's cooks in the South Carolina German tradition of mustard sauce and their ribs are arguably the best in South Carolina. When you consider just how many expert pitmasters cook ribs in the state, that's saying something. When I want a rack of ribs (and I do often), I head for Maurice's. You should too."

Little Mountain
"While tending his hams and shoulders, the pitmaster at Cannon's said something that spoke straight to my barbecue heart: 'I don't know how to cook with gas, and I don't want to learn.' Truth is, there is nothing he needs to learn. He cooks 100-Mile Barbecue, which is barbecue that you would drive 100 miles to eat. His ribs are just as good. But there is one thing that he does that no one else is doing: he still cooks his hash in small pots over real hickory wood, and when you eat it you can tell the smoky difference.
"Hash is liquid sausage. You find real barbecue hash only in the old German areas and in the Pee Dee region of the state. (Myrtle Beach is in the Pee Dee.) Hash is made from choice cuts of meat with onions and a few other fillers and it is cooked for many hours while stirred constantly. Other states serve you French fries (they don't know any better) or Brunswick stew, but in South Carolina you can get a serving of that heavenly hash over rice or even all by itself. Many people make a meal of just hash and rice for their lunch."

Pawleys Island
"Chain restaurants don't usually have the right stuff when it comes to real, pit-cooked barbecue, but Moe's Original Bar B Que is a new chain -- and in Pawleys Island, SC, at least -- they do it right. Moe's is new and out back behind the huge wood pile is an Ole Hickory smoker. And there is another thing going on at Moe's; they have a real chef in the back, as witnessed by the gourmet side dishes they turn out. What a treat."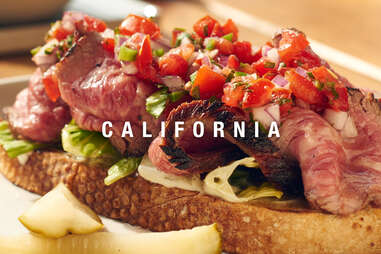 Recent years have seen a serious import of other regional barbecue styles to the Bear Republic, which means you can find a mean brisket or pork rib. But there's only one meat that California is proud to call its own: the tri-tip, a red oak-grilled West Coast specialty. To find out the best, we asked Joshua Lurie, occasional Thrillist contributor and founder of FoodGPS.com.

Studio City
"Barrel & Ashes riffs on a range of regional barbecue styles, which wouldn't help the restaurant's cause with 'cue purists, but damn if their tri-tip isn't some of the best in California, including its native Central Coast. Timothy Hollingsworth learned from the best, Thomas Keller, and clearly tri-tip doesn't pose much of a challenge. He marinates the meat with olive oil, garlic, and balsamic; grills it over red oak; and shaves the rosy results nice and thin. Tangy pico de gallo, which is a Santa Maria standby, joins romaine lettuce and rosemary aioli on toasted sourdough to form a serious open-faced sandwich. Barrel & Ashes also serves sides like spicy pork rinds and a buttery hoe cake that blow away traditional Santa Maria-style pinquito beans and salsa."
Sure, you'll see pork steaks and crispy snoots on the menu at many St Louis joints, but the only true judge of a barbecue joint in The Lou is one dish: heavily sauced spare ribs. To get the lowdown on the best of the best, we called on St. Louis Post-Dispatch restaurant critic Ian Froeb to fill us in.

St Louis
"Pappy's Smokehouse set the new standard for smoked pork ribs (and barbecue in general) in St. Louis when it opened seven years ago. The ribs here remain the best in town -- and a heavyweight contender nationally -- thanks to a combination of perfect technique and a dry rub that delivers an unexpectedly elegant herbal touch to the expected notes of salt and spice."
Runner up: Bogart's Smokehouse (St. Louis)
The landscape of North Carolina barbecue is constantly changing, but among the newly arrived joints slinging a pastiche of regional styles, there's still plenty of wood-burning pits smoking whole pork the old-fashioned way. The state is divided into eastern and western regions, with the east focusing on whole hogs with a vinegar-pepper sauce, while the west (Piedmont) does shoulders with a dip that adds ketchup, tomato puree, and a little sugar.
To give us the scoop on the best in the state, we tapped Bob Garner, author of three books about North Carolina 'cue.

Ayden
"This humble restaurant would look like a nondescript bus station were it not for the rough replica of the US Capitol dome added onto its single story. The late Pete Jones, who founded the place in the late 1940s, had the dome built after a national magazine story praised the wood-cooked, whole-hog barbecue as being among the nation's best, and it was meant to signify that this was the place... the capital of 'cue, if you will. Plenty of crispy skin (and not a little fat) is chopped into the heavenly barbecue, which is served either in a sandwich or in a paper tray, topped with a slab of baked cornbread and a tray of coleslaw perched on top of the stack."
Runner up: Grady's BBQ (Goldsboro)
Shelby
"Bridges, known locally as Red Bridges Barbecue, specializes in mahogany-hued pork shoulder, pit-cooked over wood and served with a vinegar and tomato puree dip served warm alongside the chopped or sliced barbecue. (Insiders often specify the 'outside brown,' which is the bark or well-smoked, chewy exterior layer of the shoulder, best experienced in a chunky, coarse-chopped style.) Bridges recently won a national, 32-entry "Barbecue Bracket" sponsored by Garden & Gun magazine in which fans of various barbecue restaurants around the country voted for their favorite joints."
Runner up:Lexington Barbecue (Lexington)
Dan Gentile is a staff writer on Thrillist's national food and drink team. He lives in Austin, TX, and doesn't entirely disagree with these picks. Follow him to more wishing and washing at @Dannosphere.