Jay Sprogell/Thrillist
Jay Sprogell/Thrillist
Small Pizza Chains We Wish Were Everywhere
There is no shortage of pizza chains in America, ranging from lightning-fast gourmet joints to pepperoni-stained juggernauts. But for many, the true heart of pizza beats in small regional chains. Some define the very idea of pizza for generations, serving as community centers with checkered tablecloths. Some expanded out of big cities to transform the notion of pizza in other markets. And all of them have cemented themselves as staples of slumber parties, late-night snacks, and special occasions, even if the occasion is simply going out for pizza. These are some of the best small pizza chains in America, ones that we wish would expand nationwide... though that might dilute some of the appeal.
Where it is: Oregon and Washington
Why it's great: A go-to favorite to mark special occasions (or just feed a buttload of kids who have moved beyond Little Caesars at a birthday party), Abby's is Oregon and Washington's foremost purveyor of Northwest-style pizza, a type of pizza that doesn't really get a ton of attention, largely because it's only claimed by Abby's. It basically means toppings to the edge. So, Abby's just kind of makes pizza but calls it Northwest style, but that pizza is magnificent, toeing the line between gourmet and traditional small-town pizzeria, with things like taco and fajita pies thrown into the mix to keep things interesting, though standards like the ultimate meat -- pepperoni, two kinds of bacon, linguicia, sausage -- are what gave the chain its "legendary" status. So too did its heart-shaped pizzas, a longtime Valentine's tradition that's since been aped all over. In certain parts of the northwest, they represent a love greater than words can convey.
Where it is: New York, with satellites in Berkeley and Miami
Why it's great: Cousins Francis Garcia and Sal Basille might have only opened Artichoke Bassille's in 2008, but the pizzaiolos represent the fourth generation of family restauranteurs. And, truth be told, they're lucky they came along when they did, because if this was four generations back, there's no way New York would have embraced artichoke-covered, cream-sauced slices, let alone slices loaded up with crab. Luckily, we live in a post-California pizza environment, one where Artichoke can expand rapidly, surpassing a dozen locations. Most are in New York, but there's also a shop in Berkeley, a place largely considered the birthplace for experimental deliciousness like this. The thing is, though, that Artichoke feels like a great old-school slice shop, with a great pepperoni slice and knockout Sicilian squares (both traditional and vodka-sauced) for those remaining purists who still scoff at transforming pizza beyond the basics.
Where it is: The Chicagoland area, with satellites in Florida, Georgia, Minnesota, and Nevada
Why it's great: Chicago's got a wealth of pizza chains, some of which have gone on to become all-out ambassadors of deep dish (Uno's, Malnati's, Gino's). But real Chicagoans know that tavern pie -- thin crust, sliced into squares -- is real actual crown jewel of the city's Italian pie jewelry box, and Aurelio's is the king. With over 40 locations, this is the kind of place that has spent the past 60 years building an empire of nostalgia for its classic pies whose cracker-thin crust manages an engineering miracle by not buckling under the pressure of all those toppings. They also do a thick crust and stuffed pie, though the original is still the draw. It's the kind of pie that draws tourists and locals in equal measure, something that can't necessarily be said about the bigger, showier pies out there.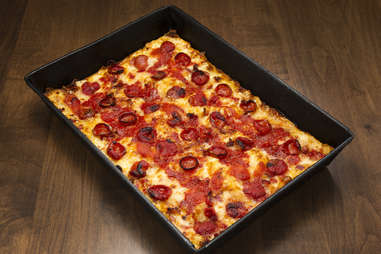 Where it is: Metro Detroit, Michigan
Why it's great: Much of the US only recently discovered the glories of Detroit-style pizza: square, thick-but-not-dense pies with sauce on top of slabs of Wisconsin brick cheese that caramelizes on the edges. Buddy's, well, Buddy's invented the stuff, and has remained the best of the best since the owner first ventured to make pies in old industrial pans way back in 1946. Buddy's has steadily fanned out across the lower part of the Mitten, but has yet to show up outside its storied homeland while imitators (including solid mega-chain Jet's) have popped up as ambassadors. Hopefully, the newfound fascination with the regional style will mean the OG steps out of its hometown. Until then, it remains a must for pizza pilgrims.
Where it is: Virginia and North Carolina
Why it's great: At Chanello's, it's all about the ranch. The pies at this Virginia chain -- it started out servicing the largest Naval base in the world and has since become the preferred late-night pizza in every part of Virginia that's not a DC suburb -- all automatically come with a dipping cup of buttermilk ranch featuring the house's proprietary spice blend. The pie to get here is the pepperoni, which is laid on in a thick blanket of overlapping rounds. Those greasy, spicy pepperonis poke through the cheese. Given the sheer volume of oil that's rendered out of the pepperoni as it bakes, it ends up frying the salty mozzarella like halloumi... and then you dip it in buttermilk ranch. It's so crazy it works.
Where it is: The greater Cleveland area
Why it's great: This pizzeria started in Tallmadge, Ohio, a suburb of Akron (which is itself a suburb of Cleveland) that you know only if you've ordered chrome wheels for your tricked-out Civic or if you follow elite Little League baseball. But over three decades Gionino's has become the go-to call for delivery or carryout pizza across the Cleveland area. The expansion came on the strength of its broasted chicken, extra spicy jojos, and, especially, the heavy-duty pies. Pizzas here go big on everything while somehow managing to avoid tipping over. These are saucy pies, built with with bright and herbaceous tomato sauce that's literally ladled on. Atop that sea of sauce, they add a quarter-inch of extra-milky mozzarella, which is baked until it begins to develop little brown leopard spots. This is a precarious blueprint for pizza construction, yet it works thanks to a base of spongy, pliable dough: like bamboo, it's strong, light, and flexible in a way that always surprises. Unlike bamboo, it's the building block on a fantastic pizza.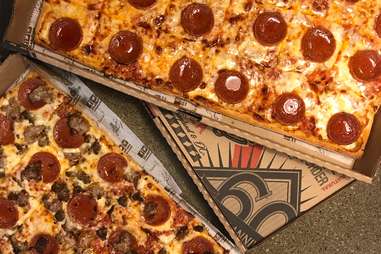 Where it is: DC metro, with a few franchises in South Carolina and Florida
Why it's great: This juggernaut of the DC metro area hits a ton of essential nostalgia notes for those who grew up with it, and considering it's been around since 1959, that's a ton of people. It's a sit-down joint, for one, which gives it that old-school special-occasion feel, like a celebration of a little league win. Or a loss, for that matter. While it does standard pastas and sandwiches, the pizza itself here is remarkable in its unique construction: Like Detroit it's square, but the crust is thinner and more pastry-like, hit with a sweet sauce, smoky provolone, and ultra-thick pepperoni. There's nothing else like it, especially when you load it with things like spicy calamari or a drizzle of pesto. Still, that pepperoni slice hits a special place that you don't need nostalgia to enjoy. But it does help.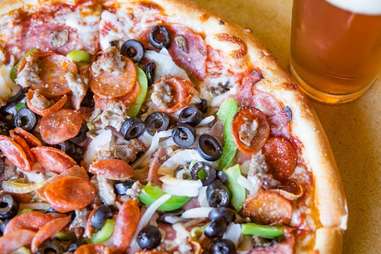 Where it is: Northern California
Why it's great: It was near California's Sonoma Valley that Alice Waters and Ed LaDou first started futzing with things like broccoli and pate on pizza decades ago, spawning what would eventually become known as California-style pizza. And sure enough, this Napa and Sonoma-spanning chainlet gets pretty frisky with the toppings. For evidence, look no further than the signature chicken chimmichuri pizza, hit with enough green sauce to rupture a purist's pepperoni gland. But lest you think this is some bougie pizza place, Mary's isn't afraid to get ridiculous with tradition either. Case in point, the Toto's Combo, which piles a ton of fresh veggies and enough fancy meat -- salami, pep, cotton, linguica, and sausage -- onto a pie to fill a half-dozen upscale charcuterie plates at a nearby vineyard.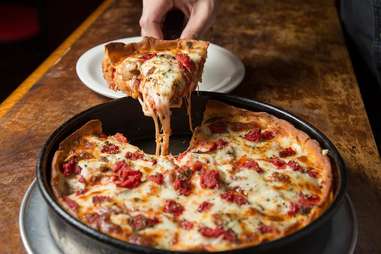 Where it is: Arizona
Why it's great: Oftentimes, when a pizza joint makes another city's signature pizza it ends up being a pale imitation, or comes off feeling like some sort of theme-park version of something you love. Oragano's is, well, it's kind of the latter, yet in taking a kitchen-sink approach to its Chicago-style pizza -- you can get thin-crust tavern pie, deep-dish, or stuffed here, including one suspiciously named homage called Numero Uno -- it manages a certain charm. But its when Oregano's embraces its southwestern side and meshes it with its Chicagoland roots that things get interesting. This is a place that loads a thin crust with carne asada, pico de Gallo, and cojita and still gets away with calling it Chicago-style. Even more surprising, that combo is great, as is the rosemary chicken potato with havarti, something that would get you run out of the South Side quicker than putting ketchup on a Vienna Beef. For those craving a taste of Chicago, those deep dishes hit a certain spot. For somebody looking for something unexpected, it exceeds expectations.
Where it is: Boston
Why it's great: Long before half of the American population decided to get all brick oven on its pizza, Regina was supplying Bostonians with the kind of high-quality pies -- ones with a perfect balance of crisp and flop on a crust coated with whole-milk mozzarella -- most small pizzerias aspire to. And while the chain has expanded to 14 locations since opening back in 1926, it's remained committed to high quality, from the housemate ricotta on the Melanzane to the ultra-fresh veggies that top its white pies (no clams here… but hey, Connecticut's right over there). They're also the official pizza of the Red Sox. That's the kind of endorsement that really means something in Beantown.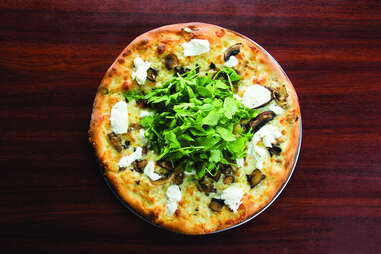 Where it is: Texas, plus Florida, Hawaii, Oklahoma, and Tennessee
Why it's great: Every city seems to have a "New York" style pizza place that people flock to. Some have a bunch. But few chains manage to earn the designation of "New York" the way Russo's does. Founded by a New York transplant, Russo's makes the kind of pies that wouldn't seem out of place for a late-night gorge-fest in Brooklyn. The NYC-centric slices include the signature New York Village -- essentially a supreme, but with way more meat, because that's how the Lone Star State rolls -- plus a few more chiefly options, among them a sexy little number covered in roasted cauliflower, pancetta, sausage, and portabellas and another hit with figs and prosciutto. And because everything is bigger in Texas -- yes, even you, given the quality here is addictive -- they do a 28-inch party pizza.
Sign up here for our daily Thrillist email and subscribe here for our YouTube channel to get your fix of the best in food/drink/fun.

Thrillist senior editor Andy Kryza took solace in Gina's Pizza after sitting on the bench for many Little League losses in Flushing, Michigan. Follow him @apkryza.
Martin Cizmar tapped into his nostalgia roots for this story.