Unsung Regional Sandwiches That Should Be Everywhere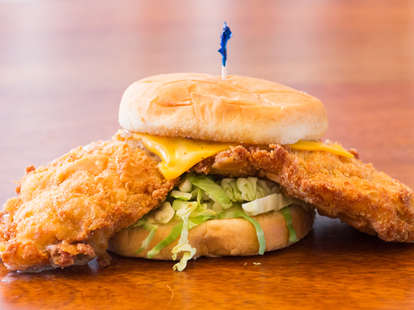 It's been a great few years for sandwiches, but our work is far from through. An alarming number of sandwich species, though thriving in their native habitats, have yet to be embraced by the masses.
We all know the glory of bánh mì, but have you heard the gospel of the beef on weck? Or wrapped your mouth around some fried brains? These are the sandwiches you might not be eating, but damn well should be.

Pork tenderloin
Where it's from: Indiana and Iowa
Much like the jibarito (more on that later), this meaty mouthful takes a foreign food and 'Muricanizes it till you must beware bald eagles trying to steal one out of your hand. After pounding the pork (not a euphemism) till it's schnitzel-thin, you marinate the meat (probably a euphemism) in garlic buttermilk, then bread it with saltine crumbs and deep-fry that sucker. Optional: recite the "Pledge of Allegiance" while doing this. The cutlet is so flattened that you're eating a pork entrée for lunch before you even get to the smidgen of bread, and enjoying another for dinner long after that sandwich is a happy memory. Indiana and Iowa both fight over who have invented it. But regardless, we're awfully partial to Smitty's in Des Moines. Shots fired.
Jibarito
Where it's from: Chicago, IL
Is a sandwich still a sandwich without bread? Let's argue that point after enjoying a jibarito, whose plantain-patty foundation is the stuff of legend. Debuting in Chicago's Borinquen Restaurant (and resembling the Venezuelan patacon), this Great Lakes strain of steak sandwich marries Puerto Rican ingredients to US sandwich staples: lettuce, tomato, raw red onion, and American cheese. Wonder if you can ever look your family in the eye again, knowing you now have a greater love. Sadly, Borinquen has closed, so get your fix at Las Delicias de Puerto Rico.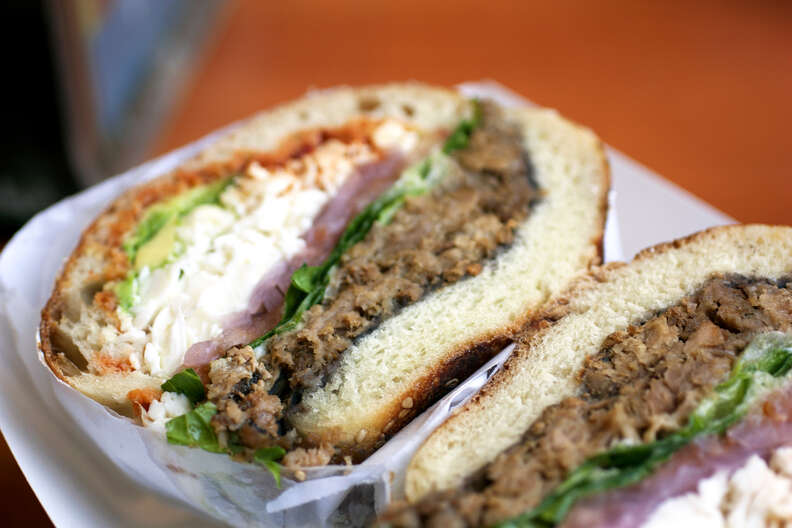 Cemita
Where it's from: Pueblo, Mexico
In the ongoing debate about whether a taco is a sandwich, the cemita is a welcome DMZ. Resilient, crisp sesame rolls house classic taco meats, stringy Oaxaca cheese, onions, spicy red sauce, and a smear of avocado. Have you ever had a bad sandwich with avocado? Of course not. You'd eat a beehive if someone put avocado on it. The real authenticity here is the papalo, an herb similar to cilantro. American versions -- gaining traction in sandwich shops and food carts all over the board -- add classic fixings like lettuce, tomato, and mayo (in lieu of olive oil). But really, you can't go wrong with this elevated torta.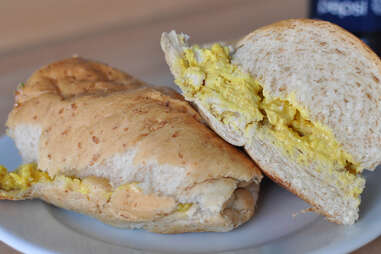 Coronation chicken
Where it's from: England
Chicken salad is nobody's idea of the perfect sandwich, but that's because they didn't add apricots and curry. Devised for Queen Elizabeth's crowning in the '50s, this recipe reached perfection on spongy whole-wheat at Pret a Manger. Yeah, it's a chain, but it's a chain dedicated to fresh food. Plus, it's foreign, and thus very classy in a classical English sense. And in case you aren't across the pond, Pret's got its recipe to make you feel royal right here.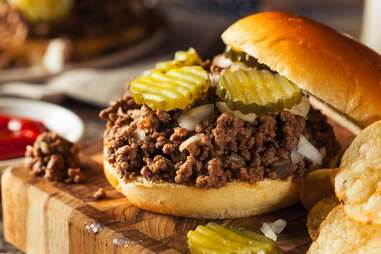 Loose meat
Where it's from: Southeastern Iowa
For more than half the show's run, Roseanne put its characters to work making loose-meat sandwiches, though fiscal ruin threatened them at every turn. Are we going to render the Conners' struggle meaningless, or will we adopt this so-simple-it's-genius adaptation of a Sloppy Joe minus the slop? Visit the real-life Lanford Lunch Box at Ottumwa's Canteen Lunch in the Alley, where ground beef and onions meet pickles, ketchup, mustard, and an unorthodox cheese sauce. Or, barring that, hit up the Maid-Rite chain that took it to the masses. Either way, it's a burger you don't have to chew! And isn't that the real American dream?

Fried brains
Where it's from: St. Louis, MO
St. Louis cuisine: love it or hate it, at least you can't fault it for being timid. Thinly sliced calf brain steaks are deep-fried and served with a kick of raw onion on rye or a hamburger bun. Find one fast, though: lack of both supply (boo, mad cow disease!) and demand (boo, unadventurous diners!) is erasing this Midwestern classic from the map, leading to pork-brain substitutions. Catch one while you can at Schottzie's Bar & Grille. We swear, it'll blow your mind when you discover how good another animal's mind tastes.
Beef on weck
Where it's from: Buffalo, NY
What the... how is this sandwich not everywhere? Juicy ribbons of roast beef host a tongue-stomping smear of horseradish. And that's it. Also known as the third "W" when people call Buffalo Wild Wings BW3s, the hardest part of making beef on weck is finding kummelweck bread. If you can't, you could probably brush a kaiser roll with egg white and cornstarch, then sprinkle on caraway seed and boulders of pretzel salt. Or yield to the professionals at Buffalo classics like Schwabl's or regional favorite Bar Bill. One bite and you can keep the wings; this should be Buffalo's ubiquitous contribution to game-day fare (because it's sure not going to be the Bills in the playoffs).
Muffaletta
Where it's from: New Orleans, LA
Look, Thrillist reader, we know you enjoy a muffuletta, cause you're classy. But too many of your friends don't yet enjoy the king of cold shooter sandwiches. Tell them. Sing to them the praises of three kinds of pork and two kinds of cheese battling the brine of an unorthodox sandwich spread: the tangy olive giardiniera. It's a construction so perfect they had to devise a new kind of bread worthy enough to accept its contents. The clear favorite to induct your friends into this ring of flavor is Central Grocery, but NOLA has plenty of options.

Nashville hot chicken
Where it's from: Nashville, TN, obviously
The South knows buttermilk fried chicken, so their answer to Buffalo wings was always going to be a contender. In fact, that's what makes it so memorable: if Buffalo chicken is traffic-cone orange, Nashville foregoes caution for a scalding red color. Three kinds of picante are incorporated here: cayenne, chili, and hot sauce. That means there's burn in the marinade and batter to complement the actual heat from the fryer.

Put it on a Hawaiian roll with cool and creamy toppings: pickles, iceberg, mayo. And while KFC is rolling this regional favorite out to the masses and praising the gospel, the sandwich devoted are well advised to nab one in Nashville. The legends like Hattie B's might call blasphemy on sandwiches, but Acme Feed & Seed does the bread-bomb proper.
Pimento cheese
Where it's from: Most of the South, but renowned in Augusta, GA
Is there a whiter sandwich than this? Four kinds of cheese with mayonnaise on white bread, and made famous by the Masters -- which is fitting, because it is truly the golf of sandwiches: boring to look at, but a surprisingly enjoyable undertaking, thanks to the zip of pimentos and mustard. Just as every man should hit the links in his life, so too, should you sink your teeth through this stratified map of cheese. You might remember it from last season's Better Call Saul, being extolled as the "caviar of the South" by Mike Ehrmantraut, a badass enforcer in the guise of a docile old guy -- wait a second: is this actually the Mike of sandwiches?
Runza
Where it's from: Nebraska
Is it a sandwich or a meat pocket? We debated this one for hours that we could have spent enjoying runzas. Continue the argument over a couple of these with friends at the titular Runza restaurant chain. They say it's a sandwich --and it's basically a stuffed roll -- so we'll defer to them. Because at the end of the day, however close this hews to a dumpling, you ought to be enjoying a mix of ground beef, onion, and cabbage (or its pickled cousin, sauerkraut) steaming hot in springy white bread. It's the perfect lunch break option on a wintry weekend spent shoveling snow and husking corn.
Sign up here for our daily Thrillist email, and get your fix of the best in food/drink/fun.
Brendan McGinley is a contributor for Thrillist.