There are amazing regional restaurants throughout the country, but one thing we take for granted -- until we've left the nest -- are the regional snacks that we eat every day without realizing they're not everywhere. Imagine leaving the South, only to discover nobody else knows what the hell a boiled peanut is (even though it's self-explanatory), or living in a strange new world free of Tastykakes. That's why all of these snacks need to be everywhere. Right now!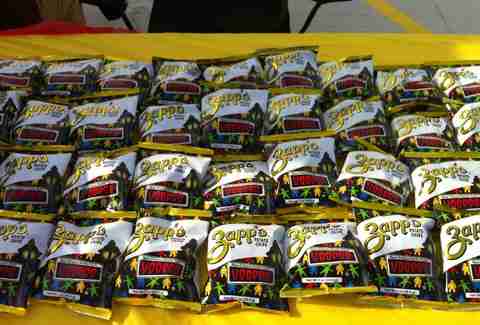 Zapp's Potato Chips (The South)
These thick kettle chips pack some serious NOLA flavor and come in such addictive varieties as Spicy Cajun Crawtators (which thankfully have zero crawdads), Mesquite Bar-B-Que, Hotter N Hot Jalapeño, and Cajun Dill Gator-Tators.
Win Schuler's Cheese Spread (The Midwest)
A creamy, extra-sharp cheddar spread with the distinctive color of Tang, Schuler's Cheese Spread is a Michigan favorite that has slowly seeped into neighboring states the way its delicious cheese flavor seeps into anything it touches. It's perfect on pretzels, rye chips, bagels, and toothbrushes.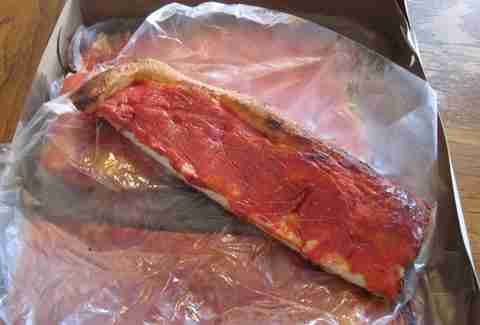 Pizza strips (Rhode Island)
A staple snack among the folks of Rhode Island, pizza strips are simply thick belts of pizza dough covered in red sauce. And maybe a little Parmesan for flavor, but none of that other cheese and pepperoni stuff. Because that would just be pizza.
Cheese curds (The Midwest)
Canadians put squeaky cheese -- the mildly flavored, bouncy byproduct of the cheese-making process -- in their poutine. But Midwesterners, as they do with most things, bread the suckers and drop them in the fryer, creating their answer to mozzarella sticks, and an addictive contributor to obesity.
Garrett Popcorn (Chicago)
Chicago takes its regional food rabidly seriously, meaning that something as simple as popcorn also has to undergo a serious transformation. The resulting kernels from Garrett are sold in iconic tins in flavors ranging from cheese to Cashew CaramelCrisp, macadamia nut, and butter. Or you can create your own special tin, if you think cheese and sugary almonds somehow make sense together.
It's-It Ice Cream (San Francisco)
Take a knee, Rice-A-Roni -- the real deal San Francisco treat might be this ice cream, which ranges from a chocolate-dipped sundae on a stick to the Big Daddy -- an ice cream sandwich consisting of vanilla cream, chocolate wafers, and a horrible Adam Sandler weepie.
Juanita's Tortilla Chips (Oregon)
These mega-crispy, ultra-salty chips transitioned from a favorite local snack in a small mountain town to the corn-based equivalent of crack to Oregonians, and now they've transitioned to the flavored chip game with the launch of the spicy Chilipeño chip, which has destroyed all hope of a Juanita's detox in the immediate future.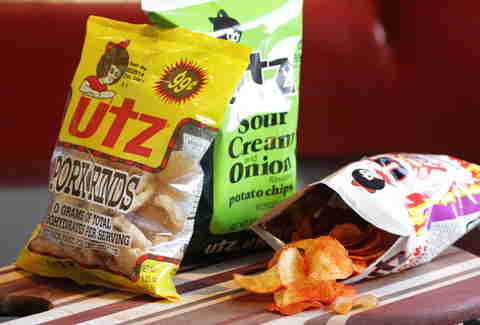 Utz snacks (East Coast)
Boasting a terrifying mascot who will haunt both your nightmares and daydreams, the Utz empire (which has some scattershot distribution countrywide) includes everything from popcorn to chips, cheese balls, pretzels, and curls, which can be found in bags or as gigantic buckets of party mix that include pretty much everything.
Palmetto Cheese (The South)
Apparently developed by somebody named Sassy Henry -- who is a woman, and not Henry VIII after drinking champagne -- this tailgate-favorite pimento cheese exploded out of South Carolina and comes in regular, jalapeño, and bacon flavors. It's best spread on crackers, but don't be surprised if you see somebody dipping their hands in a bowl of it pre-Gamecocks.
Boiled peanuts (The South)
A food so southern South Carolina declared it the official snack food of the state (sorry, Palmetto Cheese), boiled peanuts are exactly what they sound like: whole peanuts submerged in water rather than roasted, which turns the nut soft and allows it to suck up flavors like hot sauce, ham water, or salt.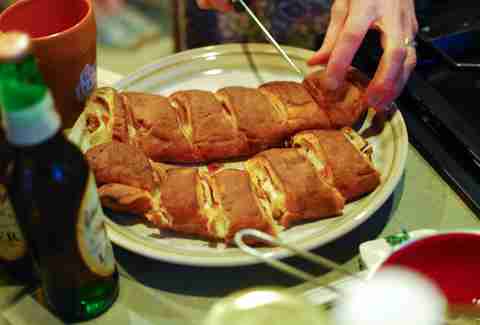 Pepperoni rolls (West Virginia)
All the delicious grease from a slice of pepperoni usually drips off onto the plate, but not in WV, where the creator of the pepperoni roll nipped that in the greasy bud by baking the 'roni into a roll that soaks up all the goodness. Sometimes there's cheese, too. Don't you dare call it a calzone. Even though it is one.
Shoofly Pie (New England/The South)
When the smell of this molasses-heavy pie hits the air, you don't just have to worry about attracting flies. It's so strong, you'll also be warding off neighbors and Louie Andersons the minute it pops out of the oven.
Tastykakes (East Coast, but predominantly Philly)
Hostess may have taken the nation, but Tastykakes beat the Twinkie overlords to the snack-cake game by two years in 1917 and continue to pop out a huge variety of diabetes-bait, including butterscotch sponge cakes called Krimpets, cookie bars, brownies, and cream-filled Dreamies that have nothing to do with that hunk on Grey's Anatomy.
Better Made chips (Michigan)
Detroit's answer to pretty much any chip imaginable -- salty potato chips, cheesy corn pops, curls, puffs, and everything in between -- has a fierce loyalty among the faithful. So fierce, in fact, that plenty of parking lots used for tailgating are littered with as many Better Made crumbs as hunks of gravel.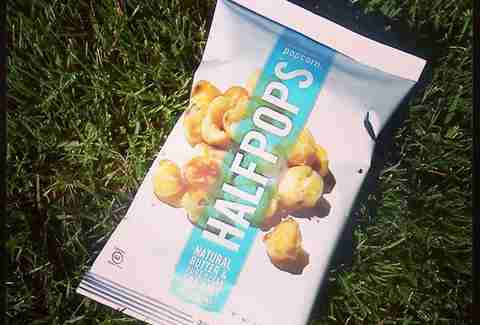 Halfpops (Washington)
Like some half-developed popcorn fetus, these delicious, crunchy delights bridge the gap between full-blown popcorn and the crunchy, slightly exploded ones you seek out at the bottom of the bag. They'd be good enough on their own. That they're coated in stuff like butter and aged cheddar makes them amazing.
Peanut Chews (The Mid-Atlantic)
For the past 100yrs, the good people of Philly have been mainlining these molasses and chocolate-covered peanut bars, which're about the size of fun-sized bars.
Andy Kryza is Thrillist's national eat/drink senior editor, and has proudly lived vegetable-free since 2001. Follow his adventures/slow decline via Twitter at @apkryza.